This post is dedicated to Barb Ryan and the community of Fox Creek, Alberta.
Dutch government cuts gas drilling in quake-hit region by Associated Press, June 23, 2015, myfoxal.com
THE HAGUE, Netherlands (AP) – The Dutch government is further cutting production of natural gas in the north of the country in an attempt to reduce the number of small earthquakes blamed on the drilling.
Economic Affairs Minister Henk Kamp announced Tuesday that production in the Groningen region this year will be brought back to 30 billion cubic meters (39.24 billion cubic yards) of gas from the previously announced maximum of 39.4 billion cubic meters (51.53 billion cubic yards).
Kamp says, "the security of residents of Groningen is our priority." … Kamp says the reduction will cost the government about 1.2 billion euros ($1.34 billion) in lost revenue. [Emphasis added]
Oil companies can be sued by earthquake victim, Oklahoma court rules, Oklahoma has been hit by a dramatic spike in earthquakes in last 5 years by Thomson Reuters With files from CBC News and The Canadian Press, June 30, 2015
Oklahoma experienced nearly 600 earthquakes last year, compared to just one or two annually prior to 2009.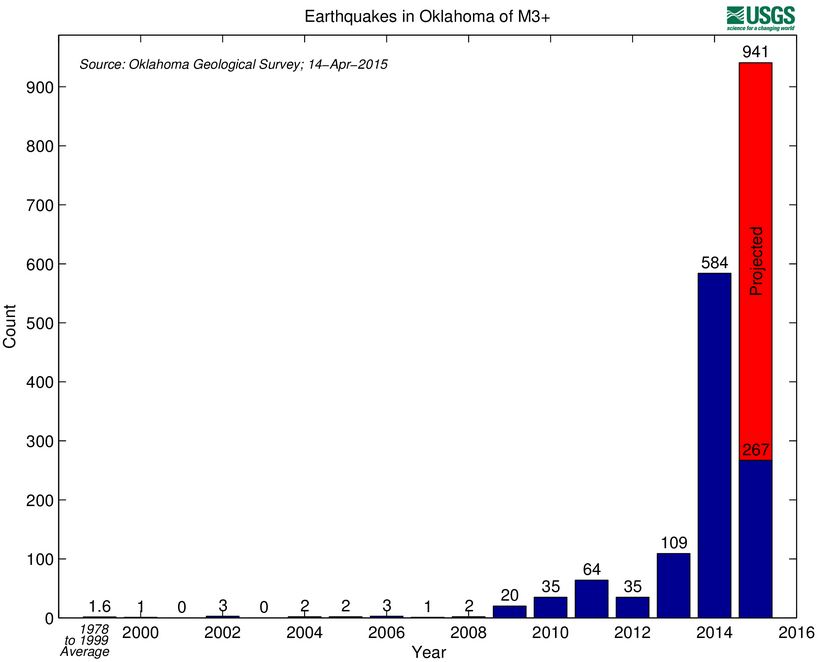 Related
An Oklahoma woman who was injured when an earthquake rocked her home in 2011 can sue oil companies for damages, the state's highest court ruled on Tuesday, opening the door to other potential lawsuits against the state's energy companies.
Oklahoma has experienced a dramatic spike in earthquakes in the last five years, and researchers have blamed the oil and gas industry's practice of injecting massive volumes of saltwater left over from drilling.
The state saw nearly 600 quakes of magnitude 3.0 or greater in 2014, compared to just one or two per year prior to 2009, according to the Oklahoma Geological Survey.
Oil production in Oklahoma has doubled in the last seven years, in part because drillers can dispose of vast amounts of saltwater found in oil and gas formations relatively cheaply by injecting it back into the ground. That practice is separate from hydraulic fracturing or fracking, which has been linked to some smaller quakes but is not believed to be causing Oklahoma's tremors.
Oklahoma, home to major energy companies including Chesapeake Energy Corp., Devon Energy Corp., and Sandridge Energy Inc., has already tightened regulations on injection wells. The state is considering tougher rules, and lawsuits would further boost costs for energy companies.
Other potential suits
Falling rocks injured Sandra Ladra's legs when a 5.0 magnitude quake — the most intense in the state's history — toppled her chimney in 2011. She has sued two Oklahoma oil companies, New Dominion LLC and Spess Oil Company, which operate injection wells near her home in Prague, Okla.
A lower court ruled that the case had to go before the Oklahoma Corporation Commission, the regulator overseeing oil and gas, and dismissed Ladra's case in 2014.
On Tuesday, the Oklahoma Supreme Court reversed that decision, ruling that the commission's authority does not extend to the power to "afford a remedy" to those harmed by the violation of its regulations. The case will return to district court to decide whether Ladra should be granted any damages.
Ladra's lawyer, Arkansas-based Scott Poynter, told Reuters he can now move forward on several other potential suits from Oklahoma residents seeking compensation from energy companies for damages resulting from earthquakes.
Attorneys for New Dominion and Spess did not immediately respond to requests for comment.
Industry advocates on Tuesday downplayed the significance of the court's ruling, and cast doubt on whether Ladra and her attorneys could prove specific wells were responsible for the earthquake that caused her injuries.
Researchers say more work needs to be done to determine the exact mechanism of the link between underground injection and earthquakes, and whether location, volume, pressure, or other factors are the most significant.
Fracking under fire in Canada
Players in the Canadian oil and gas industry, especially those with fracking operations, are similarly coming under increasing scrutiny for both the connection to an increase in earthquakes and the alleged contamination of groundwater reserves.
Increased seismic activity throughout the natural-gas rich regions has been definitively linked to natural gas development, particularly to fracking. British Columbia's oil and gas commission recently tied 231 seismic events in the province's northeast to nearby fracking projects, for example.
That being said, no damage to infrastructure caused by fracking-related quakes has ever been recorded in Canada.
[Reality check:
Natural Resources Canada shows that "moderate-heavy" damage was reported caused by the second 4.4 Magnitude fracquake recently at Fox Creek, Alberta: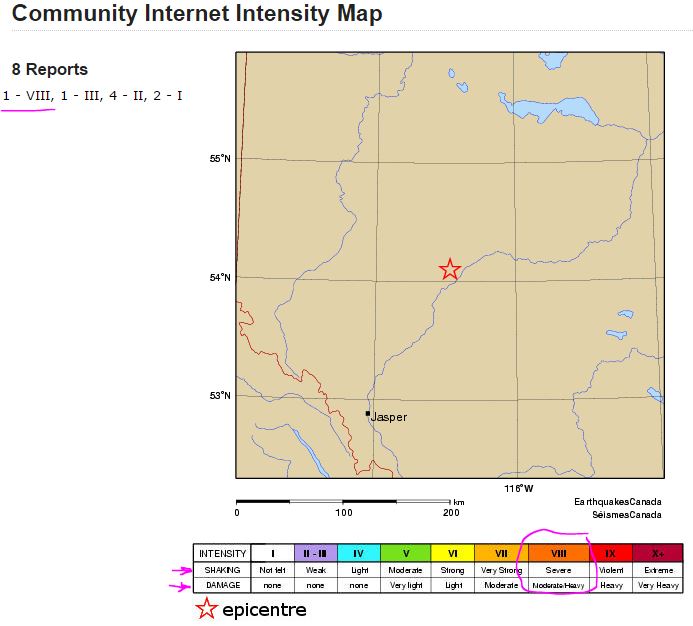 Generally only earthquakes of at least magnitude 6.0 pose a significant structural threat to buildings. While B.C. and Alberta have recorded tremors of magnitude 4.4, no event of magnitude 6.0 or higher has ever been linked to fracking anywhere in the world.
As fracking projects continue in Canada, however, there will likely be legal challenges from residents…who oppose the practice. [Or, are suing because residents have suffered irreparable harms, for years? And because Gerard Protti and the AER are providing "no duty of care?"]
In April, the Supreme Court of Canada ruled it would hear the case of an Alberta woman who claims fracking operations have so badly contaminated her well that the water can be set on fire.
Jessica Ernst first took legal action against energy giant Encana [the AER (when it was the ERCB) and Alberta Environment] in 2007 and later amended her claim to include Alberta Environment. A lower court ruled the provincial regulator was exempt from the suit, but Ernst and her legal team appealed the decision.
The Supreme Court will decide if [the Alberta Energy Regulator] Alberta Environment can be included in Ernst's suit.
Ernst says that fracking on her land northeast of Calgary has resulted in contamination of her well water and that her concerns were not properly investigated by the company and the province.
It's not clear when the top court will hear the case. [The Chief Justice gave Attorney Generals in Canada and others until December 23, 2015 to file their factums etc, which means the hearing will not be until 2016.]
Oklahoma Court Rules Homeowners Can Sue Oil Companies Over Quakes by Richard A Oppel Jr., Michael Wines contributed, June 30, 2015, The New York Times
The Oklahoma Supreme Court ruled Tuesday that homeowners who have sustained injuries or property damage from rampant earthquakes they say are caused by oil and gas operations can sue for damages in state trial courts, rejecting efforts by the industry to block such lawsuits from being decided by juries and judges.
The case has been closely watched both by the energy industry and by fracking opponents across the United States, and the 7-to-0 ruling opens the door for homeowners in a state racked by earthquakes to pursue oil and gas companies for temblor-related damage.
It is the first time the court has specifically addressed whether plaintiffs could sue for damage that experts believe is typically caused by massive amounts of wastewater generated by oil and gas drilling — often involving hydraulic fracturing, or fracking — that are ultimately injected into underground disposal reservoirs near fault zones.
While such quakes rattle other places, Oklahoma, where oil and gas companies have outsize economic and political influence, has faced the brunt of them in recent years: In the past, the state typically had just one or two quakes of magnitude 3.0 or higher per year. But during a boom in fracking over the past decade, the number has steadily and sharply risen, to 585 last year, more than in any other state except Alaska.
This year, Oklahoma is on a pace for 1,100 quakes of magnitude 3.0 or higher.
Industry lawyers had argued that state law prevented trial courts from hearing lawsuits over wastewater-related quake damage, and that a state regulatory agency, the Corporation Commission, was the proper venue for such disputes.
But Scott Poynter, a Little Rock, Ark., lawyer for two Oklahoma homeowners who sustained severe quake damage in 2011, argued that the industry was just trying to keep their lawsuits from being decided by jurors who might award monetary damages.
Several of the worst quakes in the state's history hit the tiny town of Prague in November 2011, including one that registered 5.7 and another that registered 5.0, which caused the tall chimney of Sandra Ladra's home to crumble, sending down large pieces of stone that struck her as she sat in a recliner. Ms. Ladra suffered significant injuries to her knees and legs.
She filed suit against two companies that operate nearby wastewater disposal wells that she believed had caused the quakes. In October, however, lawyers for the well operators persuaded a state judge to dismiss the lawsuit, arguing that state law requires disputes to go before the Corporation Commission. Mr. Poynter, Ms. Ladra's lawyer, appealed to the State Supreme Court, leading to Tuesday's ruling.
Mr. Poynter said he had been investigating damage on behalf of clients in other areas of the state where "there has been a lot of shaking going on," including Guthrie, Cushing and Stillwater. He believes Tuesday's ruling may embolden more property owners to sue.
"People have been waiting on this decision," he said, adding that he would proceed with Ms. Ladra's lawsuit as well as with a separate class-action lawsuit related to the 2011 quakes.
The State Supreme Court did not take a position on Ms. Ladra's underlying argument that wastewater disposal wells caused the quake that injured her and damaged her home, though the justices did note the "dramatic increase in the frequency and severity of earthquakes" in the state.
Explaining their ruling, the justices cited "the long-held rule that district courts have exclusive jurisdiction over private tort actions when regulated oil and gas operations are at issue."
Lawyers for the oil and gas companies sued by Ms. Ladra — the Spess Oil Company and New Dominion — did not return phone calls seeking comment on Tuesday. But during a court hearing in October, they warned a state judge that juries siding with plaintiffs in cases like this one would invite economic catastrophe. 
If the companies are held liable at trial, "these wells will become economic and legal liability pariahs," said Robert G. Gum, a lawyer for New Dominion. "They will be shut down."
When the lawsuits were filed, top officials in Oklahoma were steadfastly insisting that the link between quakes and disposal wells was not clear.
But in April, state leaders did an unexpected about-face and embraced the scientific consensus. They even created a website that cited a determination by the state's geological survey that "the majority of recent earthquakes in central and north-central Oklahoma are very likely triggered" by wastewater disposal wells.
Many in the industry, however, maintain that claims of a clear connection require more study.
According to Mr. Poynter, industry officials have been busy seeking protections from the Oklahoma Legislature, successfully winning passage of a law that restricts municipalities from regulating oil and gas wells within their jurisdiction.
He also said the industry had tried — but so far failed — to win passage of another law requiring a state-approved expert to first certify any lawsuits over wastewater-induced quakes.
"In other words, it was going to be the industry picking the experts," Mr. Poynter said, calling it one of a number of proposals "designed to stymie our litigation or make it as difficult as possible for homeowners with earthquake damage to bring suit."
[Refer also to:
Oklahoma, Noble County 5.1 magnitude earthquake, OGS and USGS reported it as 4.2: "What are they up to? Do they really believe they can hide a 5.1 magnitude earthquake from us?"
Oklahoma Supreme Court will soon rule on case that could hold oil and gas companies liable for earthquake-related damage
Oil & gas execs 'pressured' Oklahoma geologists not to reveal fracking-quakes link; Industry Pressure Kept Oklahoma's Scientists Silent on Earthquake-Fracking Link Since 2010: Report
Oklahoma Insurance commissioner clarifies "man-made" earthquake policies: 92% of earthquake claims denied by insurers, "Until a legal ruling is made, it is generally assumed that the earthquakes are not man-made"
After whopping 4.1 earthquake, Oklahoma regulators were finally fracking fed up, ordered injection well shut down; In Alberta, after 4.4 global frac quake record and aftershocks, it's "No Duty of Care" frac as usual, harms be damned
7 Quakes Hit Oklahoma in Less Than a Day
New Cornell Study: Because of fracing, Oklahoma now has three times more earthquakes than California; Number of potentially damaging earthquakes – magnitude 3.0 or larger – up more than 120 percent
USGS: Frac-induced quakes "dramatically increasing the chance of bigger and dangerous quakes, federal research indicates"
Fracking Quakes Pose Added Risks but Oil and Gas Companies Refuse to Share their Collected Seismic Data. "In low seismic environments like Fox Creek where the natural earthquakes are infrequent, the hazards from an induced seismic event can exceed the hazards from a natural source"
International panel of geoscientists concluded pair of deadly earthquakes that struck Italian region of Emilia-Romagna in 2012 could have been triggered by petroleum extraction
Azle, Texas Sues over Earthquakes caused by Fracking
Nearly $2 billion property damages in Groningen from gas drilling induced earthquakes
Spain Suffers from Hundreds of Earthquakes Caused by Offshore Drilling; Largest is Magnitude 4.2; Citizens Complain of Cracks and Tremors Whipping Their Homes
Arkansas homeowners settle fracking lawsuit, Frackers Sued for Causing Earthquakes, Five federal lawsuits mark the first attempt to link drilling and quakes
Fracking Linked To 109 Earthquakes In Youngstown, Ohio
New Mexico Earthquakes Linked to Wastewater Injection
New BC OGC Report: From August 2013 to October 2014 Fracking directly caused 193 earthquakes (11 felt on surface), 38 more caused by waste injection, in Montney basin area surrounding Dawson Creek and Ft St John
Investigation of Observed Seismicity in the Horn River Basin, BC
USGS scientist: 'We're only starting to learn' about fracking, fluid injection, earthquakes
2000: Seismicity in the Oil Field
The gas field was discovered in 1956 and production began in 1962. Over the next 14 years, roughly 600×106 m3 of water, or 106 ton per km2, were injected. …
Beginning in 1976, a series of large earthquakes was recorded. The first significant earthquake occurred on April 8, 1976 at a distance of 20 km [12 miles] from the Gazli gasfield boundary. The earthquake magnitude measured 6.8. Just 39 days later, on May 17, 1976, another severe earthquake occurred 27 km [17 miles] to the west of the first one. The magnitude of the second earthquake was 7.3. Eight years later, on March 20, 1984, a third earthquake occurred 15 km [9miles] to the west of the second earthquake, with a magnitude of 7.2. … Aftershocks occurred in a volume surrounding the three hypocentres. These earthquakes are the strongest of all the known earthquakes in the plain of Central Asia. [Emphasis added]