OSHA standards moot in Quinton rig explosion because of exemption for oil-and-gas industry, Rig that exploded near Quinton not covered by safety rules by Corey Jones, February 3, 2018, Tulsa World
The natural gas rig that exploded near Quinton and killed five workers is not covered by a comprehensive package of federal safety standards implemented in the early 1990s after several chemical industrial disasters.
Oil and natural gas drilling, servicing and production are exempt from OSHA's "Process Safety Management of Highly Hazardous Chemicals" regulations. The PSM standard exists to prevent or minimize "the consequences of catastrophic releases of toxic, reactive, flammable, or explosive chemicals."
While industry standards do exist, a U.S. Chemical Safety Board report from 2014 noted that "serious incidents continue to occur," suggesting that industry's "voluntary guidance is insufficient."
A 2013 executive order from President Barack Obama directed OSHA to evaluate whether to remove the oil and gas industry PSM exemption, among other regulatory reforms. The status of that effort under Donald Trump's administration is unknown.
OSHA didn't respond to Tulsa World questions about whether that exploratory revision process remains ongoing or has been paused or canceled. The Department of Labor declined to comment. [Cowardly Predator Enablers!]
Obama's executive order came in response to the explosion in 2013 at the West Fertilizer Co. facility in West, Texas, that killed 15 people and injured more than 160 others.
The order notes that the oil and gas industry was exempted from PSM in 1992 because separate regulatory rules specific to the industry were to be developed. However, that never materialized as the matter later was dropped from the agency's regulatory agenda. [$$$$$$$$$$$$$$$$$$$$$$$$$$$]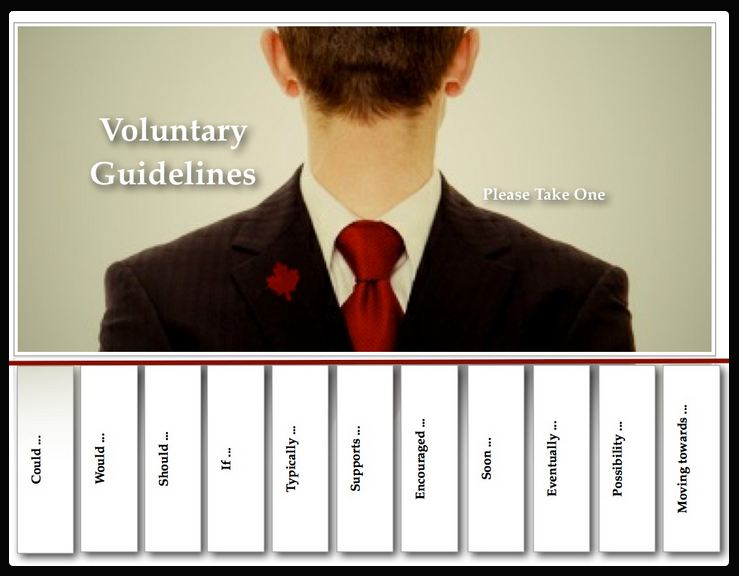 Industry's "Guidance" Escape Hatch Words image by FrackingCanada
According to a 2014 story by the energy sector publication Energywire, OSHA set out in the early '80s to impose a set of worker safety rules on drilling companies because of the high death rate in the oil field. Proposed in 1983, the set of rules, called a "standard," was to cover a range of topics, from blowout preventers to hydraulic fracturing to how many employees had to be trained in first aid.
The proposal met industry resistance, Energywire reported, and OSHA finally pulled the plug in 2001, leaving drilling companies exempt from a set of basic worker protections.
The U.S. Chemical Safety Board (CSB) wrote in 2014 that the catastrophic release potential of oil and gas facilities justifies their inclusion under PSM regulations. The "high rates" of worker injuries and fatalities also suggests PSM requirements are "urgently needed," according to the CSB report.
CSB urged OSHA to eliminate the exemptions.
The report acknowledged that the American Petroleum Institute (API) in 2001 produced safety standards for onshore oil and gas production but concluded they weren't enough.
"Unfortunately, despite the existence of this guidance, serious incidents continue to occur at oil- and gas-production facilities, which suggests that voluntary guidance is insufficient to address the catastrophic hazard potential posed by these sites," the CSB report states.
The API in 2013 announced new industry practices, one of which specifically covers "Blowout prevention equipment systems for drilling wells." [Industry's unenforceable voluntary "practices" are useless, they do nothing but con the public and impacted communities, and protect profits for a few greedy sods]
The Tulsa World spoke with API representatives to learn more specifics about what the industry standard requires, but that information was not provided. 
A spokesperson for Patterson-UTI declined to answer whether the company adheres to API practices in general and specifically the standard addressing blowout prevention.
Brian Brooks, a spokesperson for the company, said Patterson-UTI is an active member of, and holds various leadership positions with, the International Association of Drilling Contractors.
"Patterson-UTI strives to adhere to industry standards," [The company isn't even willing to adhere to nothing; they're only willing to strive to adhere to nothing] Brooks said in a statement. "Patterson-UTI has embraced a culture of continuous improvement in safety, training and operations. ["Embracing a culture" of continuous deregulation, more and more exemptions to increase profit-raping no matter how many workers are killed? Nice terrorist culture, right next door to your home and children's school. And don't think you are safe in Canada, the feds largely exempt the oil and gas industry from regulation too, letting it self-regulate with voluntary, usually false, promises and propaganda]
"In recent years, we have invested millions of dollars on training and protective equipment and worked to instill a company-wide culture where safety is the top priority of each employee."
The Associated Press on Jan. 25 reported that 10 workers had died in the past decade at well sites linked to Patterson-UTI. The Houston-based company also was fined nearly $367,000 over the past 10 years for more than 140 safety violations, many of them serious, the AP reported.
A separate AP analysis published in 2008 showed that at least 20 Patterson-UTI employees died on the job from 2002 to 2007. No other oil and gas company had more than five fatal accidents during that span.
Patterson-UTI released a statement Jan. 26 saying the company believes "some reports have overlooked important context and details" of its OSHA record. The company's "recent leadership commitment" to continual safety and training improvements is a factor in an improved OSHA record "in recent years."
"Patterson-UTI Drilling had the lowest number of cited OSHA violations compared to peers in the last three years," the statement reads. "It is also critical to remember that the cause of the (Quinton) incident is still being investigated." [Ya, working hard "with" investigators to figure out best way to hide any violations so that the company isn't fined, or is just tickled with a tiny one, and how to fast deregulate any laws violated?]
Drilling dangers
The crew on the Patterson-UTI rig recently had pulled the drillpipe and associated drilling tools out of the well to swap out drill bits at the time of the incident, according to a CSB update last week on its investigation.
An International Association of Drilling Contractors web page that provides a general overview on blowout prevention briefly touches on safety concerns when "tripping out of the hole" — or pulling drillpipe out of the wellbore.
The IADC notes that a hole should be kept full of drilling mud by using a trip tank, centrifugal pump or the mud pump to refill the hole after every 3 to 5 pipe stands have been pulled to replace the volume formerly occupied by the pipe.
Mud can be swabbed from the hole if the pipe is pulled too fast, if the mud is particularly thick and sticky, or if cuttings have built up on the drill bit, according to the IADC.
An industry expert who also is a petroleum engineer instructor at the University of Tulsa previously discussed with the Tulsa World drilling operations and how a blowout can happen.
Drilling fluid, or "mud" as it's commonly called, is the first line of prevention against a "kick," which is industry jargon for a geologic formation's fluid — such as gas, oil or saltwater — entering the wellbore.
A kick can result in an uncontrolled release of formation fluid — a blowout — from the wellhead if not properly managed.
The density of mud being pumped down the hole is crucial because it must maintain a density higher than that of the formation being drilled, otherwise the formation's fluids will enter the wellbore.
The last line of defense against an uncontrolled release is a blowout preventer.
Blowout preventers completely seal off a well and can slowly remove a kick from the system by releasing the fluids and pressure in a controlled manner through choke valves. [Emphasis added]