Canada's World Press Freedom rank:
2015 – 8th
2016 – 18th
2017 – 22nd
***
SUPREME COURT OF CANADA ENABLES MEDIA LOCK-UPS FOR CASES IN THE PUBLIC INTEREST
 Creepy: The Canadian Parliamentary Press Gallery requested media lock-up for release of Supreme Court of Canada's ruling in Ernst vs AER.
More creepy: Supreme Court of Canada agreed to request it!
Details on Ernst vs Encana lawsuit page
AER's outside counsel, Glenn Solomon, did not copy Ernst's lawyers his response, as is customary in legal matters. Did AER give consent to media lock-up and did not want the public to know?
Ernst's lawyers did copy him Ernst's letter declining consent for the media lock-up – where corporate controlled media would have had access to the ruling before all media, the Canadian public, even before Ernst and her lawyers!
"Jessica Ernst believes that it is better and fairer if the public and all media have equal access to the judgment in this case at the same time"
The Supreme Court edited Ernst's reason for declining consent in the docket:
Correspondence received from, (Letter Form), counsel for the Appellant re: declined to consent and believes it is better and fairer.,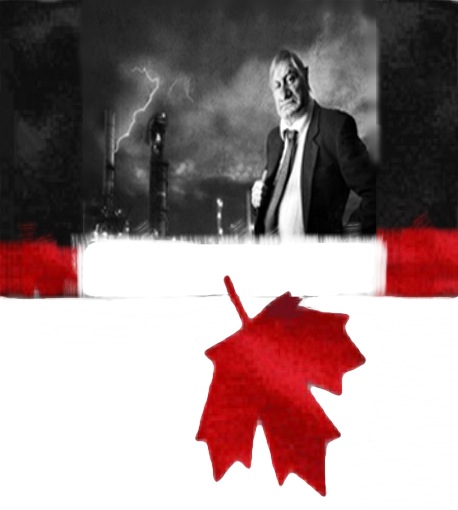 Dark Times For Press Freedom, It's True by WorldCrunch.com, April 26, 2017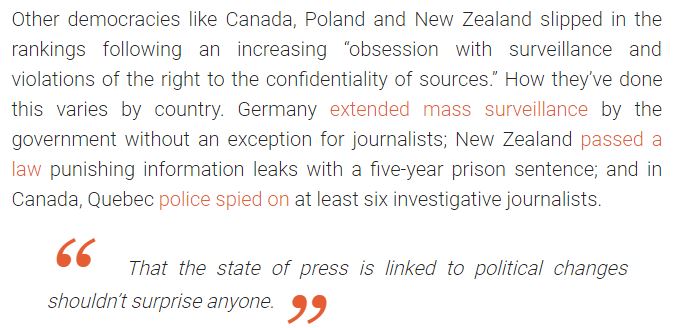 Press Freedom declining in US, Canada at 'alarming' rate by Sputnik, April 26, 2017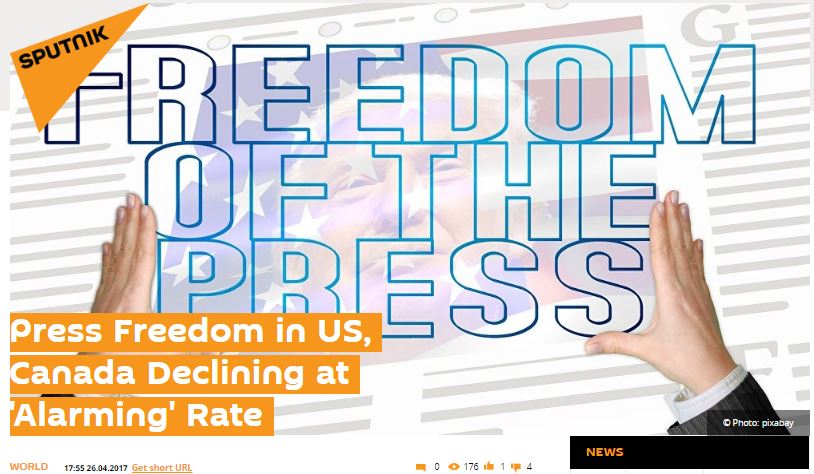 There is an alarming decline in press freedom, not only in the United States, as has been the trend for the past few years, but also in Canada, according to annual media freedom report of Reporters Without Borders (RSF).
WASHINGTON (Sputnik) — The recent decline in press freedom in western democracies such as the United States and Canada is disturbing, Reporters Without Borders (RSF) said in its annual media freedom report on Wednesday.
"We are currently witnessing an alarming decline in press freedom, not only in the United States, as has been the trend for the past few years, but also in Canada," RSF's North America Director Delphine Halgand stated in the report.
… US press freedom has been under threat over the past few years, most recently with the election of President Donald Trump, the report explained.
Trump has declared the media "an enemy of the American people" and blocks reporters from outlets critical of his administration. [Steve Harper's Big Brother?]
RSF noted that former president Barack Obama left behind a "flimsy legacy" on press freedom and access to information.
Canada dropped four points to number 22 in the ranking, as RSF said that several members of the press were under police investigation in an attempt to uncover internal leaks within the department.
Furthermore, a reporter with VICE News is fighting a court order to turn over communications with a protected police source, while another reporter — a journalist with The Independent — faces 10 years in prison over his coverage of protests against a hydroelectric project.
The watchdog noted there are no shield laws protecting Canadian journalists who maintain the secrecy of their sources.
Norway moved two spots to top the press freedom index, while Russia maintained its spot at number 148. Eritrea and North Korea swapped the two last places from the 2016 ranking to fall at number 179 and 180 respectively. [Emphasis added]
Canada falls again in global press freedom ranking, Canada in 22nd spot on Reporters Without Borders index, in part due to police spying on journalists and demanding reporters' background materials by Colin Perkel, The Canadian Press, April 26, 2017, McLeans
The four-place decline to the 22nd spot overall, on top of last year's 10-spot fall, leaves Canada out of the top 20 countries in terms of media freedom, Reporters Without Borders – or RSF – said Tuesday.
In announcing its 2017 World Press Freedom Index, RSF said Canada went through a "series of scandals" last year that highlighted the importance – and fragility – of the confidentiality of journalists' sources,
Those incidents include Quebec provincial police spying on at least six journalists and seizing a reporter's computer in a raid on a newspaper. Police in Montreal obtained numerous warrants to spy on a journalist's cell phone, while the courts upheld a demand by the RCMP for a reporter to turn over background materials in a terrorism investigation.
"In all these cases, the aim was to identify sources, which journalists have a duty to protect," RSF said in the report. "The obsession with surveillance and violations of the right to the confidentiality of sources have contributed to the continuing decline of many countries previously regarded as virtuous."
The report also noted the arrest and potential lengthy jail term a reporter faces after his arrest last year covering a protest against the Muskrat Falls hydroelectric project in Labrador – a situation it called a "direct attack" on media freedom in Canada.
Among other criteria, the index ranks a country's press freedom on the diversity of opinions tolerated, independence of media, the legal environment, and abuses or violence directed at journalists. …
Delphine Halgand, RSF's North America director, said an "alarming" decline in press freedom has been occurring in both Canada and the United States, which slipped two places to 43rd overall.
"Both of these countries pride themselves on their strong democratic values, which should include the freedom for journalists to report on issues of public concern without fear of reprisals," Halgand said in a statement.
"But what we are seeing is that journalists' sources are increasingly under threat, reporters are now facing jail time for covering protests, and verbal attacks meant to undermine the work of journalists are coming from some of the highest positions in government."
Canada fell 10 places in the 2016 index in what Reporters Without Borders blamed on the "dark age" for journalism under former prime minister Stephen Harper.
… "We have reached the age of post-truth, propaganda and suppression of freedoms – especially in democracies," the report states. "Now, more than ever, nothing seems to be checking that fall." …
"Donald Trump's repeated diatribes against the Fourth Estate and its representatives – accusing them of being 'among the most dishonest human beings on earth' and of deliberately spreading 'fake news' – compromise a long U.S. tradition of defending freedom of expression," the report states.
"The hate speech used by the new boss in the White House and his accusations of lying also helped to disinhibit attacks on the media almost everywhere in the world, including in democratic countries."
Globally, the report concludes, media freedom has never been so threatened, with the Middle East and North Africa still the world's most difficult and dangerous regions. [Emphasis added]
2017 World Press Freedom Index by Reporters Without Borders
Press freedom on the decline
Prime Minister Trudeau has strongly advocated for a "free media" but the past year has shown this to be dead letter. While Canada guarantees freedom of the press under its 1982 constitution, circumstances faced by journalists say otherwise. Several members of the press have been under police surveillance in Quebec in an attempt to uncover internal leaks. A VICE News reporter is currently fighting a court order compelling him to hand over communications with his source to the Royal Canadian Mounted Police, while another journalist for The Independent is facing up to 10 years in prison for his coverage of protests against a hydroelectric project in Labrador. Journalists in the country are not currently protected by any "shield law" and legislation like controversial Bill C-51 uses national security as an excuse to chill free speech and expression online. [Emphasis added. And Canada's courts appear to be casting Canada's Fascism into titanium, hand in hand with destroying civil Canadian's Charter right to Freedom of Expression when it comes to harms by the oil and gas industry. Hitler would be proud of not only Canada's politicians, but also our courts.]
The Index ranks 180 countries according to the level of freedom available to journalists. It is a snapshot of the media freedom situation based on an evaluation of pluralism, independence of the media, quality of legislative framework and safety of journalists in each country.
A tweet on the global ranking:
2017 03 09: Canada – RSF condemns criminal charges against journalist covering protests in Muskrat Falls
2017 01 25: Jessica Ernst Open Letter to Chief Justice Beverley McLachlin Regarding False and Seriously Damaging Statements in Justice Rosalie Abella's Supreme Court of Canada Ruling, Ernst v AER
2016 12 08: RSF joins global coalition asking Trudeau to take urgent action on press freedom crisis
2016 11 17: RSF alerts Prime Minister Trudeau of concerns about deteriorating press freedom in Canada
2016 11 09: Canada – Journalist facing trespassing charges after coverage of environmental protests in Labrador
2016 11 04: Canada – RSF appalled to learn of 6 more journalists under Quebec police surveillance
2016 11 03: Canada – RSF joins coalition of media and civil liberties organizations to intervene in VICE appeal
2016 11 01: Canada – RSF condemns Montreal police spying on newspaper columnist's phone
2016 09 27: Canada – RSF decries harassment of Quebec reporter
2016 07 30: CEPA, Canada's main environmental law isn't working. Of course it isn't, the oil and gas industry is largely exempt while emissions of the most harmful chemicals are on the rise. Live in a frac field? Hold your breath, don't drink the water
2016 07 01: British Columbia And Imperial Globalization. Happy Rape Canada Day!
2016 06 22: Live radio interviews too raw, too honest, too powerful? Bell Media's CFAX 1070 in Victoria, BC, terminates talk show host Ian Jessop
2016 06 05: Supreme Court of Canada Chief Justice Beverly McLachlin: Canada has "Cadillac justice for the elite and large corporations"
2016 04 20: CANADA DROPS 10 SPOTS ON 2016 WORLD PRESS FREEDOM INDEX AFTER "DARK AGE FOR JOURNALISM"
A new report from the global press freedom watchdog, Reporters Without Borders (RSF), describes the tenure of former Prime Minister Stephen Harper as a "dark age" for journalism in Canada, citing his hermetically-sealed style of government and the shameful state of our access to information system. The report notes that current Prime Minister Justin Trudeau has spoken strongly for media freedom but "only time will tell" if he follows through on his promises.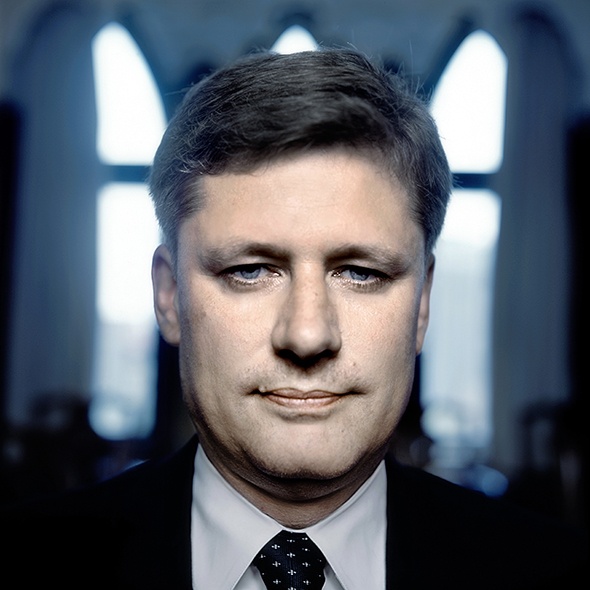 Photo of Canada's Ex PM Steve Harper by Tony Fouhse
2016 04 01; RSF condemns court ruling ordering Vice News journalist to hand over messaging with ISIS fighter
2016 01 28: Who are CSEC, CSIS Working for? Oil Companies & the fraudulent, lying, Charter violating, "No Duty of Care," legally immune, ex-Encana VP led AER? Harper's Communist China?
2015 12 27: RCMP pushes for new law to get Canadians' private information without a warrant. Who's pushing the RCMP?
2015 10 16: The Harper Years: Tough Times For Reporters In Canada
2015 03 25: Did Harper and the oil and gas industry order RCMP/CSIS/Snipers to attack innocent mothers and grandmothers, and set aflame stripped police cars in New Brunswick to discredit all Canadians concerned about frac harms and lay a red carpet for Harper's Bill C-51?
2015 03 01: Canadian Press and Media: The Sad, Sycophantic Sell-Out and "attacks (mindless, foolish, illogical, neo-fascist) on the Supreme Court of Canada"
2014 09 16: RCMP ignore "volley of gunfire" to concerned citizen's home but warn government and industry: "Environmental extremists pose 'clear and present criminal threat' to Canada's energy sector – more likely to strike at critical infrastructure than religiously inspired terrorists." Canadian and Australian oil and gas lobby groups warn: Industry operations "impact aquifers" and "contaminate water resources" as pre-determined "bullshit" investigations, cover-ups and court rulings fix everything. No word if "religiously inspired terrorists" plan to retire because of the intense competition
2014 03 17: Probe of Canadian spy agency CSEC found 'serious breaches' of ethics code
2014 01 31: Communications Security Establishment Canada (CSEC) illegally spied on Canadians; Harper government insisted CSEC never spied on Canadians; Spy agency's work with CSIS, RCMP fuels fears of privacy breaches
2014 01 26: Spy agency CSEC needs MPs' oversight, ex-director says, Highly secretive organization at the heart of Brazilian espionage allegations
2013 11 18: Canada dead last in OECD ranking for environmental protection; Canada dropped from 12th position in 2012, to last of 27 this year
2013 06 06: Police use force to arrest news photographer at Toronto station
2013 07 25: Less than 1-percent of Tar Sands Environmental Infractions Penalized by Alberta's "Best in the World," "World-Class," "No Duty of Care," spying, lying and law violating ERCB (now AER)
2013 02 24: Canada's dismal ranking in report on freedom of information
2012 06 12: FrackingCanada on Counter-Terrorism RCMP Squad set up in Alberta to Protect Oil & Gas Industry with Public as Afterthought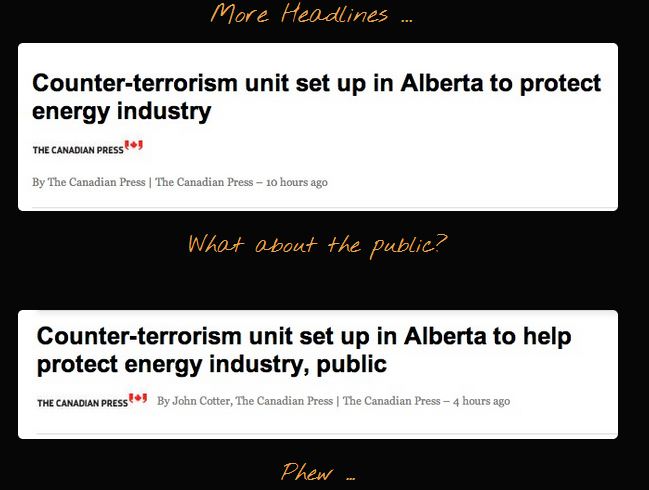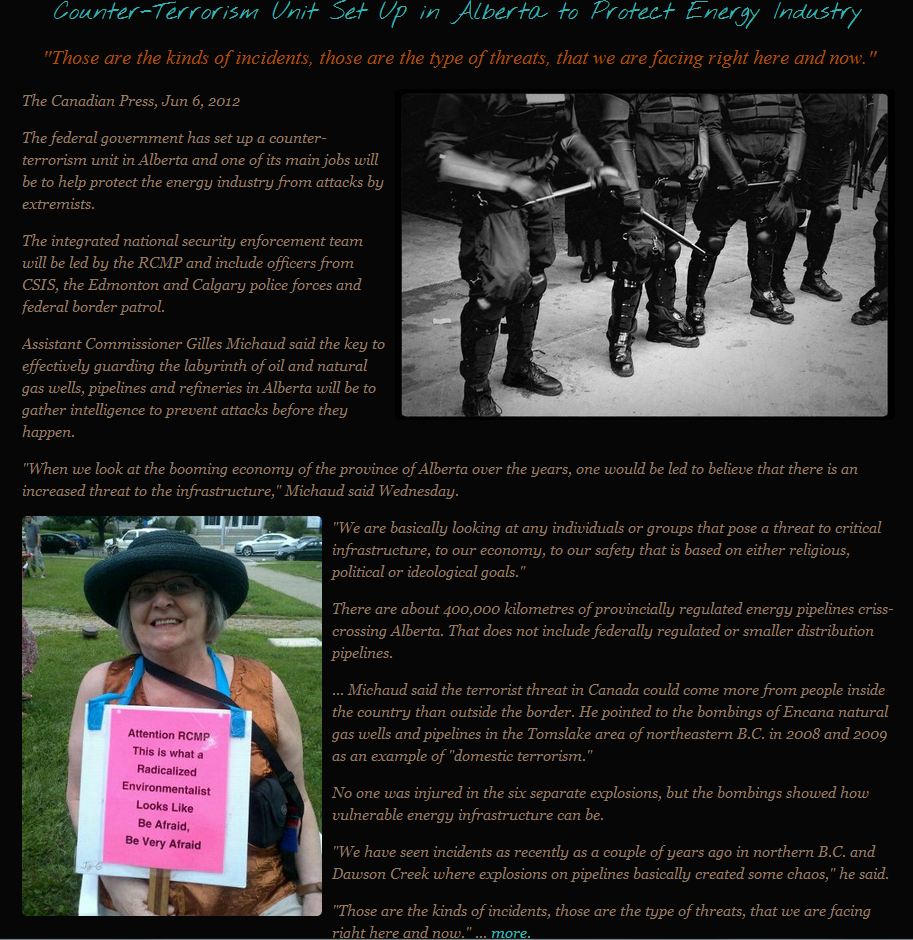 Images by FrackingCanada
2012 03 16; Journalist's home searched, confidentiality of sources threatened
2012 02 21; Canada's online surveillance bill threatens Web users' rights
2010 11 12; Daniel Leblanc: "By finding in my favour, the Supreme Court has reaffirmed that protection of sources remains the rule"
2010 05 11; Supreme court ruling threatens confidentiality of sources
2009 12 03: Support for lawsuit brought against Iranian government before Montreal court
2009 02 12: The Intimidation of Ernst: Members of Harper Government's Anti-terrorist Squad Intimidate and Harass Ernst after her Legal Papers were Served on Encana, the EUB (now AER) and Alberta Environment [Who sent them to invade Ernst's private property without a warrant? Encana? Harper? AER? Alberta courts?]

2008 03 19: Victory for protection of sources as court overturns contempt ruling against Ken Peters
2008 03 07: Four news media appeal against news blackout on terrorism case
2008 01 21: Federal court wants to violate basic rights of journalists to protect their sources
2007 06 19: Support for Quebec journalist ordered to reveal sources
2007 04 23: Weekly journalist on Pakistani paper beaten with cricket bat
2006 04 07: Media ban on return of dead soldiers
2006 01 27: Newspaper reporter could go to prison for refusing to surrender his notes to the police
2005 06 21: Documentary filmmaker beaten by embassy security guards
2005 06 10: Open letter to Montreal authorities about censorship of Zahra Kazemi photo exhibit
2005 03 11: Libel suit against Washington Post could have major impact on free expression
2004 12 08: Dangerous precedent as journalist sentenced for protecting his source
2004 12 06: Ken Peters will not be imprisoned for refusing to name a source
2004 08 27: Temporary reprieve for CHOIradioX
2004 01 22: Journalist at risk of prison for having classified information after police search her home and office
2003 06 18: Canada [We have had all this horror below since 2003, and still Herr Harper brought in and his govt passed the very Evil Bill C51, with Trudeau doing nothing yet to repeal it.]
After the 11 September attacks [Orchestrated by Big Oil and little GW Bush to further envelope the world in Fascism and increase mega riches and control the world's fast vanishing natural resources for the few?] parliament passed an anti-terrorist law on 18 December 2001 that undermined the principle of protecting journalistic sources.
The law amended the Criminal Code, the National Defence Act, the Official Secrets Act and the law about individual freedoms. Changes to the Criminal Code extended electronic surveillance of criminal organisations to cover terrorist groups and police will no longer have to show that such monitoring is a last resort. The decision remains one for a Supreme Court judge to make but the maximum authorised period of it was increased from 60 days to a year.
A change in the National Defence Act allows the defence minister to authorise the Communications Security Establishment (CSE) to intercept private communications (including electronic ones) linked to activity defined by the defence minister (chapter 273.65.1). The confidentiality of e-mail communication, and with it the protection of journalistic sources, has clearly been destroyed. The CSE's rules, however, say it cannot monitor Canadians or people living in Canada. [But they went sleazily ahead and did so anyways]
The government began consultations on 25 August 2002 about adapting to new technology various laws allowing legal access by prosecutors to private documents in the interest of the security and welfare of Canadians. It proposed that all ISPs be obliged to ensure they had the technical means to provide legal access to their data by national security officials. In effect, they would have to retain and provide data about their customers.
The government noted that the Criminal Code banned deliberate interception of private communications. But, in an attempt to justify possible interception of e-mail messages, it argued that when a message was written down, it was no longer really private, since it could easily fall into the hands of someone else.
These views were fiercely attacked by Privacy Commissioner George Radwanski in a report in late January 2003. He accused the government of using the 11 September attacks as an excuse to collect and use more and more data about private individuals. Such measures had no place in a free and democratic society and showed the government's contempt for privacy, he said [Intentional designed by multinationals teasing GW Bush's pathetic strings, with corrupt governments the world order lining up at the corporate bribery trough?]
Links:
Ligue des droits et libertés (in French)
Privacy Commissioner of Canada
Communications Security Establishment
Canadian Radio-television and Telecommunications Commission
2003 06 06: Quebec City police threaten to seize video recordings from three local television stations