Oilpatch woes fuel growing disputes with Alberta landowners, advocate says by Heith Gerein, January 10, 2017, Edmonton Journal
Disputes between private landowners and energy companies are on the rise in Alberta, in part due to the financial woes of an oilpatch struggling to pay its bills, the province's acting property rights advocate said Monday.
Karen Johnson told a legislature committee that her office has experienced a surge in calls and emails, many of them from frustrated property owners who say petroleum producers are failing to live up to their obligations.
Increasingly common are disputes that arise when an oil company goes bankrupt or falls into financial distress, and becomes either unwilling or unable to compensate a property owner for using their land.
"We are hearing from people, they are not getting paid for their leases, and that oil companies continue to operate on their property," Johnson said.
Bankruptcies have also led to situations where electricity bills meant for an energy firm are instead diverted to the landowner, she said. In other cases, owners are left wondering how to deal with wells that have been left behind by defunct companies.
Johnson called on the government to strike a committee that would discuss how to systematically "modernize" Alberta's property rights framework to make it more coherent and responsive. [What's a committee going to do besides talk talk talk while the list of oil companies abusing Alberta landowners and the environment grows?]
She said the province's current land use legislation is largely geared toward facilitating oil and gas development, and typically gives private landowners little recourse to block energy producers from coming onto their land.
"A landowner is unable to impose meaningful penalties such as eviction on non-compliant operators," she wrote in her latest annual report. "Often a landowner has no choice but to tolerate the activities of an operator even when rent has not been paid for years."
Surface leases sometimes contain addendums that entitle a landowner to compensation when contractual terms have been breached, but it remains unclear whether these addendums can actually be enforced by the Surface Rights Board, Johnson said.
Regardless, Johnson said the government should explore remedies beyond compensation, such as creating a more effective penalty system and a clear mechanism to enforce it.
"Laws intended to act collectively to protect landowners sometimes fall short, leaving authorities with too limited a scope or too small a hammer to fully resolve the issues," she said in her report.
Johnson also recommended the government establish a process to ensure her office's recommendations receive some followup. Of the nine recommendations the office has made in the past five years, Johnson said she has received no formal update on the status of seven of them.
Opposition members of the committee demanded three government ministries appear later this week to report on those past recommendations. But NDP members blocked the motion, citing the need to figure out appropriate timing.
The advocate's office was created in 2012 by the former Progressive Conservative government, which was under fire at the time for a number of controversial land use bills.
The first advocate, Lee Cutforth, served a three-year term until December 2015, when Johnson took over the role in an acting capacity. She was just reappointed to another one-year term as the acting advocate. [Enabling the abuses by synergy? Fooling easily conned Albertans into thinking there is assistance for them?]
Asked why the government has not appointed a full-time advocate, Alberta Justice declined to answer the question but issued a statement saying Johnson enjoys all the same powers.
However, Wildrose members of the committee questioned whether the office has enough teeth to be effective, suggesting the title of advocate might not be appropriate.
Johnson said her role is to listen to concerns, document them and then report what she hears to government. Her office can direct callers to other boards and agencies for information, but cannot offer solutions or advice to resolve disputes.
The office was originally supposed to operate with a budget of $1 million, but now subsists on about half of that. Including Johnson, the office has just three staff members split between sites in Edmonton and Lethbridge.
She said she believes call volumes are up in part because Albertans have become more aware of the office's role and want their concerns heard by the province. [Emphasis added]
One of the comments:
Diana Daunheimer
Let there be no doubt, of any kind, there are no property rights in Alberta. When dealing with resource projects, industries Right of Entry ranks supreme and landowners are forced by order of the Surface Rights Board to permit exploration and production of their land.
If the company is in violation of lease addendums or payments, or regulations, legislation or directives that are in place to protect public health and environment, you will find no advocates in the province to assist you. Not the Property Rights Advocate, the Surface Rights Board, AESRD, Alberta Health or the AER.
The AER will not enforce directives or lease agreements, under REDA, they operate with no public interest or public health mandate and the legislation is clear, if you have a lease disagreement, it must go before the Court for resolution. That means, landowners will spend tens, likely hundreds of thousands of dollars and by all averages a decade or more, trying to remediate actions within the judicial system. [And most likely get nowhere by design, unless you settle and shut up] Or you live with violations, abandoned and inactive wells, or operators that do not pay for their leases or honour their agreements.
The NDP is refusing the recommendations of the PRA, because they have endorsed the mandate of the AER, along with play based regulations, one application, one play, where companies can now serve one application on landowners and communities for hundreds of well sites and all facilities that are necessary-waste, water, pipelines, roads, production, for the entire lifetime of the project. To further, in the NDP Climate Leadership Plan, fraccing is referred to as "clean", with "limited adverse impacts," since the NDP intend on replacing the majority of coal fired electricity with fracced gas, having also implemented billions in subsidies for unconventionals in the Modernized Royalty Review, they expect many more landowners property and health, to be disregarded and destroyed. If they granted increased protection for landowners, it would interfere with their illicit Climate Leadership Plan.
[Refer also to:
2017 01 07: Legault: We must do more to protect our water
4 Comments
Rick Arthur
Water is one of numerous critical values of importance to all.
Legault embarrassingly fails to recognize that watershed management is a key component of Alberta's public land management, not just since European settlement but also indirectly through Indigenous stewardship for millenia.
Alberta watersheds are managed. 90-100% of alpine/sub-alpine eco-systems are in Parks and Protected areas. 100% of the Castle, Kananaskis, much of the Oldman, the Elbow, over 50% of the Ghost are already in "protected" areas withdrawing them from virtually all industrial and public use.
The remaining public lands allow industrial use with science based regulatory requirements. (Spray Lakes Sawmills has had 3rd party certification that included Green Peace/Sierra Club endorsement). Regardless, Legault would happily shutdown Spray Lakes sawmill putting another 500+ Albertan families out of work.
Creating more parks is not a solution. Will any industry ever be allowed to operate in Alberta?
Diana Daunheimer
"Will any industry ever be allowed to operate in Alberta?"
In 2013, the Alberta Energy Regulator took over the Water Act, the Public Lands Act, the Environmental Enhancement and Protection Act and the Mines and Minerals Act with respect to all resource (oil, coal, gas, bitumen) exploration and production.
Public lands are now certainly open for business.
…
Diana Daunheimer
Even in the grip of winter, water trucks on contract with the oil and gas industry are chipping holes in lakes, creeks, dugouts or drilling water wells, to use trillions upon trillions of litres per year of fresh water in drilling and hydraulic fracturing. Since the AER took over the Water Act with respect to resource extraction in mid 2013, they have approved over 13,500 temporary diversion licenses for commercial water use, and 555 are awaiting approval within the next 30 to 60 days.
If you want to protect watersheds, the AER should not have free reign with the Water Act and unfettered, un-monitored control of water resources in the province, to use and contaminate fresh water on a continual basis, removing large portions from the hydrologic cycle to be injected into disposal wells.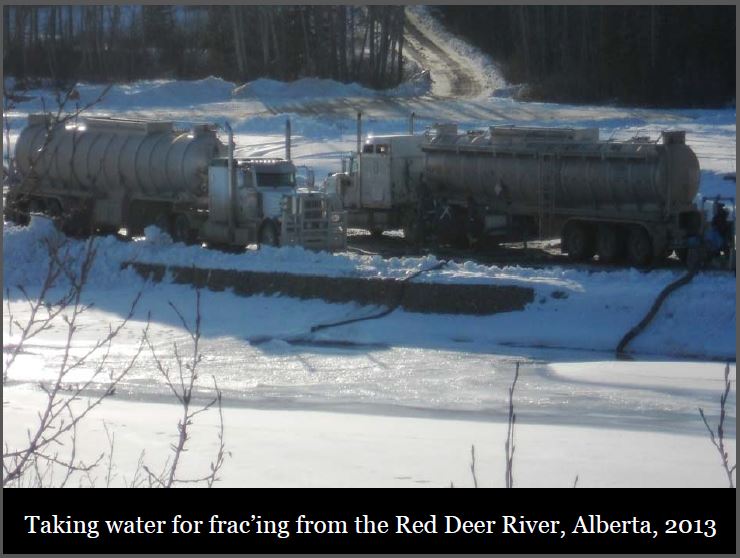 Slides from Ernst presentations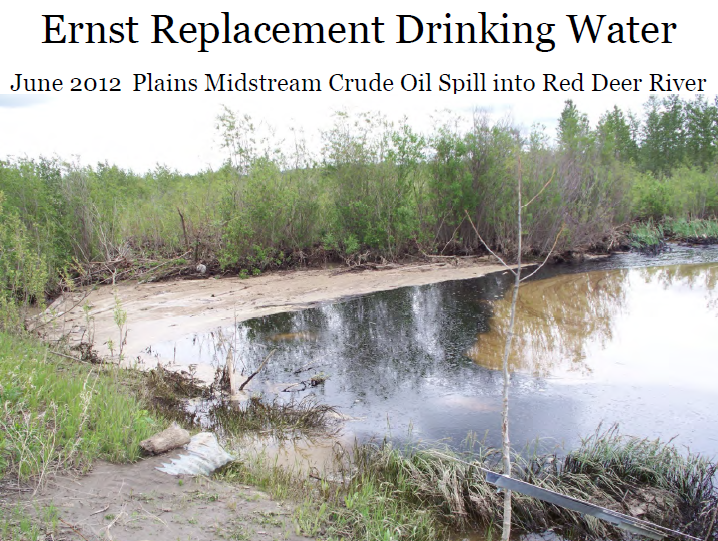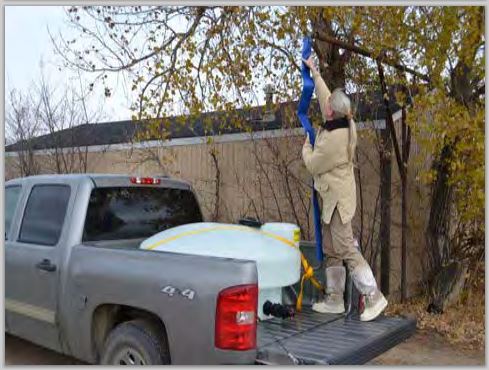 2013: Ernst hauling drinking water sourced from the Red Deer River after Encana illegally fractured and contaminated the aquifers that supply her water well, with regulators engaging in fraud to protect Encana and cover-up the law violations and harms.
Allison Routledge · Mount Royal University
Water use from aquifers must be monitored: it is apart of any site approval.
Diana Daunheimer
Allison Routledge
Ms. Routledge,
Can you provide documentation that the AER is in fact monitoring their use of water from source aquifers?
The AER has no baseline water quality monitoring or testing program in place, no directive, legislation or protocol, with respect to hydrualic fracturing operations, therefore, your statement about it being a part of any site approval is erroneous.
Lee Drewry · University of Calgary
Mr. Westhead and his government colleagues claim to be concerned about water preservation, and yet their solution to protecting parts of Calgary from high flow levels in the Elbow River is to divert the river miles off stream, create extensive damage to the Springbank community, and create a shallow slough where water will evaporate and/or contaminate. The Springbank Reservoir is a waste of this valuable water resource. A dam on public land at McLean Creek will both protect Calgary and other upstream communities and conserve the water for later use. It would also provide the recreation (remember Allen Bill Pond?) and economic benefits Mr. Legault refers to. ]