Government rejects ban on hydraulic fracking in Ontario by Keith Leslie, The Canadian Press, March 25, 2015, Global News
An NDP private member's bill to ban high volume hydraulic fracking to produce natural gas from shale in Ontario was quickly shot down by the Liberal government Wednesday.
NDP environment critic Peter Tabuns introduced a private member's bill to have Ontario follow the lead of Quebec, Nova Scotia, New Brunswick and New York and ban fracking.
Tabuns said fracking poses substantial risks to ground water….
"There's no need for Ontario to risk environmental damage and lawsuits by leaving the door open to this controversial practice," said Tabuns. "Let's learn from the hard experience of others and act now."
However, Natural Resources Minister Bill Mauro said the Liberal government will not impose a ban on fracking. "We're internally [by CAPP and the companies with interests to frac the ulta shallow, biogenic methane in Ontario?] reviewing what our plans will be and we'll go forward on that basis," Mauro told reporters. "We won't be going forward with a moratorium. The review will determine what our next steps will be."
Mauro would not put a timeline on when his ministry's review of the fracking issue could be completed, and said there are no fracking applications to the ministry, no one is seeking a licence [Refer below] and there is no exploration going on for fracking in Ontario right now. The minister said he wasn't sure there's enough potential gas in the province to attract companies that want to frack. "I would speculate that if there was a lot of it they would have probably been here already, but I don't know if there is or is not," Mauro said. "I would expect they would have already been sniffing around if that were the case." [Or is hazardous methane migration and related real estate and tax revenue problems alarming companies because of the potential billions in liabilities?]
But the NDP said Ontario needs to impose a moratorium on fracking before companies exhaust other deposits and come looking for licences to explore for natural gas in this province.
There's a shale deposit being exploited in Pennsylvania that extends under Lake Erie to its northern shore in Ontario, and potentially other deposits in the province, so the government should act now to block exploration, said Tabuns.
"As gas developers run out of places to exploit, they may well turn to Ontario," he said. "So we have an opportunity now before we get drawn into this, to block it from happening."
Mauro called Tabuns' suggestion there are more potential natural gas deposits in Ontario that would attract fracking companies in the future "hypothetical." [Emphasis added]
[Refer also to:
2010 03 20: Alberta firm eyes Ontario's untapped shallow biogenic shale gas
2011 05 18: Planned protest targets fracking in SW Ontario
Among the firms looking at unlocking shale gas is Mooncorp Oil and Gas, based in Calgary. It has acquired many acres of gas leases in recent years and Mooncor officials have expressed optimism about the potential of shale gas in the region.
2011 07 20: Radon threats are grounds for precaution
2011 08 08: Fracking: Radiation Now in Discussion
2011 11 18: Company buys 23,000 acres of land in Ontario for fracking operations
2012 03 02: Ontario Assessment Review Board Reduces Methane Contaminated Property's Taxation Value to Zero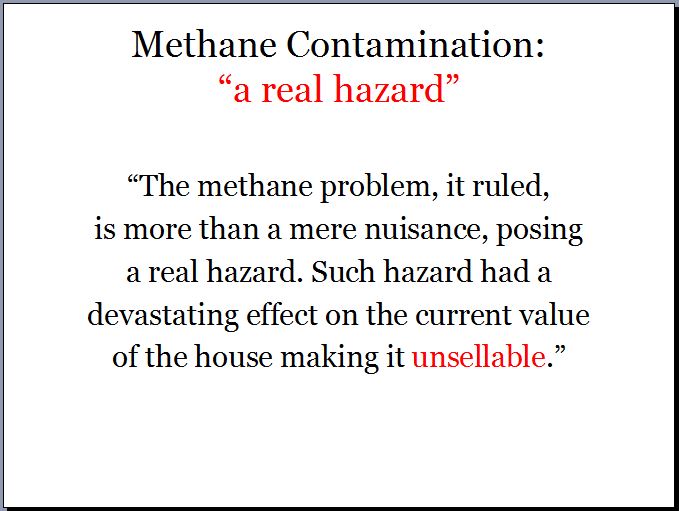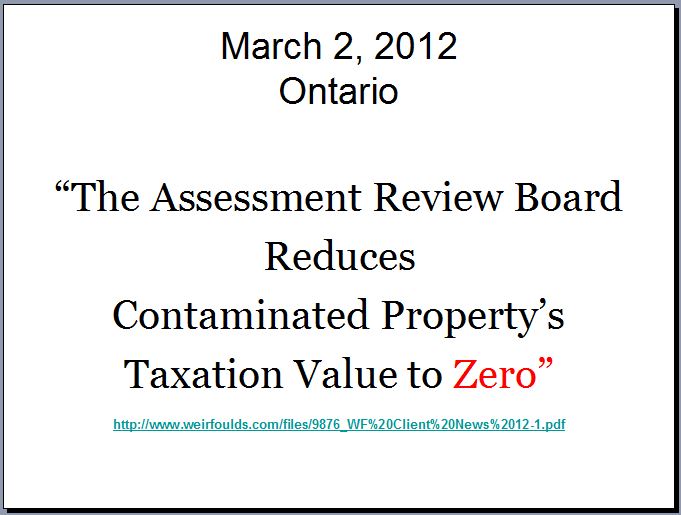 2012 10 24: Ontario Fracking rules need review, environment group urges
2012 11 01 :Silent killer: Cancer-causing radon
2012 11 13: Council of Canadians slams gas fracking in Ontario
2012 11 20: Ontario won't allow fracking for gas without evidence it's safe: McGuinty [What about all the peer-reviewed evidence proving how harmful fracing is?]
2012 11 20: 44 Oil, Gas Companies, Excluding Cenovus and Encana, Presenting at CAPP Investment Symposium in Toronto
2012 11 23: Ottawa sued over Quebec fracking ban, Ontario Smacked by U.S. NAFTA Lawsuit on Fracking [Fracing is safe?]
2012 11 23: Canadian taxpayers could be on hook for Quebec fracking decision because of NAFTA Chapter 11 that protects corporations even if they risk health, the public interest and environment to take profit
Lone Pine Resources, a Canadian frac company in serious financial trouble with $300 million in aggregate debt sues Canada for $250 million to lift Quebec frac ban
2012 12 04: Timing is right for a fracking ban to protect Ontario from NAFTA lawsuits says Council of Canadians
2013 01 30: Ontario will review fracking rules
2013 03 28: Gas in your maple syrup, Du gaz dans ton sirop
2013 03 09: Radon gas leaks in frac fields in Australia spark call for probe
2013 05 14: Ontario Court of Appeal says innocent parties must pay for pollution clean-up
2013 10 10: Ontario Environment Commissioner Gord Miller says government dismantling environmental protections
2013 11 29: Radon — #9 In "Top 10 Toxic Ingredients Used By The Fossil Fuel Industries"
2013 12 06: Chiefs of Ontario say no to fracking anywhere in the province
2013 12 30: Harper government cutting more than $100 million and about 500 jobs related to protection of water
$50-billion tobacco lawsuit to go ahead in Ontario, Court of Appeal unanimously refused to throw case out of court
It's hypocritical to sue tobacco firms but allow drilling
2014 03 11: Santos  fracing in NSW Australia contaminates aquifer with uranium at 20 times the safe drinking water levels; Regulator does not test for thorium, radon and radium! Thorium and radon are known to cause lung cancer.
2014 04 30: Council of Canadian Academies Expert Frac Report: Provides more questions than answers, Science to be determined after the fracs
2014 05 19: Public Health Experts Call on Governor to Study Fracking's Impact on Cancer-Causing Radon Levels Before Making a Decision On Whether to Allow Drilling
2014 06 11: Ontario Communities should send clear 'no fracking' message
2014 07 20: Florida jury slams tobacco company with $23.6B in punitive damages in widow's lawsuit; We can say no to smoking near loved ones, can't say no to being poisoned by fracing or dishonest frac promotion by regulators, companies, CAPP, CSUR and frac patent holder, Dr. Maurice Dusseault
2014 07 24: Harper government enabling the frac harm cover up? Environment Canada criticized for leaving fracking chemicals off pollutant list saying not enough frac chemicals used – 362,000 litres of diesel invert lost underground near Alberta family home
2014 08 24: Frac'ing 'threat' wiped £535,000 off home's value; Valuation Office Agency (sets values for tax purposes): "any industrial or commercial development near homes, potentially including fracking, could reduce their value"
2014 11 28: Fracking might be as damaging as thalidomide, tobacco and asbestos, UK's Chief Scientific Adviser warns in new report: "In all these and many other cases, delayed recognition of adverse effects incurred not only serious environmental or health impacts, but massive expense"
2014 12 11: Trouble Beneath Our Feet: Leaking Energy Wells a Burning Issue; Big problem, Expensive to Fix, Impossible to Completely Stop
2014 12 16: Quebec's Premier Declares Province-wide Shale Gas Ban after Environmental Review Board (BAPE) says Fracking Not Worth The Risk, "Too many negative consequences to the environment and society…risks to air and water quality…noise and light pollution"
2014 12 17: New York State to ban fracking because of red flags to public health. Health Commissioner Howard Zucker: "Would I let my child play in a school field nearby? After looking at the plethora of reports, my answer would be no."
2014 12 17: Harper government appoints two far right law profs as judges to Ontario courts; One is Grant Huscroft, reportedly "anti-Charter [of Rights] and basically, anti-equality rights"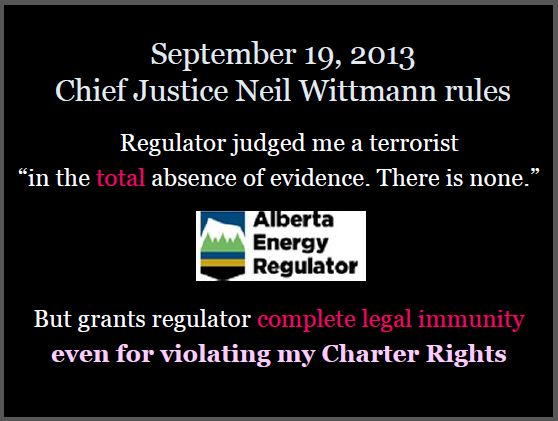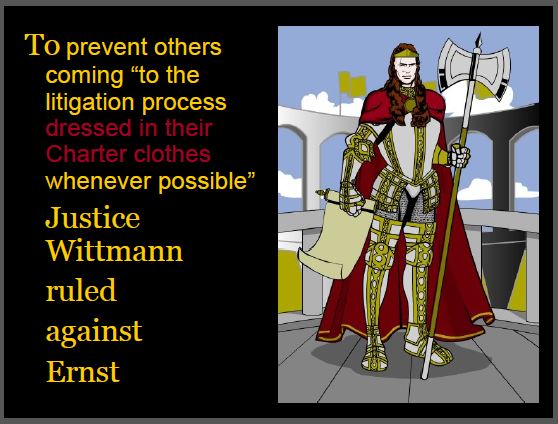 Slides above from Ernst presentations
Ernst vs Encana in Top 10 Canadian Judicial Decisions in 2014 of Import to the Oil and Gas Industry
2015 01 29: Did Alberta Just Break a Fracking Earthquake World Record with 4.4 Temblor at Fox Creek? Sounds of Silence: The Crooked Lake Earthquakes
2015 02 19: BC's Ministry Health withholding data, report of scientific research on how oil and gas operations are affecting human health in northeast communities; Refusing to release even under FOIP: "could be harmful to the financial interest of a public body"
2015 03 04: MUST (LONG) READ! Special Issue of Journal Environmental Science and Health, Part A: Toxic/Hazardous Substances and Environmental Engineering: Facing the Challenges – Research on Shale Gas Extraction