Gas drilling contamination case could go to State Supreme Court by Don Hopey, November 3, 2016, Pittsburgh Post-Gazette
Loren "Buzz" Kiskadden will appeal a Pennsylvania Commonwealth Court ruling that takes to task the "reckless" drilling operations of Range Resources, but finds the Washington County landowner failed to prove the company's leaky Yeager gas drilling site contaminated his water well.
Mr. Kiskadden's attorneys, John and Kendra Smith, said Tuesday they will appeal the Commonwealth Court's 6-1 decision to the state Supreme Court within 30 days.
That 44-page Commonwealth Court decision, filed Oct. 26, affirms the state Environmental Hearing Board's June 2015 ruling that although Mr. Kiskadden's well water was contaminated, no hydrogeological connection was proved between Range's gas drilling operation at the top of a hill and Mr. Kiskadden's water well in a valley approximately half a mile away.
"Taking into consideration our appellate role and the weight and credibility assigned to the evidence by the Board," the court wrote, "we are constrained to conclude that the Board's findings are supported by substantial evidence and that the Board did not capriciously disregard the evidence or improperly rely on speculative evidence."
But the majority opinion also noted that at least 15 leaks, spills and overflows occurred between March 2010 and June 2011 at the Yeager drill site in Amwell, impacting the environment and contaminating soil and springs. Some of those leaks and spills were not reported to the state Department of Environmental Protection, the opinion found, while others were not reported accurately.
"Range's reckless business practices, combined with its repeated failure to report problems at the Yeager site, are irresponsible in the extreme," the court wrote in its conclusion. "The list of leaks and spills is troubling."
Mr. Smith said his client's appeal will focus on the Hearing Board's failure to consider evidence of other well and spring contamination in the area caused by Range's operations, as well as other legal issues. The Supreme Court has the discretion to hear the appeal or not.
Commonwealth Court Judge Patricia McCullough was the lone dissenting vote. In a dissenting opinion she wrote that although the Hearing Board had granted Mr. Kiskadden a "rebuttable evidentiary presumption" when Range did not comply with discovery requests, the board failed to apply that presumption when it ruled that the contaminants in Mr. Kiskadden's well, although matching those at the Yeager drill site, could have come from some other source.
"Because the Board failed to properly apply the presumption in the context of this case, and, for all intents and purposes, never provided Kiskadden with the benefit of that presumption, I would vacate and remand to the Board to rectify this legal error with the appropriate findings of fact and analysis," she wrote.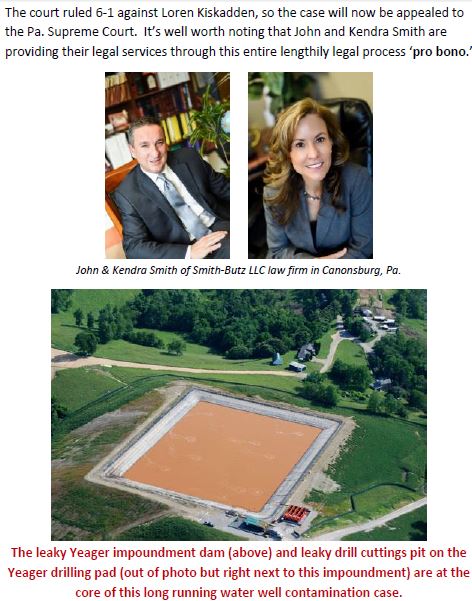 Pa. Appeals Court Won't Revive Claims Drilling Damaged Well by Adam Lidgett, Law360, October 26, 2016
A Pennsylvania appeals court on Wednesday declined to revive a landowner's case that claimed a Range Resources Corp. drilling site caused contamination of his water well by drilling for natural gas nearby, affirming a state agency's ruling that said he didn't adequately prove a link between the two.
A panel of the court declined to reopen Loren Kiskadden's case accusing the company of
contaminating his well in December, saying newly discovered evidence wouldn't alter the
Pennsylvania Environmental Hearing Board's June 2015 decision to toss the case and that
the evidence failed to establish a link between chemicals spilled at a Range drilling site and
the landowner's well.
The court reheard the case in April, with Kiskadden arguing the EHB disregarded material
evidence showing a connection between the well and the fracking company's natural gas
operations. The court, however, ruled that it was Kiskadden's burden to prove the site was
the contamination source, saying his evidence didn't outweigh the conflicting evidence that the contaminants in his well were naturally occurring.
"Moreover, his evidence did not prevail over other credible evidence refuting the existence
or likelihood of a physical pathway between his well" and the site, the court's majority
opinion read. "Taking into consideration our appellate role and the weight and credibility
assigned to the evidence by the Board, we are constrained to conclude that the board's
findings are supported by substantial evidence and that the board did not capriciously
disregard the evidence or improperly rely on speculative evidence."
Judge Patricia A. McCullough did write a dissenting opinion for the case, saying that given Kiskadden's empirical data and expert testimony showed sufficient evidence to establish a connection between the site and the well.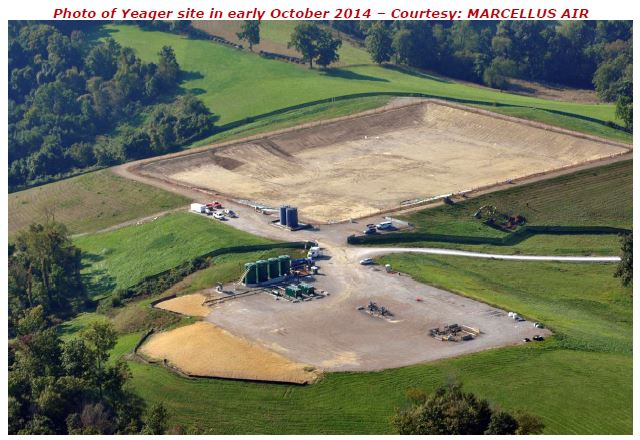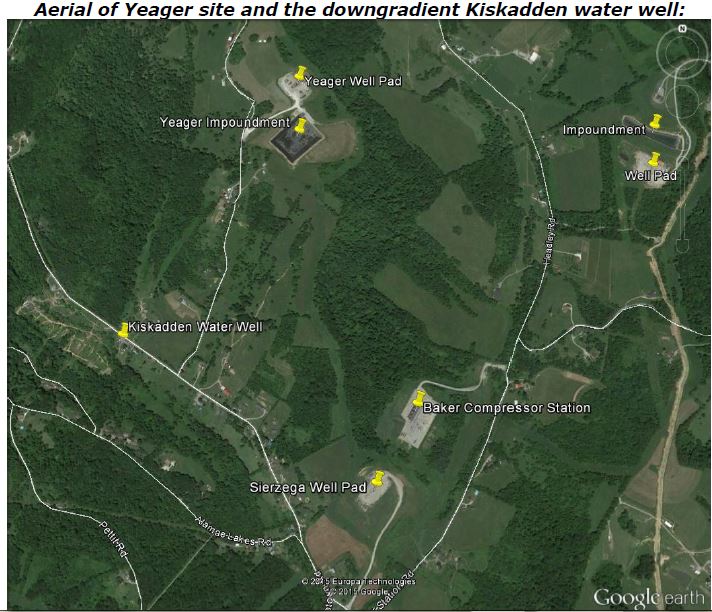 "The unrebutted presumption that the chemicals found in Kiskadden's well water were present at the [site] solidifies the fact that Kiskadden met his burden of proof," McCullough wrote.
Kiskadden had argued that chemicals discovered in his drinking water — including acetone, diesel range organics and numerous heavy metals — were also found leaking from the upgradient drill site during the period in question.
The board, however, found his expert's testimony attempting to link the contamination to
Range Resources' operations failed to show that the company was responsible, according
to court documents. The board, which functions as the judicial body of the state
Department of Environmental Protection, had said that lab results introduced into evidence did not support Kiskadden's claims.
Pennsylvania's DEP fined Range Resources $4.15 million in September 2014 for alleged fluid leak violations at six of its impoundments in Washington County. It also levied an $8.9 million civil penalty in June 2015, saying the company failed to submit a satisfactory plan to repair a leaking gas well responsible for contaminating private water supplies, a pond and a stream in Lycoming County.
While the court did not rule in favor of Kiskadden,

it did say that Range's "reckless 

business practices" and its failure to report problems at the site bordered on reprehensible.
John M. Smith, an attorney for Kiskadden, said in a statement that most likely he will be
asking the Pennsylvania Supreme Court to review the matter.
"While our client takes some solace in the court's finding that Range's reckless business 

practices at the Yeager site were 'irresponsible in the extreme, bordering on 

reprehensible,' it is no substitute for a clean drinking water source," he told Law360.

Pennsylvania DEP spokesman Neil Shader said in a brief statement that the department
agrees with the court and that the Environmental Hearing Board decision was wellfounded.

Representatives for the rest of parties did not immediately respond to requests for
comment Wednesday.

Kiskadden is represented by Kendra L. Smith and John M. Smith of Smith Butz LLC.
Range Resources is represented by Christopher Nestor of Overstreet & Nestor LLC.
The DEP is represented by in-house counsel Michael Heilman, Gail Myers and Richard
Watling.

The case is Loren Kiskadden v. Pennsylvania Department of Environmental Protection, case number 1167, in the Commonwealth Court of Pennsylvania. [Emphasis added]

Pennsylvania Medical Society calls for state ban on drilling and fracking by Don Hopey, October 28, 2016, Pittsburgh Post-Gazette

… The society's 300-member House of Delegates unanimously approved a resolution at its annual meeting Sunday in Hershey calling for the fracking moratorium, registry and research.

Dr. Walter Tsou, past president of the American Public Health Association and the author of the resolution, noted that a similar resolution was rejected three years ago, but now "growing evidence has shown its increasing deleterious effects outweighs any economic benefit."

He said the medical society's board of directors will meet next month to plan how to get the state Legislature, the Department of Health and the governor's office to act on the resolutions.

The medical society might not get much help from the governor's office, however.

Jeffrey Sheridan, Gov. Tom Wolf's spokesman, said Thursday night that the governor does not support a statewide moratorium.

"The governor understands the importance of the natural gas industry and he wants the industry to succeed while [poisoning] protecting the health of our residents and our environment,'' Mr. Sheridan said. "Gov. Wolf has proposed methane regulations that are in the process of being implemented, and his administration developed some of the most stringent regulations on unconventional well drilling in the country that were recently finalized. [Years too late. Besides what good will they do when companies ignore laws and regulations and frac how and where they like, including into drinking water aquifers with regulators engaging in fraud to cover-up the endless water contamination cases?]

"The governor will continue to find ways to support the industry….."

Protect Pennsylvania: Health Professionals for a Livable Future, an activist alliance of physicians and nurses organizations opposed to shale gas development, said in a news release it supports the medical society's resolution, and criticized the state Legislature for failing to establish a health registry or fund research into the health impacts of the decade-old shale gas drilling and fracking industry. [No record, no monitoring, no data, no evidence … all the better to frac the world with]

According to Protect Pennsylvania, many communities that benefited economically from the initial shale gas boom are now experiencing environmental and human health consequences.

"Pennsylvania has invested heavily into shale gas drilling, but in-state health studies have demonstrated worsening asthma, premature births, neurological and mental symptoms, and other adverse effects," said Protect Pennsylvania's news release, which cited bans or moratoriums on shale gas development in New York, Maryland and Vermont as appropriate precautionary steps.

… The medical society's call for a moratorium came just a day before the release of a new study by the Yale School of Public Health that found numerous carcinogens used in fracking have the potential to contaminate the air and water of nearby communities and increase the risk of childhood leukemia. [Emphasis added]

[Refer also to:

2016 06 17: The Frac Fraud Rages on and on: Voyles Lawsuit in Pennsylvania accuses Range Resources *and* lab, TestAmerica, of doctoring water test results

2015 12 09: Pa. Appeals Court rules Landowner Loren Kiskadden Can't Revive Claim That Fracking by Range Resources Contaminated his Water Well, not even with proving that Range withheld radioactive frac tracer data during the legal proceedings

2015 10 16: HOW MUCH FRAUD ARE COURTS, REGULATORS, COMPANIES ENGAGING IN TO HIDE THE FRAC POISONING? Tracers to blame? Range Resources unwillingly confirms fracking directly pollutes drinking water? Damning new information surfaces in Washington County water well contamination case

2015 06 13: What else is new? Pa Environmental Hearing Board Dismisses Kiskadden Appeal Claiming Range Resources Contaminated His Drinking Water

2015 02 05: Superior Court hears arguments on release of frac chemicals; Range Resources appealing 2013 Court Order to release all chemicals

2013 01 30: Range denies intentionally providing inaccurate water testing results

2012 11 04: Heavy metals: Study links water contamination to fracking

2012 11 02: Pennsylvania Report Left Out Data on Poisons in Water Near Gas Site

2012 11 01: White calls on state, federal authorities for investigation of DEP over deceptive Marcellus Shale water-quality testing practices, Testimony by DEP lab chief reveals possibility of intentionally undisclosed public health risks from Marcellus Shale gas drilling

2012 05 25: Resident allowed to appeal DEP ruling on well water ]

Compare:

2011: Kiskadden's water contaminated. The case has already had a 20 day trial and numerous appeals.

***

2004 03 02: Encana illegally frac'd and contaminated Rosebud's drinking water aquifers that supply the Ernst water well.

2007 12 03: Ernst files her lawsuit against Encana, AER (then ERCB, previously EUB) and the Alberta government

2007 03 to April 2012, via FOIP laws and two official inquiries: Ernst tries to get the "public" water testing data collected by Encana and needed for her lawsuit. The second inquiry ended ordering that the data be released to Ernst. The Alberta government and research council refused, claiming "client-solicitor" privilege.

As of October 29, 2016, the "public" water testing data collected by Encana and on file with the government (or was it shredded after Notley's NDP won the election?), remains withheld. Encana didn't even file the "public" data in document exchange ordered to by Chief Justice Wittmann for the Ernst lawsuit, deadline of December 19, 2014.

2016 10 29: Ernst's lawsuit remains tangled in preliminaries, years yet from trial.