Its appeal denied, Range Resources ordered to disclose drilling chemicals in Washington County lawsuit by David Conti, April 15, 2015
Range Resources Corp. must gather information about the chemicals its contractors used at a Washington County shale gas well and disclose it to neighbors who sued over leaks from a nearby wastewater holding pond, state judges said this week.
Superior Court denied the Fort Worth-based gas producer's appeal of a county judge's order directing the disclosure as part of a 2012 lawsuit involving the Yeager drill site and impoundment in Amwell. It's one of five impoundments Range agreed to close as part of a $4.15 million settlement reached last year with Pennsylvania regulators.
"We look forward to receiving the information ordered by the trial court requiring full disclosure of all chemicals used at the site," attorney John Smith said Wednesday. He represents families who sued Range in 2012, alleging leaks from the pond and related drilling fouled their water.
A spokesman and lawyer for Range could not be reached for comment on whether Pennsylvania's most prolific shale driller will appeal the decision to the state Supreme Court. The company has denied the families' claims and says testing by the Department of Environmental Protection found no evidence that gas activity polluted their water.
The case brings together two prime issues of contention in the decade-long shale drilling boom: leaky wastewater impoundments that regulators are seeking to phase out and disclosure of the chemicals used during drilling and hydraulic fracturing.
In agreeing to last year's fine, Range said it would install new liners and leak-detection systems at remaining impoundments. The DEP fined Downtown-based EQT Corp. $4.5 million for leaky ponds, and the agency's new draft of environmental rules for oil and gas wells includes stricter permitting of the earthen pools.
State law requires companies to report most chemicals to an industry-run, online database, though proprietary ingredients can be redacted. Companies must disclose secret ingredients to doctors if they're treating someone for exposure and sign a confidentiality agreement.
Then-Common Pleas Judge Debbie O'Dell Seneca ordered the disclosure as part of the usual exchange of paperwork in the lawsuit. Range appealed last year. Superior Court judges ruled Range does not have standing to appeal the pretrial order because it has no interest in protecting contractors' and suppliers' trade secrets.
"To the extent the proprietary, chemical ingredients of products used at the Yeager drill site are entitled to protection, the right to assert such protection is held by the manufacturers of those products, not Range Resources," Judge John Bender wrote.
Senior Judge William Nalitz took over the case when O'Dell Seneca retired in January, though a trial is not imminent. Range appealed another decision involving a subpoena.[Emphasis added]
PA Superior Court Orders Range Resources, Halliburton, et al to divulge frac fluid ingredients…Again
Superior Court unanimously upholds Nov 2013 order that Range Resources and Halliburton fracking fluid ingredients be divulged.
Bravo Judges Bender, Lazarus, and Mundy ! 04/14/2015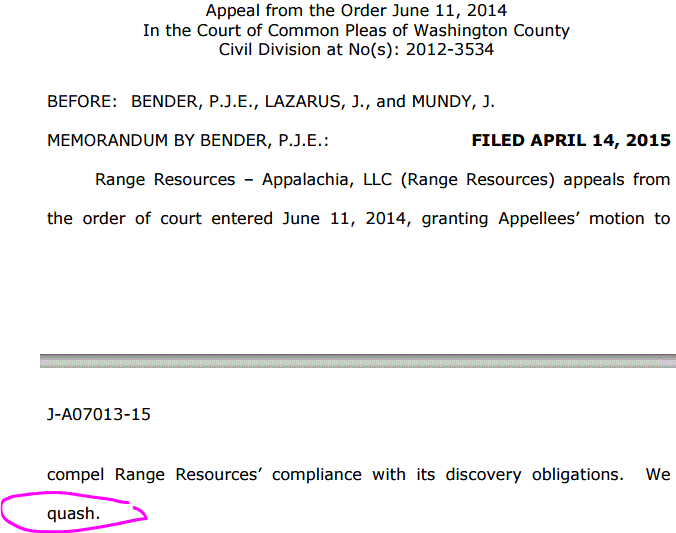 Snap above from the Fracking Disclosure Order
[Refer also to:
2015 04 01: Lawyers Accuse Gas Giant of Deficient Records Filing in Fracking Case, Encana disclosure shows 'disdain for an ordinary Albertan,' claims counsel for Jessica Ernst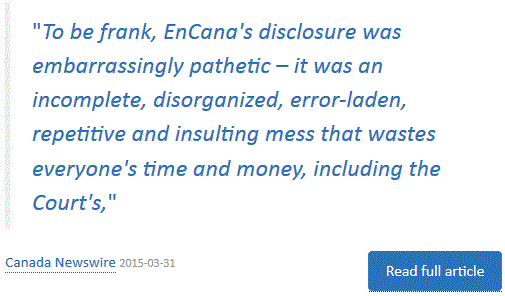 2015 02 25: Superior Court hears arguments on release of frac chemicals; Range Resources appealing 2013 Court Order to release all chemicals
2013 08 13: Judge denies Range Resources' testing request because company still hasn't complied with court order to disclose frac chemicals, including those proprietary
2013 01 30: Range denies intentionally providing inaccurate water testing results
2012 11 01: Pa. State Rep. Calls on Federal Authorities to Investigate Deceptive Marcellus Shale Water-Quality Testing Practices
2012 11 01: White calls on state, federal authorities for investigation of DEP over deceptive Marcellus Shale water-quality testing practices, Testimony by DEP lab chief reveals possibility of intentionally undisclosed public health risks from Marcellus Shale gas drilling
2011 11 17: Situation Normal All Fracked Up