Sharon Wilson: "Oil and gas has been making the same promises to clean up its act since 2005, yet fifteen years later it's still worsening the climate crisis and plaguing the health of residents next door."
2020 02 06: Federal transport minister orders trains to slow down after fiery crash in Sask., 'I cannot compromise on safety,' Marc Garneau says [Ya, right, how soon after the fire is out, will he wink wink, and rescind his order? Oil patch will never let any politician or regulator in North America slow down their rabid greed]
2020 02 06: Greed greed and more oil patch greed: Saskatchewan community of Guernsey evacuated, second crude oil fiery derailment in LESS THAN two months
A "perception" problem Mr. Gallagher?
2020 02 026: Saskatchewan Public Safety Agency says 31 cars derailed in fiery train crash, RCMP have blocked Highway 16 in both directions near Guernsey, southeast of Saskatoon
"Like, what the heck is going on?"
[What's going on? Oil and gas companies don't give a damn about public health or safety, their workers, or our communities, farms, air, land, water, food, they only care about more money and lies.]
Derailed Sask. CP train leaked more than 6 times the amount of oil than 2016 Husky pipeline spill An estimated 1.5 million litres of crude oil leaked from the train, the TSB says
… The university's journalism department recently compiled a map of Saskatchewan spills from 2000 to 2018. It pinpointed 14,958 oil and gas industry spills during that period, including the release of 59 million litres of oil. ["Perception" or the reality of industry's greed caused nearly 15,000 spills in 18 years in one province?]
… Of the 33 derailed cars — which ended up in a large pile over some 500 metres — about 20 were breached and spilled out product that became engulfed in flames that burned for about 24 hours.
About 19 of the oil tank cars lost their entire loads. … The leaks came despite the use of tanks…meant to protect against such punctures and damage in the case of a crash or fire.
… After the July 2013 Lac-Mégantic frac'd crude oil train crash that killed 47 people, the federal government unveiled the rail cars it hoped would become the new standard for transporting flammable liquids. Dubbed the TC-117 in Canada (DOT-117 in the U.S.), these cars have better thermal protection and are supposed to withstand puncture and other damage better than their predecessors, according to Transport Canada.
… Transport Canada, which is monitoring the TSB's investigation, says it has taken steps in recent years to make railways safer. "Only the most crash-resistant tank cars available are allowed to be used to transport crude oil in Canada," a spokesperson said Thursday. [Sure aren't crash resistant are they!? North American regulators, politicians and oil industry execs are the ones with the "perception" problem, not the rest of us.]
***
Now, let's go see Mr. Matt Gallagher's New Poison Humanity More Bullshit Deal.
Parsley Energy CEO debuts 'shale new deal' in appeal to Generation Z by Sergio Chapa, Feb. 5, 2020, Houston Chronicle

The oil and gas industry faces an existential crisis caused by Wall Street dissatisfaction and a belief by most teens that the industry does more harm than good, Parsley Energy CEO Matt Gallagher warned on Wednesday at the NAPE Summit in Houston.
Known for embracing social justice causes and fighting pollution that causes climate change, Generation Z is defined by Pew Research as those born between 1997 and 2012. Their views about oil and gas, as well as declining enrollment in university petroleum engineering programs, have placed that generation on a collision course with the industry, Gallagher said.
"If we allow this to continue, we're writing our death warrant with future generations and leaders," [EXCELLENT! There may be hope for humanity yet!] he said.
But in introducing the "Shale New Deal," Gallagher said the oil and gas industry could turn the tide by tackling three issues – perception, pollution and profits. [ROARING LAUGHTER. CAPP et al, Encana (now cowardly Ovintiv), AER, our corrupt money grubbing academics and politicians love to blame the public and harmed by way of "perception." Take your blaming, shaming and polluting, money-losing dying industry that the world has turned away from, and shove it, Mr. Gallagher.]
Changing perception, he said, involves oil and gas companies and employees "telling the story" of the industry and its benefits, including how oil and gas is used to create plastics, clothes, medicines and fertilizers. [LIFE ON EARTH IS BEING DESTROYED BY THE OIL AND GAS INDUSTRY'S "BENEFITS!" Plastics, fake unhealthy devastatingly polluting fabrics, fake medicines and fake fertilizers are causing horrific harm. Life on earth will be much healthier, safer and honest when the oil and gas industry kills itself for good.]
Battery-powered vehicles won't end the world's dependence on oil, said Gallagher, who admitted that he recently made a down payment on a Ford Mustang Mach E, an electric sports car. [HYPOCRITE!]
"Even with the aggressive adoption of electric vehicles, the world will need 40 million barrels per day of new oil by 2040," Gallagher said.
The industry's biggest black eye, he said, is flaring, in which excess natural gas is burned off at wells. [NOT TRUE. THE OIL AND GAS INDUSTRY'S BIGGEST BLACK EYE IS EVERYTHING IT DOES NOT JUST FLARING, INCLUDING PROPAGANDIZING AND POISONING CHILDREN IN SCHOOL] Oil companies burned a record 752 million cubic feet of natural gas per day in the Permian Basin of West Texas and southeastern New Mexico during the third quarter, according to Norwegian energy research firm Rystad Energy.
The Austin-based Parsley set a goal to keep its flaring levels below 5 percent of the company's natural gas production. The first test of those goals came after closing a $1.65 billion deal in January to buy Permian Basin competitor Jagged Peak Energy, whose neighboring wells were flaring more than 25 percent of their natural gas production.
On HoustonChronicle.com: Oil's slick rebranding is more like disinformation
"That's unacceptable," Gallagher said. "We're committed to getting that flaring percentage down to less than 5 percent. [pfffffft! Commitments by oil & gas executives/companies are useless. Industry proves itself again and again, UNWILLING to do what it incessantly promises to commit to. We get instead industry's greed and endless violated promises (that are really just lies)]
Hopefully some of the groups we're challenging do it even quicker. We must come together on this. We must commit to spending the capital dollars and pouring resources into it." [IS INDUSTRY SO DESPERATE, THEIR COMMITMENTS HAVE BECOME MUST COMMITMENTS? NO MORE VOLUNTARY COMMITMENTS?]
After nearly a decade of losses, Gallagher said, the industry is facing pressure from Wall Street investors to make shale production profitable. Part of the solution, he said, is funding new projects with free cash flow, or the money made from operations.
"Our industry is 160 years old," Gallagher said. "Throughout the decades, we have proven time and time again that we know how to change. [Ya, by ripping off investors more and more and constantly demanding more and more deregulation to pollute and harm life on earth more and more!]
Just in the last five years, we've truly changed the world. [Ya, of course you have! Rampant oil and gas industry caused global warming slamming horrific suffering on millions of humans and other species; killing millions; wiping out entire species and ecosystems; corrupting judges, schools, NGOs, academics and politicians nearly everywhere you operate; cost many hundreds of billions of dollars in damages that the industry refuses to pay to fix, even when ordered to by courts; etc etc etc] The geopolitical dynamic of the world has been turned on its head thanks to the work of the people in this room." [Yes, indeed. AND YOU NEED TO PAY FOR THE HELL YOU HAVE WROUGHT UPON US ALL]
"Oil and gas has been making the same promises to clean up its act since 2005, yet fifteen years later it's still worsening the climate crisis and plaguing the health of residents next door," said Sharon Wilson, a Dallas-based organizer with the environmental group Earthworks.
The group, Wilson said, has documented methane and toxic air pollution released into the air from Parsley Energy operations in the Permian Basin.
"Someone should tell its CEO that they don't have a perception problem. Parsley Energy has a pollution problem," Wilson said. [WELL SAID MS. WILSON!]
Luke Metzger, executive director of the Austin-based environmental group Environment Texas, said that hydraulic fracturing is dirty and that the industry faces both public relations and public responsibility problems.
"The industry needs to take major steps to reduce the harm it's causing to our environment, public health and safety, including reducing flaring and pollution of our waterways," Metzger said. "Fossil fuels are fundamentally dirty and it's clear that we need to get off them as quickly as possible."
The North American Prospect Expo, or NAPE, is a deals-making summit of industry leaders. It continues through Friday in downtown Houston.
Refer also to:
Fossil fuels are driving global warming; "it's rather ironic that higher temperatures are now battering gas markets" into "Gasmaggedon."
Ovintiv/Encana, Chevron, Exxon et al deeply deserve this! CNBC's Jim Cramer: "I'm done with fossil fuels … they're just done. We're starting to see divestment all over the world. … It's going to be a parade that says, 'Look, these are tobacco and we're not going to own them.' … Younger people don't want to own them. The dividends are great…but you can tell that the world's turned on them. It's actually happening really quickly."
Below are just a few examples of polluting rot and law violations by one oil company. Imagine the cumulative global pollution and harm caused by them all.
McKittrick, California: One day after Chevron announced it had finished cleaning up months-long, nearly 1.4 million-gallon leak in Cymric Oil field, another leak started with a second larger one appearing the next day spilling about 84,0000 gallons of oily fluid into a stream bed. Chevron appeals state's $2.7M fine
Bullies! Chevron, Aera Energy Sue to Block Monterey County, California's Voter-Approved Frack Ban; Lakes Oil sues Victoria gov't (Australia) for $2.7 billion in lost future possible profits because of frack ban
California farmers rely on Chevron's wastewater to irrigate. Some refuse: "I would rather let my trees die" than use Chevron's water. Compare to the Chevron Tapes that allegedly show the company covering up contamination in Ecuador
California now says 2,500 wells dumping frac waste into protected aquifers, up from 532 in February. Regulators order oil drillers including Chevron Corp. and Linn Energy LLC to halt operations at 12 injection wells (two were issued cease and desist orders) because they may taint groundwater suitable for drinking and irrigation
Romanian peasants' revolt against hydraulic fracturing, Chevron tries to bribe with yoghurt
The Chevron Frac Guarantee: Our well won't explode…or your pizza is free!
BP, Chevron Accused Of Illegally Dumping Toxic Radioactive Drilling Waste Into Louisiana Water
And then, there's Encana (now Ovintive) intentionally dumping its waste on foodland at Rosebud, Alberta:
Final stage of Chevron's litigation fighting the 19 $Billion judgement in favour of harmed Ecuadorians renews focus on its stock
Chevron Sues Its Own Shareholders In Ecuador Compensation Battle And Mr Gallagher blames teenagers for the industry's fall from global favour?
Chevron Workers Plead To Be Evacuated Before Deadly Blast
Chevron's Ecuador Cancer Problem: 10,000 People at Risk of Contracting Disease in Coming Decades, Says Expert, Oil Giant Faces Up to $69 Billion in Liability for Potential Cancer Deaths
"We can't let little countries screw around with big companies like this."
Chevron lobbyist in Washington, D.C. quoted anonymously by Michael Isikoff in Newsweek magazine, August 4, 2008.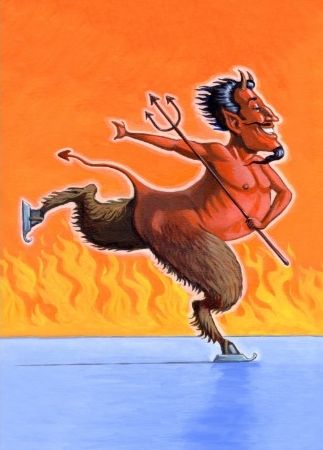 "We will fight until hell freezes over — and then skate it out on the ice."
Chevron General Counsel Charles James in a speech in 2008 to law students at the University of California, Berkeley.
***