Scientists Say Oil Industry Likely Caused Largest Oklahoma Earthquake by Joe Eaton, March 29, 2013, National Geographic News
Fracking's Latest Scandal? Earthquake Swarms, Turns out that when a barely regulated industry injects highly pressurized wastewater into faults, things can go terribly wrong by Michael Behar, March/April 2013 Issue, Mother Jones
Oklahoma earthquake linked to oil extraction wastewater By Jason Palmer, March 27, 2013, BBC News
Evidence injecting water underground causes quakes by Edd Gent, March 27, 2013, Engineering and Technology Magazine
Felt as far off as Milwaukee, more than 800 miles away, the quake – the biggest ever recorded in Oklahoma – destroyed 14 homes, buckled a federal highway and left two people injured. … The recent boom in US energy production has produced massive amounts of wastewater, which is used both in fracking, which cracks open rocks to release natural gas, and in coaxing petroleum out of conventional oil wells. In both cases the brine and chemical-laced water has to be disposed of, often by injecting it back underground elsewhere, where it has the potential to trigger earthquakes. The water linked to the Prague quakes was a byproduct of oil extraction at one set of oil wells, and was pumped into another set of depleted oil wells targeted for waste storage.
Parts of Low Country Are Now Quake Country by Herman Wouters, March 27, 2013, The New York Times
LOPPERSUM, the Netherlands — Jannes Kadyk's modest brick home suffered more than $5,000 in damage. Bert de Jong's more stately home will need about $500,000 to get back into shape. Both houses, like thousands of others, were damaged during recent earthquakes that have shaken the flat farmland in this area dotted with villages and tucked up against the North Sea. The quakes were caused by the extraction of natural gas from the soil deep below. The gas was discovered in the 1950s, and extraction began in the 1960s, but only in recent years have the quakes become more frequent, about 18 in the first six weeks of this year, compared with as few as 20 each year before 2011. Chiel Seinen, a spokesman for the gas consortium known as NAM, said the extraction had created at least 1,800 faults in the region's subsoil. "These faults are seen as a mechanism to induce earthquakes," he said. …  Yet the number of claims for damaged property is already in the thousands, and the company extracting the gas, a consortium of Shell and Exxon Mobil, has set aside $130 million for measures to strengthen buildings against the shocks. Yet most troubling is that experts at government agencies are predicting that the quakes will worsen, to between a magnitude of 4 and 5. Is the big one yet to come? Mr. Kadyk, 62, a retired city employee, pointed to cracks around doors and windows in his two-story brick home. He said he was "not an expert, so I cannot say yes or no, but the real experts say if we don't stop extracting gas, the country risks further earthquakes."
…
Membership in a grass-roots organization called the Groningen Soil Movement, for the province of Groningen, where Loppersum lies, has jumped to 800 people from 200 in the past two years. In a survey of 686 residents published this month, almost two-thirds said they wanted the amount of gas extracted to be cut; 16 percent wanted it stopped altogether. "We believe safety is not the top priority," said Daniella Blanken, a computer programmer and a Soil Movement board member. The national government in The Hague insists it is. The northern region is particularly vulnerable because much of it lies below sea level, protected from North Sea waters by huge dikes. If earthquakes threatened the dikes or the intricate system of canals and locks that lace the land, the loss of life could be catastrophic. … Studies by Shell and Exxon Mobil, as well as by government agencies like the state mining regulator, showed that prior assumptions about the size of possible earthquakes were wrong. "Tremors greater than 3.9 are possible," he wrote. The mining agency in particular, he said, advised him to urge Exxon Mobil and Shell to "reduce gas extraction in the Groningen field as quickly and as much as is feasibly possible."
…
Mr. de Jong, 60, a civil engineer by training who now heads the local school board, disagreed. The risk of greater tremors, he said, "affects the whole region. Banks don't want to invest anymore, and you cannot sell a house here." Ms. Blanken of the Soil Movement described profits for the region from the sale of gas as minuscule. "About one-half of 1 percent of the gas income flows back," she said.
Mr. de Jong's farmhouse was built in 1894, when farming brought considerable wealth to the area. Elegant Art Nouveau ceilings with carved-wood flowers were installed before 1920, he said. Yet after quakes last August and in February, the ceilings are cracked, and the one in the dining room threatens to fall. The brick walls of the house now bulge by about four inches and will require buttressing, as will two brick chimneys that are in danger of collapse. A balcony that runs along the facade, supported by slender cast-iron columns, must be replaced. "We are not sure what these lighter tremors are doing," he said, sipping tea in his living room. "Maybe they are destroying the buildings piece by piece."
"Yet if people are killed in the area, what then?" he asked. "We feel taken hostage," he said. "A hostage in your own home." [Emphasis added]
Pressure from 90s fracking may have caused Oklahoma's biggest quake by Liat Clark, March 27, 2013, Wired
A team of geologists has published a paper suggesting that fracking in Oklahama's Wilzetta oilfields from as far back as the 90s caused a 5.7-magnitude quake to occur in 2011. The wastewater injected into the sealed wells was a byproduct of local oil production and was being disposed of. Nevertheless, it is an indicator of the potential long-term risks of fracking, an energy extraction practice that received substantial tax breaks in this year's budget to encourage sector growth. The research, published in the journal Geology, asserts that the wastewater injected into sealed wells increased in volume and pressure over the years. The water was a byproduct of local oil extraction, reports the Sydney Morning Herald, and was continually pumped into the wells for disposal. The pressure increased more rapidly from 2006 and was exerted on local fault lines, prompting an initial two earthquakes in 2011 of a minimum 5.0 magnitude, before a series of strong aftershocks, the ripples of which were felt across 17 states.
"The tip of the initial rupture plane is within 200m of active injection wells and within 1km of the surface; 30 percent of early aftershocks occur within the sedimentary section," write the paper's authors, geologists from the University of Oklahoma, Columbia University and the US Geological Survey, explaining their conclusion. It was the biggest earthquake in Oklahoma's history, destroying 14 homes, but has been deemed the result of natural causes by the Oklahoma Geological Survey. In its report, conducted in collaboration with the Oklahoma Corporation Commission (OCC), the Survey refuted claims that the activity could have been induced by fracking, arguing that it occurred on a segment of the Wilzetta Fault "favourably orientated for earthquakes", whilst referring to other researchers' suggestions that the series of quakes fitted a naturally-occurring "swarm" pattern of activity. It also pointed to 3D seismic data showing that the wells are not fault-bounded on all sides, suggesting "water injection is not being restricted". Most of its conclusions appear to be inferred from other bodies' readings and research, but it did also mention pressure readings conducted by the OCC — a body that also regulates the utilities and telephone industries — that reveal the area is "under-pressured".
…
However this latest report suggests initial quakes may be triggering additional seismic activity as they disturb other highly pressurised wells, that have been increasing in volume over many years unbeknownst to those above ground. It may be the first corroboration of a US Geological Survey research team's claim made last year that this increasing seismic activity is "almost certainly" manmade, in spite of the Oklahoma Geological Survey's conclusions. [Emphasis added]
Oklahoma's biggest quake tied to fracking by Mark Drajem and Jim Efstathiou, March 27, 2013, wa today
Scientists have linked Oklahoma's biggest recorded earthquake to the disposal of wastewater from oil production, adding to evidence that may lead to greater regulation of hydraulic fracturing for oil and gas. The 5.7-magnitude quake in 2011 followed an 11-fold bump in seismic activity across the central US in recent years as disposal wells are created to handle increases in wastewater from hydraulic fracturing, or fracking. Researchers at the University of Oklahoma, Columbia University and the US Geological Survey, who published their findings Tuesday in the journal Geology, said the results point to the long-term risks the thousands of wells pose and shows a need for better monitoring and government oversight. … The earthquake near Prague, Oklahoma, on November 6, 2011, was the state's biggest and may be the largest linked to the injection of water from drilling process, the researchers reported. The state's geological office disagreed, and said it was likely "the result of natural causes." The temblor destroyed 14 homes, damaged other buildings, injured two people and buckled pavement, according to the report. … A spate of earthquakes in the central US in recent years is "almost certainly" man-made, and may be connected with wastewater disposal, US Geological Survey researchers said a year ago. For the three decades until 2000, seismic events in the nation's midsection averaged 21 a year. They jumped to 50 in 2009, 87 in 2010 and 134 in 2011.
Concerns over earthquakes prompted the UK to temporarily halt fracking. The ban ended late last year when the government adopted standards, including a rule that would suspend operations when unusual seismic activity is detected. … "It's an important issue that is going to become a public policy issue," Benjamin Salisbury, a senior energy policy analyst at FBR Capital Markets in Arlington, Virginia, said. "I wouldn't expect this to be a turning point that would slow development." "I don't know anybody who says that underground injection is the future of this industry," he said. "We are going to wastewater treatment and recycling for a plethora of reasons."
…
That "cascading series of tremors" shows "the risk of humans inducing large earthquakes from even small injection activities is probably higher" than thought, Geoffrey Abers, a co-author from the Lamont-Doherty Earth Observatory at Columbia, said. The Oklahoma Geological Survey maintains the "interpretation that best fits current data" is that the earthquakes in 2011 were naturally occurring, according to an agency statement. [Emphasis added]
Geologists link Okla.'s largest quake to injection wells by Ellen M. Gilmer, March 27, 2013, E&E News
A 2011 earthquake that rattled Oklahoma and destroyed 14 homes was not only unusual — it was probably unnatural, scientists say. Research published yesterday in the journal Geology links the quake — the state's largest at magnitude 5.7 — to underground injection of wastewater from nearby oil and gas production. It is the largest quake ever linked to injection. The study, led by University of Oklahoma seismologist Katie Keranen, has been widely discussed over the past few months and has made waves in the geology community. State agencies have dismissed Keranen's findings and concluded that the quakes were natural….
…
Keranen placed seismometers in the area after the initial quake and was able to track fault rupture areas. A map of the aftershocks shows close proximity to disposal wells, leading her to hypothesize about the link between the two. … The research notes that tremors in the area are still occurring, though it is unknown whether they are linked to injection. The last quake was March 6, clocking in above magnitude 3. The team is still analyzing a bevy of data collected during 2011's aftershocks and plans to complete more studies on induced earthquakes in the coming months and years. Keranen's research has come up against resistance from officials at the Oklahoma Geological Survey. Anticipating the paper's formal publication, OGS released its own conclusions last week finding that the Prague earthquakes were the result of natural causes.
…
Research into the connection between wastewater injection and earthquakes has huge implications for the oil and gas industry and regulators. … Abers, one of the co-authors of the recent study, sparked some discussion earlier this year in New York when he wrote an opinion piece in an Albany newspaper urging the state to consider the risk of earthquakes as it develops rules for shale gas production. One outside earthquake researcher suggested that state officials may be biased against any findings that implicate the oil and gas industry, which can rake in big revenue for struggling state budgets. "In some states, they don't want anything to get in the way of it," said University of Memphis seismologist Steve Horton, whose research on induced earthquakes in north-central Arkansas led to a moratorium on injection there. [Emphasis added]
[Refer also to:
Investigation of Observed Seismicity in the Horn River Basin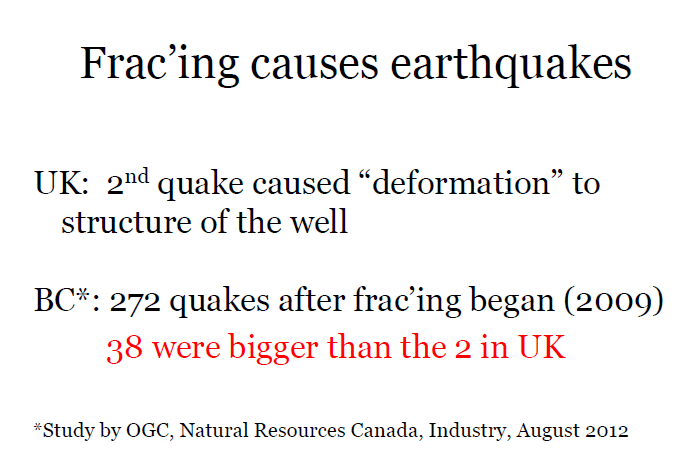 Slide from Ernst presentations in various communities
Drillers face first class-action suit for triggered temblors
First Amended and Consolidated Class Action Complaint