Paula Simons: Justice delayed, justice denied, in Alberta's dysfunctional court system by Paula Simons, October 12, 2016, Edmonton Journal
Mason Tex Montgrand was 21.
Originally from La Loche, Sask., he was a member of a notorious Saskatchewan gang, the Scorpion Brothers. He was serving a 13-year sentence for manslaughter, aggravated assault, assault causing bodily harm, break and enter, forcible confinement, assaulting a peace officer and various other offences.
Lance Matthew Regan was 24.
He was a member of Terror Squad, a rival Saskatchewan gang affiliated with the Hells Angels. He was serving seven years for two counts of extortion using a firearm, two counts of aggravated assault, assault with a weapon, assault causing bodily harm, robbery using a firearm and forcible confinement.
In August 2011, the two young men were incarcerated at the maximum-security Edmonton Institution.
According to a statement of claim later filed by Regan, correctional officers removed Regan from his segregation cell and gave him shower and exercise time with Montgrand.
Regan alleged, in a lawsuit in which he claimed $150,000 in damages, that guards did so on purpose, to provoke a fight between gang rivals for their own entertainment.
Whether those claims were real or wildly self-serving, a fight did break out.
Montgrand died of multiple stab wounds.
Regan was charged with first-degree murder.
The incident took place in front of witnesses. It was captured on security video.
Yet five years and two months later, an Edmonton judge stayed the charge.
Late last week, Justice Stephen Hillier ruled that lengthy delays in getting to trial violated Regan's Charter rights.
The ruling follows the Supreme Court of Canada's Jordan decision this past summer, which held it was unreasonable for a trial on serious charges to be delayed more than 30 months. [What about Charter rights of civil plaintiffs like Ernst waiting more than 100 months trying to get past preliminaries?]
Hillier found Regan and his lawyers were responsible for 24 months of the delay, due to Regan firing one lawyer at the last minute, and to defence lawyers missing deadlines.
He blamed most of the rest of the 38-1/2-month gap on Alberta's backlogged court system. Borrowing the language of the Supreme Court, Hillier found Alberta courts are "plagued by lengthy, persistent and notorious institutional delays."
Hillier deemed this a straightforward murder trial with the accused pleading self-defence. There were no complications to justify a delay. Now, he said, there was "unavoidable prejudice" because witnesses might not be able to recall events from more than five years ago. Meantime, he noted, Regan was actually eligible for statutory release back in November 2015.
Justice? No one is being prosecuted for Montgrand's death. And Regan spent an extra year in custody, without a chance to argue self-defence.
Now, you may not have much sympathy with either victim or accused. They aren't terribly sympathetic characters. But that's not the point. Our justice system must work for everyone, or it works for no one.
Trial delays like this aren't just unfair. They're absurd. They make us look like a banana republic. And they undermine public confidence in the rule of law itself.
It's not a problem Alberta Justice can tackle single-handed. Queen's Bench justices are federally appointed.

Stephen Harper, who claimed he was committed to law and order, simply never filled vacancies.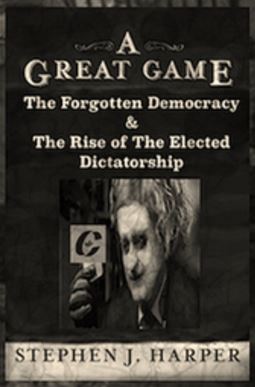 Detail from artist Allan Mackay's "Shameless"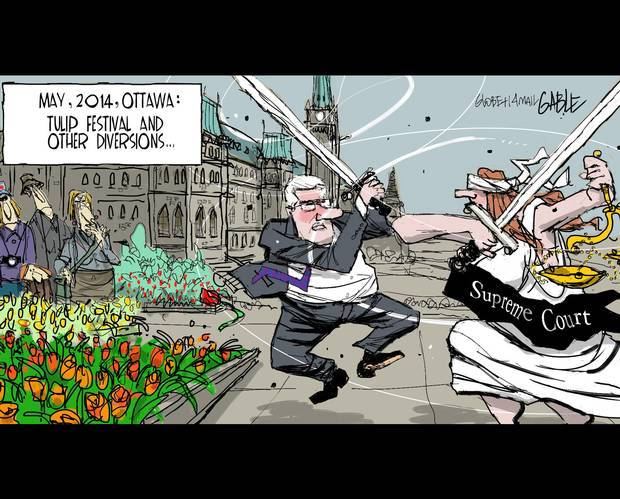 And the Trudeau government seems in no rush to fix Harper's mess.
Alberta is supposed to have 65 Queen's Bench justices — six of those seats are vacant. And even if Ottawa filled all those slots, we'd still have fewer superior court judges per capita than any other province. To balance population growth, we need about 75 or 80 sitting justices. So we're short some 20 bodies.
Meantime, Alberta judges have clearly had enough. [What about delays for civil plaintiffs harmed by the AER, Alberta government and oil and gas industry trying to get to trial?] Alberta Justice can't get an accused murderer to trial? Well, then, more and more, Alberta judges aren't hesitating to stay charges.
"The shortage of federally appointed justices on the Court of Queen's Bench is concerning and I have raised the issue with my federal counterpart several times," Alberta Justice Minister Kathleen Ganley said in an email Wednesday.
"I am working with Ottawa to fill these vacancies as soon as possible, and understand there are appointments on the way soon."
It's an answer we're heard too many times. And more judges won't solve the problems of an underfunded, oversubscribed legal aid system, nor of underfunded, overworked Crown prosecutors. Our whole criminal justice system is in sclerotic crisis — and so too are our civil and family courts.
Alberta Justice now has a month to decide whether to appeal Hillier's ruling.
Meanwhile, what happens to Regan? Will he now be granted statutory release? Corrections Canada won't say, citing privacy concerns.
Justice delays. Justice denied. For everyone — including all of us. [Emphasis added]
Calgary has 400 cases under review over concern delays will allow accused criminals to walk free, Police, prosecutors, defence lawyers and judges all bracing for rush of cases to be stayed by Meghan Grant, October 13, 2016, CBC News
Related:
Alberta's poor economy, lack of prosecutors and Superior Court judges, as well as a recent Supreme Court decision, have created a situation in which accused criminals could walk free, lawyers say.
"It's really unfortunate that Alberta's caught right in a perfect storm of having more matters before the court than any time before, with less judges," said veteran defence lawyer Adriano Iovinelli. "Something has to give."
It has become a weekly event that defence lawyers are giving notice they intend to apply for clients' charges to be stayed following the Supreme Court's R vs. Jordan decision that puts hard timelines on what is considered an unreasonable delay for matters to get to trial.
Murder cases could be tossed out
In Calgary, two murder cases are at risk of being tossed out after defence lawyers notified the judges involved that they plan to make Jordan applications.
And next week lawyers for several men accused of kidnapping, firearms offences and robbery will ask a judge to stay all charges because of what would be a four-year gap between the 2014 arrests and a 2018 trial.
Defence lawyer Shamsher Kothari said the bulk of the delay is attributable to the prosecution's disclosure issues.
"When the Crown can't disclose in a timely manner, then it's clear that the accused's right to be tried within a reasonable time is infringed," said Kothari.
The influx of stay applications has caused a flurry of activity behind closed doors as the Crown's office prepares to prioritize cases that must go to trial and flag which ones can be stayed or resolved with guilty pleas.
"The Alberta Crown Prosecution Service is beginning to flag cases that could be considered for a Jordan application, and reviewing how to address these cases," said Dan Laville, a spokesman for Alberta Justice in a written statement.
400 cases in Calgary being reviewed
The Crown's early case resolution team is reviewing an estimated 400 cases to determine if they're at risk of facing Jordan applications, said prosecutors familiar with the situation.
On Friday in Edmonton, a man facing a first-degree murder charge for the 2011 stabbing death of a fellow inmate was stayed. The judge found the accused's constitutional right to be tried within a reasonable time had been "violated."
On Tuesday, prosecutors in managerial positions in the province met to discuss how to prevent similar situations going ahead.
According to statistics from Alberta Justice, only four Jordan applications have been made in provincial court with one being dismissed and three pending arguments and decision.
But in a presentation before a Senate committee in Calgary two weeks ago, Alberta's Court of Queen's Bench Chief Justice Neil Wittmann said eight cases had been "sent home" since the Jordan decision because of unreasonable trial delays.
Alberta to get more judges 'soon'
Wittmann has been lobbying the federal government for more Superior Court judges for years and has called Alberta's lack of judges a "crisis." [Intentionally created by politicians like Harper, all the better to serve the oil and gas industry with?]
Only one judge has been added to the province's complement, even though Alberta's population has nearly doubled in the last decade, which means Alberta has the fewest Court of Queen's Bench judges per capita in the country.
To match British Columbia's ratio, Alberta would need 11 more judges.
Alberta Justice Minister Kathleen Ganley said she is working with Ottawa in an effort to get more judges. Ganley said she understands "there are appointments on the way soon."
The issue of trial delay is very much on the radar of all players within the justice system; judges are now making sure any delays are attributed on the record to the court, defence or Crown.
'We're on the clock'
Alberta's economy is only making matters worse; the province has seen a "sharp" increase in criminal activity in Calgary in the areas of domestic violence, property offences and drug-related offences, according to Iovinelli.
"The court can't deal with all those matters in an expedited fashion, so now … we're on the clock."
Already, Alberta judges were hearing more Askov applications attributable to backlog of criminal trials; a 1990 Supreme Court decision called R vs. Askov also addressed an accused's right to a timely trial, but did not put hard timelines on it, leaving those applications up to a judge's discretion.
In July, the Supreme Court upheld a lower court's decision to stay Barrett Jordan's drug charges because more than four years had passed between his arrest and conviction.
In its decision, the country's highest court put hard timelines of 18 months for provincial court matters and 30 months for Superior Court cases to make it to trial.
Delays beyond those time frames are "presumptively unreasonable" and violate an accused's charter right to be tried within a reasonable time, the decision said.
Calgary police playing a role
"It's frustrating, but you have to be pragmatic as well," said Calgary police Chief Roger Chaffin.
"It is part of the democratic system; this process of the Supreme Court and the decisions they make is part of what it's about to live in Canada and making sure we have a fair and just system."
As investigators, police also play a role in keeping the justice system running smoothly.
"It's something we're watching closely — what I can manage is what we can do about it: make sure our officers are better prepared to have better disclosure to meet the standards of the court at an earlier instance."
Chaffin said he's working with front-line officers and investigators to ensure cases handed over to the Crown's office are airtight and ready for prosecution.
But the thought of hard police work going down the drain due to court delays does weigh on the city's top cop.
"I'm very concerned about what's already sitting in court that might actually just get thrown out because they've met these presumptive ceilings," said Chaffin.
"I'm still hopeful that we won't just have things randomly thrown out, but it's a big concern for us right now." [Emphasis added]
[Refer also to:
2016 10 12: Retiring Supreme Court of Canada Justice Thomas Cromwell turns focus to pursuing a more accessible civil and family legal system. "There is a serious access to justice problem in Canada." … "Various court workers were of the view that the 'civil system [is] … very much open to abuse by those with more money at their disposal.'"
2016 09 28: Alberta Provincial Court Chief Judge Terrence Matchett: "Justice delayed truly is justice denied." Wait time for civil cases reaching trial in Alberta can take 2.7 years. Ernst case is in its 9th year with Ernst still waiting to find out if she can start her lawsuit against AER for violating her Charter rights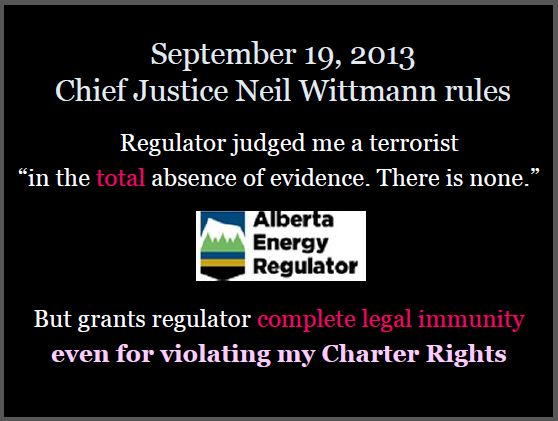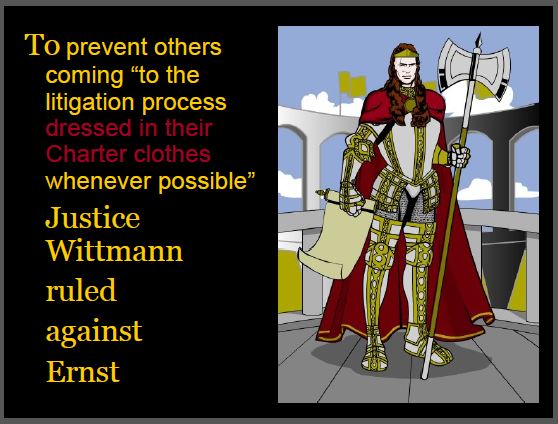 Slides from Ernst presentations
Three years later, approaching her tenth year in her lawsuit, hundreds of thousands of dollars lost, Ernst still doesn't know if she can sue the AER for violating her Charter rights.