As human-induced earthquakes increase in frequency and magnitude, researchers race to uncover their effects on surface water and groundwater.
Earthquakes do much more than literally make the earth quake. The shifting of massive sheets of rock has an effect on all sorts of hydrogeological processes, affecting groundwater and surface water like rivers, lakes, and reservoirs.
… A recent study by Manga et al. is the first documented instance in which an earthquake that was most likely induced by wastewater injection

had a visible effect on surface water.
In early September 2016, an earthquake reaching 5.8 moment magnitude (an earthquake rating scale used for the largest quakes) struck Pawnee, Okla., setting a state record. … The team of researchers concluded that the quake was most likely triggered by one or more of the 26 wastewater disposal wells within a 20-kilometer radius, given that it was a strike-slip event, the type of earthquake most commonly associated with induced quakes in Oklahoma, and had several other telltale physical characteristics.
Several hours into the Pawnee quake, the U.S. Geological Survey stream gauge nearest the epicenter, located at Black Bear Creek,

began recording rising water levels.

The increase continued for a full week, until heavy rains obscured the data. The pattern of data they were able to collect is reminiscent of water level fluctuations following past earthquakes.
… But the Black Bear Creek case is important in that it proves that this method of wastewater disposal has an impact on groundwater systems. Furthermore, if the number of induced earthquakes continues to increase as it has, events like this are likely to become more widespread. [Emphasis added]
Report Shows Some OK Quakes Caused By Fracking by Alex Cameron, December 13, 2016, News9
… In the last five years, there have been a few series of low-magnitude quakes that were nowhere near any wastewater injection wells. At the same time, there was evidence these weren't naturally occurring earthquakes.
In January 2011, there were more than a hundred minor quakes in Garvin County. Then-state geologist Austin Holland wrote a paper, concluding
the swarm was triggered by a nearby hydraulic fracturing operation.
In May and June of this year, there were a handful of mild quakes around Blanchard. And then just last month, another few quakes out
in Canadian County [How ironic is that?!]

. …

In a statement Tuesday, Oklahoma Geological Survey director Jeremy Boak said, "Scientists with [OGS] have reached the conclusion that wastewater disposal was probably not the cause" of these recent quakes west and south of the metro.
"Hydraulic fracturing in wells in the SCOOP and STACK play nearby may have been the cause,"

he wrote.
Drilling in the SCOOP and STACK is beginning to take off, so, while wastewater disposal is not a big concern with these formations, the Corporation Commission is working on guidelines that they believe will minimize earthquakes there. [Emphasis added]
Donald Trump's Nominees and the Coming Environmental Disaster by Leah McGrath, December 17, 2016, Newsweek
The day before the presidential election, a 5.0 magnitude earthquake struck just outside Cushing, Oklahoma—an 8,000-person town that's also North America's top oil-trading hub and one of the largest oil-storage facilities in the world. The quake knocked bricks off century-old buildings, cracked foundations and forced Cushing to evacuate its downtown. Workers at the town's sprawling oil "tank farms" say they avoided the worst of the damage. But Cushing residents believe rising earthquake swarms will eventually take out a crucial part of the nation's energy infrastructure.
"Waiting until we have a large oil spill or waiting until people are killed before we take corrective action is not acceptable," says 62-year-old David Reid, publisher of the Cushing Citizen, a newspaper he runs with his wife, Myra. The paper's headquarters, where the couple also make their home, sustained more than $100,000 in damage from the November 7 quake. The Reids have lived in Cushing for more than two decades, but they have only recently begun to fear for their lives. In December, they joined a class-action lawsuit blaming the oil and gas industry for drilling techniques that seismologists say are causing the record surge in quakes. "Stronger quakes most certainly would cause very serious damage in Cushing," Reid says, "very possibly hurting or killing people."
Related: As Man Made Earthquakes Thunder Through Oklahoma, Residents Get Innovative With the Law
So critical is Cushing's infrastructure to the United States that when President Barack Obama heralded a new heyday in American oil and gas production in 2012, he did it from a Cushing pipe yard. And before Obama, the presidency of George W. Bush was marked by an energy "free for all" so egregious that an inspector general's report found that oil and gas companies were effectively bribing government employees with "a wide array of gifts and gratuities" while engaging them in "illegal drug use as well as illicit sexual encounters." Yet this all may ultimately prove quaint under a Trump administration, whose cabinet is stocking up on veteran oil men like ExxonMobil Chief Executive Rex Tillerson as secretary of state and Oklahoma Attorney General Scott Pruitt as head of the Environmental Protection Agency. Both have barely acknowledged the concerns of people like the Reids. In a tweet the day after the election, President-elect Donald Trump wrote, "The forgotten man and woman will never be forgotten again." But for those dodging relentless earthquakes, Trump seems to have already forgotten them.
"In Cushing, it's really bad," says the Reids' lawyer, Scott Poynter, whose firm, Poynter Law Group in Little Rock, Arkansas, specializes in class-action lawsuits against oil and gas companies whose drilling techniques have caused the uptick in earthquakes. … "These quakes are constant," Poynter says. "The day we filed suit, December 5, there were three of them. If something isn't done, there could be a pipeline bust that could be worse than Exxon Valdez or BP's Deepwater Horizon—catastrophic not just for Cushing, but for the country."
…
Fracking hypocrisy
The immediate reaction to Tillerson's nomination has hinged primarily on his friendship with Russia—an oil-rich country whose president, Vladimir Putin, has done business for years with ExxonMobil. What is perhaps most concerning about Tillerson, however, is that he seems to embody the same "one set of rules for me, another set of rules for everybody else" standard that Trump promised voters he would not tolerate in his so-called "Drain the Swamp" administration.
Tillerson, whose company is a global player in the fracking industry, also has a lesser-known business—a horse-breeding and training farm called Bar RR Ranches LLC in Bartonville, Texas. Back in 2013, he and his wife, Renda St. Clair, entered their own class-action lawsuit against a company erecting a 155-foot water tower near their opulent ranch which, the suit contended, would supply water for fracking to oil and gas explorers, creating a "noise nuisance and traffic hazards." But the main reason Tillerson didn't want the tower, according to his lawyer, was because it was unsightly and could hurt the ranch's value. While the Tillersons eventually dropped the suit in the spring of 2014, the proceedings have continued to hold up the construction of the tower, says the builder, Cross Timbers Water Supply Corp. of Argyle, Texas. "It's basically halfway done," a spokeswoman says. "The case is still pending."
… Newsweek was unable to reach Tillerson for comment. Poynter agrees that plunging property values are a major problem for anyone living near fracking sites, because if there's too much destruction due to repeated earthquakes and home values fall too far, his clients won't be able to sell and move somewhere safer. "These people are living in houses that are damaged and have diminished value," he says. "They are living in fear that during the next earthquake they could die. And they feel very, very helpless."
Few can take as much credit for Oklahoma being dubbed the earthquake capital of the world as Oklahoma Attorney General Pruitt, Trump's pick to be EPA chief. He is not only a vociferous climate change skeptic who has sued the agency [14 times!] on multiple occasions, he's also bluntly ignored the plight of Oklahomans suffering from the rapid climb in earthquakes.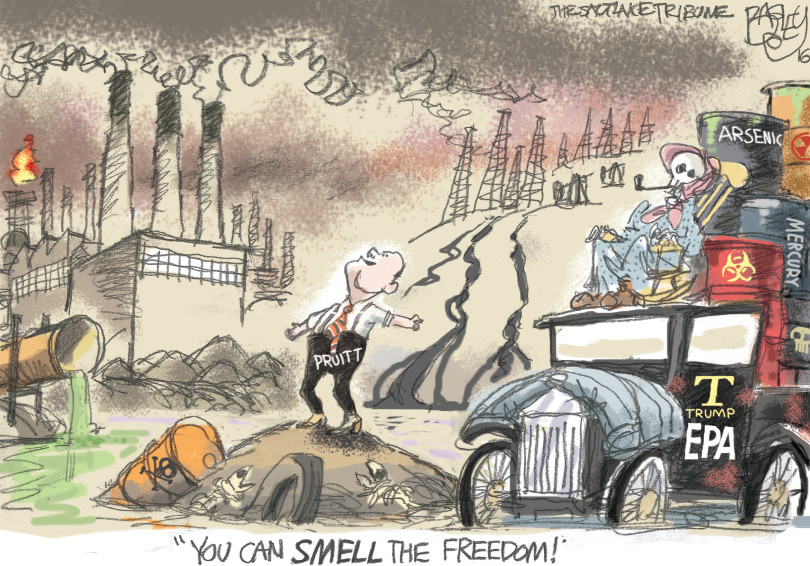 In 2014, he denied any misconduct for sending letters printed on his AG government stationery to the EPA that were, in fact, written by executives at Devon Energy, one of Oklahoma's largest oil and gas companies—while also taking hefty campaign donations from Devon, in addition to right-wing energy chieftains Charles and David Koch of Koch Industries.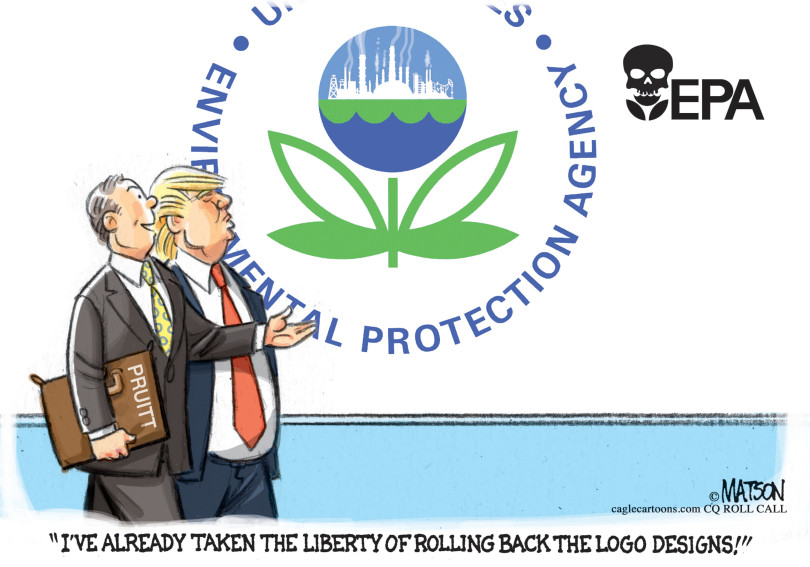 Another donor to Pruitt's campaigns since 2010 includes Harold Hamm, billionaire founder and chief executive of energy fracking firm Continental Resources, who co-chaired Pruitt's 2013 re-election campaign. Hamm is also a big contributor to the fundraising network of the Koch brothers, whose influence can be seen throughout Trump's cabinet choices for energy and the environment. For instance, Michael Catanzaro, a lobbyist and adviser whose clients include Koch Industries and Devon Energy, is helping to lead the new president's energy transition team.
This week, Trump also tapped former pro-oil Texas governor Rick Perry to head the U.S. Department of Energy, which oversees America's nuclear arsenal. Perry has ties to two petroleum companies that are jockeying to move forward on the 1,200-mile Dakota Access pipeline project that's stoked months of protests in North Dakota.
Considering one of Trump's key proposals during his campaign was to impose "new ethics reforms to "drain the swamp" and reduce the corrupting influence of special interests on our politics," it remains to be seen how he hopes these appointments will put the ordinary American ahead of the interests of huge corporations.
For David Reid and his wife, their livelihoods will depend on the oil and gas industry's willingness to hear their pleas and compensate them for the severe damage to their home and business. "There are many millions of damages to properties in Cushing, and the property owners deserve no fault in the damage," Reid says. "Someone must be held responsible." [Emphasis added]
Oklahoma Oil Regulators Adding Limits on Fracking to Earthquake-Reduction Plan by Editor, December 9, Public Radio Tulsa
Oklahoma's oil and gas regulator for the first time will issue guidelines designed to reduce earthquake activity linked to hydraulic fracturing.
To date, the state's earthquake response has centered around curtailing earthquakes linked to wastewater injection wells. Hydraulic fracturing — the well-completion technique known as "fracking" — is known by researchers to trigger earthquakes, both in Oklahoma and in oil and gas fields around the world. But scientists and officials believe the potential size and scale of fracking-related earthquake activity is significantly smaller than that posed by wastewater injection.
"Frack-quakes are very short-lived and they're only possible when the frack is going," says Matt Skinner, spokesperson for the Oklahoma Corporation Commission. "[Hydraulic fracturing] sometimes lasts for a day, sometimes it lasts for several days, but that's it. If there is seismicity related to fracking it stops when the fracking stops."
[Is the Oklahoma regulator fabricating "facts" like Canada's Supreme Court Justice Abella did in her Ernst vs AER ruling?
Frac Quake Reality Check:
Fault activation by hydraulic fracturing in western Canada
Abstract
Hydraulic fracturing has been inferred to trigger the majority of injection-induced earthquakes in western Canada, in contrast to the Midwestern United States, where massive saltwater disposal is the dominant triggering mechanism. A template-based earthquake catalog from a seismically active Canadian shale play, combined with comprehensive injection data during a 4-month interval, shows that earthquakes are tightly clustered in space and time near hydraulic fracturing sites. The largest event [moment magnitude (MW) 3.9] occurred several weeks after injection along a fault that appears to extend from the injection zone into crystalline basement. Patterns of seismicity indicate that stress changes during operations can activate fault slip to an offset distance of >1 km, whereas pressurization by hydraulic fracturing into a fault yields episodic seismicity that can persist for months.
End Frac Quake Reality Check]
The commission is preparing to release the fracking guidelines along with a new package of restrictions on wastewater injection wells crafted to reduce earthquakes in and around Pawnee and Cushing, where 5.8 and 5.0-magnitude quakes caused minor injuries and widespread damage in September in November.
A string of earthquakes ranging from 3.0 to 3.4-magnitude that shook over the summer and fall near Blanchard and Calumet spurred the fracking-related guidelines, The Oklahoman's Paul Monies reports.
One potential complication for the energy industry:
The epicenters of the suspected fracking-related earthquakes are located in the SCOOP and STACK, currently the most active and promising oil and gas plays in Oklahoma:
Chad Warmington, president of the Oklahoma Oil and Gas Association, said his member companies already have internal protocols to watch for seismic events during hydraulic fracturing jobs. Many of the association's members are among the most active drillers in the SCOOP and STACK plays.

Warmington said existing company protocols range from skipping a fracturing stage to pausing operations.

"In the rare instances where seismicity rises above the microseismic level, the goal is to keep it from being felt at the surface," Warmington said. "A protocol the (Corporation) Commission puts in place proactively is a good thing because it matches and probably really fits well with the internal company protocols they use as they detect seismicity in and around the areas in which their production is taking place." [Emphasis added]
Top Dem lobs first bill targeting Trump's EPA pick by John Siciliano, December 8, 2016, Washington Examiner
A Top House Democrat is leveling the first bill aimed directly at President-elect Trump's pick to lead the Environmental Protection Agency, Oklahoma Attorney General Scott Pruitt.
Rep. Raul Grijalva, D-Ariz., the ranking member on the House Natural Resources Committee, introduced a bill Thursday that aims to stop earthquakes tied to the drilling method known as hydraulic fracturing, or fracking, in states such as Oklahoma, where the phenomena has become of major concern.
The "Preventing Preventable Earthquakes Act" directs the Environmental Protection Agency and state officials to put in place standards to prevent the type of manmade earthquakes that have become common in places where drillers are fracking.
"The bill would ensure that Oklahoma Attorney General Scott Pruitt, whose deep ties to the oil and gas industry have already received widespread coverage, would address the issue as head of the Environmental Protection Agency under the Trump administration – a step he refused to take as attorney general," Grijalva's office said. [Like Alberta's AG refusing to charge Encana for breaking the law and fracing and contaminating a community's drinking water supply?]
Grijalva quipped that the bill is simple to understand, even for Pruitt. "This bill just says environmental officials should prevent earthquakes they can prevent," Grijalva said. "It's that simple. Anyone, including Scott Pruitt, who wants to argue against that goal with a landowner, a town resident or a family should be ready to flunk the straight face test."
… Grijalva argues that such procedures have not been effectively administered, and his bill would direct the EPA, or a state with enough enforcement authority, to put in place mandatory waste-water injection rules.
He said Thursday that the issue poses a specific threat in Pruitt's home state because of its role as the nation's largest oil and gas transportation hub and petroleum storage center in Cushing.
"The risks in Oklahoma are especially acute because of the frequency of earthquakes near the town of Cushing, which is one of the country's most heavily trafficked oil pipeline hubs and contains approximately 13 percent of the nation's crude storage capacity," according to Grijalva's office. "The Cushing facilities are not designed to withstand strong earthquakes, and even a single major quake could lead to devastating economic and environmental consequences."
Scientists reported last month that Oklahoma experienced 907 earthquakes in 2015, before the new rules were established, which is a record 4,000 percent increase over the last eight years. [Emphasis added]
FRACKERS KNEW: FOSSIL FUEL INDUSTRY HAS KNOWN SINCE 1967 THAT INJECTION WELLS CAUSE EARTHQUAKES, DESPITE DENIALS by Calvin Sloan with contributions by Lisa Graves, November 23, 2016, The Centre for Media and Democracy
On August 9, 1967, a 5.5 magnitude earthquake struck Northglenn, a northern suburb of Denver, Colorado.
The Associated Press wrote that it was "the severest earthquake ever recorded" in the city's history. Building foundations cracked, windows broke, bricks flew off of downtown rooftops.
A year later in the prominent academic journal "Science," geophysicist J.H. Healy and his associates proposed that humans, not nature, were responsible for the quake.
"We attempt here to present the statistical evidence for correlating the two events — fluid injection and earthquakes — and to develop a hypothesis relating the two as cause and effect," Healy wrote.
The "fluid injection" Healy was referencing had been taking place two miles from Northglenn at the U.S. Army's Rocky Mountain Arsenal manufacturing plant. In 1961, the army drilled a "disposal waste well" through 2.2 miles of sedimentary rock, and had begun injecting it with contaminated industrial wastewater.
Seismic activity increased immediately, and then slowed after the army enacted an injection hiatus between October 1963 and August 1964. When the army started the injections back up again, the earthquakes followed.
Healy presented the following chart as evidence: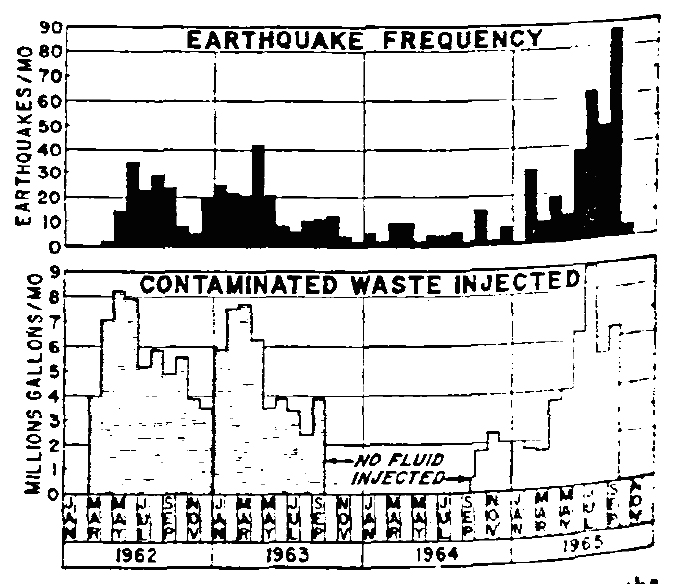 As years passed, Healy's analysis became common knowledge in scientific circles, in seismology and geology. It was proven scientifically that injecting millions of gallons of wastewater into the deep earth could induce seismic activity.
Fast forward to 2008, as the fossil industry began to expand rapidly through the use of hydraulic fracturing to drill wells in shale formations in states that had never been fracked before — or had any significant earthquake activity in modern history.
In Texas, in 2008, there was a sudden spate of tremors near where injection wells were being filled with hundreds of thousands of gallons of drilling wastewater.
In upstate New York, in 2009, citizens expressed concerns about the sudden increase in earthquakes, worrying that the new seismic activity might be related to fracking.
In Arkansas in 2011, and in Ohio in 2013, similar surges in earthquakes were reported, and in each instance concerns about their connections to fracking were denied.
Some citizens, not being fully informed about what the industry knew, expressed their concerns by stating "fracking causes earthquakes," not realizing that it was the injection wells used by the fracking companies to dispose of fracked water that caused the seismic activity.
Fracking front groups like Energy in Depth and other industry shills used this imprecision to aggressively attack activists, [All those families and businesss with homes and buildings damaged by frac quakes?] all the while obscuring a broader truth: fracking "produces" immense amounts of water that is often disposed of through "wastewater injection." And fossil fuel companies, staffed with geologists, have known for years that these injection wells can increase seismic activity, depending on geologic conditions and the volume of water injected.
In late 2014, the Center for Media and Democracy attended an energy industry conference as part of its research into fracking. At the conference, a presenter acknowledged that geologists have long understood the link between the injection wells used by the fracking industry and earthquakes.
The following chart, which reproduces Healy's chart, was shared at that meeting: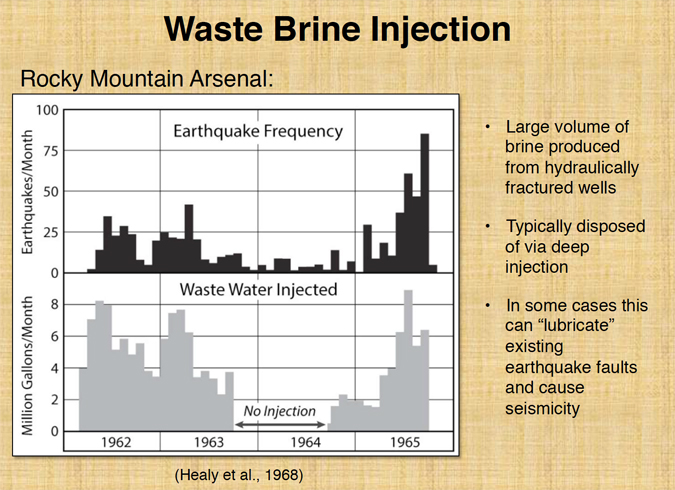 Scientific literature on the subject refers to "the classic case of injection-induced seismicity at the Rocky Mountain Arsenal," and countless academic papers cite the Healy paper as proof of human-caused earthquakes (out of hundreds of papers that cite Healy, the following were published in 1970, 1976, 1989, 1992 etc.).
Healy published his seminal article on induced seismicity in 1968, nearly fifty years ago. Yet, state agencies like the Oklahoma Geological Survey denied the connection between earthquakes and the fracking industry which was extensively using injection wells, until 2015.
THE EARTH IS SHAKING AND SHAKING IN OKLAHOMA
On September 3, 2016, at 11:26 p.m., a 5.8 magnitude earthquake struck Pawnee, Oklahoma. It was the largest recorded earthquake in the state's history, and was felt from Dallas, Texas to South Dakota.
Two months following the Pawnee quake, on November 6, 2016, another 5.0 magnitude earthquake struck Oklahoma, this time in Cushing, the renowned oil delivery hub and storage district. No less than 40 buildings were damaged.
According to one McDonalds employee working at the time of the quake, "It felt like a train was going right through the building."
Prior to 2009, Oklahoma was a typical, seismically inconsequential state in the "stable interior" of the United States, averaging roughly two earthquakes of 3.0 magnitude or greater per year.
By 2014, the state was more seismically active than California, and experienced 585 earthquakes of 3.0 magnitude or greater; in 2015, the total had jumped to 907.
Since 1882, there have been six earthquakes of 5.0 magnitude or greater in Oklahoma. Three of the six have occurred in 2016.
On April 21, 2015, the Oklahoma Geological Survey (OGS) issued a press release and revealed a new website, "Earthquakes In Oklahoma," that marked a massive public relations reversal for the state and its stance on induced seismicity.
In the press release, the OGS conceded it was "very likely that the majority of recent earthquakes, particularly those in central and north-central Oklahoma, are triggered by the injection of produced water in disposal."
Meanwhile, the new website, operated by the state's Department of Energy & Environment, contains a section on "Earthquake Preparedness" listing four steps residents can take to be "better prepared to survive" earthquakes.
The OGS public relations reversal occurred less than two months after the investigative journalist Mike Soraghan of E&E Publishing uncovered that the agency had been working with industry leaders to silence OGS scientists who had raised the issue of induced seismicity.
According to emails Soraghan obtained through open records requests, OGS scientists had begun making those connections in 2010.
The emails also show that in 2013 the state's corporation commission pressured the OGS state's seismologist Austin Holland to authenticate a scientific conclusion linking earthquakes to lake water levels, although he did not fully endorse the position.
"…My hand was forced on this matter," Holland wrote.
Most incriminatingly, the emails show that industry leaders — particularly Harold Hamm, the billionaire founder and CEO of Continental Resources — placed immense pressure on OGS to not discuss induced seismicity. Hamm even met directly with Holland in 2013 to talk the subject over.
According to the Oklahoma-based petroleum engineer Bob Jackman, when Jackman asked Holland why he was not making the obvious connections between fracking and earthquakes, Holland replied, "You don't understand — Harold Hamm and others will not allow me to say certain things."
Hamm is currently a finalist under consideration for becoming the U.S. Secretary of Energy by president-elect Trump.
This is how the fracking industry manages its waste, and it is the immense pressure that this waste places upon tectonic faults that induces the new wave of earthquakes witnessed across the country.
… The fracking industry is already being challenged in the courts over their culpability for induced seismicity. … We should remember, when analyzing claims by the industry and its apologists on these subjects, that they have lied before and that they will undoubtedly lie again. [Emphasis added]
Humans have been causing earthquakes in Texas since the 1920s
May 17, 2016, phys.org
Earthquakes triggered by human activity have been happening in Texas since at least 1925, and they have been widespread throughout the state ever since, according to a new historical review of the evidence published online May 18 in Seismological Research Letters.
The earthquakes are caused by oil and gas operations, but the specific production techniques behind these quakes have differed over the decades, according to Cliff Frohlich, the study's lead author and senior research scientist and associate director at the Institute for Geophysics at the University of Texas at Austin.
Frohlich said the evidence presented in the SRL paper should lay to rest the idea that there is no substantial proof for human-caused earthquakes in Texas, as some state officials have claimed as recently as 2015.
At the same time, Frohlich said, the study doesn't single out any one or two industry practices that could be managed or avoided to stop these kinds of earthquakes from occurring. "I think we were all looking for what I call the silver bullet, supposing we can find out what kinds of practices were causing the induced earthquakes, to advise companies or regulators," he notes. "But that silver bullet isn't here."
The researchers write that since 2008, the rate of Texas earthquakes greater than magnitude 3 has increased from about two per year to 12 per year. This change appears to stem from an increase in earthquakes occurring within 1-3 kilometers of petroleum production wastewater disposal wells where water is injected at a high monthly rate, they note.
Some of these more recent earthquakes include the Dallas-Fort Worth International Airport sequence between 2008 and 2013; the May 2012 Timpson earthquake; and the earthquake sequence near Azle that began in 2013.
Frohlich and his colleagues suspected that induced seismicity might have a lengthy and geographically widespread history in Texas. "But for me, the surprise was that oil field practices have changed so much over the years, and that probably affects the kinds of earthquakes that were happening at each time," Frohlich said.
In the 1920s and 1930s, for instance, "they'd find an oilfield, and hundreds of wells would be drilled, and they'd suck oil out of the ground as fast as they could, and there would be slumps" that shook the earth as the volume of oil underground was rapidly extracted, he said.
When those fields were mostly depleted, in the 1940s through the 1970s, petroleum operations "started being more aggressive about trying to drive oil by water flooding" and the huge amounts of water pumped into the ground contributed to seismic activity, said Frohlich.
In the past decade, enhanced oil and gas recovery methods have produced considerable amounts of wastewater that is disposed by injection back into the ground through special wells, triggering nearby earthquakes. Most earthquakes linked to this type of wastewater disposal in Texas are smaller (less than magnitude 3) than those in Oklahoma, the study concludes.
… For the moment, there have been no magnitude 3 or larger Texas earthquakes that can be linked directly to the specific process of hydrofracturing or fracking itself, such as have been felt in Canada, [And Oklahoma!] the scientists concluded. [Emphasis added]