Even the news casters can't hide their alarm after watching the regulator swiggle.
Non-regulator biologist John Stolz, Duquesne University: "It's highly suggestive that it may be due to drilling operations…or the waste water."
Radiation found in Greene County stream near water supply, Biologist concerned about residents' health by WTAE, July 16, 2015, Action News Investigates
Action News Investigates has learned high levels of radiation — up to 60 times higher than the maximum allowed in drinking water — have been found in a stream that feeds into a water treatment plant.
The high levels of radiation were found in a Greene County stream that flows into the Monongahela River. Ultimately, that water ends up in Pittsburgh.
Ken Dufalla of the Izaak Walton League conservation group has been taking samples from 10 Mile Creek for years, frequently finding high levels of total dissolved solids.
"I wouldn't touch it. As you can see, I try to keep my hands off it all I can because I don't know what's in this water," Dufalla said.
To find out exactly what is in the water, he pressed the state Department of Environmental Protection to do comprehensive testing.
The results showed levels of radium 226 and radium 228 totaling 327 picocuries per liter at one location, and 301 picocuries per liter of radium 226 at another location.
In plain English, that means both samples had 60 times the EPA drinking water standard of 5 picocuries per liter.
"There's something in here that's not supposed to be here," Dufalla said.
Ten Mile Creek feeds into the Mon River near Fredericktown. Less than a mile down river is a water treatment plant, and that is a major concern for regulators and area residents.
John Stolz, a biologist at Duquesne University, says radium can be hazardous. "The reality is, if it's getting into the water that is being used as a source of drinking water, then it is a problem," Stolz said.
One big problem is water authorities cannot easily get rid of radium through the standard filtering process.
Tests by the Tri-County Joint Municipal Authority last year found low levels of radium 228 — just 1 picocurie per liter. But the authority did not test for radium 226, and it did not do any radium testing in 2012 or 2013.
It's not just drinking water that's a concern. The Izaak Walton League canceled plans to stock 10 Mile Creek with trout this year after consulting with state officials.
"Do you want to eat fish that has radiation in it? It's that simple," Dufalla said.
The high radiation levels have area residents alarmed.
"They need to do more testing on it. The government worries about everything else but the working people," said Diane Tedrow, of Morgan Township.
"Somebody needs to come with a solution, obviously. That's not good to have that high of radiation levels," said Michael Karolewicz, of Low Hill.
The Department of Environmental Protection says residents should not be worried — for now. [Let's dance The Regulator Swiggle.  AER and Alberta Environment et al are expert at the swiggle too.]
Reporter Paul Van Osdol: "Ten Mile creek does feed right into the Mon, so you can understand why people would be concerned about that?"
DEP spokesman John Poister: "No question. That's why we're testing at the drinking water source."
The DEP is concerned enough that it is also doing additional testing of water, fish and wildlife in the area.
"We're trying to attack this from every possible angle to see what the extent of the contamination is, if there is extensive contamination, what it's affecting, and tracking it down," Poister said.
The DEP is especially interested in finding the source of the radiation. Stolz says the test results offer a clue.
"It's highly suggestive that it may be due to drilling operations, or at least the wastewater," Stolz said.
Gas industry officials dismiss that theory, saying there is no evidence that fracking wastewater is being illegally dumped into abandoned mines or streams. The Marcellus Shale Coalition declined our request for an interview. [Chicken?]
In a statement, coalition President Dave Spigelmyer says the industry uses the latest technology to "protect our environment while increasing operational efficiencies. [by getting regulators to lie, deregulate and swiggle (look the other way), decreasing costs, decreasing environmental protections, decreasing worker training and safety, decreasing maintenance and supervision, etc?] This is especially true as it relates to the widespread utilization of reuse and recycling technologies that our members have pioneered and continue to refine [translation: frac (experiment) with brute force and ignorance]."
Whatever the source of the radiation, Dufalla and Stolz said it's critical to find it and stop it from getting into the water, and it's not just critical for Greene County.
"That stuff coming out of there will eventually get in your drinking water in Pittsburgh. Eventually it's going to get there," Dufalla said.
Radium does not go away quickly. The half-life for radium 226 is 1,600 years, meaning even then it will still be half as potent at it is today.
The DEP hopes to have results of its latest round of testing by September. [Why isn't the regulator speeding up their dilly dally (protect industry) sampling? Water testing The AER Way?]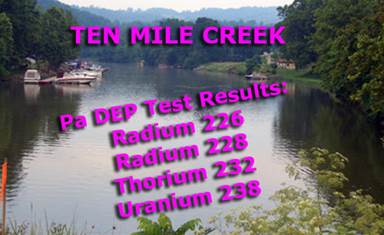 [Refer also to: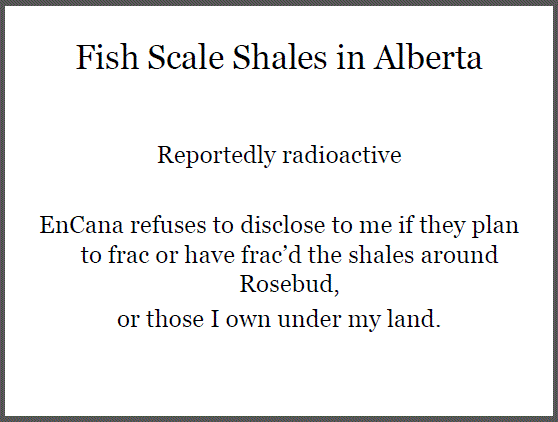 Slide from Ernst presentations