VIDEO AT LINK: Couple Forced Out As Leak Threatens Potential Gas Explosion At Finleyville Home by Andy Sheehan, March 16, 2015, KDKA-TV
They're an couple enjoying their retirement years in Finleyville, Washington County, but a gas leak has driven them from their home.
It's been a month and half, but the continuing threat of a gas explosion has kept Joyce and Harry Hill out of their house. And nobody knows where the gas is coming from.
Joyce Hill: "We've lived here almost 38 years."
KDKA's Andy Sheehan: "But you can't go inside?"
Joyce: "No."
Imagine calling a place home for most of your adult life and not being able to live in it. The mortgage is paid off and the taxes are up to date. It's just that it's in danger of exploding any time.
"Not being able to sleep, eat," said Joyce. "All we think about is our house."
It's now 48 days and counting since Harry and Joyce were told to get out. Back on Jan. 27, a gas explosion blew the lid off the Hills' cistern and through their deck.
Peoples Gas put them up in a motel for the next three weeks, but couldn't find the source. The gas company did determine the gas was not theirs. "We drilled in their basement, we vented their home, and very quickly we found it wasn't the quality of utility pipeline gas. There's a vast difference between that and gas migrating from any place," Barry Kukovich, of People's Gas. [Migrating gas caused by leaking energy wells or hydraulic fracturing doesn't have mercaptan in it]
Peoples Gas installed a vent to syphon off the gas and prevent an explosion. Then, they alerted the Department of Environmental Protection, which says the gas seems to be migrating through the ground. "It's not just one possible source, there are several, and we have been spending just a lot of time trying to run down where this gas is coming from," a DEP representative said.
Pennsylvania is riddled with shallow gas wells dating back several decades, and after determining that a nearby abandoned gas well was not the source, the DEP set it sights on three active wells. The department has contacted their three separate owners to conduct tests and says it's trying to resolve the situation as soon as possible. "This is something we've taken very seriously because we don't want to see anyone out of their house. It's a tragedy," the DEP official said.
But now the Hills have their possessions scattered over three different houses and are currently staying at the home of Joyce's brother. She says their lives have become a nightmare from which they can't awaken. "You wake up or jump up in the middle of the night and you see where you are and say, 'This happened, this really happened,' because we're not home; we're somewhere else," she said.
But the source of the leak remains unknown, and the Hills are still in exile, looking for answers and the day when they finally can return home.
[Refer also to:
1996 Canadian Association of Petroleum Producers Methane Migrating from Leaking Energy Wells Report: 1 mg/l methane dissolved in water poses risk of explosion
"there may be risk of an explosion, if the water supplies pass through poorly ventilated air spaces"
CAPP reported dramatically increased levels of methane in groundwater near leaking hydrocarbon wells.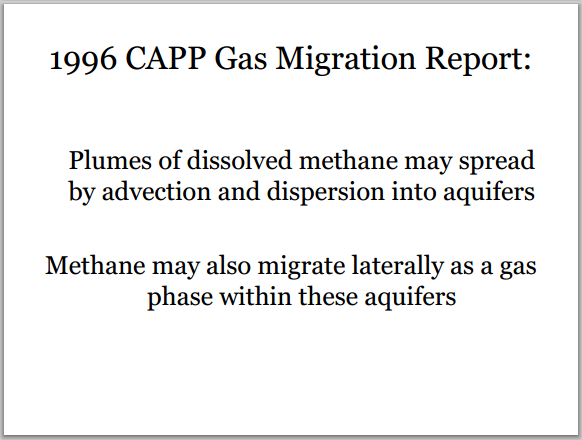 Slides above and below from Ernst speakng events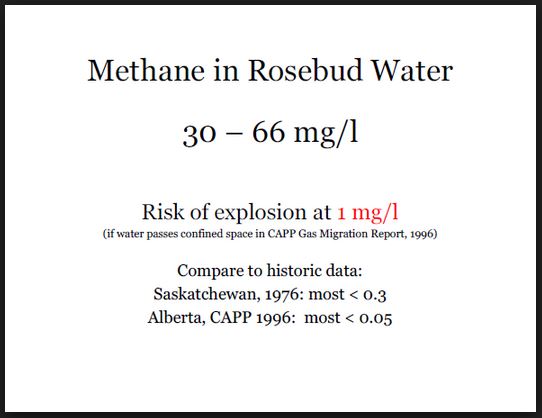 2014: Pennsylvania, after years of legal battles with news outlets, released details of 248 cases where oil and gas drilling and related activities ruined private water wells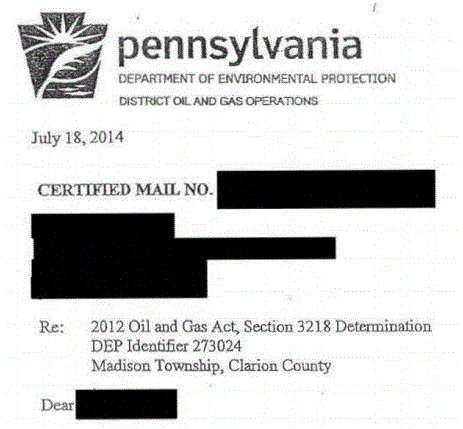 SUMMARY TABLE OF KEY INFORMATION IN PENNSYLVANIA DEP'S WARNING LETTERS TO WATER WELL OWNERS WITH WATER AND HOMES CONTAMINATED BY INDUSTRY'S MIGRATING METHANE:
*Many more letters were released showing other contamination, all were caused by oil gas activities. Only gas contamination letters are tabled. If no methane data is listed, none was presented in the letter. PDF of the above table
July 2014, DEP released 209 cases since late 2007; August 28, 2014 they released more cases, bringing total to 248 cases. Media FOIPed for and released the letters.
Standard comment in most of the DEP methane home and water contamination letters: 
"There is a physical danger of fire or explosion due to the migration of natural gas into water wells or through soils into dwellings where it could be ignited by sources that are present in most homes/buildings. Natural gas migration can also cause threat of asphyxiation…. 
It is the Department's recommendation that all water wells should be equipped with a working vent. This will help alleviate the possibility of concentrating these gases in areas where ignition would pose a threat to life or property. Please note that it is not possible to completely eliminate the hazards of having natural gas in your water supply by simply venting your well."
The Complete List of PA DEP Letters (includes links to the (redacted) reports, which name companies)
Sounds like Alberta, Right to Know Law Request shows Pennsylvania Regulator knew 209 Water Supplies Damaged By Drilling Since Late 2007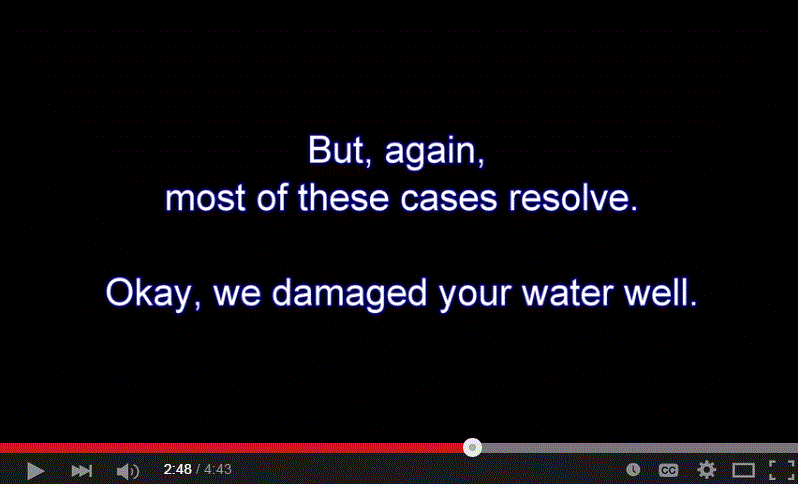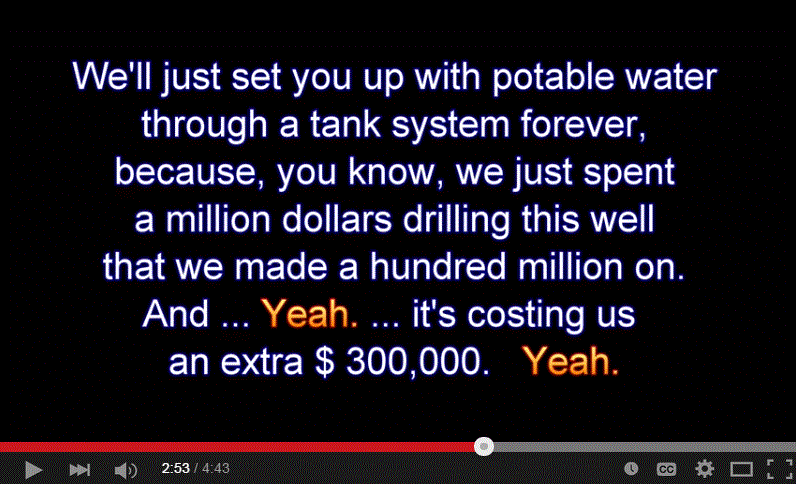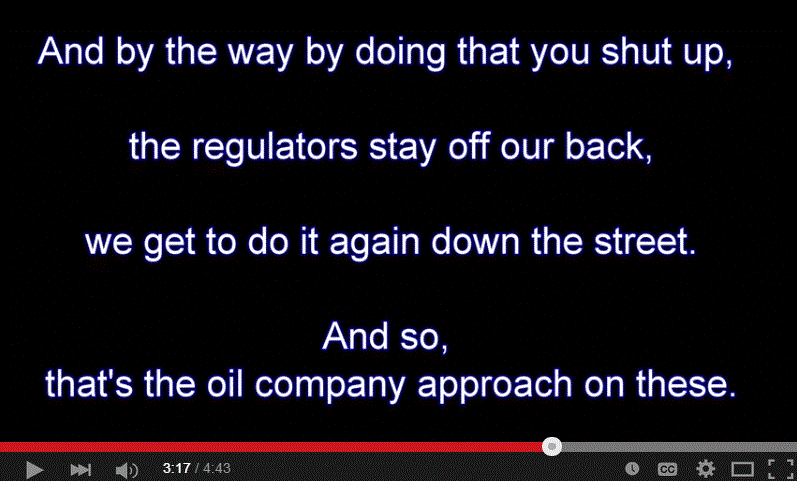 2013 09: Alberta Energy Regulator lawyer Glenn Solomon giving legal advice to a family with water well contamination from fracing
"Moving Forward" to Hell: Pa DEP finds third home's water supply contaminated by WPX's leaky waste pit; Ken and Mildred Geary, in their 80′s, without safe water
Pennsylvania DEP: Range Resources Inc.'s fracking waste pits contaminated groundwater and soil at three Washington County sites
Pennsylvania: Cecil Township warns about 50 residents of potential water contamination near Range Resources Frac Pit after regulator refuses to
2015 02 27: Calmar families in Alberta asked to leave homes again in effort to fix Imperial Oil's methane leak, Ordered fix made the leak worse
2014 12 11: Trouble Beneath Our Feet: Leaking Energy Wells a Burning Issue; Big problem, Expensive to Fix, Impossible to Completely Stop
Texas: Flash fire burns four people, including 4 year girl; methane contamination in well water source possible cause
Leak in 100 year old shallow natural gas well after nearby fracing caused serious methane migration into Waynesburg Medical Center; Methane build-up rendered the center uninhabitable!
Woman dead, man seriously injured in home explosion in Orwell Ohio; well on property with chronic leaking natural gas problems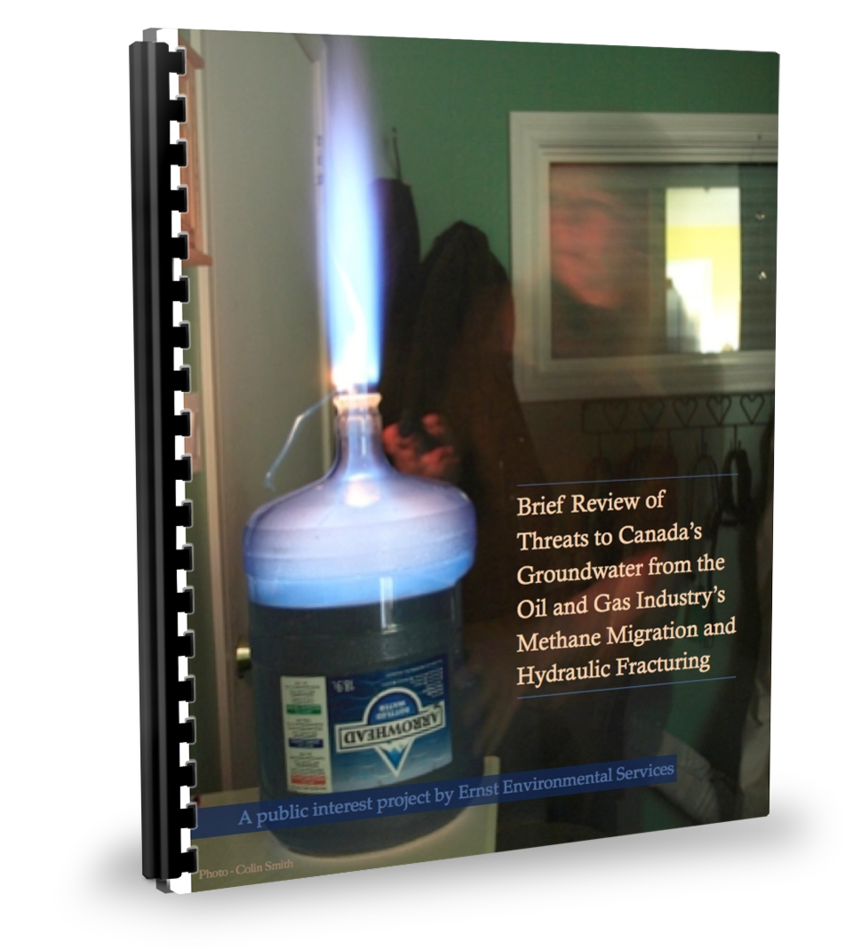 FrackingCanada The Science is Deafening Industry's Gas Migration
2011: Settlement reached in Ohio Valley Energy fracing-caused methane migration into Bainbridge Township homes and drinking water, including the Payne's and Police Station
A lawsuit involving Ohio Valley Energy, which was brought by homeowners in Bainbridge affected by leaking methane gas from a gas and oil well, is close to settlement. Bainbridge Township also joined the lawsuit. … Mr. Markley said a settlement offer was made. The township's legal representative, Geauga County Assistant Prosecutor Becky Schlagg, has advised the township to take it.
Ohio Valley Energy, of Austintown, had drilled a well off English Drive in the township. In December 2007, after gas migrated through the aquifers and into water wells, an explosion occurred at the home of Richard and Thelma Payne on English Drive. The gas also seeped into other homes and contaminated water wells, according to the Ohio Department of Natural Resources. Homeowners affected in the area off Bainbridge Road joined in a class-action lawsuit against Ohio Valley Energy.
Bainbridge joined the lawsuit in January 2009. The Bainbridge Police Station water well was affected by the methane gas, township officials have maintained. …
Ohio Valley Energy agreed to install a waterline to carry City of Cleveland water to the homes. It was installed on Bainbridge Road to bring water to about 22 homes in the area of English, Scotland and Kingswood drives. Work began in late 2009 and was completed in 2010. The lawsuit continued, because the homeowners impacted had not been compensated, according to Mr. Markowitz. Bainbridge Trustee Lorrie Benza said a mediator in the lawsuit took all the evidence, and the township does not know what the residents got. "Everybody has to sign it, and we send it back, and then the mediator puts it together to finalize the suit," she said. …
Ohio Valley Energy purchased the home of Mr. and Mrs. Payne where the explosion took place in the basement. [Emphasis added]
2006 Spirit River, Alberta: Bruce Jack's methane and ethane contaminated water well explodes seriously injuring three men; professional venting of the gases had been advised by Alberta regulator and provided by oil company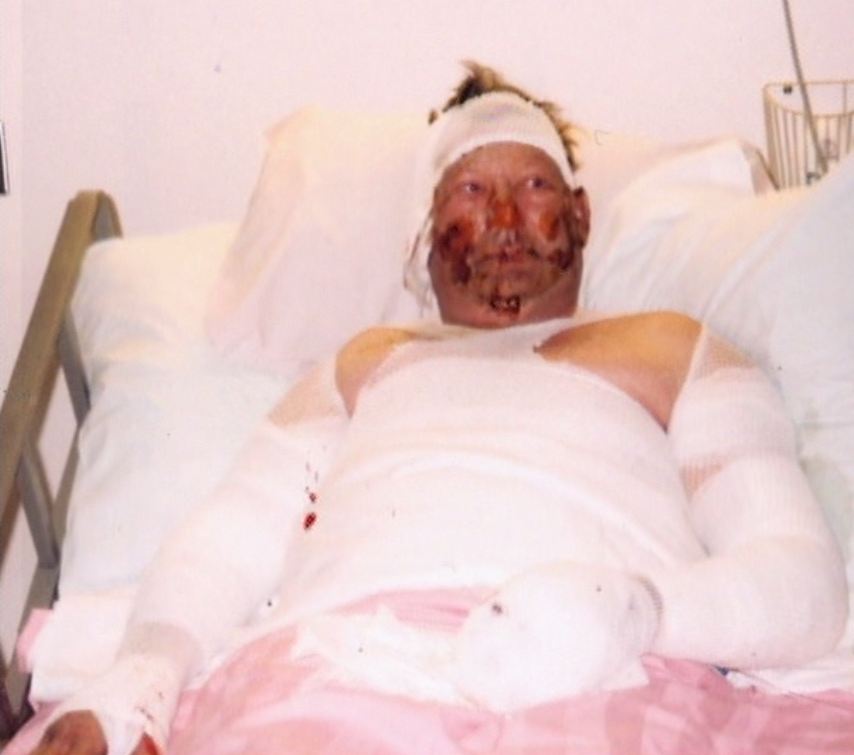 Bruce Jack Private water well explosion at Spirit River, Alberta Alberta Hansard, May 17, 2006
Dr. Swann: Three years this man waited for investigations. He still has no explanation of why his water exploded. Mr. Speaker, the Minister of Environment has not met the mark in protecting our most vital resource.
The Speaker: Hon. member, I appreciate that there's a synergy that goes on in here, and I also appreciate that there's emotion, but it's question period. Let's get to the question, okay?