At around 9.30 a.m. local time, "people hired by mining firm Yanacocha illegally broke into the property and started damaging the lot with various tools," said Ysidora Chaupe, daughter of Acuña and Jaime Chaupe.
"When Maxima and Jaime approached them and demanded they stop invading the property, the mining firm's security staff violently attacked Maxima and Jaime, hitting Maxima in the head and body with a weapon, leaving her seriously hurt," she added.
Acuña's husband, who was badly injured, managed to report the attack to the police at around 12 p.m. But the police did a routine check, leaving both campesinos in critical condition and in urgent need of medical attention.
Acuña won the prestigious Goldman Environmental Prize for stopping Yanococha, a subsidiary of U.S.-based mining giant Newmont, from constructing an open-pit gold mine that threatened to contaminate the water supply and cause water shortages for thousands of people living in this agricultural and cattle-rearing region.
Acuña was one of the few campesinos who refused to sell her land in 2011 in the northern region of Cajamarca as Yanacocha was setting up the largest gold-mining project in South America called Minas Conga. The International Finance Corporation, the lending arm of the World Bank, owns a 5 percent stake in the project.
She is still fighting in court for the property rights for her piece of land, although a December 2014 appeals court decision overturned an earlier sentence of three years in prison for her and her husband for allegedly invading Yanacocha's property.
​Foreign Mining Companies in Peru Taxed Only 1.55% of Their Profits
In April, Acuña told teleSUR about the daily fear she and others were forced to live under, saying the mining company kept intimidating any campesinos leaders who dared to protest for the right of land and water.
Foreign mining companies operating in Peru often hire police as security guards, while the Peruvian government often deploys police, military and intelligence personnel on behalf of mining, gas and oil companies to crush any dissent and local resistance.
On March 3, Berta Caceres, one of last year's winners of the Goldman Environmental Prize, was assassinated in her home in La Esperanza, Honduras. Latin America is the most dangerous place in the world for environmental activists. In Peru alone, 61 activists were killed in the past 10 years, according to the human rights organization Global Witness. [Emphasis added]
Peruvian couple beaten up – Newmont Mining subsidiary accused of grossly violating Peruvian landowners' rights by Eco NZ, September 20, 2016
Newmont mining, which just last week attended an IUCN World Congress discussion on extractive industries and conservation, where it styled itself as one of the "good guys", now stands accused of violating the human rights of a Peruvian woman and her husband who were beaten up by one of Newmont's subsidiary companies' security guards and hospitalised. This was on the woman's land where the company's subsidiary want to open a gold and copper mine.
Cath Wallace, of ECO New Zealand, says she has received an urgent notice that fellow Goldman Prize recipient, Máxima Acuña, who successfully challenged Newmont's attempts to drive her off her own land in the Peruvian highlands, had been attacked by security guards
The report says "Máxima and her husband were attacked and hurt by security personnel from the Yanacocha mine (run by the Conga Comp., a subsidiary of Newmont Mining Corp., based in the state of Colorado, USA). The guards entered her family farm without authorization, and when confronted by Máxima and her husband, they attacked both of them."
The report, which cites the couple's son as the source, says that Máxima Acuña, 2016 Goldman Environmental Prize Recipient for South and Central America, was hospitalized along with her husband who was also attacked.
A further report is that the couple were attacked when they tried to stop Yanacoocha mine employees from digging their land. Máxima Acuña was reportedly hit on her head and body by someone wielding a gun, and seriously injured. 
This is intolerable, says Cath Wallace. The company seems to be saying one thing and doing quite the opposite. Newmont's own website claims that it builds relationships on trust and acts respectfully:
"Building Relationships Based on Trust"
"Throughout the mining lifecycle we work to build respectful and healthy relationships with the communities surrounding our operations, projects, and other activities. These relationships create the foundation to build shared value so that both our business and our host communities can grow sustainably."
The event has been reported as happening at the couple's farm land where Newmont's subsidiary wants to mine for gold and copper. The couple, who want no more than to continue to quietly occupy their land which a higher court has confirmed they own, were taken to hospital according to their son, Daniel.
Cath Wallace, a recipient of the Goldman Environmental Prize in 1991, says the apparent behaviour of the company's subsidiary in Peru, leave's Newmont's reputation in tatters. She also called on the Peruvian Government to guarantee the safety of the family and their quiet possession of the land and to expell Newmont and its subsidiary from Peru.
Wallace called on the International Council of Mining and Metallurgy, ICMM, to eject them from their membership. ICMM has ten principles to which the member companies sign up. This includes Principle 1:
Apply ethical business practices and sound systems of corporate governance and transparency to support sustainable development.
"Beating people up is not ethical and nor is it sustainable. Bullying farmers off their land is unacceptable. If ICMM is to have any credibility as anything more than a mining industry whitewash operation, then Newmont must have its membership withdrawn from ICMM.
Wallace also says IUCN, the International Union for the Conservation of Nature and Natural Resources, should stop allowing Newmont to attend IUCN meetings.
"The mining company has already made the family's life a misery by bullying the couple, fencing them into their land so that they do not feel free to come and go, and making the family feel that they are under constant surveillance. Now they resort to physical violence.
"Newmont recently sold out of New Zealand. We were glad to see them go.
"Harrassing and beating up subsistence farmers in Peru is not on. They should be barred from holding any minerals permits everywhere."
NOTES:
1 See more about Máxima Acuña, photographs and about the family's struggle athttp://www.goldmanprize.org/recipient/maxima-acuna/
Latin American environmental defender attacked, hospitalized, Goldman Prize winner Máxima Acuña de Chaupe reportedly attacked by mining company security guards by Earthworks et. al., September 20, 2016
EARTHWORKS * ASOCIACIÓN INTERAMERICANA PARA LA DEFENSA DEL AMBIENTE (AIDA) * EARTHJUSTICE * EARTHRIGHTS INTERNATIONAL * GAIA FOUNDATION * LONDON MINING NETWORK * MININGWATCH CANADA * SUMOFUS
Washington, D.C., — 2016 Goldman Environmental Prize winner Máxima Acuña de Chaupe was hospitalized after being attacked, allegedly by security forces hired by Minera Yanacocha, a subsidiary of Denver-based Newmont Mining, according to information provided by the Chaupe family. The attack took place on Máxima's property in northern Peru that the mining company has been trying to obtain for its Conga gold mine project.
"Minera Yanacocha must immediately stop their harassment of Máxima and her family, denounce attacks like this one, and call on its employees, agents and all others to ensure her safety," saidEarthworks' Executive Director Jennifer Krill.
The attack against Máxima is an alarming reminder of the murder earlier this year of Honduran activist Berta Cáceres. Berta was the 2015 Goldman Environmental Prize Winner from South and Central America. Both Berta and Máxima put their lives at risk by publicly denouncing multinational corporations threatening their communities.
"Environmental defenders like Máxima, and the late Berta Cáceres before her, should not have to risk their lives to protect their homes and communities," said Martin Wagner, managing attorney at Earthjustice.
Máxima, who has lived in Tragadero Grande since the early 1990s, has been beaten, intimidated, and even sued by Minera Yanacocha. In 2014, Peruvian courts ruled in Máxima's favor in an ongoing criminal complaint by the company.
In April, prominent civil society groups including Global Witness, Sierra Club, Earthjustice, Earthworks, SumOfUs and others wrote to Newmont calling on the company to drop its lawsuits against the Chaupe family and end their harassment. The company failed to respond.
"The Chaupe family has been harassed and beaten by Yanacocha for years," said Katie Redford, Founder and Director at EarthRights International, which has been supporting and advising the Chaupe family. "They are prepared to pursue all legal options to obtain justice."
This most recent attack highlights the failures of both Newmont and the Peruvian government to uphold security, human rights and the consent of local communities. Newmont has ignored multiple calls from civil society to stop the physical and legal harassment of the Chaupe family, and the Peruvian government has failed to provide security for the Chaupe family as ordered by the Inter-American Commission on Human Rights (IACHR).
Everyone involved in the mine project – the companies, the government, the security forces – is responsible for ensuring Máxima's safety," said Martin Wagner of Earthjustice. "By failing to speak and act against it, they are condoning this kind of attack and creating further risk to Máxima, not to mention their own reputations."
In February, Newmont filed a statement with the Securities and Exchange Commission indicating that they were no longer pursuing the proposed Conga mine that threatens the Chaupe home.
"Newmont needs to immediately address the alleged involvement of its subsidiary Yanacocha in the criminal harassment of Máxima and her husband.  Newmont has reported to investors that it isn't pursuing the Conga mine, but these attacks on poor subsistence farmers indicate that further plans are in development. What's happened is shocking, and shareholders need to know the potential risk of such an unethical venture," said Glen Berman, Interim Executive Director of SumOfUs.
For more information:
***
Ataque contra Máxima Acuña
Ultimo minuto: Ataque contra Máxima Acuña y su esposo Jaime Chaupe por parte de Minera Yanacocha
Hoy día, a las 9.30 am., gente contratada por la empresa minera Yanacocha, entró en el terreno de la familia Chaupe sin ninguna autorización y empezaron a alterar su terreno con diversas herramientas. Cuando la señora Máxima y su esposo Jaime se acercaron a reclamar por la invasión y pidieron que se detenga esta irrupción en su terreno, el personal de seguridad de la minera impidió que la familia avanzara para dialogar. Fue en este momento que atacaron violentamente a Máxima y a Jaime. Con un arma han golpeado a Máxima en su cabeza y cuerpo y la han dejado gravemente herida.
El celular del señor Jaime no estaba funcionando, estaban solos y heridos sin poder denunciar el ataque, hasta las 12 pm. cuando llegó la delegación policial de Huasmín, que vino haciendo una inspección de rutina. En este momento pudieron comunicarse con su hija Ysidora para hacer la denuncia. Máxima y Jaime están en necesidad urgente de atención médica.
Si requirieran mayor información, por favor comunicarse directamente al celular de Ysidora.
Cajamarca
18.09.2016
[Refer also to:
2016 Goldman Environmental Prize Ceremony: Tribute to last year's winner Berta Cáceres, Honduras indigenous & environmental leader assassinated last month; Máxima Acuña, Peruvian landowner – Goldman Environmental Prize winner this year; and more
2015 03 16: International Women's Day: A hommage to Maxima Acuña de Chaupe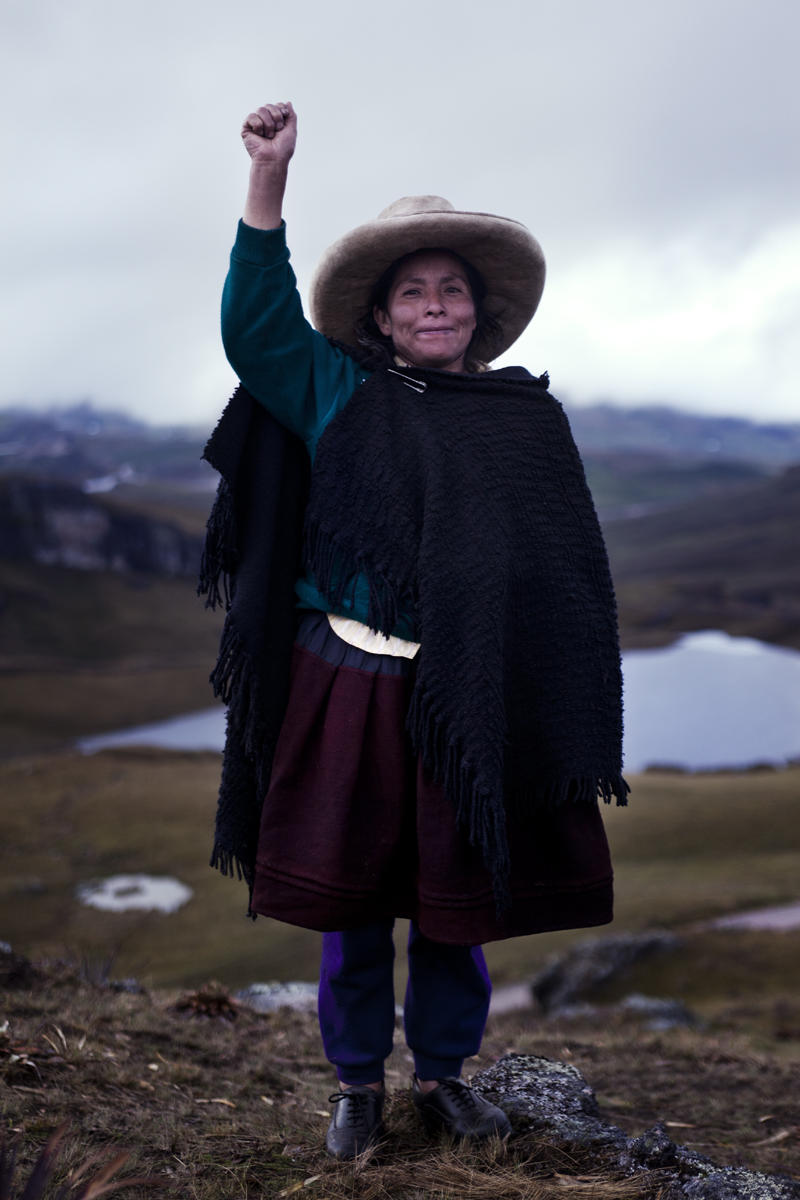 Who would have thought that a shy, 4 ½ feet tall peasant woman could challenge so enduringly a mighty transnational corporation?
Over the last 4 years, Máxima Acuña de Chaupe has led her peaceful struggle against US-based Newmont Mining Corporation and its Peruvian subsidiary Yanacocha. By doing so, she is also defying a deeply entrenched system of impunity and injustice that afflicting communities and activists engaged in the ongoing conflicts over resources in Peru.
In 2011 when she was first accused of illegal occupation by the mining company, Máxima's future seemed bleak and impossible: what could she do as an illiterate woman without resources do to claim her rights?
Since then, Máxima went in and out of Court rooms, armed only with her own land deeds and determination to attain justice.
In the meantime, mine workers and security staff from Yanacocha harassed, intimidate her and invaded her house to harm her and her family. Shamelessly destroying her property, killing her animals and violently beating her children as they attempted to record the events and protect themselves.
Finally, the evidence supporting her ownership was recognised three years later in December 2014, when she was absolved from all criminal charges set up against her. In her usual soft voice, Máxima thanked her supporters, the judges and celebrated that justice had finally been done.
Unfortunately, victory was short-lived as a few weeks later, targeted attacks against her resumed. Most recently in February, Yanacocha workers and security entered her land once again to destroy the house she was building.
In the face of this, suffering countless abuses by both the company and the Peruvian state, Máxima still stands strong.
Her fight has brought together a significant amount of attention, and built on national and international solidarity.
Type her name into Google, and you'll be amazed by what she represents to people in Peru and around the world: hope, courage and a symbol for the global fight for indigenous and rural people in the face of rampant extractivism at David and Goliath-esque proportions.
Máxima's struggle is also that of the indigenous and rural peoples of Peru, and of Latin America who are being forced off their lands to give way to large-scale development projects, who fail to be heard by their government, despite the ongoing calls to protect Mother Earth and defend Human Rights.
And finally, it is also a woman's struggle, defying the status quo that confines rural women to the household, with no opportunity to defend their rights.
This is why, this year on the 8th March for International Women's Day we celebrate Máxima's achievements, her strength and her courage.
As well as a day of celebration, we also want to reflect on the challenges that persist and on ways to support Máxima as well as other countless Women Human Rights Defenders in their endless struggle for Justice in the context of the extractive industry.  [Emphasis added]