Victory for Peru's Campesina Activist Maxima Acuña Against Mining Giant by telesur, 3 May 2017
Acuña's fight has been an inspiring story as a victory for small Indigenous farmers against transnational corporate power.
Peru's Supreme Court on Wednesday ruled in favor of Maxima Acuña, a campesina and winner of the Goldman Environmental Prize, acquitted of land misappropriation charges backed by U.S.-based Newmont Mining Corp.
Wednesday's decision dealt a blow to the company's long-stalled efforts to build a US$5 billion gold mine in the Andean country.
"I feel happy and relieved that here in the capital (the court) has also provided justice," Acuña told reporters after the hearing.
"I only hope not to suffer more abuse from the company."
The charges were officially laid on her by the Yanacocha mining company, the subsidiary of Newmont, that since 2011 has claimed ownership of the subsistence farmer's land, demanding that she and her family leave. Acuña has repeatedly claimed her home was destroyed as part of the mine's construction and that the family's attempts to rebuild it have been blocked.
Acuña was one of few campesinas who refused to sell her land in 2011 in the northern region of Cajamarca as Yanacocha was setting up the largest gold-mining project in South America called Minas Conga. The International Finance Corporation, the lending arm of the World Bank, owns a five percent stake in the project.
After various attempts to evict the family, Yanacocha took the case to the court, and Acuna was promptly sentenced to suspended prison for two years and eight months and slapped with a US$1,692 fine.
However, in December 2014, Cajamarca's Court of Criminal Appeals ruled in Acuna's favor and overturned the previous sanctions. That ruling also dismissed her eviction, which was sought by the mining company in order to develop their US$4.8 billion open-pit gold and copper mining project.
In the course of her battle, Acuna faced harassment and death threats, w

ith gunmen opening fire at her house while she was away to receive her Goldman prize.
In April 2016, Acuña told teleSUR about the daily fear she and others were forced to live under, saying the mining company kept intimidating any campesinos leaders who dared to protest for the right of land and water.
Foreign mining companies operating in Peru often hire police as security guards, while the Peruvian government often deploys police, military and intelligence personnel on behalf of mining, gas and oil companies

to crush any dissent and local resistance.
Still, her resistance has successfully halted the Conga mining project for the "foreseeable future." The proposed Conga mine project would threaten the local ecosystem with contamination of the cyanide-leaching open-pit mining process and transform at least one local lake into a waste pit.
Acuna's fight has been an inspiring story as a victory for small Indigenous farmers against transnational corporate power.
Latin America is the most dangerous place in the world for environmental activists. In Peru alone, 61 activists were killed in the past 10 years, according to human rights organization Global Witness. [Emphasis added]
Mientras Yanacocha la acosa Congreso homenajea a Máxima by servindi, April 13, 2017 [Google translate]
The homage was held on the afternoon of Wednesday, April 12, in the Chamber of Congress and allowed the national representative to applaud Dona Máxima and her family, together with her lawyer Mirtha Vásquez, for her exemplary defense of water and land.
Máxima Acuña arrived in Lima to read the sentence in the Supreme Court for a cassation appeal filed by the company Yanacocha and that seeks to reverse the trial that Máxima won in 2014.
The sentence reading had been postponed because the judges were on vacation but did not bother to warn Máxima that there would be no hearing, in an expression of "disrespect" and "mistreatment" as noted by Congressman Marco Arana.
The farmer Máxima Acuña is an environmental advocate, winner of the Goldman Environmental Prize and suffers a permanent harassment and mistreatment of personnel at the service of the Yanacocha company.
She is a beneficiary of precautionary measures of protection granted by the Inter-American Commission of Human Rights (IACHR), but they are not fulfilled by inaction of the Peruvian authorities.
Another beneficiary of the precautionary measure is César Estrada Chuquilin, an indigenous communicator from Cajamarca, who has suffered assaults, threats and attempts to end his life. He also participated in the tribute and appears in the bottom photo.
Marco Arana Zegarra said that he hopes that the path that the family of Máxima Acuña lives for "the abuse of the powerful Yanacocha miner" and that he "can find his Sunday of glory when they are given timely and timely justice." [Emphasis added]
Peru's Top Court Postpones Maxima Acuña Judgment by telesur, 12 April 2017
Peru's supreme court postponed its judgment today in the criminal case that the Yanacocha mining company has against the family of campesino leader Maxima Acuña for aggravated usurpation of lands, saying that it had not reached a judgment. The new date for the judgment will be May 3. [Emphasis added]
Máxima Acuña, 2016 Goldman Environmental Prize, South and Central America 5:02 Min. by Goldman Environmental Prize, April 17, 2016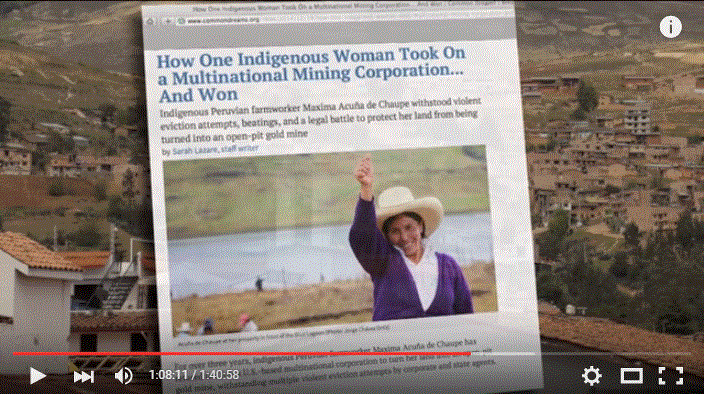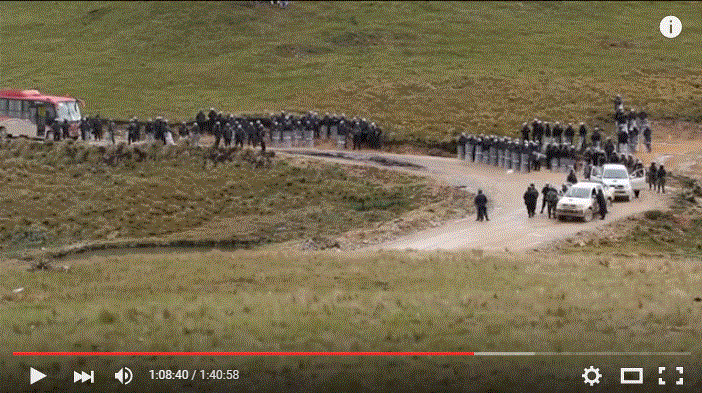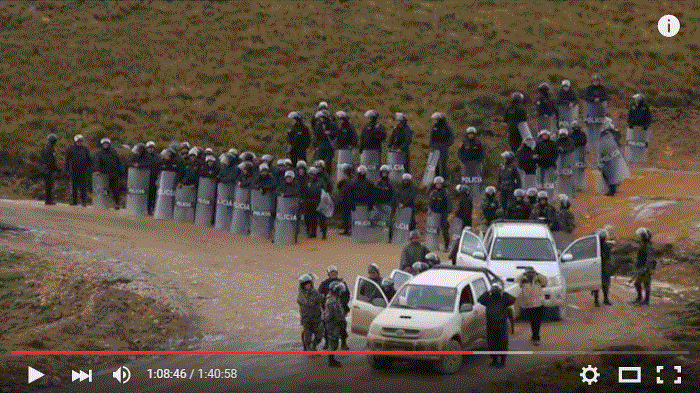 [Refer also to:
2016 09 20: Peru: Goldman Prize winner Máxima Acuña and husband attacked, severely injured by Newmont Mining Corp security guards; Newmont accused of grossly violating Peruvian landowners' rights
2016 Goldman Environmental Prize Ceremony: Tribute to last year's winner Berta Cáceres, Honduras indigenous & environmental leader assassinated last month; Máxima Acuña, Peruvian landowner – Goldman Environmental Prize winner this year; and more
2017 01 25: Jessica Ernst Open Letter to Chief Justice Beverley McLachlin Regarding False and Seriously Damaging Statements in Justice Rosalie Abella's Supreme Court of Canada Ruling, Ernst v AER ]