Biggest refinery on U.S. East Coast set to close after huge explosion, driving up fuel prices, The loss of the refinery will likely increase the region's dependence on supplies from Canada, Europe and the Gulf Coast by Bloomberg News, June 26, 2019, Calgary Herald
The biggest refinery on the U.S. East Coast will shut down, after a massive explosion and fire crippled operations at a site that has helped fuel the region for 153 years.
The Philadelphia Energy Solutions Inc. complex on the banks of the Schuylkill and Delaware Rivers in Pennsylvania has been in place since 1866, a year after the Civil War ended. It emerged from bankruptcy just 10 months prior to two fires in June that closed down key gasoline-making units just as the summer driving season gears up.
Philadelphia Mayor Jim Kenney said Wednesday the refinery will close within the next month. The complex produces 335,000 barrels a day, meeting about 3 per cent of gasoline demand in a densely populated region. Futures in New York jumped more than 5 per cent on a Reuters report Tuesday night that the refinery would close.
PES will lay off half of its 640 union workers and 130 salaried employees Wednesday, said a person familiar with the plans.
On Monday, the United Steelworkers union said any decision to shut the complex would have lasting consequences "starting with almost 2,000 workers directly employed by PES and tens of thousands more whose employment depends on the refinery to some degree," according to a statement by USW International Vice President Tom Conway.
PES officials will meet with Ryan O'Callaghan, president of USW Local 10-1 at noon local time, he said in an interview Wednesday. O'Callaghan, who represents 640 USW workers at the refinery, said he hadn't been given prior warning of any plans to close.
The refinery was beset by two fires, on June 10 and June 21. The most recent, affecting an alkylation unit used to make high-octane gasoline, was triggered by an explosion in the complex's Girard Point section that could be seen miles away and was picked up by weather satellites. The earlier blaze was at a fluid catalytic cracker in the Point Breeze section of the refinery.
Biggest Complex
The plant is the biggest of five refineries in the Northeast. It's faced threats before. In 2012, with supply outpacing demand, it took a change of ownership and a push by lawmakers and unions to keep it operating.
"That refinery plays a huge part in the gasoline market," said Gene McGillian, vice president at Tradition Energy, a risk management firm in Stamford, Conn.
The loss of the refinery will likely increase the region's dependence on supplies from Canada, Europe and the Gulf Coast, potentially boosting prices for drivers and profit margins for the remaining plants in the area. Shares of PBF Energy Inc, which operates two refineries near Philadelphia, have surged 14 per cent since Thursday.
"The U.S. Gulf Coast will remain a key supplier of refined products with supplemental gasoline imports from Europe likely needed to replenish lost production from the facility," Marc Amons, senior research analyst, North America refining at Wood Mackenzie, said in an emailed statement.
In 2012, the Philadelphia facility almost closed before being taken over by Energy Transfer Partners subsidiary Sunoco Inc. and the Carlyle Group. It emerged from Chapter 11 bankruptcy in August with the previous owners retaining smaller stakes.
The fundamental problems that undercut the complex in 2012, though, largely remained.
East Coast refiners aren't on the receiving end of crude pipelines from America's oil shale riches in Texas and North Dakota. So the only way they can get hold of U.S. crude is by train or U.S.-flagged tankers, which are much more expensive. The result: Philadelphia-area fuel makers still import crude from West Africa and the North Sea.
PES used to take at least 200 rail cars a day of Bakken crude, but most of those barrels were diverted to the Midwest and Gulf Coast after pipeline expansions. Margins for processing imported crude sank in early June to the lowest in three years, according to Oil Analytics data. At the same time, refiners in the Midwest were threatening to encroach on part of the nearby western Pennsylvania market.
Girard Point was already facing months of downtime as inspections continue to determine extent of damage from Friday's explosions and fire.
To permanently shut both Girard Point and the Point Breeze section "could take up to a year to fully secure the facility and removes the crude and products that remain in the process units and the storage tanks," said Andy Lipow, president of Lipow Oil Associates LLC in Houston.
Explainer: Philadelphia refinery blast puts new spotlight on toxic chemical
by Erwin Seba and Jessica Resnick-Ault, June 20, 2019, Reuters
Massive explosions that engulfed a Philadelphia refinery in flames on Friday have renewed concerns about the oil industry's use of a highly toxic chemical to make high-octane gasoline at plants in densely populated areas.
Aerial video of the scene at Philadelphia Energy Solutions Inc's refinery, the largest in the northeast, on local television showed significant damage and the massive complex nearly engulfed in flames.
One of the explosions took place in a hydrofluoric acid alkylation unit – a chemical processing unit that has been involved in three near-misses of releases into cities in California, Texas and Wisconsin, according to safety officials.
Hydrofluoric acid (HF) can form a toxic cloud at room temperature while exposure can lead to severe health problems and even death.
Around the Philadelphia refinery, air quality had not yet been cited as a problem. There are about 300,000 people who live within three miles (5 km) of the facility.
There have been campaigns by residents who live near refineries, environmental groups and the country's largest industrial labor union to end the use of HF in units that produce octane-boosting components for gasoline.
Fifty, or more than a third, of 135 U.S. refineries operate HF alkylation units, according to the Chemical Safety Board (CSB), which investigates industrial fires and explosions.
In April, the CSB called on the U.S. Environmental Protection Agency to revisit a study on HF's use and the potential to replace it with another process after hearing from worried residents during its probe of a 2018 refinery fire.
"Refinery workers and surrounding community residents are rightly concerned about the adequacy of the risk management for the use of hazardous chemicals like HF," the board said in that letter, which grew out of the CSB's probes of fires at refineries in Wisconsin, California and Texas.
The United Steelworkers union (USW), whose members work at major refineries, launched a campaign in 2010 to end the oil industry's use of HF. In 2013, the USW found 26 million people in the United States were at risk of HF exposure from a refinery accident.
"We would like the industry to invest in finding intrinsically safer alternatives," said Michael Wright, the USW's director of health, safety and environment.
The oil industry has rejected calls to convert HF alkylation units to sulfuric acid, which does not form a low-hanging cloud that can drift into neighborhoods, saying the cost would be too high and alternatives not well developed.
[OK to risk killing/sickening entire communities to feed greed?]
HF has been used for about 70 years in refinery operations, according to Diana Cronan, spokeswoman for the trade group American Fuel and Petrochemical Manufacturers. About 2% of the HF used in the United States goes toward refining, she said.
"Typically, refiners with limited land availability have hydrofluoric acid" units, she said.
Sulfuric acid reactors can be two to three times as large as HF, Cronan added, making them less attractive to manufacturers.
But HF is risky because it forms dense vapor clouds low to the ground that can easily move into the communities around refineries. Since it destroys nerve tissue, burns may be initially painless. It can also cause cardiac arrest in higher concentrations.
Most of the 27,000 residents of Superior, Wisconsin, were evacuated in 2018 due to the risk of a release of HF following an explosion at Husky Energy Inc's refinery, according to news reports at the time.
Husky has said it expects to resume partial operations at the site in late 2020.
A 2015 explosion at a Los Angeles-area refinery, then owned by Exxon Mobil Corp, raised the risk that a storage tank containing HF could have been ruptured, according to the CSB.
The USW campaign began following a 2009 explosion on an HF alkylation unit at the Citgo Petroleum Corp refinery in Corpus Christi, Texas, that the CSB found likely released up to 4,000 lbs (1,814 kg) of HF. Much more than that was contained by water spray cannons around the burning unit.
Before the Corpus Christi fire burned out, the water supply system was nearly exhausted and hoses bringing additional supplies ruptured but were quickly replaced or repaired, the CSB found.
Philadelphia Energy Solutions refinery fire contained but still burning by 6ABC News and The Associated Press, June 21, 2019
Fire crews have contained, but are still working to control a fire on Saturday morning at a 150-year-old refinery complex in Philadelphia that turned the early morning sky a bright orange and yellow with explosions on Friday.
Officials say a "very small fire" remains at the refinery.
"We continue to work to isolate the remaining line; access is limited due to the damage and instability of the remaining structure. We haven't made a decision to let it burn itself out, but that may occur before we can safely isolate it," said PES in a Saturday update.
Allowing the fire to burn itself out may be the best course of action. To put it out with butane and propane still spewing would risk another explosion.
Officials say there is no danger to the public and they continue to monitor the air for any potential hazards. So far there are none. [Authorities lying to the harmed, as usual?] Concerned residents can call the PES Community Information Hotline at 215-339-7300 for updates and the status of the refining complex.
The Philadelphia Fire Department said they received reports of a vat burning around 4:05 a.m. at the Philadelphia Energy Solutions Refining Complex on the 3100 block of Passyunk Avenue in South Philadelphia.9.
According to Philadelphia Deputy Fire Commissioner Craig Murphy, crews arrived on the scene to find the PES fire brigade already working.
At the height of the response, the fire grew to three alarms. There were more than 120 firefighters on the ground with more than 50 pieces of equipment, and area neighbors were told to shelter in place.
"Oh my God! It's an atom bomb." This was the chilling reaction from Vincent Carnuccio upon seeing the first of three explosions at the refinery. Explosions that turned the early morning sky bright orange and yellow."
Daryl Lee was on his paper delivery route when he saw it.
"All of a sudden – boom – the ground shook. The flame went up. Parts were falling out of the sky," Lee said. "Like the sun landed on the ground, that's how bright it was. Then as it fell back down, you saw what looked like metal coming down. Like glitter, sparkles, raining down. That's when I realized this thing blew up."
Chris DeLuca cold see the orange glow of fire from his Packer Park home.
"After the first explosion sounded like a jet. But when a jet takes off, the sound fades. This stayed at a constant noise level," DeLuca said. "Then all of a sudden it got louder and that's when the second explosion happened."
Neighbors react to Philadelphia refinery explosion
Witnesses, neighbors react to refinery explosion. Watch the report from Maggie Kent on Action News at 4 p.m. on June 21, 2019.
Kojy Hollingshed was startled awake.
"It was such a loud explosion. A lot of times I hear different things, but this was totally different. It was so loud," Hollingshed said.
Philadelphia Energy Solutions said there were three separate explosions in one of their alkylation units.
Nearby residents said they could be felt through South Jersey and Delaware County, Pennsylvania.
"We have not determined the product that was burning, but we believe it was mostly propane," PES said.
RELATED: Looking back at 1975 Philly refinery fire that killed 8 firefighters
Postal worker Antonio Tindle said he saw the multiple explosions.
"When I came over to this side of Passyunk Avenue, that's when I seen the explosion, then I seen the second explosion. The third explosion rocked my truck," Tindle said.
The Philadelphia Department of Public Health says air samples taken from the scene show no findings that would point to an immediate danger to the surrounding community. [What does that mean? Those breathing the "highly toxic chemical" won't get sick today or in a few weeks, rather in a few months or years?]
Viewer calls refinery fire an 'atom bomb'
The Department of Public Health says air sample testing at the 150-year-old refinery and surrounding community has found "no ambient carbon monoxide, hydrocarbons (combustibles), or hydrogen sulfides." [Did they test for the most "highly toxic chemical" burning on site: hyrdrofluric acid?]
Here is their full statement:
Regarding this morning's PES fire:
Air Management Services was on-scene immediately and took air samples. Preliminary testing at the refinery, and in the community around, found no ambient carbon monoxide, hydrocarbons (combustibles), or hydrogen sulfides.
Additional samples were taken and transported to the Air Management Services Lab. We are awaiting the results of the tests being run and will release the interpretation of the results as soon as it is available. [Was hydrofluric acid tested for? If the authorities do not yet have complete results, why are they telling those affected that the air is safe to breath?]
The Health Department has no findings that would point to any immediate danger in the surrounding community at this time, and the City is NOT recommending evacuation or shelter-in-place. [Mighty slippery irresponsible statements, as are usually touted by our authorities to enable toxic pollution by the oil and gas industry]
RELATED: Pollution from refinery blasts and fire could irritate asthma, COPD sufferers
Though the Department of Public Health says that air quality near the refinery is safe, but some neighbors are concerned about contaminants. [SMART NEIGHBOURS!]
Sylvia Bennett has two daughters with cancer. They've lived near the plant their entire lives. She's now fighting alongside Philly Thrive to improve air quality.
"We're breathing bad air. All we ask for is that they clean up the air, take this fossil fuel away," said Bennett.
A series of smaller explosions happened as the fire worked its way through the tangle of pipes carrying fuel across the complex.
Refinery emergency response crews and the Philadelphia Fire Department responded to the scene. Multiple agencies, including the Environmental Protection Agency and Coast Guard, also came to assist.
The Office of Emergency Management sent messages through social media telling people in the area to shelter in place.
Refinery employees were working near the vat when it exploded but were not close enough to be severely injured.
In all, four people suffered minor injuries in the incident.
The shelter-in-place order for residents in the neighborhood was lifted several hours later. There was no call for evacuations.
The Platt Bridge was closed for a time Friday morning so officials could bring in fire equipment. It was reopened just before 6 a.m. The Schuylkill Expressway eastbound was also closed for a time during the early hours.
PES said the refinery complex remains running, but at a reduced rate.
The Fire Marshal's Office will investigate the cause and origin of the fire once the incident is over and the scene is safe to enter, but the investigation will take time. For now, this remains a dynamic situation.
Philadelphia Energy Solutions says the oil refining complex is the largest on the U.S. Eastern Seaboard, processing 335,000 barrels of crude oil daily.
It was the second blaze at the refinery this month, following a June 10 fire in which no injuries were reported.
Death by Corporation, Part IV: Dissolving the Planet for Oil by Dr. Brian Moench, September 13, 2013, Truthout News Analysis
One of the most iconic scenes in movie history occurs near the climax of Raiders of the Lost Ark. A fictitious German army officer and Indiana Jones's archeological nemesis have captured Jones and his newly found ark of the covenant. As Jones somehow knows to look the other way, his nefarious but ignorant captors open the chest holding the ark. Demons
pour out and within seconds their exhilaration turns to horror as their flesh hideously melts off their bones, and they die a spectacular death by an unspecified supernatural acid.
There is a real-life counterpart to this Indiana Jones supernatural acid
– hydrofluoric acid, or HF. It's not quite as depicted in Breaking Bad, but through exposure of skin or eyes, or when inhaled or swallowed, HF readily penetrates tissue, poisoning as it goes. Symptoms of exposure to hydrofluoric acid may not be immediately evident, but because HF interferes with nerve function it can wreak systemic havoc, resulting in death. HF is likely still being used and stored by a refinery near you.
But just when you thought that the oil companies couldn't possibly put more poison into our air and water, do more damage to the earth, to our climate, to our future and our hope for survival, along comes "matrix acidizing," the oil industry's latest stroke of genius to extract oil from shale formations by literally disintegrating underground rock formations using – you guessed it, hydrofluoric acid.
During the summer of 1986, Amoco, Allied-Signal, Du Pont and Lawrence
Livermore National Laboratory voluntarily conducted a series of six experiments involving atmospheric releases of HF in an attempt to
characterize its behavior. These studies, known as the "Goldfish studies," were conducted at the Department of Energy Liquefied Gaseous Fuels Spill Test Facility in Nevada and showed that the HF did not remain a liquid following accidental release. Instead, under the conditions simulating a petroleum refinery explosion (HF above its
boiling point and liquefied under pressure), 100 percent of the released
liquid HF formed dense, rolling clouds of toxic vapor.
The clouds expanded rapidly, and researchers measured dangerous concentrations at distances of three to six miles downwind. A person caught in this cloud would experience burning eyes, nose and throat. Soon their lungs would become inflamed and overwhelmed with fluid, followed by acute respiratory distress syndrome, ARDS, and most likely death within a few hours.
HYDROFLUORIC ACID, Hydrogen Fluoride, 7664-39-3. Health Hazard Information by the EPA, created April 1992, updated January 2000:
Acute Effects:
Acute inhalation exposure to gaseous hydrogen fluoride can cause severe respiratory damage in humans, including severe irritation and pulmonary edema. Irritation of the eyes, nose, and upper and lower respiratory tract, lacrimation, sore throat, cough, chest tightness, and wheezing have been reported.
Severe ocular irritation and dermal burns may occur following eye or skin exposure in humans.
Convulsions and cardiac arrhythmias and death from cardiac or respiratory failure may occur in humans from ingestion of high doses of fluorides.
Damage to the lungs, liver, and kidneys has been observed in animals acutely exposed to hydrogen fluoride by inhalation.
Acute animal tests in rats, mice, guinea pigs, and monkeys have demonstrated hydrogen fluoride to have moderate to high acute toxicity from inhalation exposure.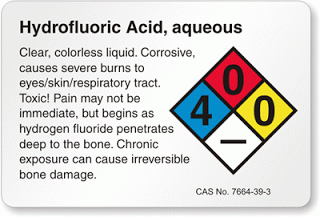 Snap from New England Journal of Medicine: Hydrofluoric acid burn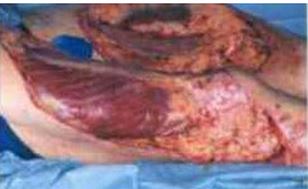 Hydrofluoric Acid: What You Need to Know: Hydrofluoric acid has unique properties that make it extremely dangerous to emergency personnel and others