'Fake news on trial': Plaintiff awarded special costs in five-year B.C. libel suit by Dan Fumano, December 31, 2016, Vancouver Sun
Fake news can have real consequences — and, as a B.C. court heard this week, it can lead to real costs.
A B.C. Supreme Court judge awarded "special costs" to the plaintiff in a five-year long defamation dispute Wednesday, ordering the defendants to pay legal bills worth hundreds of thousands of dollars, on top of what was already one of Canada's largest defamation awards.
"If there's ever a case of fake news going on trial, this is it," said plaintiff Altaf Nazerali, a Vancouver businessman, this week.
The suit stemmed from material published in 2011 on DeepCapture.com, a website devoted to criminal financial conspiracies and controlled by editor Patrick Byrne, better known as CEO of online retailer Overstock.com.
Nazerali took action after discovering he was the subject of DeepCapture stories falsely portraying him as an arms dealer, drug trafficker, financier of al-Qaida, and a member of the mafia.
He filed a lawsuit in 2011, years before the term "fake news" — false stories published online and presented as real — became a hot topic. "Fake news was rampant in 2016," Bloomberg reported this week, pointing out that made-up stories outperformed major scoops from The Washington Post and New York Times this year, while U.S. president-elect Donald Trump's national security adviser was criticized for spreading fake news.
The buzzword may be recent, Nazerali said, but "whatever you call it, fake news has been around for a long time … But the important thing now is people are beginning to realize the damage this can cause innocent people, and the courts are finally taking a position on it."
After a trial last year that took 18 days spread over six months, Justice Kenneth Affleck rendered a judgment in May, awarding Nazerali more than $1.2 million and saying the evidence showed the defendants' "intention was to conduct a vendetta in which the truth about Mr. Nazerali himself was of no consequence."

This week's ruling related to legal costs, with Affleck awarding "special costs" to Nazerali, noting the enhanced financial award is generally granted when the conduct in question is found to have been "reprehensible."
Defendants initially named in Nazerali's suit included, among others, Byrne, Overstock, DeepCapture, and the author of the articles in question, Mark Mitchell. Although the action against Overstock was dismissed, Justice Affleck ordered the company's legal costs to be paid by DeepCapture, Byrne and Mitchell.
Requests for comment sent Friday to Overstock.com were not returned. [Emphasis added]
[Refer also to:
2012 12 21: Ernst's Reply Brief to AER's Application to Strike Ernst's lawsuit (both filed in Alberta Court of Queen's Bench; AER's filing by outside counsel Glenn Solomon)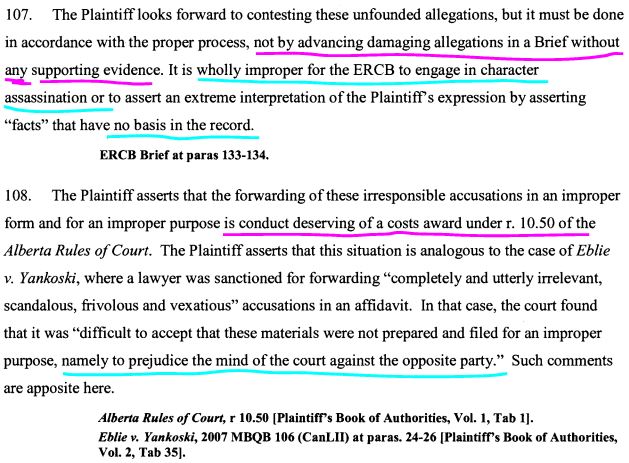 Snap from Ernst's 2012 12 21 Reply Brief