CANADIANS HAVE CHARTER RIGHTS?
CRIMINALS AND CORPORATIONS (THAT ALLEGEDLY KILL WORKERS) HAVE CHARTER RIGHTS. THE COURTS MAKE SURE OF IT.
Civil Canadians trying to seek their right to remedy when their Charter rights are violated by the energy industry (via it's enabling AER) do not. Just ask the Supreme Court of Canada.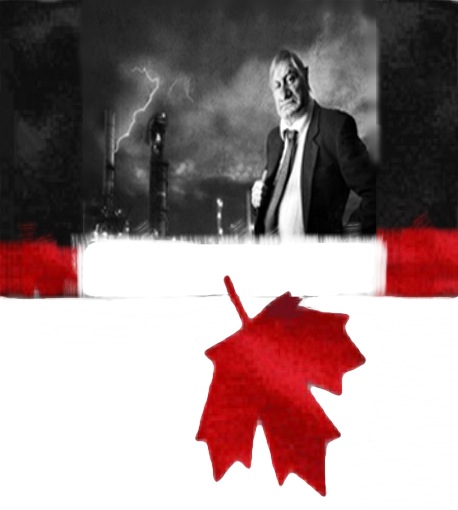 Third annual march celebrates Canadian Charter of Rights ahead of 35th anniversary by Hana Mae Nassar, April 16, 2017, NEWS 1130
Dozens took to the seawall in Vancouver today for the third annual "Rights and Freedoms" march.
The march calls for people from all backgrounds to celebrate the Canadian Charter of Rights and Freedoms, which marks its 35th anniversary this year.
Acting Mayor of the City of Vancouver Raymond Louie says the march signifies the struggles Canadians went through to make Canada what it is today.
"I think it's important not just for people who were part of it, but for future generations to understand that freedom comes at a cost, and we need to as a society remember what those costs were and not repeat the mistakes that were made in the past," said Louie, who adds people need to stand up and speak up for each other. [And when Canadians do, the Supreme Court of Canada punishes them by defaming them in a published ruling to discredit them?]
"Whether you're from an ethnic background or not, we're people after all, and this is the Canada I think people want to have for themselves and their children and their grandchildren."
Organizers and activists like Don Chapman say recent incidents like threats to synagogues across the country, including here in Vancouver, are examples that there are still people who aren't as understanding of other communities and races.
Chapman says Canadians complacent and don't realize they don't all have equal rights… until something happens. [Like being defamed and lied about by the Supreme Court of Canada when trying to seek right to remedy for Charter rights violations?]
He says the march is held to celebrate the Charter and what Canada has accomplished so far, but says it's also a spread Martin Luther King's message from the civil rights movement.
"His words were not made for one country, but made for all countries. So we are taking those words and his message of love and peace and to stand up for one another, ad bringing those words to Canada." [Emphasis added]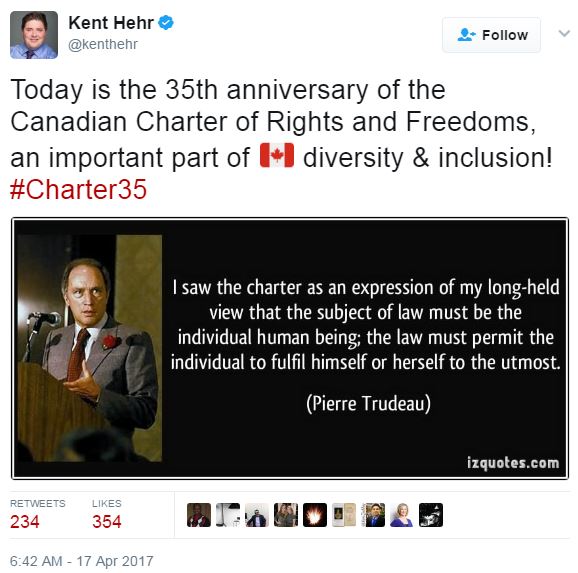 Statement by the Prime Minister of Canada on the 35th anniversary of the Canadian Charter of Rights and Freedoms Ottawa, Ontario, April 17, 2017
The Prime Minister, Justin Trudeau, today issued the following statement on the 35th anniversary of the Canadian Charter of Rights and Freedoms:
"For the past 35 years, the Charter has helped build a country where people from all over the world can come together as equals and create opportunities for one another.
"The Charter protects the rights and freedoms that are essential to our identity as Canadians. It allows us to express ourselves as individuals and to celebrate our differences, while bringing us closer as a country.
"This year, we also mark the 35th anniversary of Section 35 of the Constitution Act, 1982, which recognizes and affirms Aboriginal and treaty rights. There is no relationship more important to our government than the one with Indigenous Peoples. We are committed to a renewed nation-to-nation, Inuit-to-Crown, and government-to-government relationship based on recognition of rights, respect, co-operation, and partnership.
"The spirit and substance of the Charter are at the heart of Canada's success [But we have no Charter rights in reality when it comes to the oil and gas industry ravaging Canadians, their communities and drinking water], and should inspire us all as we work toward a fairer, more just [How are we do to that with Canada's Supreme Court knowingly fracturing the Charter and defaming Canadians seeking their right to remedy for valid Charter violations?] and compassionate society.
"Today, I remind Canadians that we have no task greater than to stand on guard for one another's liberties. The words enshrined in the Charter are our rights, freedoms, and – above all – our collective responsibility." [Emphasis added]
[When a Canadian "stood on guard," alone at great personal expense and sacrifice for the Charter Rights of all Canadians, this is what Canada's Supreme Court did to that Canadian and our Charter rights:
2017 01 25: Jessica Ernst Open Letter to Chief Justice Beverley McLachlin Regarding False and Seriously Damaging Statements in Justice Rosalie Abella's Supreme Court of Canada Ruling, Ernst v AER
2017 02 06: Osgoode Hall Law School Dean Lorne Sossin's review of Supreme Court of Canada's ruling in Ernst vs AER: Damaging the Charter: Ernst vs Alberta Energy Regulator