***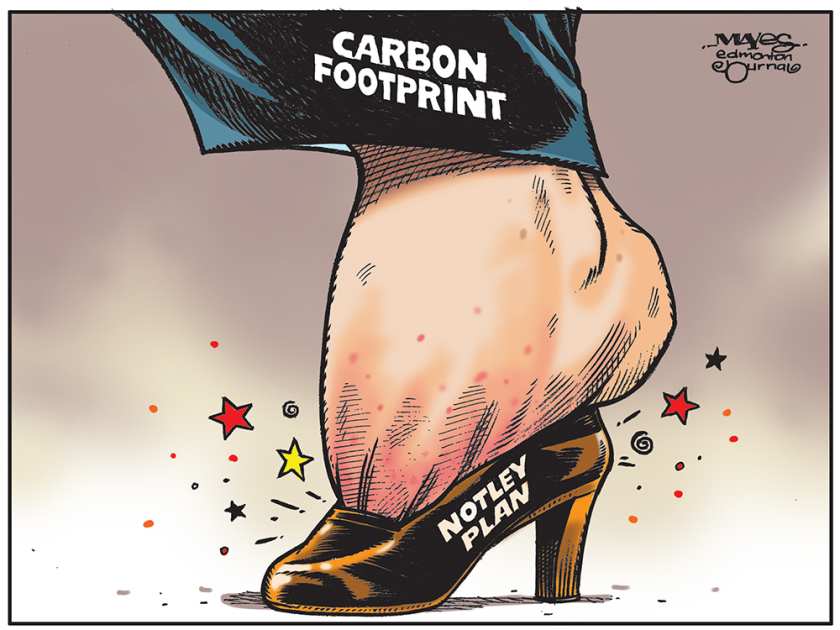 Malcolm Mayes cartoon, Edmonton Journal November 24, 2015
Fracing pollution is blessed and set to increase by Notley/industry/env NGOs et al in their "plan"
This post is recommended reading for Rachel Notley and the NDP, CAPP et al, Pembina Institute et al, Andrew Leach, Angela Adams, Stephanie Cairns, Linda Coady, and Gordon Lambert, because:
Meeting global climate change goals means decreasing the use of coal and oil, and increasing use of natural gas….
The above atrocious statement is on Page 4 in the Executive Summary of the Alberta government's Climate Leadership report, November 20, 2015.
More natural gas promotion in the report:
Page 47: This approach, which leverages Alberta's significant natural gas resources to maintain low electricity prices while reducing emissions, is important in aligning Alberta's energy supply with global requirements to meet climate change goals.
Page 48:  Alberta's natural gas resources provide a low-cost, viable alternative which complements renewable sources.
Page 52: Leveraging the Advantage of Inexpensive Natural Gas 
The availability of inexpensive natural gas for power generation creates the opportunity for significant emissions reductions in the electricity sector, with limited adverse impacts. [Why would the panel add such an obvious lie?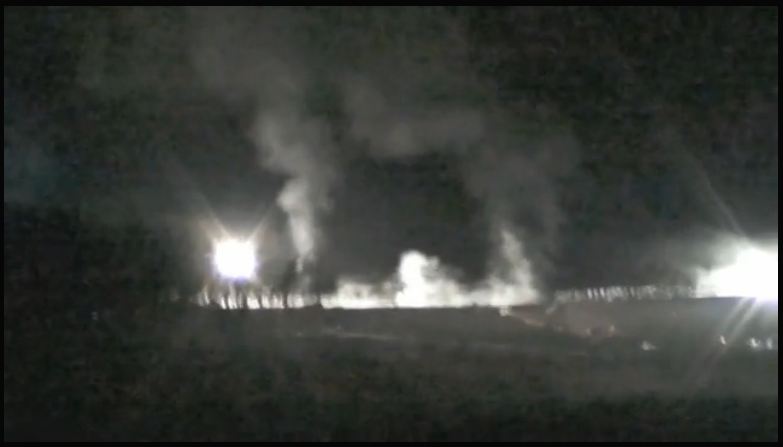 Night frac in Alberta.
Day frac in Alberta. Breath deep, it might be your last.
Ever breath the air pollution at drill, frac and compressor sites?
Companies in Alberta install a massive number of small natural gas processing facilities rather than a few large ones, because pollution controls are not required at small facilities.
Why did the protect-polluting-big-oil-in-exchange-for-big-funding Pembina Institute and the panel avoid emissions analysis of the massive amounts of diesel fueled traffic to/from drilling, fracing, cementing, perforating and servicing trucks? Worse, why avoid the massive methane leak problems at wells, pipelines, facilities?]
… Natural gas generation, both from efficient combined-cycle plants like the new Sheppard Energy Centre or the proposed Genessee 4 and 5 units, and new modern peaking plants with rapid start-up times, provide a low-cost alternative to coal
generation and an essential complement to wind and other renewables. [Who edited "essential?" CAPP? Pembina Institute? Encana?]
…
"As a cleaner-burning power source that is both widely available and
economic, there exists great potential for natural gas to play an increasing
role in providing baseload power while reducing emissions and enabling
renewable energy growth across the province." – Canadian Association of Petroleum Producers submission to the Panel
[Why is CAPP engaging in fraud? Natural gas doesn't reduce emissions compared to coal, frac'd natural gas produces more emissions]
If Alberta faced different market conditions with respect to natural gas, our recommendations would be different and the costs of emissions reductions would be higher. With reliable, domestic natural gas supply, our recommendations on emissions policy can be more aggressive. In implementing these policies, Alberta will be leveraging natural gas….
Page 55: Gas plants
Gas plants become a more important part of Alberta's electricity market under our proposed policies. Overall, we expect the impact of our policy architecture on the returns earned by new and existing gas generators to be small, but we expect there to be more gas generation in the market over time.
Page 71: Regarding our recommendations on methane management, the Government of Alberta will see an impact on royalties as emission compliance costs for natural gas processing facilities reduce royalties payable. As a result, it is estimated that about 12% of the cost of compliance at natural gas facilities will be borne by government. 
Page 89: In the electricity sector, we've proposed that carbon pricing be complemented with specific actions to increase the supply of renewable electricity and accelerate the phase out of coal-fired power, while leveraging the province's abundant natural gas resources. 
Page 92: Clean vehicle technology includes hybrid, electric, natural gas, and hydrogen fuel cell vehicles.
MUST READ REALITY CHECK BY PSE:
Climate Impacts of Methane, Losses from Modern Natural Gas & Petroleum Systems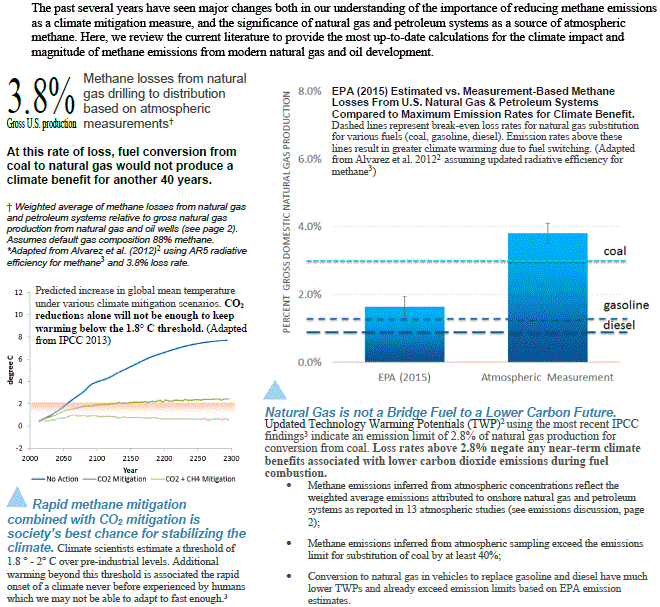 ***
PODCAST PREVIEW: The Promise of Fracking 4:37 Min. 2:27 p.m. EST November 18, 2015, CNY Media Group
"Drilling does and can affect groundwater"
"There's a need for much more disclosure."
The Promise of Fracking Three part series by Tom Wilbur, November 2015 in pressconnects
Part 1: Was it too good to be true? Marcellus natural gas giant produces, but economic end falls short of inflated expectations November 22, 2015
Part 2: Lessons from Pennsylvania Environment feels sting of Pennsylvania Approach November 23, 2015
Part 3: Impact on New York. November 24, 2015
CLICK ON LINKS FOR COMPLETE ARTICLES WITH EXCELLENT VISUALS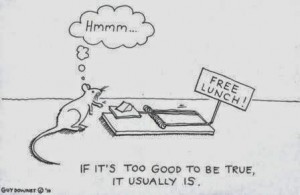 Part 1: Was it too good to be true? Marcellus natural gas giant produces, but economic end falls short of inflated expectations
Chapter 1 Promise of fracking
Chapter 2 Handshake Means Nothing
Chapter 3 Job Numbers Mislead
Chapter 4 Leaking Wealth
Chapter 5 No Gas Shortage
Nowhere did the promise of fracking Marcellus Shale shine brighter than the banquet hall of the Binghamton Regency in late May of 2008.
Spread before farmers on fine china over white linen was a feast of tenderloin tips, roasted vegetables, and chocolate mousse. They ate as they awaited turns at the "signing table." Dinner was hosted by XTO Energy, the Texas drilling company seeking mineral rights to 50,000 acres in eastern Broome County.
That afternoon, and at two later banquets, XTO paid $110 million to 500 landowners for mineral rights to their land. For some, the single XTO check was more earned than in years of farming.
Gas prices were nearing an all-time high, and XTO was on a quest to tap the northern reaches of the mother of shale gas formations, extending from New York's Southern Tier through Pennsylvania and parts of Ohio and West Virginia.
…
The promise seemed too good to be true. And, for New York, the promise wasn't enough.
After a long review, Gov. Andrew Cuomo's administration a year ago found environmental risks outweighed potential economic gains in New York State. The decision isn't necessarily permanent – a new political administration could embrace the promise of fracking, the extraction of petroleum from bedrock by injecting the ground with pressurized chemical solutions and sand.
While New York politicians and regulators weren't sold on the promise, those in Pennsylvania have embraced it. In the seven years of fracking just across the state border, about 9,500 wells have been sunk on rolling farmland.
In terms of sheer production, the Marcellus has exceeded all expectations. Of all the nation's natural gas "pay-zones" enabled by unconventional development, none has been prolific as the Marcellus Shale. Since 2007, Marcellus production is more than twice the next two largest natural gas formations, each in Texas.
For many, the promise of fracking in Pennsylvania came true.
Some landowners have received life-changing windfalls. Pennsylvania communities have benefited with an infusion of cash for housing, hospitals, roads and public safety, and cheap abundant fossil fuel is now flowing into New York markets.
But hindsight in Pennsylvania shows initial economic projections and job estimates were grossly inflated, much of the wealth has left the area, industry has alienated some of its most supportive allies, economic returns remain precarious as prices fall and regulators have failed to protect the public against predatory exploitation.
Ultimately, the impact of the gas rush might be judged more favorably if not measured against such inflated expectations.
In Pennsylvania, is the best already over, or is even more to come? How long can the economics of shale be sustained, and at what cost?
Findings
Pennsylvania Labor Department inflated figures to make shale gas industry job outlook stronger than it is.
Industry is generating millions of dollars in "impact fees" to small-town economies to buy good will near drilling sites in lieu of a more costly state tax.
Fracking has brought both a rise in crime and influx of money to help rural poverty and public safety.
Handshake Means Nothing
HOMEOWNERS SAY GET EVERYTHING IN WRITING
Walter Brooks, of Springville Pennsylvania, was on the front line of the Marcellus gas rush. He was among the first owners to be approached by landmen, the first to lease his land, and the first to experience the consequences.
In 2006, Brooks, thinking nothing would come of it, signed a standard industry lease that gave Cabot Oil and Gas of Houston Texas mineral rights to his 212 acres for just $5,300, or $25 an acre. This amounted to less than a tenth or less of what landowners would get once word got out that they were sitting over trillions of cubic feet of natural gas.
"If only I knew," Brooks said in a recent interview. "But you could say that about a lot of things."
As Cabot began drilling wells on his land, the farmer held hope that royalties would make things right.
When the water supplying the family farmed turned brown shortly after the start of drilling, Brooks said, the company immediately delivered water to his house, and the problem cleared up soon after that. That didn't bother him. But his patience is now being tested with the way Cabot does business.
"You better get it on paper," he said. "Word of mouth and a handshake means nothing to these guys."
The complaint is widespread. In Pennsylvania, lawsuits and investigations over business practices are as much a part of the shale gas story as landmen, roughnecks and striking it rich.
When the land rush began, disputes tended to be over exploitive leasing practices. Now, with the flow of gas, Brooks and other landowners face an endless battle over deductions companies take from royalty checks.
…
"For landowners to go to court to file a class action suit every time their royalty payments come up short – it puts them in a situation where they have to decide: 'do I give it to the gas company or to the attorneys?' " Root said.
…
Landowner complaints spurred an investigation by Pennsylvania Attorney General Kathleen Kane. However, that has been weighed down by Kane's own morass: she lost her law license, faces criminal charges and possible legislative dismissal following a scandal involving leaked documents.
The fight over post-production costs is testing the trust of some of the industry's strongest allies. Despite their complaints, Brooks and Root– like many who receive income from the industry and support gas development as a matter of principal– bristle at the argument that fossil fuel development is an ecological disaster.
Root called New York's ban "a crime" and a result of "an insane activist movement."
Job Numbers Mislead 
FIGURES BOOSTED WITH CREATIVE ACCOUNTING
…
The promise of jobs rising from fracking has been the mantra ever since the rise of drilling coincided with the onset of the deep recession in 2008. Soon after, an industry report published by Penn State University projected shale gas development would create more than 175,000 statewide jobs over the course of a decade – most of them blue collar.
With the veneer of academic credibility, the report made huge headlines, even though the university administration later distanced itself from the findings after an internal review found authors Timothy Considine and Robert Watson failed to disclose funding and "may have well crossed the line between policy analysis and policy advocacy."
Still, the promise was reinforced by official numbers released from the Pennsylvania Department of Labor under the administration of former Gov. Tom Corbett. Industry jobs reached 230,000 in 2014. Corbett rounded the number up to 250,000 in some of his speeches.
Economists, checking the math, complained the Department of Labor was misleading the public by counting every worker in steel, construction, government regulatory agencies and certain other sectors regardless of whether they had anything to do with shale gas development.
Under current Gov. Tom Wolf, the Department of Labor switched to accepted methodology and projected jobs fell to under 90,000 – just over 1 percent of the state's total number of jobs.
John Hanger, director of planning and policy for Gov. Wolf, characterized the revised figures as representing an "important" contribution to the state's economy. But, regarding the previous calculation, "frankly, it was truly absurd," he said.
…
The glowing promise of jobs has since dimmed
…
Leaking Wealth
TRYING TO KEEP THE MONEY LOCAL
…
While fracking's economic gains may boost local economies, the greatest financial benefits go to stakeholders far from Pennsylvania.
…
Economists call this funneling of income and resources out of an area "leakage," and studies have shown that small rural communities in general and northern Pennsylvania drilling communities in particular tend to suffer from it the most.
…
Fracking has allowed schools, hospitals, housing complexes and government buildings to convert to natural gas to upgrade antiquated systems. The Susquehanna County Court House, once powered by a hodgepodge of coal, electric and oil requiring paid help on weekends and holidays to shovel coal and empty ashes, has been refurbished with a natural gas system.
Athens and North Towanda now have filling stations for natural gas vehicles, and more gas–fired electric generating plants are coming on line throughout the region.
[What when LNG exports dramatically drives up the price of natural gas, which is industry's intention with exports?]
The political calculation that has allowed fracking in Pennsylvania, however, is different than in New York, where environmental and health risks are weighty considerations.
…
No Gas Shortage
MARCELLUS SHALE PROVES PRODUCTIVE
The future of the fracking promise in Pennsylvania will depend on demand for natural gas. Fracking has made gas so cheap and so abundant, it overtook coal as the top source of U.S. electric power generation for the first time ever last spring 
"The scale of this resource is just incredible," said Hanger, Pennsylvania's planning director who sees the current lull as part of the cyclical nature of the industry. Even with low prices, he said, advancing experience and economies of scale inherent continue to drive down production costs, making drilling viable at lower prices. And despite record production, there is no sign of the resource depletion.
Terry Engelder, a geologist at Penn State, was featured in a Time Magazine cover story as the first to calculate the amount of gas in the Marcellus back in 2008. His early projections of 490 trillion cubic feet of "technically recoverable" gas and 227 trillion cubic feet of "economically recoverable" gas raised eyebrows and was seen by critics as hype to draw investment into the industry.
Unlike many other projections made about the promise of fracking, Engelder's projections appear to be realistic. The biggest part of the reserve is in Pennsylvania, which produced more than 4 trillion cubic feet in 2014 alone. Even as drilling has subsided, production remains enormous. Below the Marcellus is the Utica formation, which has produced impressive results with the early exploration.
Both the Marcellus and the Utica extend under the Southern Tier of New York. Their economic viability remains uncertain, and they will not likely be explored anytime soon given cut backs at existing sites in Pennsylvania.
As for the future?
"Of course, maybe we (America) do not need more natural gas," Engelder said earlier this month. "The transition to renewables will not be made because we have run out of natural gas." [Emphasis added]
Part 2: Lessons from Pennsylvania Environment feels sting of Pennsylvania Approach
Without warning, a New Year's Day explosion blew a massive cement cover off a residential water well in northern Pennsylvania and destroyed the plumbing in the hole.
The explosion on Norma Fiorentino's seven acres in Dimock, Pennsylvania, just south of Montrose, marked the start of 2009 with a bang. In many ways, it also would become symbolic of problems with the promise of fracking, and environmental side effects cropping up across rural Pennsylvania.
The shale gas boom was taking off in woods and fields around the Fiorentino homestead – about 20 miles south of the New York border – where Cabot Oil & Gas had leased property to drill into the Marcellus Shale, one of the most prolific gas-producing formations in the country.
What happened to the Fiorentino water and hundreds of other water wells near drilling sites in Pennsylvania would fuel concerns and eventually contribute to the 2014 fracking ban in New York.
The Dimock explosion embodied issues – lack of disclosure, regulatory breakdowns and plenty of spin – that would become the crux of a controversy.
Since the gas rush began in 2007, the Pennsylvania Department of Environmental Protection has logged about 260 cases of water pollution caused by the drilling. A true total is unknown because of a long-held practice of drilling companies to settle complaints about water quality privately with landowners near gas well operations.
"The biggest problem that Pennsylvania confronted was there were no rules in place on the front end of this," said Auditor General Eugene DePasquale in an interview earlier this month. "There was no process. It was everyone for themselves and the state has been playing catch up ever since."
To reach the Marcellus gas, operators had to drill through the water table. And to ease concerns among skeptics, the industry promoted the notion fracking had never polluted a single-water well. When natural gas – known as methane when in the ground – leaked into the Fiorentino well, the company and the industry stood by that claim.
One of the biggest lessons had to do with who controlled the information to assess and address problems. State inspections relied heavily, sometimes exclusively, on industry reports. Many of these reports were incomplete, and some were not filed until after problems began appearing.
An audit by DePasquale's office released in 2014 found lapses ranging from bad bookkeeping to bad judgment. Nearly 8 percent of inspection reports were incomplete and 29 percent included errors in dates, names, locations, results and permit numbers. In 14 of 15 cases of polluted water, the DEP sought voluntary compliance rather than order drillers to fix the problem.
With the release of the audit, DePasquale likened the state's regulatory efforts to "firefighters trying to put out a five-alarm fire with a 20-foot garden hose."
He concluded: "There is no question that DEP needs help and soon to protect clean water."
Culture of Deference
PENNSYLVANIA FAILING TO ADEQUATELY MONITOR WELLS
[Has any regulator anywhere in the world adequately monitored the oil and gas industry's impacts to drinking water, water wells, aquifers, surface water? Frac "experts" keep regurgitating the recommendation to monitor, knowing damn well no one is and no one in authority wants to.
Data proves contamination that industry, regulators and "experts" keep lying about, saying it never happens or, now, after CAPPs Confession that flammable water at Rosebud was contaminated by fracing, the disclaimer is it's a lonely "anomaly."]
In the time after Norma's water well explosion, DEP investigations showed methane escaped Cabot's pressurized gas wells and contaminated an aquifer that supplied the Fiorentino well and at least 17 others.
Independent tests arranged by property owners found other chemicals in the drinking water, including solvents and petroleum distillates. Some people complained about rashes, stomach problems and headaches, although they had no proof drilling was making them sick.
The burden of proof was high.
Although Cabot spokesman George Stark refused to comment for this article, the company has made its position clear in the past: Methane is naturally-occurring phenomenon in water supplies and sometimes water wells go bad due to natural circumstances. When they do, nearby drilling operations can become scapegoats.
In a full-page advertisement that ran in regional papers in 2010, Cabot CEO Dan Dinges stated: "Cabot does not believe it caused these conditions and intends to fight these allegations through its scientific findings."
Cabot blamed the problem on naturally occurring methane in the ground. The driller offered water filtration systems and bottled water to the affected families, which some accepted. In other cases, homeowner's deemed Cabot's filters ineffective and unreliable. At least 32 of the residents complaining of water problems sued in a legal battle of more than three years, ending in a 2012 settlement that was not publicly disclosed.
…
Pennsylvania state regulators have long advocated "working with the industry" rather than cracking down [Sound familiar?], a point of pride in the administration of former Gov. Tom Corbett. DEP files documenting water complaints are full of form letters from state officials assuring homeowners the agency was "working with [company name] in an effort to resolve the matter."
…
Complaints about the DEP's oversight are not limited to fracking critics.
When discussing fracking, MaryAnn Warren, a Susquehanna County Commissioner, enthusiastically points to the many benefits gas drilling has brought to northern Pennsylvania, including boosting business for local hotels and restaurants, creating construction jobs and providing money ranging from housing to capital improvements for local government projects and buildings.
At the same time, she said the DEP needs to rely less on industry reports and more on close inspection of all critical phases of drilling and fracking.
"They [energy companies] came in like cowboys," she said. "Things were unruly and unregulated, and they [the DEP] didn't know what they were doing." [Intentionally ignorant perhaps?]
Things have improved but not enough, she said. "They need to be on site more … They need more boots on the ground. They need to be more proactive than reactive."
That could be a tall order in a Pennsylvania political culture sympathetic to a powerful gas industry lobby with continual complaints about the burden of regulation and taxation.
…
The DEP's 100 inspectors are tasked with overseeing 131,283 active oil and gas wells. Since 2006, the agency has issued more than 20,000 permits for the larger and more complicated unconventional gas wells.
"There is no way they can keep up given the volume of permits that have been issued," said Nadia Steinzor, eastern program coordinator for Earthworks, an environmental lobbying group.
In some cases, pollution from gas drilling has turned into high profile cases and large penalties. This summer, an $8.9 million penalty was assessed by the DEP against Range Resources, of Fort Worth, Texas.
The penalty came after Range refused to fix a methane leak from a cement casing on a natural gas well that polluted water in Lycoming County in central Pennsylvania, according to the DEP findings. Range denies the finding and is appealing the fine.
But environmental groups say fines are discretionary, come too infrequently, reserved for serial offenders, and small compared to the money and health and environmental issues at stake.
"For every one of the high-profile cases, there are hundreds of other violations that remain unresolved and unaddressed," Steinzor said.
Water problems in Dimock, where the well cover blew off the Fiorentino family well, have proven to be chronic.
Resignation
LIVING WITH A COMPROMISED WATER SUPPLY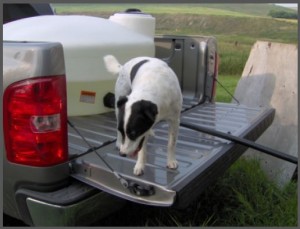 Magic tailgating while Ernst unloads hauled water into her Rosebud home (45 minute drive one way to get)
Every Tuesday is water delivery day for Ken Morcom and Kim Grosso, owners of a hog farm off State Route 2023 in Dimock, about a mile and a half from the Fiorentino property, which now sits vacant after Norma used her settlement money to move to a small house in Elk Lake.
Morcom recalls the day they stopped using their farm's well water, shortly after Cabot Oil & Gas fracked a nearby gas well in 2013.
"I came home one night and turned on the faucet and it was coming out brown as coffee … They [the DEP] knew it was caused from the gas pressure underneath the water table forcing it up through the well," he said.
Already a common and persistent problem, methane from another gas well – this one near Morcom's farm – was leaking into the water table, the DEP determined.
Methane is not acutely toxic. But it can cause explosions when it seeps into enclosed spaces – with sometimes fatal results. In 2004, gas from drilling operations collected in the basement of the Harper residence in Jefferson County in western Pennsylvania. Charles Harper, his wife Dorothy, and their grandson Baelee were killed when the furnace kicked on and triggered an explosion, according to DEP records.
As methane escapes faulty well casings and pushes through the ground, it can stir up unhealthy or toxic elements such as brine, arsenic and heavy metals.
In response to the pollution on Morcom's hog farm, Cabot drilled a new water well, Morcom said. But that well also was polluted with methane percolating from the ground and stirring up sediment.
Now, the every-Tuesday water delivery is made on the doorstep – five gallons for drinking. Water for other purposes – animals, laundry and washing – is stored in large plastic holding tanks and refilled periodically by Cabot contractors.
Cabot's Stark had no comment on this case.
The Morcom hog farm sits within a nine-square mile area where the DEP has determined drilling has polluted water wells. DEP files show 19 cases of drilling-related water pollution documented in Dimock, although that number does not appear to square with more some 32 plaintiffs who settled with Cabot in 2012.
Victoria Switzer, one of the plaintiffs who agreed to a settlement, declined to discuss the case.
But Switzer has this general advice for anybody who lives over a shale gas resource: "Suck it up and work with the company on friendly terms. You won't get anywhere on your own, and the state is not going to help you."
Switzer, who lives off State Route 2023 near the Morcom farm, added: "It continues to be the driller's dirty secret: Play nice and you get water. Buck the system and you're on your own."
[On February 28, 2006 in the legislature, the Alberta government (Rachel Notley, David Eggen and Brian Mason of the current 2015 NDP government were sitting then as NDP MLAs) promised permanent safe alternate water for all families harmed by industry's frac experiment. Then Premier Ralph Klein publicly promised whatever needed to be done would be done.
In December 2007, Ernst filed her lawsuit in Alberta Court of Queen's Bench.
In January 2008, the Alberta government used fraudulent reviews by the Alberta Research Council (now Alberta Innovates) to justify taking away the permanent alternative water deliveries to Ernst and other harmed families and let Encana cease deliveries to the Lars Lauridsen farm at Rosebud.]
Cabot also refused to discuss the settlement.
As part of the settlement, Cabot bought the Dimock house of high-profile anti-fracking activists Craig and Julie Sautner. The ranch, located between the Morcom farm and the Fiorentino property, was valued at $167,500.
Cabot hired a wrecking crew to tear it down.
When all traces of the house were gone, the crew filled the basement with dirt and sold the 3.3-acre parcel to a neighbor for $4,000. A "land covenant," or condition, was written into the deed: No residence could ever be built there under any circumstances.
Stark said the company maintains the mineral rights to the property. As for the surface, he said, "we thought it should be preserved for green-space."
County records show that in 2013, around the time the Morcom hog farm's water went bad, Cabot paid $140,000 for the 12-acre property of Michael Ely, who lived a half mile from the Sautners, and less than a quarter mile from the hog farm.
Ely also had explosive levels of methane in his water. The company removed a doublewide modular home from the lot, which now remains vacant and posted with a sign that reads "Danger. No trespassing. No smoking. Authorized personnel only."
A similar story unfolded on Paradise Road in Bradford County, where Chesapeake Oil and Gas in 2012 paid three families $1.6 million, minus legal fees, ending years of litigation about the source of pollution in their water.
The three upscale homes, on the country road with scenery that lives up to its name, remain padlocked and vacant with security cameras stationed at the main entrances.
"The reason nobody lives there is they can't fix the water – it's ruined," said Michael Phillips, a math teacher at Wyalusing Valley High School who owned one of the homes and moved with his wife and infant daughter to another neighborhood.
County records show that the Phillips' house, which Chesapeake bought for $225,000, is now appraised at $36,902. As part of a settlement, Chesapeake bought neighboring houses at market values of $250,000 and $150,000, which are now appraised at $35,520 and $29,400 respectively. All of them are near a problem gas well.
While some affected families received enough from settlements to move, Morcom and Grosso, who support gas development as a matter of principal, are resigned to living with water problems.
"If you get a lawyer, this is done," Morcom said, pointing to a grey shed that houses his water supply – a plastic reservoir called a "water buffalo." "You will loose. They have hundreds of lawyers and very deep pockets.'
Ken, loquacious and upbeat, is animated when he talks about his farm, his pigs, and the economic boost shale gas has brought to the area. He, like some other gas proponents, believes the benefits of fracking outweigh the problems.
"You hear about all the negativity," he said. "There are many positives that you don't hear about." Those benefits have a lot to do with the welfare of his friends who have found work driving trucks and landing construction and contracting jobs, he said.
"Some people have more patience than others," he added "We have way more patience then most."
But, his wife added about the every-Tuesday water deliveries: "It's getting old."
Better than coal?
MARCELLUS EXPLORATION HAS BENEFITS AND DRAWBACKS
John Hanger was DEP Secretary under the administration of former Pennsylvania Gov. Edward Rendell when the Cabot investigation began in Dimock. In 2010, Hanger ordered Cabot to install a $12 million water line to restore water to the homes in an attempt to resolve the issue in Dimock once and for all.
But Cabot outlasted Hanger, who left office when Corbett took office. The company refused the water line, but offered landowners systems to filter their water, and cash payments worth twice the value of their property if they dropped all current and future litigation [What Cabot chemicals are in the water that Cabot knows about, but the harmed landowners do not?] – a deal said to total just over $4 million.
After an unsuccessful run for governor, Hanger now serves as Director of Planning and Policy for Tom Wolf. Although he was a harsh critic of Cabot, Hanger defends both the DEP and shale development, which he says is good for the state and the country.
"I don't want to understate the problem for the families who are affected," he said. "For them the probability of impact is 100 percent."
But, he added, fracking represents a minor environmental threat compared to run-off from agriculture, burning of coal that emits mercury and acid drainage from coal mines polluting more than 5,000 miles of Pennsylvania's water ways.
"There needs to be an honest discussion on both ends of this [fracking]," he said. "There were those who thought it would be the end of the world and those who said there had never been a problem. We know that both of them are wrong." He added, "It's not fracking that's polluting the Chesapeake Bay. It's sewage, sedimentation and agricultural run-off."
Don Siegel, an industry consultant and hydrology professor at Syracuse University who specialized in drilling issues, said lessons from Pennsylvania show "that small leaks and spills and assorted regulatory violations of various things happen at drilling sites, but we see no evidence of harm from these." Damaged ecosystems "naturally repaired themselves—much like what happens after any salt spill."
'Black Box' for fracking
CONTAMINATION SOURCE SOMETIMES A MYSTERY
The Pennsylvania DEP has been working on upgrading regulations to address health and environmental issues of shale gas development since April 2011.
Reforms, expected to be issued by the end of this year and rolled out in 2016, will be the most recent product of a contentious learning curve featuring hearings, intense lobbying efforts and more than 30,000 public comments from interested parties and the public at large.
Rules, now in draft form, are "long overdue," said DEP Secretary John Quigley.
The overhaul deals with a spectrum of impacts, ranging from noise to public health protections including "vital considerations" for public resources like playgrounds, nursing homes, and schools.
Open waste pits would be restricted and the scope of pre-drilling surveys to establish a baseline for water quality would be increased. One important provision would require water supplies polluted by drilling to be restored to conditions better than before, or compatible with Safe Drinking Water Act standards.
[That's a loophole bigger than Alberta's tarsands! It's a DEREGULATION, not an improvement! Did U Penn Law Department write that one up?
There are no Safe Drinking Water Act (SDWA) standards for methane, ethane, propane, butane, pentane etc in drinking water, not in the USA or Canada.
Worse, the USA SDWA "does not regulate private wells which serve fewer than 25 individuals." ]
With more comprehensive surveys and tests to gauge water quality prior to drilling, proving cases of water pollution will be easier, but enforcement may be still problematic.
Loopholes in federal laws allow drillers to inject the ground with undisclosed chemicals. They also provide exemptions from hazardous waste disposal laws that allow fracking waste to disposed of at treatment plants and landfills.
Not knowing the specific chemicals that drillers work with makes it hard to track problems when they show up in wells, Susan Brantley, professor of geosciences at Penn State University, said in a recent interview.
The DEP determined that the polluted water wells on Paradise Road contained methane. But the water was also curiously foamy, Brantley said, which is not typically a characteristic of methane contamination.
Using a set of instruments not typically used by commercial laboratories, Brantley and a team of researchers found traces of 2-n-Butoxyethanol, or 2-BE and a broad category of "unresolved complex mixtures" in the foamy water on Paradise Road. The elements did not appear in previous tests by the DEP or environmental consultants, and the Penn State study concluded they were from drilling additives or fracking fluids.
Although the pollutants were found in trace amounts at levels not known to pose health risks, the fact that they were there at all had important implications, Brantley said, because it showed something the industry has always denied – that chemicals injected into the ground to produce a well can end up in drinking water wells.
The study shows the need for more public disclosure, Brantley said, so testing equipment and protocols around drilling sites can be upgraded to suit the unique environmental threats that might be going undetected. "Airplanes occasionally have problems and fall out of the sky, and we don't tolerate it," Brantley said. "We demand science to tell us what went wrong so we can fix it. But we have to start with data … we have to put a black box on this airplane called fracking."
Chesapeake Spokesman Gordon Pennoyer did not return calls for this article.
Chemicals stay in ground
'HALLIBURTON LOOPHOLE' REMAINS A CONCERN
Fracking's environmental controversy has a lot to do with what goes into wells to stimulate gas production. It also has a lot to do with what comes out, and what remains indefinitely trapped in the ground.
Flowback, the main waste product of shale gas production, is a cocktail of the unidentified compounds injected by operators and naturally occurring elements freed by the process. What goes into each well — biocides, acids, anti-corrosives, lubricants, and friction reducers — comes out with millions of gallons of brine, metals, and radioactive material common to black shales.
Flowback goes to treatment facilities or to depleted production wells, mostly in Ohio, where it is injected back into the ground. Tony Ingraffea, a Cornell University engineering professor who specialized in the mechanics of fracking, views injections of undisclosed chemical mixtures as a catastrophic practice, whether its for production or waste disposal.
Ingraffea, formerly a consultant for the fracking industry and now one of its harshest critics, is a founder of Physicians, Scientists and Engineers for Health Energy, which compiles an archive of peer-reviewed literature on fracking and other issues. "You have to go by the rules, and the gas industry is free to ignore those rules," Ingraffea said in a recent interview. He cited the federal Safe Drinking Water Act, which has restrictions and disclosure requirements about what can and cannot be put in the ground.
Under an exemption, commonly known as "the Halliburton Loophole," drillers and companies inject millions of gallons of pressurized fracking solution into each well to stimulate production, and they recover a fraction of it. The exact percentage is not documented and varies from well to well. The rest stays in the ground or comes out with the gas over time and is bled off into holding tanks.
From an environmental standpoint, the production wells with the un-retrieved flowback present the same risk as waste injection wells, in Ingraffea's view, although they are not subject to the federal standards or oversight that apply to injection wells.
"Somewhere down the line, somebody will discover that Susquehanna County is sitting over a massive pool of waste that is uncontained, unconstrained and undefined," Ingraffea said. Even under the best circumstances, cement casings that separate pressurized chemicals and gas from water tables break down over time.
… [Emphasis added]
***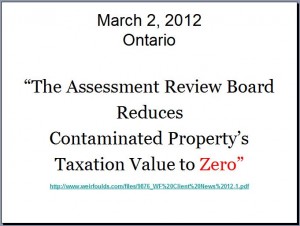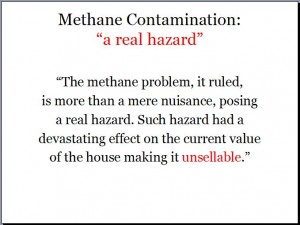 AER's outside counsel at JSS Barristers, Glenn Solomon, on Encana's frac contaminated water at Rosebud: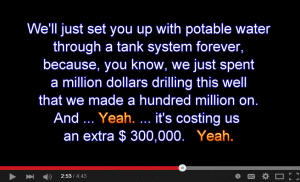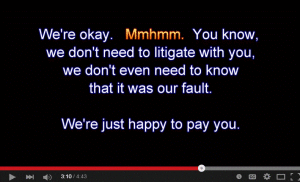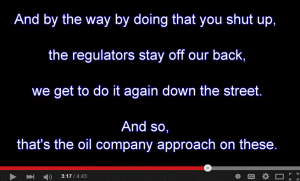 ***
Underlying the debate over the promises and perils of fracking is an often-overlooked number: 1.35 Trillion
That's the cubic feet of natural gas New Yorkers consumed last year, according to the federal Energy Information Association. New Yorkers use more than twice the volume of gas consumed by Connecticut and Massachusetts combined.
The economics and risks of leasing, drilling and fracking tend to headline the shale gas story. Yet the promise of fracking is as much about how gas is consumed as how it's produced. As the top natural-gas-consuming state east of Louisiana, New York is a major player.
By enacting a ban on fracking earlier this year, the administration of New York Gov. Andrew Cuomo has shown zero tolerance for shale gas risks to the environment and health.
Yet New York's appetite for cheap gas produced by the shale boom in Pennsylvania and Ohio is big and growing bigger — a jump of nearly 18 percent from 2009, according to figures from the federal EIA.
For New Yorkers looking for cheap energy, the gas boom in Pennsylvania has lived up to its promise.
…
Sandra Steingraber, an Ithaca College scholar and a high-profile activist and organizer in the Finger Lakes region, noted that one gas project feeds another: "Seneca Lake is located upstream from natural gas infrastructure projects throughout New York state, all of which threaten to keep us tied to a ruinous, fossil fuel-dependent past."
As production surges and prices fall in Pennsylvania, the profitability of drilling hinges on finding ways to get gas to new markets.
Cabot Oil & Gas, a Texas company that drills gas wells in Susquehanna County, has cut its $1 billion capital investment in the region — including jobs — by half, said Cabot spokesman George Stark.
"We are victims of our own success," Stark said, adding that he expected drilling to pick up again with the laying of new pipelines in New York. "This isn't a bust. The pace of infrastructure development has not kept pace with production," he said.
Fracking in New York?
SOME CLAIM BAN NOT AIRTIGHT
For now, the discussion of shale gas development in New York has a lot to do with pipelines, but the status of the state's ban on fracking is still a live issue.
The state Department of Environmental Conservation is reviewing a permit request from a group of landowners in Tioga County to frack a well with gelled propane in the Town of Barton. The technology is not specifically outlined in the state's ban, which applies to water-based solutions.
If the state allows the Barton wells, it would be under policy developed in 1992 for conventional wells called the Generic Environmental Impact Statement (GEIS). In the absence of regulations, the state has traditionally used guidelines outlined in the GEIS that allow regulators discretion in granting and enforcing permits.
Applying a 23-year-old policy to today's shale gas development flags the overall soundness of the state's policy, according to some activists.
"The record shows that the state was woefully unequipped to handle the oil and gas industry even before anybody even began talking about shale gas," said Walter Hang, an anti-fracking activist and community organizer.
Hang, who owns Toxic Targeting, an environmental data firm in Ithaca, cites examples of spills, methane leaks and water pollution associated with conventional wells in western New York that were never fully analyzed or factored into any of the state's reviews.
"Things have not really changed," he said. "The fracking ban will not do what everybody thinks it will."
The state is considering the Tioga landowners' application as something different from the type of fracking — high-volume hydraulic fracturing — that spurred the shale boom in Pennsylvania and throughout the country.
[And that is why it is so galling and harmful when NGOs and experts intentionally wrongly define frac'ing]
In New York, high-volume fracking was the subject of a seven-year review that recently produced the Supplemental Generic Environmental Impact Statement (SGEIS) — an amendment to the 1992 GEIS.
The Snyder well application could represent a workaround of the fracking ban. But it raises a larger question: With changing technology, shifting politics, more money on the table, new markets and surging demand, could a new administration rescind the ban altogether?
A "findings statement," issued with the SGEIS in June, is the lynchpin of the ban. The statement is an interpretation of environmental and public health risks based on the most current information. 
In the statement, the negative impacts of shale gas development, such as traffic and environmental degradation, are weighed against the economic returns. A primary justification of the ban, however, is "current uncertainty" about the science of fracking and its impacts on public health.
Joseph Martens, who was DEC commissioner at the time the statement was released, said a state ban could be lifted with changing technology and more complete understanding of fracking's impacts. [The published scientific evidence of harms caused by fracing continue to exponentially escalate]
Deborah Goldberg, a senior council for EarthJustice, a national environmental advocacy firm, called the state's existing framework an "ad hoc system that is ancient, designed for conventional wells and updated permit by permit by special consideration." She added, "we would sue in a minute if they tried to proceed under this system."
In short, the fracking fight would begin anew.
Landowners in favor of shale gas development are ready to take up the fight.
…
Change of thinking
NATURAL GAS CONVERSION CALLED A 'GANG PLANK'
When Cornell University's 30-megawatt natural gas-burning plant went online in 2009, it phased out the annual burning of some 65,000 tons of coal, which comes with emissions of toxic mercury, particulates and damage from mountaintop removal in Appalachian back country.
At the time, natural gas was widely touted as a "bridge fuel," cleaner than coal and a step toward zero emissions.
Cornell's $82 million plant was hailed by then-President David Skorton as a step in meeting a goal of no net greenhouse gas emissions by 2050. At the ribbon-cutting ceremony, Bruce Nilles, director of the Sierra Club's Beyond Coal Campaign, said the national environmental nonprofit would "be holding up Cornell as a showcase" for clean energy.
"While fracked gas was once thought of as a bridge fuel, overwhelming evidence shows it is actually a gangplank to climate disaster and a threat to clean and safe drinking water."
MICHAEL BRUNE, SIERRA CLUB EXECUTIVE DIRECTOR
The plant represented fulfillment of fracking's promise for Cornell and other plants that discontinued coal. As a result, statewide natural gas generation for electricity has nearly doubled from 2003 to 2013, according to figures from the federal Energy Information Administration.
But after witnessing the impacts from fracking over seven years, many environmental campaigns are rejecting the idea that natural gas is an acceptable replacement of coal
Some 50 miles from Cornell University, more than 150 people packed the fire hall in the Village of Dresden in early November for state Public Service Commission hearings. For three hours, the majority spoke out against an application by Greenidge Generation LLC and Greenidge Pipeline LLC to repurpose the former coal plant with natural gas and build an adjoining natural gas pipeline.
This served as a stark contrast to the ribbon-cutting welcome that the Cornell plant received just prior to the acceleration of New York's anti-fracking movement.
In six years of witnessing the environmental impacts of fracking — a brief period on the scale of long-term energy policy — the Sierra Club had gone from a shale gas backer to one of its strongest critics, reflecting a trend by environmental groups to reject the promise of fracking.
"While fracked gas was once thought of as a bridge fuel, overwhelming evidence shows it is actually a gangplank to climate disaster and a threat to clean and safe drinking water," Sierra Club Executive Director Michael Brune said in a recent email.
The turnaround is due to a growing awareness of the downside of shale gas development's impact on water, both from drilling and waste disposal. But it also recognizes a challenge to the long-held belief that natural gas is less likely to accelerate climate change than other fossil fuels. Although it burns cleaner than coal [evidence refutes that] and does not last in the environment like carbon, methane is a potent greenhouse gas.
Brune hailed the state's fracking ban, the energy vision goals and Gov. Cuomo's recent rejection of a proposed terminal for liquefied natural gas off the Long Island coast as "the kind of leadership we need to move the Empire State and all of America beyond fossil fuels and toward … an economy powered by 100 percent clean, renewable energy like wind and solar."
Industry supporters argue that vision is unattainable, naive and economically backward.
New York's natural gas infrastructure build-out "is not just some boardroom-developed plan by the industry," said Steve Everley, senior adviser for Energy In Depth, an industry public-relations firm in Washington, D.C. "We're seeing plans for new pipelines because consumers in the Northeast are demanding natural gas to heat their homes and to keep the lights on."
The shift of the anti-fracking fight from gas production to infrastructure build-out, according to Everley, is sustained by "a small but loud group of ideological activists … who want to pretend that consumers will be just fine without any new pipelines."
Regardless of the underlying dynamics, the trend for gas consumption is not likely to reverse anytime soon.
… [Emphasis added]
[Refer also to:
Report Release: Extreme Biotech meets Extreme Energy
New report exposes biotech's big bet to prop up fossil fuels
+ International video release.
Paris, 24th November 2015 – At the upcoming Climate summit in Paris, some governments and much of civil society will be pushing for an urgent transition away from the carbon-rich fossil fuels responsible for climate chaos. However, one hi-tech sector, the multi-billion dollar Synthetic Biology industry, is now actively tying its future to the very oil, coal and gas extraction it once claimed to be able to displace. That's the conclusion of a new report released jointly today from the ETC Group and Heinrich Böll Foundation. Titled "Extreme Biotech meets Extreme Energy", the report predicts that as the extreme biotech industry and the extreme extraction industry move towards deeper collaboration, the biosafety risks and climate threats emanating from them will become ever more entangled.
Synthetic Biology (or Syn Bio) describes a set of new and emerging genetic engineering techniques and is also the name for a surging young industry that is designing and engineering life-forms from scratch for industrial purposes. The first round of synthetic biology companies sold themselves to investors on the promise of a 'clean green' industry that would replace fossil fuels with biofuels and bioplastics made from sugar and cellulose. However, Syn Bio industry leaders are now retooling their companies explicitly in order to serve the petrochemical industry and to increase the value and flow of fossil minerals from the frackfields and oilfields to commercial markets.
"Only five years ago Syn Bio industry CEOs were posturing that they would bring about a sugar-based bioeconomy that would do away with dirty fossil fuels" explains Jim Thomas, Programme Director with ETC Group. "Now those same CEOs are restructuring their operations to prop up the oil and gas majors and their green promises are melting along with the ice sheets." [Like the Pembina Institute?]
"Climate activists, policymakers and the public should be concerned about this unholy alliance between the gene-jiggers and the oil riggers, between corporate bio-hackers and the gas-frackers" said Lili Fuhr of Heinrich Böll Foundation, "The fossil fuel industry's desperate quest for carbon profits keeps going deeper into riskier territory – now they are adding biosafety risks to the already long list of extractive industry risks".
The 24-page report – available online here – at http://www.etcgroup.org/content/extreme-biotech-meets-extreme-energy includes:
Details of a dozen private companies and a US Government Programme developing synthetically engineered "methanotroph" microbes that transform natural gas (methane) into fuels, chemicals and foods, using techniques such as "gaseous fermentation".
Analysis of fossil industry agendas to use Syn Bio to capture so-called "stranded gas", that would increase recoverable gas reserves by 40-60% and may drive up the market value of fracked and captured gas.
Analysis of how synthetic biology-based proposals to

pump engineered microbes into oil, coal and gas fields – known as "Microbial Enhanced Hydrocarbon Recovery"

(MEHR) – could increase available oil reserves by up to 150% thereby massively increasing climate risks.
Details of private companies and public research on releasing Syn Bio Microbes for mining metals and minerals.
"At next week's climate negotiations in Paris the oil and
gas industry will attempt to secure political support for turning 'stranded' gas into liquid fuels even though that may in fact increase climate risks." warned Silvia Ribeiro, ETC Group's Latin American Director, en route to Paris, "They will dress up this use of engineered microbes as 'Carbon Capture Use and Storage' (CCUS) – a false solution and a dangerous distraction". [Emphasis added]
Additionally, ETC Group and Heinrich Böll Foundation are today also releasing new language versions of a ten-minute animated introduction to Synthetic Biology. Titled "What is Synthetic Biology? Engineering life and livelihoods" this short explainer cartoon, drawn by award-winning Canadian animator Marie-Josée Saint-Pierre and produced by documentary filmmaker Jocelyne Clarke was previously only available in English but is now available in French, Spanish, Portuguese and German. The new language versions can be viewed at http://www.etcgroup.org/content/video-animation-synthetic-biology-5-languages.
For further information contact:
Jim Thomas, ETC Group, Montreal (Canada). Email: email hidden; JavaScript is required Phone: +1 819 322-5627
Lili Fuhr, Heinrich Böll Stiftung , Berlin (Germany): Email: email hidden; JavaScript is required Phone: +49 (0)30 285 34 304
Silvia Ribeiro, ETC Group, Mexico (will be in Paris). Email: email hidden; JavaScript is required
Pat Mooney, ETC Group (will be in Paris). Email: email hidden; JavaScript is required Phone +1 613 240-0045
To download a pdf of "Extreme Biotech meets Extreme Energy" go here.
To view all language versions (English, French, Spanish, Portuguese, German) of "What is Synthetic Biology, Engineering Life and Livelihoods" see here.
"Extreme Biotech meets Extreme Energy" is the first of two reports prepared by ETC Group and Heinrich Böll Foundation exploring the intersection between Synthetic Biology and climate change issues. The second report, "Outsmarting Nature? Synthetic Biology and Climate Smart Agriculture" will be published later this week.
ETC Group will be co-organising the following events in Paris during COP21 of the UNFCCC:
From "Net-Zero" Emissions to Geoengineering: a deadly trap for the planet
ETC Group and Biofuelwatch. December 6, morning (place and time tbc) – People´s Climate Summit, Montreuil
"Net- Zero emissions: dangerous sleight of hands"
ETC Group, Biofuelwatch, Global Forest Coalition. December 11, 14.00 – 16.00 at ZAC, CENTQUATRE (Room adjacent to Restaurant)