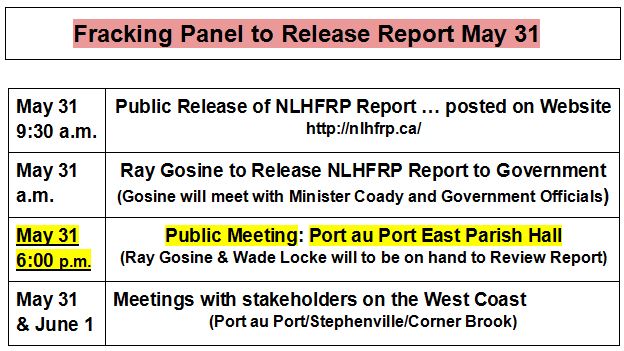 The NLHFRP Report that Ray Gosine will be presenting to Government is non-binding, meaning that Government may, or may not, follow the recommendations outlined in the Panel's Report.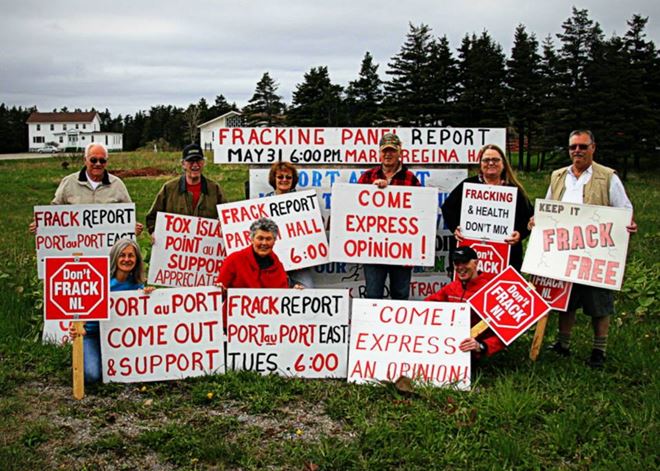 Photo of Port au Port/Bay St. George Fracking Awareness Group Board, May 26, 2016. Photo by Aiden Mahoney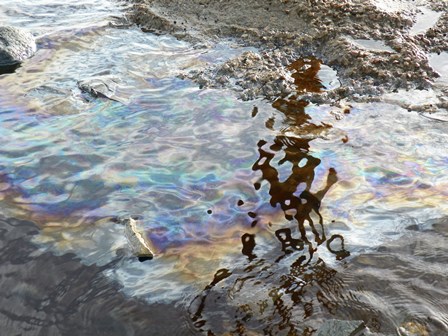 Photo by Jerome Hoskins May 24, 2016 (Note concrete plug top of photo. Repair cost about $175,000.00) The oil leak that was repaired last fall in Port au Port Bay at Shoal Point is leaking once again.
Boswarlos man not impressed with oil leak repair at Shoal Point by Frank Gale, May 25, 2016, The Western Star
Jerome Hoskins was not impressed when he went to check on the capped oil pipe at Shoal Point on Tuesday evening, only to discover the work carried out last November is not holding up.
The Boswarlos man said the oil can be seen "bubbling up" around a pipe that has been laid into a concrete pad
"I was curious all the time to see how that held out after the winter months and was disappointed with what I saw when I visited the site," Hoskins said.
At the top of the pipe is a valve, but Hoskins said he couldn't tell whether there is any pressure on it. He said there was no evidence of oil slicks around the other two pipes in the general area, but it appeared lots of oil was coming up from the repaired pipe. [What will Ray Gosine, Maurice Dusseault et al recommend in their frac report about the leak? Frac it 'n study it? The way Dr. John Cherry and Council Canadian Academies Frac Panel Report recommends Canadians get frac'd for study subjects?]
"It's a concern for Port au Port Bay and the people who fish there," he said.
The Port au Port Fishery Committee was complaining about the leak for several years and felt it was destroying scallop stocks in the bay before the repairs were made last year. [A little benzene, toluene & mystery frac chemicals with your seafood? Yummy, no need for sauce.]
Committee member Bob Diamond said he contacted authorities, including the Department of Environment and Conservation and the Canadian Coast Guard.
Boyd and Bungay Construction in Stephenville carried out the repair work in November 2015, with an engineer from Amec Foster Wheeler Environment and Infrastructure on site to oversee the project.
Emily Timmins, director of communications with the Department of Environment and Conservation, confirmed the department received a report late Tuesday of oil seen in the vicinity of the sealed well. Timmins said the Canadian Coast Guard has been notified and officials from the provincial department were going to look at it.
Dave Humphries, an environmental response officer with Canadian Coast Guard, said an incident was reported, but the province is the lead agency. Humphries said it has been determined the wellheads are land based and not the responsibility of the Canadian Coast Guard, which handles shipboard and marine pollution.
"It's not our mandate to respond or deal with the leakage at Shoal Point," [Musical Pass the Buck Regulators, like Alberta Environment and AER in Alberta?] Humphries said.
Meanwhile, MHA John Finn had informed Environment and Conservation Minister Perry Trimper, and also followed up with Long Range Mountains MP Gudie Hutchings.
"The Department of Environment is jumping on this to examine what transpired," said Finn. "I followed this all last summer and into the fall and it has my utmost priority."
[WHERE'S THE OIL COMPANY THAT CAUSED THE PROBLEM? GETTING READY TO FRAC SHOAL POINT UNDER ANOTHER NAME?]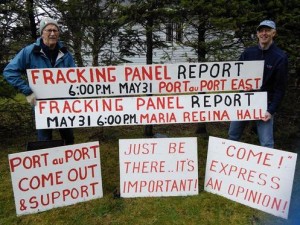 Fracking report set for release to public Tuesday by The Telegram, May 26, 2016
As members of the Port au Port/Bay St. George Fracking Awareness Group await the release of a report from the provincial hydraulic fracturing review panel, the group insists there should be a ban on the practice.
The review panel, led by chair and lead writer Ray Gosine, is set to present the report to Natural Resources Minister Siobhan Coady on Friday.
Graham Oliver, a spokesman for the awareness group, believes the oil industry has controlled the public message on hydraulic fracturing, saying the oil and gas extraction method was safe and well-regulated.
"Today citizens are more informed about the harmful effects associated with hydraulic fracturing and the majority are no longer accepting the Pollyanna narrative of industry," said Oliver.
He hopes Gosine's report will pay close attention to what's happening in other jurisdictions where hydraulic fracturing was put under the microscope.
Oliver said following the release of the Wheeler Report on hydraulic fracturing in Nova Scotia in August 2014, that province's Natural Resources minister announced a moratorium on hydraulic fracturing. In December 2014, New York's governor followed the advice of his chief medical officer and brought in a ban on hydraulic fracturing in that state. In February of this year, the New Brunswick Commission on Hydraulic Fracturing delivered its comprehensive report to government, which resulted in SWN Resources cancelling its plans to explore for shale gas.
Last month, Quebec Premier Phillippe Couillard expressed his displeasure with the controversial method of oil and gas extraction, said Oliver, and that province will concentrate on clean energy and investing in renewables.
Marion Sampson, chair of the fracking awareness group, said it has been a challenging three years getting word out on the harmful effects of fracking.
She hopes Gosine has heard the voice of the people who presented written and verbal submissions to the panel.
"With over 95 per cent of the more than 500 submissions to the panel expressing dissatisfaction with fracking, it's obvious that there is no social license to proceed with hydraulic fracturing in this province," said Sampson.
Gosine will discuss his report at a public meeting in Port au Port East at 6 p.m. Tuesday.
Oliver expects a large audience at Maria Regina Parish Hall to hear what the panel is recommending to government.
While Oliver hopes the report will put an end to hydraulic fracturing once and for all, he says his group has expressed its displeasure with the composition of the panel, and is therefore very concerned about what Gosine will recommend to Coady.
The panel's full report will be posted online Tuesday for the public to review:
nlhfrp.ca [Emphasis added]
Fracking Panel to Release Report May 31 27 News Bulletin by Port au Port/Bay St. George Fracking Awareness Group, May 10, 2016
CORRECTION: May 31 27: Ray Gosine to Release NLHFRP Report to Government (Gosine will meet with Minister Coady and Government Officials)
May 31: Public Release of NLHFRP Report … posted on Website http://nlhfrp.ca/
May 31: Public Meeting: Port au Port East Gym (Evening, Ray Gosine & Wade Locke will be on hand to Review Report)
May 31, June 1: Meetings with interested stakeholders on the West Coast (Port au Port/Stephenville/Corner Brook)
Finally, after a seven month delay and $150,000. over-budget, Ray Gosine will deliver the NL Hydraulic Fracturing Review Panel Report to the Natural Resources Minister, Siobhan Coady, on May 27. The Panel Review, originally budgeted at $300,000., was called by Minister Derrick Dalley in August 2014 and was scheduled to be released in October 2015.
While Minister Dalley looked at the Panel Review as an "Independent" process, members of the Port au Port Bay/St. George Fracking Awareness Group and other groups throughout the province sharply criticized the panel appointments for a number of reasons:
● The Panel was comprised of people with connections to the oil and gas industry
● It lacked representation from Western NL
● There were no women on the panel and no Aboriginal representation
● The Fishery and Tourism industries were not represented
● A strong voice to represent Health and the Environment was glaringly absent
So now that the Report is finished, what will the Report recommend to Government?
The full Report will consist of a 40 page Executive Summary, followed by a 250 page Report. There will also be about 1000 pages of appendices to support the findings of the Report. But probably the most important component of the Report will be the list of recommendations that Ray Gosine will deliver to Government.
Considering that the composition of Panel was looked upon with skepticism from the moment that the list of panel members was announced, nothing would surprise me. But the fracking landscape has changed dramatically in our favour since Minister Dalley announced the review in August 2014, and those changes cannot be ignored.
● We now know that earthquakes can be definitively linked to hydraulic fracturing
● The fracking ban in New York is well-established and holding firm
● The Concerned Health Professionals of NY continue to post studies on the harmful effects of fracking
● Maryland has an extended moratorium on fracking
● The bans on fracking in France and other European countries remain solid
● The Nova Scotia moratorium is holding firm
● SW Energy pulled out of NB after the Panel delivered its report in that province
● The Quebec Premier has closed the door on fracking and is focusing on renewables
…
Considering all the information that has come to light since Dalley announced the Panel Review, the Port au Port/Bay St. George Fracking Awareness Group is steadfast in its belief that Hydraulic Fracturing should be banned in Newfoundland and Labrador.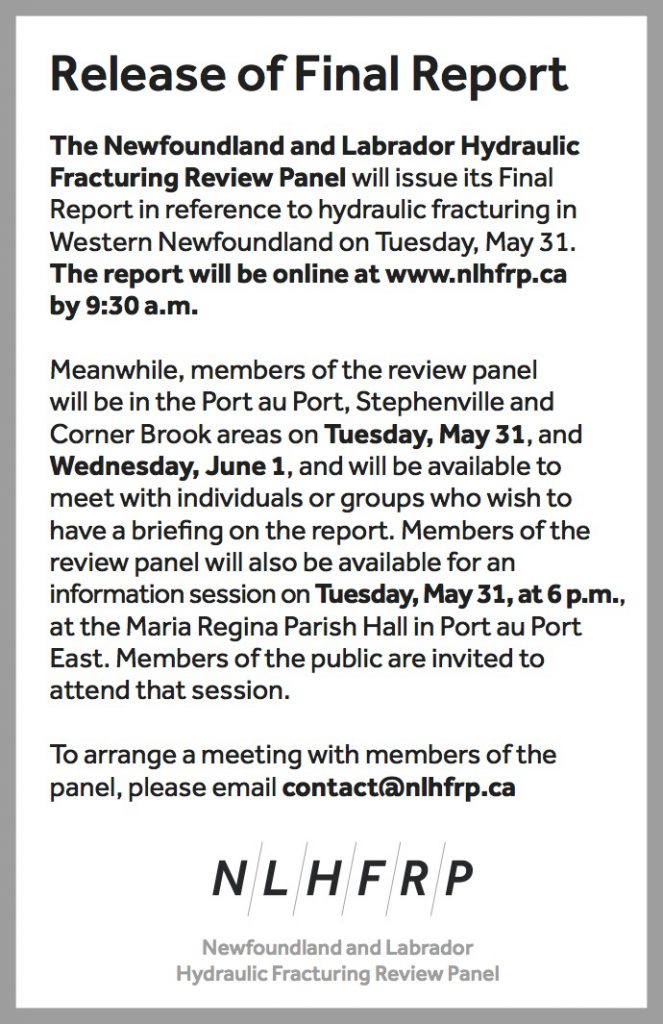 email hidden; JavaScript is required
[Refer also to:
2016 04 21: Conference Board of Canada New Report: Canada ranks 14 out of 16 peer countries, gets D grade on environmental record
2016 04 04: How fast the greedy frac'ers fall: Privately held Sanjel broken up and sold to rivals, will only recover fraction of what it owes lenders
2016 03 29: New peer-reviewed published paper by Digiulio & Jackson, Pavillion Wyoming aquifers contaminated by fracking: Only one industry is allowed to inject toxic chemicals into underground sources of drinking water – hydraulic fracturing
2016 02 16: Anatomy of a Frack Ban: Canada Says Quebec's No Drilling Law Is Fair In lone Pine's $250 Million NAFTA Suit
2016 02 05: NINE STUDIES: US Geological Survey (USGS), University Colorado (UC), Oklahoma Geological Survey (OGS), Lawrence Berkley National Laboratory (LBNL) studied sudden man-made earthquakes in Oklahoma, California, Pennsylvania, Ohio, found fracing is the causation
2015 12 27: The Ultimate Frac Fraud? In EPA Draft Frac Report: "700 pages (24,000 lines) presenting the potential impacts of hydraulic fracturing on water resources and human health but only 2 lines concluding that it is not a universal problem"
2015 10 27: Albertans battered by oil and gas industry ask for help too, never get it unless they sign freedom of speech violating gag orders. "It never hurts to ask" says CAPP. OK. When's CAPP gonna fix Rosebud's dangerously contaminated aquifers illegally frac'd 11 years ago by Encana and fraudulently covered up by "World Class, Best in the World" AER? Why are residents paying for Encana's intentional frac fiasco?
And when you get frac'd?
2015 08 15: Alberta Justice Minister Kathleen Ganley: ordinary Albertans "can't afford legal services anymore." Canada's Chief Justice Beverly McLachlin: people falling through the cracks, "We all know that unresolved legal problems adversely affect people's lives…."
2015 07 17: AER Frac Pilot Project: Earthquakes, tax increases, water restrictions, double homicide, spills and accidents shake Alberta town's faith in fracking; Aging sour facilities in deregulated Fox Creek a big worry for council; AER's FracQuake Red Light stops Chevron only 16 days; Families moving out
2015 06 12: Shoal Point NL: What Oil and Gas Industry Pollution Enablers do with Your Tax Dollars: Blame bacteria, when that doesn't work, blame nature and change history
2015 06 01: Who do Caleb Behn and Council of Canadians represent? One Step Forward, Two Steps Back: Call for Federal Fracking Regulation Flies in the Face of Call for a Ban
2015 05 21: Drip Drip Drip: New study reports frac chemical 2BE (2-n-Butoxyethanol) found in Bradford County Drinking Water; Results raise questions about conventional analytical techniques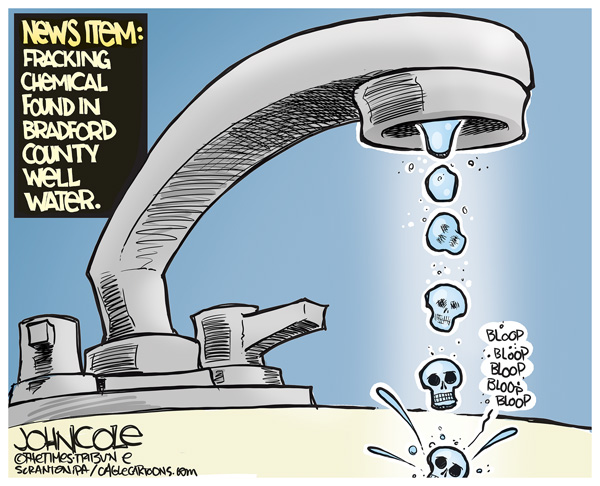 2015 05 26: Frac Talk: What will it take to brainwash eastern Canadians to accept fracing when even Albertans are saying NO?
A proposed oil well to be fracked inside the City of Calgary puts residents and the industry on a collision course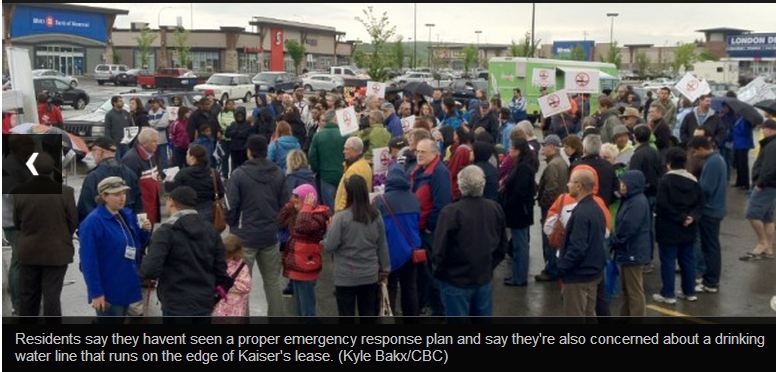 Frac protest in Big Oil Calgary Alberta! If Big Oil Calgarians trusted Alberta regulators would they say NO to fracing for oil in their community?
2015 05 18: Why Did New York State Ban Fracking? Massive study finds health, safety and environmental uncertainties regarding fracking's dangers have 'grown worse over time
2015 03 24: Another Frac Panel? When will the many peer-reviewed studies and reports showing frac harm, bad economics and deadly jobs be enough? Former Chief Justice of Court of Queen's Bench NB, Professor Engineering & President Emeritus University NB, former board chair of NB Community College appointed to study fracing
2015 03 26: New Brunswick voted today to prohibit fracking
2015 03 31: "The one red line we must not cross" PEI ban on fracking is overdue; Looks like PEI government setting up to copy the dastardly Charter violating, legally immune, "no duty of care" Alberta Energy Regulator
2014 12 17: New York State to ban fracking because of red flags to public health. Health Commissioner Howard Zucker: "Would I let my child play in a school field nearby? After looking at the plethora of reports, my answer would be no."
2015 01 19: February 1, 2105 Newfoundland and Labrador: Public Forum on "The Gulf of St. Lawrence, oil and fracking" to provide some balance to industry's propaganda
2014 11 17: Fracking might be as damaging as thalidomide, tobacco and asbestos, UK's Chief Scientific Adviser warns in new report: "In all these and many other cases, delayed recognition of adverse effects incurred not only serious environmental or health impacts, but massive expense"
2014 08 10: Did the people of Newfoundland and Labrador set themselves up to be frac'd by asking for an "independent" review of fracing? Will they get what citizens of Nova Scotia, New Brunswick and Canada (via Dr. John Cherry's Council Canadian Academies Frac Review Panel Report) got: recommendations to be used as lab rats?
2014 08 02: Whycocomagh MUST WATCH "Trust Us" Patronizing Propaganda; Nova Scotia Frac Panel Chair Dr. David Wheeler and member Dr. Maurice Dusseault: "Ordained" Conflicts of Interest? Who's Next?
2014 07 17: Dr. Maurice Dusseault, Public Advisor on Council Canadian Academies Frac Panel, Nova Scotia Frac Panel, New Brunswick Energy Institute (that promotes fracing) [AND ON NEWFOUNDLAND'S FRAC REVIEW PANEL!] Filed Frac Patent in 2011; Frac Patent Issued in 2013
2014 07 31: Germany EPA Frac Report Released: Risks Associated with Fracing are Too High; "So far, no company has been able to present a sustainable waste management concept"

Above photos of Encana dumping waste on foodland at Rosebud, Alberta
2014 07 14: Only a frac ban will protect health, livability in Denton Texas; Frac regulations poison us, "There is no escaping the harmful chemicals. … We feel like prisoners in our own home."
2014 07 02: What's Missing from Canada's Academic Fracking Debate? "The Gritty Truth." Qu'est-ce qui manque dans le débat sur la fracturation hydraulique au Canada?
2014 06 28: "Who wants to be a lab rat?" More Guinea Pig recommendations by Canadian frac "experts,"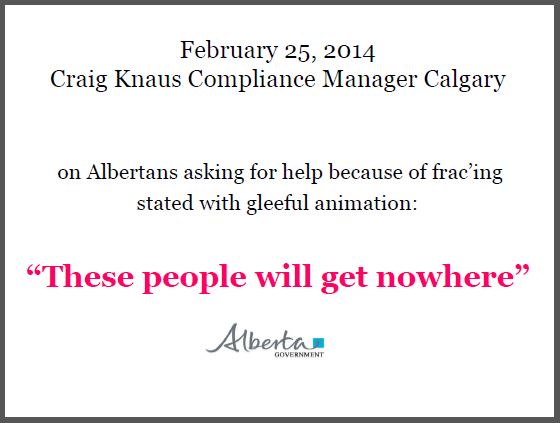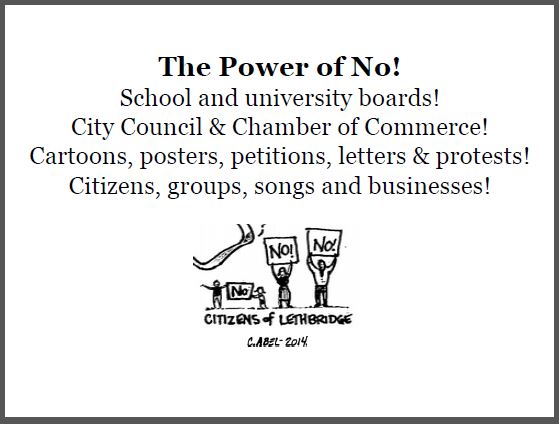 2014 03 19: Fracking task force struck (Diana McQueen later changed it to a fracing "round table") for Alberta, but not for already harmed rural families with dangerously contaminated drinking water and polluted air, only for Albertans not yet frac'd in cities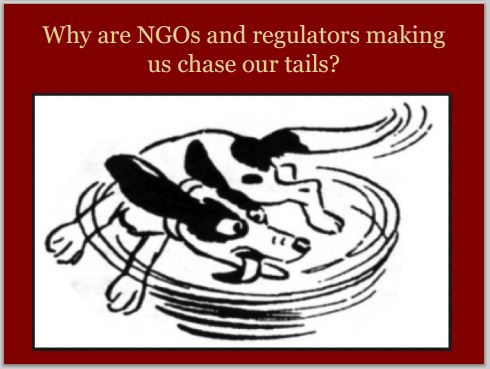 Slide from Ernst presentations
2014 02 19: With law violations, hazards, waste dumping, air noise land water pollution, permanent water loss, community division, adverse health impacts, lies, fatalities, enabling regulators politicians courts, massive subsidies, PR Panel urges industry to change frac 'conversation'
2014 02 14: Snowflakes and the avalanche: promoting fracking in Newfoundland, Public lecture offers engineering perspective, makes fracking debate murkie
2013 02 17: Fracking plans cause concern in Woody Point
2013 02 06: Gros Morne National Park official cites fracking concerns
2013 05 13: fracking may jeopardize Gros Morne UNESCO status, 'Very clearly this is an issue of concern to us,' UNESCO unit chief says
2013 05 02: Trout River residents demand answers about fracking
2013 08 17: Read the studies on fracking, Fishermen concerned about industry if fracking approved, West coast fishermen wary of possible problems
2013 12 13: Gros Morne fracking proponent loses exploration licence, Newfoundland and Labrador Petroleum Regulator Rejects Application by Shoal Point Energy Ltd. to Extend EL 1097R Licence to frac near Gros Morne UNESCO World Heritage Sit
2013 12 13: FRACKDOWN in Newfoundland: Calling for Canada-Wide Ban on Fracking, Protect our Charter Rights, Support New Brunswick!
2013 11 06: Port au Port/Bay St. George Fracking Awareness Group: vigilant eye will be kept, Moratorium on fracking announced by Newfoundland government
2013 10 03: Lone Pine Resources, a Canadian frac company in serious financial trouble with $300 million in aggregate debt sues Canada for $250 million to lift Quebec frac ban
2012 11 23: Canadian taxpayers could be on hook for Quebec fracking decision because of NAFTA Chapter 11 that protects corporations even if they risk health, the public interest and environment to take profit
2012 11 15: NAFTA challenge launched over Quebec fracking ban
2012 11 15: Drilling plan near Gros Morne National Park in Newfoundland comes under fire, Fracking possible in company's exploration program
2012 11 09: Shoal Point Energy Exploring Green Point Shale In Newfoundland
2012 12 03: Group warns fracking waste from Nfld could be headed for N.S. ]