'Used judge: high mileage, no warranty' Justice Thomas Cromwell, on retiring from the Supreme Court, fashions a Kijiji ad by Mackenzie Scrimshaw, September 24th, 2016, ipolitics
Although he officially retired on September 1, Cromwell says he's still "very engaged" in 14 judgments — a "really low" number for this time of year, when there are often between 25 and 35 cases.
"We're in great shape, so that makes me optimistic that I may be able to be free by the end of the year," he says.
It's an afternoon in mid-September and Cromwell is sitting on a cream-coloured couch in his Supreme Court office. The room is big and bright — thanks to a large window to the right of his desk — with wood-panelled walls and a bookcase stacked with volumes of Canada Supreme Court Reports.
If Cromwell is at all sad or apprehensive about his departure, he doesn't show it. Instead, he cracks jokes — many at his own expense — throughout our conversation.
He responds with humour to a question about what he wants to do in retirement.
"I'm hoping that some law firm will be convinced to take in a used judge at some point," he says. "I was joking with one of my friends that I'm going to put an ad on Kijiji — 'Used judge: high mileage, no warranty' — and see if I get any bites."
Cromwell laughs.
"I'm not at the point where I can think about that right now because I still have too much judging work to do," he says.
Yet he continues to envision his life after retirement, recalling his music background. Cromwell originally envisioned a career as a professional pipe organist.
In addition to law degrees from Queen's University and Oxford, Cromwell holds a Bachelor of Music from Queen's and an Associate of the Royal Conservatory (ARCT) diploma from Toronto's Royal Conservatory of Music.
"If I can summon up enough self-discipline to get back into the practicing on a regular basis, I might get back to that — just for my own amazement."
The pursuit of an accessible justice system
One thing Cromwell says he's looking forward to in retirement is having the time to continue his work with the Action Committee on Access to Justice on Civil and Family Matters, a project of the Canadian Forum on Civil Justice. Already the committee's chair, Cromwell will remain in this role — at the request of its founder, Chief Justice Beverley McLachlin.
In October 2013, as part of its early work, the committee released a roadmap to a more accessible civil and family justice system. Following its release, Cromwell travelled across Canada twice, speaking in different forums on this subject. He continues to do so today.
[Excerpts from A Roadmap for Change Action Committee on Access to Justice in Civil and Family Matters October 2013:
It is a great pleasure and honour to acknowledge the tireless dedication and endless commitment of the members of the Action Committee on Access to Justice in Civil and Family Matters by writing a foreword to this final report. As this report marks the conclusion of the first phase of the Action Committee's work, allow me to reflect on how we arrived this far.
Let me start by saying that the problem of access to justice is not a new one. As long as justice has existed, there have been those who struggled to access it. 
But as Canadians celebrated the new millennium, it became clear that we were increasingly failing in our responsibility to provide a justice system that was accessible, responsive and citizen-focused. Reports told us that cost, delays, long trials, complex procedures and other barriers were making it impossible for more and more Canadians to exercise their legal rights. …
Beverley McLachlin, P.C.
Chief Justice of Canada
…
There is a serious access to justice problem in Canada. The civil and family justice system is too complex, too slow and too expensive. It is too often incapable of producing just outcomes that are proportional to the problems brought to it or reflective of the needs of the people it is meant to serve. While there are many dedicated people trying hard to make it work and there have been many reform efforts, the system continues to lack coherent leadership, institutional structures that can design and implement change, and appropriate coordination to ensure consistent and cost effective reform. Major change is needed.
…
….there are clearly major access to justice gaps in Canada.
For example:
• Nearly 12 million Canadians will experience at least 1 legal problem in a given 3 year period. Few will have the resources to solve them.
• Members of poor and vulnerable groups are particularly prone to legal problems. They experience more legal problems than higher income earners and more secure groups.
• People's problems multiply; that is, having one kind of legal problem can often lead to other legal, social and health related problems.
• Finally, legal problems have social and economic costs. Unresolved legal problems adversely affect people's lives and the public purse.
The current system, which is inaccessible to so many and unable to respond adequately to the problem, is unsustainable.
…
3. The Current System Has Serious Gaps In Access
According to a wide range of justice system indicators and stakeholders, Canada is facing major access to justice challenges. For example, in the area of access to civil justice Canada ranked 13th out of 29 high-income countries in 2012-2013 and 16th out of 23 high-income countries in 2011.19 According to the 2011 study, Canada's ranking was "partially explained by shortcomings in the affordability of legal advice and representation, and the lengthy duration of civil cases."20
…
The Cost of Legal Services and Length of Proceedings is Increasing. Legal fees in Canada vary significantly; however, one recent report provides a rough range of national average hourly rates from approximately $195 (for lawyers called in 2012) to $380 (for lawyers called in 1992 and earlier).27 Rates can vary from this range significantly depending on jurisdiction, type of case, seniority and experience. The cost of civil and family matters also varies significantly. For example, national ranges of legal fees are recently reported to be $13,561 – $37,229 for a civil action up to trial (2 days), $23,083 – $79,750 for a civil action up to trial (5 days), $38,296 – $124,574 for a civil action up to trial (7 days), and $12,333 – $36,750 for a civil action appeal.28 The length and cost of legal matters have continued to increase.29
[To date, Ernst has spent in $359,072.44 on legal fees/associated costs, and many tens of thousands more for related other costs. Preliminaries filed by the defendants drag on. Ernst's lawsuit is in its ninth year (she filed her case on December 3, 2007); there is currently in Alberta a 2.7 year wait to set a civil trial date. By the time Ernst's case is ready to set trial, how many more years wait will it be?]
…
4. Unmet Legal Needs
Most people earn too much money to qualify for legal aid, but too little to afford the legal services necessary to meaningfully address any significant legal problem. The system is essentially inaccessible for all of these people.30 Below
are some of the indicators.
• Unmet Legal Needs. According to one recent American study, as much as 70%-
90% of legal needs in society go unmet.31 This statistic is particularly troubling
given what we know about the negative impacts of justiciable problems,
particularly those that go unresolved.32 In Canada, over 20% of the population
take no meaningful action with respect to their legal problems, and over 65%
think that nothing can be done, are uncertain about their rights, do not know
what to do, think it will take too much time, cost too much money or are simply afraid.33 [Ernst worries about all of those things, every hour of every day, and has done since she filed her case in 2007. The constant worries and decisions about what to sell next to pay the next legal invoices, are taking their toll, and Ernst's case essentially hasn't even started yet (still stuck in preliminaries)]
• Cost is a Major Factor. Of those who do not seek legal assistance, recent reports
indicate that between 42% and 90% identified cost — or at least perceived cost —
as the reason for not doing so.34 An important result of the inaccessibility of legal
services and the fact that many people do nothing to address their legal problems
is that a proportion of legal problems that could be resolved relatively easily at an
earlier stage escalate and shift to ones that require expensive legal services and
court time down the road.35
• Self-Representation. As a result of the inaccessibility of early assistance, legal
services and dispute resolution assistance, as well as the complexity and length
of formal procedures, approximately 50% of people try to solve their problems
on their own with no or minimal legal or authoritative non-legal assistance.36
Many people — often well over 50% (depending on the court and jurisdiction)
— represent themselves in judicial proceedings (usually not by choice).37 The
number is equally — and often more — significant and troubling in family court
proceedings.38 And statistics indicate that individuals who receive legal assistance are between 17% and 1,380% more likely to receive better results than those who do not.39
Not surprisingly, people's attitudes towards the system reflect this reality.
According to a recent study of self-represented litigants in the Canadian court system, various court workers were of the view that the

"civil system [is] … very much open to abuse by those with more money at their disposal"

;
and the "general public has no idea about court procedures, requirements, the language, who or where to go for help".

40

Further, according to a recent study, people expressed similar concerns about access to justice, including the following:

• "I don't have much faith in the lawyers and the system";
• the "language of justice tends to be … foreign to most people";
• "[p]eople with money have access to more justice than people without";
• I think there are a lot of people who don't … understand what the justice system is or how to use it – struggling to earn a living, dealing with addictions…"; and
• the justice system "should be equally important as our health care system…."41

…

3.4 Case Management Should be Promoted and Available in All Appropriate Cases

Timely — often early — judicial case management should be readily available. In
addition, where necessary, case management officers, who may be lawyers, duty
counsel, or other appropriately trained people, should be readily available at all courts and tribunals for all cases, with the authority to assist parties to manage their cases and to help resolve their disputes.119

[The Ernst case has been under Case Management since April 2012. Delays, stresses, Rules of Court violations by Encana, and costs keep escalating regardless. Case Management is not stopping AER's outside counsel, Glenn Solomon, from lying and defaming Ernst in legal filings. ]

Parties should be encouraged to agree on common experts; to use simplified notices; to plead orally where appropriate (to reduce the cost and time of preparing legal materials); and, generally, to talk to one another about solving problems in a timely and cost-effective manner.120 Judges and tribunal members should not hesitate to use their powers to limit the number of issues to be tried and the number of witnesses to be examined. Scheduling procedures should also be put into place to allow for fasttrack trials where possible.

Overall, judges, tribunal members, masters, registrars and all other such court
officers should take a strong leadership role in promoting a culture shift toward
high efficiency, proportionality and effectiveness through the management of cases. Of course, justice according to law must always be the ultimate guide by which to evaluate the efficiency and effectiveness of judicial and tribunal processes. 

…

3.5 Court and Tribunal Processes and Procedures Must Be More Accessible and User-Friendly
The guiding principles in part 2 of the report — specifically including (pt.2.1) putting the public first, (pt.2.4) simplification, coherence, proportionality and sustainability, and (pt.2.6) a focus on outcomes – must animate court and tribunal innovations and reforms. The technology in all courts and tribunals must be modernized to a level that reflects the electronic needs, abilities and expectations of a modern society. Interactive court forms should be widely accessible. Scheduling, e-filing121 and docket management should all be simplified and made easily accessible and all court and tribunal documents must be accessible electronically (both on site and remotely).122

Courts and tribunals should be encouraged to develop the ability to generate real
time court orders.123 Courthouse electronic systems should be integrated with other ERSS electronic and self-help services.

Teleconferencing, videoconferencing and internet-based conferencing (e.g. Skype) should be widely available for all appearance types, including case management, status hearings, motions, applications, judicial dispute resolution proceedings, mediation,124 trials and appeals, etc.125

Better public communication, including through the use of social and other media, should be encouraged to demystify the court and tribunal process.126 Overall, and in all cases, rules and processes should be simplified to promote and balance the principles of proportionality, simplification, efficiency, fairness and justice.127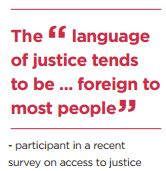 End Excerpts from A Roadmap for Change Action Committee on Access to Justice in Civil and Family Matters ]
Since then, access to justice has increased, Cromwell says, adding that, perhaps more importantly, "we're getting some of the foundation pieces in place for more fundamental change, systemic change."
As an example of one of those "foundation pieces," Cromwell says he believes that the "leaders of the system" — those in government, the judiciary and the Canadian Bar Association, for example — "now understand that real change is needed."
Plus, many of the provinces and territories have set up their own groups to address access to justice issues within their respective jurisdictions — which, Cromwell says, was the action committee's idea.
"A lot of things at the operational level are provincial responsibilities, and so that's why I'm encouraged that jurisdictions have been setting up these broadly representative groups," he says.
A third piece is what Cromwell says he thinks is "an openness to a much more collaborative approach among the system players."
"I think that we have, as a group, made a lot of progress in getting everybody to understand that they have to work together," he says, noting that these players also need to respect each other's areas of responsibility.
Finally, Cromwell recalls the committee's recommendations — including, "put the public first" — from its 2013 report.
"I think there's been very wide acceptance of our basic principles for change," he says. "I think that we're getting some of the fundamentals there, which is about probably all we can do at the national level."
Meanwhile, he says, access has improved through many specific initiatives, from changes to legal aid to improved alternative dispute resolutions.
"So, there are lots of bright spots around the country."
Currently, the action committee is working on a status report on access to justice across Canada, which it will release in the spring of 2017.
On the Liberals' new appointment process
After campaigning on a promise to make the Supreme Court appointment process more transparent, the Liberals announced in early August the steps they would take to find Cromwell's successor.
Having been appointed to the Nova Scotia Court of Appeal by Jean Chrétien in 1997, Cromwell has been filling the Supreme Court seat traditionally reserved for a judge from Atlantic Canada.
But Prime Minister Justin Trudeau has eliminated the regional representation for Atlantic Canada on the court in the government's requirements for justices, who now must be "qualified, functionally bilingual candidates who reflect a diversity of backgrounds and experiences." So, Cromwell could be replaced by a judge from a different part of the country.
Cromwell stumbles at first to say what he brought to the bench as a jurist from Atlantic Canada — before declining to answer the question.
"I hope that I brought what any judge in this court would bring, which is intellectual discipline, a sense of fairness, independence," he says.
"As to what regional representation may or may not contribute, that's a topic I'm going to stay totally out of, given that we have an appointment pending."
Nor will he say whether he thinks the newly announced process is a positive step.
"As somebody who's still judging…I'm not going to get into telling the executive how to do their job because I expect them not to tell them how to do mine," Cromwell says. "And they don't."
Cromwell remembers that in 1973, when he started law school at Queen's, only 25 per cent of his class was female.
"That changed radically and fast," he says.
He recalls that during his time on the admissions committee at Dalhousie University's Schulich School of Law, having to keep track of the number of female students who were applying in order to balance the class. However, that, too, lasted only a short time.
"These things do take time, but they will happen over time."
Reflections on difficult rulings
Appointed by former Prime Minister Stephen Harper in 2008, Cromwell has served in Canada's top court for almost eight years. During this time, he has participated in at least 500 cases, writing decisions for roughly 100 of them.
"I think the kinds of cases where I feel the responsibility of the job most acutely are cases where we have to interpret the powers of the legislature or we have to interpret the power to amend the constitution, because we really are playing right at the heart of how our system of government works in that zone," he says, citing, as examples, references on Senate reform and the former Conservative government's proposed Canadian Securities Act. 
As for cases "that were obviously difficult and important," Cromwell recalls the Supreme Court's ruling on physician-assisted dying, which, he says, "gave [him] professional satisfaction."
Another "very interesting" case was Canada (Attorney General) v. Downtown Eastside Sex Workers United Against Violence Society, he says.
This case involved the principles of legal standing, in which Cromwell, a former professor, had an academic interest. He also wrote a book on the law: Locus Standi: A Commentary on the Law of Standing in Canada.
"When I was writing my book in 1986, I never imagined that I'd be authoring an opinion of the Supreme Court on the topic," he says. "So, that was kind of a neat personal evolution."
Counsel for his successor
Cromwell has some words of wisdom for whomever fills his Supreme Court vacancy — the same advice he says he would give to any judge: "
At the end of the day, the only thing that matters is whether you're convinced that you did the right thing.

And sometimes people will agree with that; other times, they won't."
The job, he says, requires independence, impartiality and "the courage to do what we think is the right thing every time."
"As long as you do that, you'll be fine." [Emphasis added]
Retiring Supreme Court Justice Thomas Cromwell turns focus to legal access, After 8 years, top judge reflects on his biggest cases, bilingualism and regrets over Marc Nadon by Alison Crawford, September 14, 206, CBC News
The picture hooks on the walls of Justice Thomas Cromwell's office at the Supreme Court are empty now and a few boxes are piled in one corner.
The only personal mementoes still on display include a large pensive-looking ceramic frog. His official retirement took effect Sept. 1, but Cromwell still has a few judgments to finish off.
"It takes me about 80 hours a week to do this job, but the responsibility of it is also very onerous. The cases are hard, they have broad public implications, sometimes even implications for the structure of our federation," he said in an interview with CBC News.
Cromwell said he always intended to retire around the age of 65, and at 64, the onerous nature of the work helped him decide to give his notice in the spring.
Cromwell's retirement also gave notice to the federal government to speed up planned reforms to the nomination of Supreme Court justices. His replacement will be selected through a new process that includes a new independent advisory board chaired by former prime minister Kim Campbell.
Among the more controversial aspects of the process, candidates must be functionally bilingual and the board doesn't necessarily have to honour the historic regional composition of the court.
Cromwell refused to comment on whether the top court needs regional representation, but he did say he sees both sides of the bilingualism debate. "Personally I'm glad I have that capacity, but many people have served well without it."
Feels the weight of office
After eight years on the court, Cromwell estimates he's authored roughly 100 judgments and participated in many more. Among those he's most proud of include references on the Senate and a national securities regulator, as well as the country's ruling on assisted human reproduction.
"Those things really go to the structure of our constitution and you really feel, I think everyone does, really feel the weight of your office in those cases," he said.
The 2010 ruling on assisted reproduction set out how different levels of government regulate fertility clinics. The 2011 reference on a national securities regulator killed the previous government's plan to create a single body to oversee investments such as stocks, bonds and derivatives.
And in 2014, the top court thwarted government plans to legislate changes to the Senate by concluding that implementing fixed terms for senators or provincial elections for the red chamber would require the consent of seven provinces representing half the population.
Cromwell said he also really enjoyed working on the 2012 case where a non-profit group that represents women in the sex trade in downtown Vancouver won the right to challenge the country's anti-prostitution laws on constitutional grounds. The decision had broad implications, as it allows people or groups not directly related to a specific case to challenge Canada's laws.
"I, as an academic in the '80s, had written a book about [legal] standing, so it was quite exciting for me to be able to look at the law from the perspective of the judge and perhaps make it a little more flexible. But I think it was a logical evolution of our jurisprudence that was a very satisfying case to work on," Cromwell said.
'We need to have more focus on the needs of the people'
– Justice Thomas Cromwell
If one case still causes him some discomfort, it is that of Marc Nadon. The Supreme Court was asked to rule on Nadon's eligibility for appointment to the top court and if Parliament could unilaterally change the Supreme Court Act to make Nadon eligible. It answered "no" to both questions, which voided Nadon's appointment.
"Justice Nadon was a very experienced, highly respected judge and I'm sure would make an excellent colleague. The case had absolutely nothing to do with his personal qualification and one of my great regrets about the whole thing is that that message seemed to be lost in a lot of the public discussion," he said.
"I think both the majority and the dissenting judges demonstrated that the court was independent and impartial and would do its best even under quite awkward circumstances."
Confidence in justice system
CBC News also asked Cromwell what could be done to rebuild public confidence in the justice system after questionable conduct by judges in sex assault cases has come to light. In two Alberta cases, appeal courts ruled the judges didn't seem to understand the law governing sexual assault.
In addition to ongoing education already offered to judges, Cromwell said the judiciary could also delve deeper into a judge's mindset at the outset.
"Even look at the appointment process in some respects to ensure that the people who are coming to the courts have the requisite sensitivity, and if they don't, that we are able to put training in place at a very early point in their career," Cromwell said.
Going forward, Cromwell said he looks forward to devoting more time to making the justice system more financially and procedurally accessible to regular people. Supreme Court Chief Justice Beverley McLachlin has asked Cromwell to continue chairing the Canadian Forum on Civil Justice's action committee on access to justice on civil and family matters.
"I think our processes tend to be too complicated, legal services are not available to some of the people who need them because they fall in the cracks between legal aid
and being able to fund lawyers….
"We need to have more focus on the needs of the people."
[Emphasis added]
***

[Refer also to:
2016 09 28: Alberta Provincial Court Chief Judge Terrence Matchett: "Justice delayed truly is justice denied." Wait time for civil cases reaching trial in Alberta can take 2.7 years. Ernst case is in its 9th year with Ernst still waiting to find out if she can start her lawsuit against AER for violating her Charter rights
2014 07 21: Making the case for justice system reform
But justice interminably delayed defeats accountability,

process endlessly pursued simply drives up cost
,

and people will avoid any system that is too complex to understand.
The problem is that we don't really have a justice system but rather a lawyers' system.
[Emphasis added]
2011 11 11: There is no justice without access to justice: Chief Justice Beverley McLachlin
"Access to justice is an issue dear to my heart," said an impassioned Chief Justice Beverley McLachlin. "It is a fundamental right, not an accessory."
… "The task of ensuring access to justice falls to this generation," said Canada's chief justice. "Access to justice implies a responsive decision by the judiciary within a reasonable time and cost."
Her comments were quoted extensively in a Globe and Mail feature Feb. 11, 2011 on the colloquium which generated a torrent of online comments, more than 350 to date. [The comments have been since removed by the Globe and Mail]
"People expect they can turn to the legal system for a resolution," said McLachlin. "They are 'hard-wired' for justice. Access to justice affirms the rule of law, and promotes social stability."
But as many panelists and participants discussed over the two-day event,

middle-income Canadians face an uphill battle in a justice system that has effectively shuttered its doors

, with average hourly billing fees running $338, and the cost of a two or three-day civil trial hovering around $60K.
[Ernst's lawyers expect her trial to last more than 25 days. Will her trial cost her $600,000 to $700,000?
Ernst has already spent more than $400,000 on her lawsuit and will likely have to pay a few hundred thousand more trying to get the documents she has rights to under the Alberta Rules of Court. Ernst will likely spend hundreds of thousands and still not get the records she is legally entitled to (Alberta Environment illegally shredded 344 executive boxes of records including related to litigation and Encana continues to violate the Rules of Court, refusing to disclose the records important and relevant to the lawsuit). 
How many hundreds of thousands of dollars will it cost to get through discovery and prepare for trial?
Will Ernst be allowed access to a trial within the next decade or two, no matter how many millions she spends?]
… In her keynote address, McLachlin argued for a multi-pronged solution, involving government (streamlined processes), the bar (developing a public interest bar), the judiciary (quick decisions) and the academy (teaching about access to justice).
"There is no silver bullet. We have to commit ourselves to working on this issue. I look forward to hearing what has been accomplished at this colloquium."
MUST WATCH Chief Madam Justice Beverley's McLachlin's speech in its entirety with introductions by Dean Mayo Moran, and Ontario Attorney-General Chris Bentley:
A few quotes by Chief Justice Beverly McLachlin:
What then can the courts do?
I think there're three basic tasks here …
The first is that judges have to ensure that the court rooms operate efficiently and justly.
Secondly, they have to ensure that the court rooms are accessible to all, and …
Thirdly, they have to deliver decisions promptly and transparently.
…
You can have access to a lawyer, access to the court house but if you never get a decision, have you had access to justice? I don't think so. Of course, this is not a major problem in our system. I believe decisions are rendered promptly.
We had a case not long ago

when there was a ten month period

between an actual decision in a criminal case being taken and reasons, and we said that was too long.
…
Chief Justice Beverly McLachlin starts at Min 14:32
The Chief Justice's speech was also cited in other media stories:
Also available is the Literature Review Background Paper (PDF) prepared for the colloquium.
2011 02 16: Legal system doesn't work for the majority: Supreme Court judge
Canada's top judge is warning that the legal system doesn't work for ordinary people and courts are fast becoming the domain of the rich – or the indigent.
In a startlingly frank speech at a University of Toronto legal conference, Supreme Court of Canada Chief Justice Beverley McLachlin last week was especially critical of high legal fees -now averaging nearly $340 an hour.
"Do we have adequate access to justice?" Justice McLachlin asked.
"It seems to me that the answer is, no. We have wonderful justice for corporations and for the wealthy. But the middle-class and the poor may not be able to access our justice system."
Her speech was a near-perfect echo of one delivered in November by B.C.'s top jurist, Provincial Court of Appeal Chief Justice Lance Finch, her former benchmate. He, too, said the situation is unfair and that the profession must address "the elephant in the room."
"Everyone knows it's there, but no one wants to talk about it -I think it is time to open the conversation. … No matter how much we may all wish to avoid the subject, high legal fees are an issue that must be addressed."
The chief justice agreed and gave the discussion even more urgency.
Like Justice Finch,

Justice McLachlin in her critique focused on the monopoly lawyers enjoy with the implicit warning that if the profession doesn't fix this problem, governments will -and the bar might not like their solution.
"If you're the only one who can provide a fundamental social need from which you benefit, I think it follows that you have to provide it," Justice McLachlin said.
"And

I don't think it's enough to say we are providing it for the rich and the corporations.

You have to find a way to provide it for everybody."
Various Band-Aid measures are being tried, such as selfhelp Internet sites; judges and court [administrators] are becoming more accommodating to self-represented litigants; simplified rules and procedures are being adopted.
…
And, at the moment, any protracted court battle can generate legal costs that will crush middle-class wage earners.
Denied reasonable access to the courts, Joe and Joan Six-Pack are increasingly being invited to solve their own problems through self-help or vigilantism.
"We can draft the best rules in the world and we can render the best decisions, but if people can't have access to our body of law to resolve their own legal difficulties, it is for naught," Justice McLachlin said.
And this is not only our problem -it's a concern in Britain, America and other jurisdictions that have seen a more and more complicated body of modern law develop and legal fees rise accordingly while governments reduced legal aid programs to funding only those facing serious criminal charges or the indigent.
… As Justice McLachlin said:

"How can there be public confidence in a system of justice that shuts people out; that does not give them access?

That's a very dangerous road to follow."
[Emphasis added]
2011 02 10: Access to justice becoming a privilege of the rich, judge warns
The middle class has been shut out of a justice system that caters primarily to the very rich and the very poor, the country's top judge has told a group of legal luminaries.
Chief Justice Beverley McLachlin of the Supreme Court of Canada said on Tuesday that the middle class cannot hope to pay legal fees that average $338 per hour, leaving them little option but to represent themselves in court or go away empty-handed.
"Do we have adequate access to justice?" she asked a University of Toronto conference on the problem. "It seems to me that the answer is no. We have wonderful justice for corporations and for the wealthy. But the middle class and the poor may not be able to access our justice system."
Chief Justice McLachlin said that a court proceeding can easily swallow up a litigant's bank account or home equity. "How can there be public confidence in a system of justice that shuts people out; that does not give them access?" she asked. "That's a very dangerous road to follow."
The Chief Justice's voice rose as she discussed a monopoly lawyers have on legal services. "If you're the only one who can provide a fundamental social need from which you benefit, I think it follows that you have to provide it," she said. "And I don't think it's enough to say we are providing it for the rich and the corporations. You have to find a way to provide it for everybody."
Chief Justice McLachlin said that denying citizens access to courtrooms can endanger democracy. "On a macro level, access to justice promotes social stability," she said. "It obviates the need for self-help and vigilantism.
"We can draft the best rules in the world and we can render the best decisions, but if people can't have access to our body of law to resolve their own legal difficulties, it is for naught," she said.
Her speech capped a day in which judges, lawyers and academics from Canada, Britain and the United States bemoaned the fact that middle class people in the court system suffer from a combination of rising legal fees, increasingly complex procedures and the unavailability of legal aid to all but the poorest litigants.
The measures they debated to bring justice back to the middle class ranged from creating a universal legal insurance plan to legal hotlines and panels of legal experts capable of providing advice online.
Echoing a recurring theme, Chief Justice McLachlin said there is little data on how many middle-class litigants have been driven away by the high cost of civil justice. However, she said that U.S. studies have found that up to two-thirds of middle-income individuals with legal needs do not approach a lawyer because of the cost.
"We know enough to know that we have an urgent problem," remarked Ontario Court of Appeal Judge Stephen Goudge, a participant at the meeting. "We have to get on with creating solutions rather than trying to get a perfect understanding of the problem."
[As with hydraulic fracturing, as long as the public is promised more and more years of study, families will tolerate decades more of being poisoned and abused by frac experiments ravaging their communities, while the studies grind on and on and on and on, proving more and more and more harm, but never stopping the harms. When is it time stop "studying" the problems and stopping the problems instead?]
Others volunteered horror stories from the audience – such as Ontario Court Judge Marion Cohen, who said that she regularly sees the effects of a dearth of legal aid funding for family law cases.
"I don't think legal aid is robust at all," Judge Cohen said. "It is as decimated as it has ever been. Low income people have duty counsel, but middle class people don't. Very few people have lawyers at all."
Former Ontario attorney-general Marion Boyd said that a free legal-advice hotline run by the Law Society of Upper Canada cannot keep up with demand. "The increase in the number of people calling is substantial," she said. "We have very many more requests for service than we have lawyers."
… One proposal for reform, known as "unbundling," involves a client hiring a lawyer for one specific aspect of a case – such as drafting a statement of claim or conducting oral arguments on a legal motion.
Another proposal was that judges and court administrators transform a lawyer-dominated courtroom culture to one that bends over backward to accommodate self-represented litigants. [Emphasis added]
***
And then there's Glenn Solomon's (AER's outside counsel) and the oil and gas industry's way of shutting up justice: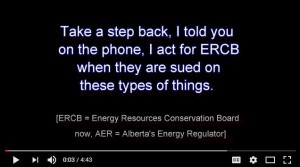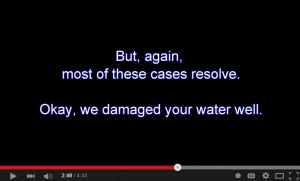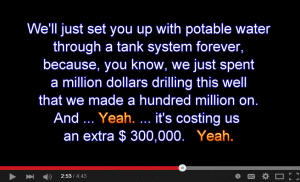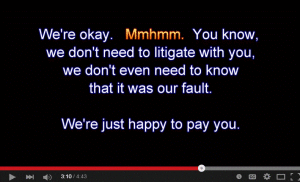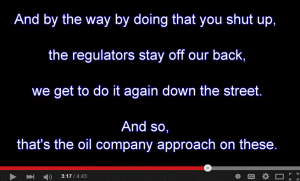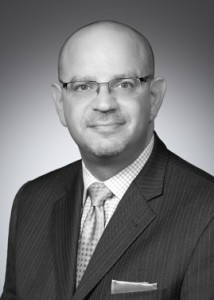 Glenn Solomon, QC
AER's outside counsel