Safety alert issued over dangers of fracked oil by Andrew Nikiforuk, January 6, 2014, The Tyee.ca
The U.S. Department of Transportation has issued an unprecedented safety alert on the transport of hydraulically fractured oil from North Dakota's booming Bakken oil fields that could also cool Canada's unconventional oil rush. "Recent derailments and resulting fires indicate that the type of crude oil being transported from the Bakken region may be more flammable than traditional heavy crude oil," says the alert from the Pipeline and Hazardous Materials Safety Administration (PHMSA). The frantic movement of fracked Bakken oil on Canada's poorly regulated rail system resulted in a catastrophic explosion that incinerated 47 citizens in Lac Megantic, Quebec, last summer. Major derailments of Bakken crude have terrified rural communities in North Dakota and Alabama. "It is imperative that offerors (shippers) properly classify and describe hazardous materials being offered for transportation," adds the alert.
Due to the unusual properties of fracked oil, PHMSA has undertaken a series of tests (Operation Classification) to determine "the gas content, corrosivity, toxicity, flammability and certain other characteristics of the Bakken crude oil, which should more clearly inform the proper characterization of the material." … Bakken crude's explosive flammability may, in part, be related to the large number of volatile chemicals or frack fluids such as diesel and kerosene used to release the oil from deep shale formations. Bakken crude can also have a high hydrogen sulfide content. It's a potent neurotoxin as deadly as cyanide that has killed scores of oil and gas workers. It can contain such perilous amounts of hydrogen sulfide that Enbridge recently applied to restrict shipments of Bakken crude on its pipelines due to concerns about worker safety.
The safety alert, which resulted in an immediate plunge in the value of shares of Bakken oil producers, could have serious ramifications for Alberta and Saskatchewan where the industry is also fracking shale formations for light oil. Horizontal multi-stage fracking has boosted Alberta's oil production to 1.2 million barrels a year and accounted for much of Saskatchewan's 470,000 barrel a day production in 2012. Much of that oil, similar in character to the Bakken crude, is transported by rail to the United States. According to Statistics Canada data, industry loaded 12,989 rail cars with 1.1 million tonnes of fracked oil or heavy bitumen in February 2013 — a 60 per cent growth from February 2012.
Critics say that the regulation of hazardous goods by rail hasn't kept up with the fracking boom, just as the regulation of diluted bitumen by pipelines hasn't kept pace with Canada's frantic oil development. Last November, Canada's auditor general lambasted Transport Canada for lax oversight of rail safety. In particular, it found that "the Department's level of oversight was not sufficient to obtain assurance that federal railways have implemented adequate and effective safety management systems." [Emphasis added]
U.S. Issues Warning on Bakken Shale Crude Oil by Russell Gold, January 2, 2014, Wall Street Journal
The federal government issued an unusual safety alert, warning that crude oil from the Bakken Shale in North Dakota may be more flammable than other types of crude. This warning comes after two federal agencies spent months inspecting Bakken crude, including oil carried in recent train accidents that resulted in explosions. The latest blast occurred earlier this week in Casselton, N.D., 25 miles west of Fargo. The U.S. Transportation Dept. alert urges shippers to test the oil they transport and, if necessary, strip out gases found in that crude. The warning comes after The Wall Street Journal reported that investigators and industry officials were alarmed and puzzled by the violent explosions that resulted from the train crashes. Crude oil is hard to burn and generally doesn't explode with such ferocity.
The Pipeline and Hazardous Material Safety Administration and the Federal Railroad Administration launched "Operation Classification" in August to perform unannounced inspections of Bakken crude oil to make sure it was being properly labeled and shipped on appropriate train tank cars. PHMSA said it had tested many of the basic chemical properties of the crude and was now looking to expand its testing to look at other factors in an attempt to explain the intensity of recent explosions. The agency is testing the crude for corrosivity, hydrogen sulfide and gases mixed into the crude. Tests results are pending. On Monday a BNSF Railway Co. train with 104 tank cars full of crude struck another train in Casselton, N.D. Amateur videos of the accident showed 10-story fireballs erupting over the oil-laden train. Eyewitnesses describe similar explosions in November, when a train carrying Bakken crude derailed in Alabama. Last summer, 47 people were killed in Lac Mégantic, Quebec, when a train carrying Bakken crude jumped the tracks and ignited.
"It makes sense that PHSMA is putting the rail industry on notice that it needs to know what is in those cars and to make sure it is handling the risk from that type of crude oil properly," said Carl Weimer, executive director of the Pipeline Safety Trust, a nonprofit that examines fossil fuel transportation issues. … North Dakota statistics shows about three-quarters of Bakken crude produced in the state is shipped out by rail. [Emphasis added]
Lac-Mégantic voted top Canadian news story of 2013 by Canadian Press, December 26, 2013, Common Sense Canadian
Editors and news directors across the country have selected the Lac-Mégantic train derailment as Canada's News Story of the Year, garnering 30.6% of the vote – ahead of Senate expenses and the Rob Ford scandal, which drew 24.2% and 22.6%, respectively.
…
The Lac-Mégantic tragedy is an unprecedented environmental, economic and humanitarian disaster.
— Francois Beaudoin, managing editor, Granby Voix de l'Est
Mayor says ND town dodged bullet when train exploded by Dave Kolpack, Associated Press writers James MacPherson in Bismarck, N.D., and Dirk Lammers in Sioux Falls, S.D., contributed, December 31, 2013, Calgary Herald
A southeastern North Dakota town narrowly escaped tragedy when a train carrying crude oil derailed and exploded nearby, the mayor said Tuesday, calling for changes in how the fuel is transported across the U.S. No one was hurt in Monday's derailment of the mile-long train that sent a great fireball and plumes of black smoke skyward about a mile from the small town of Casselton. The fire had been so intense as darkness fell that investigators couldn't get close enough to count the number of burning cars. The National Transportation Safety Board launched an investigation.
Most residents heeded a recommendation to evacuate their homes as strong winds blew potentially hazardous, acrid smoke toward the town overnight, Mayor Ed McConnell said early Tuesday. Black soot coated parts of Casselton. "I drove in this morning and looked like most people had left. There weren't a lot of lights on," McConnell said. The North Dakota Department of Health warned that exposure to burning crude could cause shortness of breath, coughing and itching and watery eyes. It had said those in the vicinity with respiratory conditions such as asthma, bronchitis or emphysema should minimize outdoor activity.
…
Board member Robert Sumwalt said the tankers involved were DOT-111s, a model that has shown a tendency to rupture in other accidents…. The rail tracks run straight through the middle of Casselton, a town of 2,400 people about 25 miles west of Fargo. McConnell estimated that dozens of people could have been killed if the derailments had happened within the town. He said it is time to "have a conversation" with federal lawmakers about the dangers of transporting oil by rail. "There have been numerous derailments in this area," he told The Associated Press. "It's almost gotten to the point that it looks like not if we're going to have an accident, it's when. We dodged a bullet by having it out of town, but this is too close for comfort."
A train carrying crude from North Dakota's Bakken oil patch crashed in Quebec last summer, bursting into flames and killing 47 people.
…
Ron Ness, president of the North Dakota Petroleum Council, called the derailment "extremely unfortunate." [Emphasis added]
Train Derailment West of Casselton, North Dakota by Valley News Live, December 30, 2013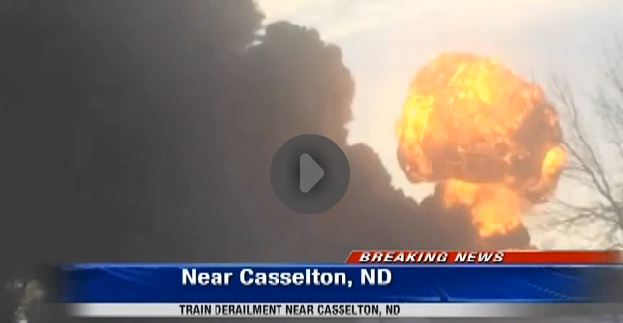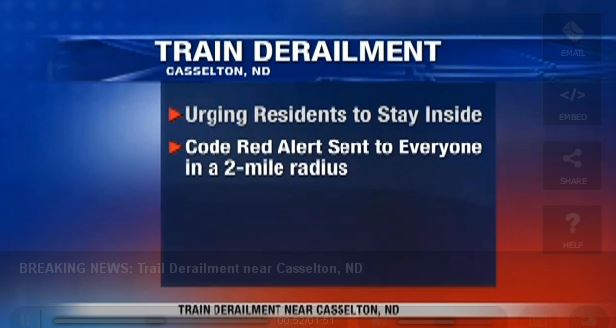 A train is derailed west of Casselton, North Dakota. It happened at 35th Street and 154th Avenue Southeast just before 2:20 p.m. Monday. No injuries have been reported so far. Several area emergency teams are on scene and are setting up an incident command center. The Cass County Sheriff's Office says a train went off the tracks and a second train hit it. Several train cars are on fire and huge plumes of toxic, black smoke can be seen for miles. Several explosions have also been reported. Emergency crews are urging people to stay inside and a code red alert has been sent out to residents in a two mile radius of the accident.
The Casselton Fire Department says a Burlington Northern Santa Fe train is involved. An unknown number of cars derailed, but we're told the train that is derailed was pulling more than 100 cars, some carrying oil. The wind is from the northwest, which means the smoke may miss Casselton but people living to the southeast of town are being told to stay inside. The Casselton Fire Department says there is some concern that the derailment is near an ethanol plant. [Emphasis added]
Oil rail cars ablaze after North Dakota train collision by Alicia Underlee Nelson, December 30, 2013, Reuters in The Globe and Mail
A BNSF train carrying crude oil in North Dakota collided with another train on Monday, setting off a series of explosions that left at least 10 cars ablaze, the latest in a string of incidents that have raised alarms over growing oil-by-rail traffic. City officials said they heard a series of blasts following the collision, including one at 3:40 p.m. Windows shook at the city auditor's office. "Approximately 10 cars are fully engulfed resulting in heavy smoke in the area," the Cass County sheriff said in a statement at 4:36 p.m., adding that local fire and hazardous material teams were battling the blaze. The sheriff said it was not yet clear how the collision had occurred. Residents within 10 miles (16 km) were asked to remain indoors to avoid contact with the smoke.
Casselton City Auditor Sheila Klevgard said crews are pushing snow to contain the oil before it reaches a nearby creek. Half of the oil cars have been separated from the train, but another 56 cars remain in danger, said Cecily Fong, the public information officer with the North Dakota Department of Emergency Services. The collision destroyed both engines on the oil train. Both trains were operated by BNSF Railway Co, which is owned by Warren Buffett's Berkshire Hathaway Inc. The incident will likely stoke concerns about the safety of shipping increasing volumes of crude oil by rail, a trend that emerged from the unexpected burst of shale oil production out of North Dakota's Bakken fields. Over two-thirds of the state's oil production is currently shipped by rail. Initial reports from the scene of the accident did not point to a malfunction on the oil-carrying train. Still, videos of the exploding railcars are likely to add to the ongoing debate on what fixes are needed as older train cars carry flammable fuels like oil.
…
North Dakota is home to a raging shale oil boom that produced nearly 950,000 barrels of oil a day in October. It is also a major grain producer and long accustomed to a high volume of rail traffic. But shipments of oil have surged lately, most of it the light, sweet Bakken variety that experts say is particularly flammable. Trains carried nearly 700,000 barrels a day of North Dakota oil to market in October, a 67 percent jump from a year earlier, according to the state Pipeline Authority.
This summer, a runaway oil train carrying Bakken crude derailed and exploded in the center of the Quebec town of Lac-Megantic, killing 47 people. The incident fueled a drive for tougher standards for such shipments, including potentially costly retrofits to improve the safety of tank cars that regulators have cited as prone to puncture.
In early November, two dozen cars on another 90-car oil train derailed in rural Alabama, erupting into flames that took several days to fully extinguish.
The Association of American Railroads recently proposed costly fixes to older tank cars that do not meet its latest standards but continue to carry hazardous fuels such as oil. The fixes include protective steel jackets, thermal protection and pressure relief valves, which could cost billions of dollars. Oil shippers, likely to be saddled with the costs of retrofits, oppose some of the changes proposed by the association. Following the Canadian rail disaster, the U.S. Department of Transportation began an operation it dubbed "Bakken Blitz," which includes spot inspection of oil shipments aboard trains in North Dakota. [Emphasis added]
[Refer also to:
Study shows high pollution at Lac-Mégantic: one carcinogen 394,444 times above limit; Fracking chemicals in spotlight regulators investigate rail car corrosion & flammability North Dakota crude
SHALE OIL WIPES OUT CANADIAN TOWN !
Frac'd Bakken Oil: Abnormal 'strength of the fire' puzzles investigators, Lac Megantic oil spill size remains company secret, confidentiality agreement with Montreal, Maine & Atlantic Railway keeps spill size covered up ]