Whistleblower refers email to watchdog, alleging unlawful approval of gas plants, Crime and Corruption Commission should look at a government email about the approval of the liquefied natural gas process, says Simone Marsh by Joshua Robertson, 6 October 2016, The Guardian
A former Queensland government whistleblower has renewed her complaint to the state corruption watchdog about the approval of two gas plants worth $50bn.
Simone Marsh wrote to the Crime and Corruption Commission on 18 September asking it to re-examine her claims that government assessment of Queensland Gas Company and Santos projects was unlawful.
Marsh, who worked as an analyst in the coordinator general's office, claimed environmental protection laws were breached when the companies were not required to provide information such as the locations of wells or baseline environmental studies of affected sites.
Her original complaint was examined in 2013 for the CCC by former judge Stanley Jones, who found no evidence of legal breaches, official misconduct or undue influence.
However,
Marsh has provided the CCC with the full version of an internal government email – unavailable to her in 2013 – which she said "appears to contradict" those findings.
The email, obtained under freedom of information, shows Ian Fletcher, the director-general of the department of employment, economic development and innovation in 2010, discussing talks with representatives from QGC owner British Gas about the "state of play for QGC's investment decision".
Sent to the then treasurer, Andrew Fraser, and other departmental bosses, it refers to
"significant problems" cited by QGC in meeting EIS requirements by detailing engineering data – which would reveal gas well locations – and cumulative impacts of LNG investments in the area.
The email mentions the "interesting development" that QGC wished to appear before an LNG committee of cabinet ministers to "explain its position in respect of the EIS".
"This suggests a healthy degree of respect for the committee (to be commended) but also a degree of constitutional innovation in terms of the relationship between the committee and the coordinator general, which we would wish to approach with some caution. The LNG committee as a court of star chamber?" Fletcher says.
The email also says a board meeting the following month is the "drop-dead date" for QGC's investment decision, after which "customers will begin to go away and the company will not continue with its investment".
"One or two weeks' tidying-up delay is possible but six months (or anything like it) is not,"

Fletcher says.
Marsh said the email "basically confirmed QGC was unable to meet its EIS requirements" and pointed to the committee being the mechanism for how these were waived for both QGC and Santos.
She said this was done
despite lawyers in the Department of Planning and Infrastructure advising that the information was required

, a stipulation that was relayed by the coordinator general in one letter to Santos.

The email was also forwarded by the then assistant coordinator general to Marsh's supervisors with the warning "under pressure!", she said.

"They shouldn't have been allowed to put the EIS out to the public until it met the terms of reference for the EIS, which required that information, and obviously under law they needed to provide that to the environment department before any of the environmental authorities could've been signed off," Marsh told Guardian Australia.
"The Environmental Protection Act was really specific. Under section 310D, they needed to provide location information for the disturbances and environmental values information, which is what you get from the baseline studies,
which they still haven't done.
"They still don't have baseline studies for greenhouse gases for example, the methane, the seeping from that.
"They didn't do any groundwork. They were just going to approve it all without any of that."
It is understood the CCC will examine the complaint before deciding whether to launch a formal probe.
Marsh, formerly a principal environmental officer for the state government, was headhunted from a private engineering firm to work in the coordinator general's office.
She had been drafting sections of the coordinator general's reports on the EIS for both Santos and QGC projects when
she became concerned that these were being "altered or deleted from the final versions".
"Things like just crossing out cumulative impacts I had to actually calculate myself with the assistance of environment department staff because the proponents hadn't done the work properly under the terms of reference,"

she said.
"I was pretty shocked they were not putting up the figures and there was no discussion with me about why they were leaving out chunks of information that should have gone into the final report.
"I knew they had not followed the law and I was really concerned about all the impacts. It had not been explained to me why they suddenly didn't follow their own legal advice."
In his review of Marsh's complaint Jones found that "while there was considerable time pressure placed on departmental officers to meet imposed timelines, there was no evidence that this was imposed by external agencies or unfairly by senior officers", a letter from the CCC said.
"Rather, Mr Jones found that the pressure came from trying to meet deadlines in a department that had to consider a large number of significant projects."
Jones also found "no evidence that any officer either breached statutory provisions or knowingly facilitated such a breach".
There was likewise "no evidence that raised a suspicion of official misconduct and no grounds to warrant further investigation" or to "support allegations of undue influence on decision makers, including an allegation that one of the assessment processes was corrupted". [Emphasis added]
[Refer also to:
2016 03 13: Australian Book Review: Monash University Lecturer Ruth A. Morgan reviews 'Slick Water' by Andrew Nikiforuk
… Her story echoes that of American marine biologist Rachel Carson, who withstood the ridicule of the chemical industry in the 1960s after the publication of Silent Spring (1962). Like Carson, Ernst is attuned to the widespread ecological and intergenerational impacts of fracking. Literary scholar Rob Nixon describes such forms of environmental degradation as 'slow violence'. For Nikiforuk and Ernst, violence is at the heart of fracking: a process of exploding the Earth's crust, supported by a vanguard of vested interests, to produce combustible fossil fuels.
In 2013, Ernst learnt she had an ally in Australia. Three years earlier, environmental specialist Simone Marsh had blown the whistle on the failure of the Queensland government to properly assess the impact of fracking projects on groundwater. Watching the ABC Four Corners report, 'Gas Leak!', Ernst watched the Condamine River in southern Queensland bubble with methane gas as a consequence of fracking. …
For Nikiforuk and Ernst, fracking is not simply an issue for Alberta, Canada, or even North America, but is an issue of planetary proportions. … But perseverance is vital. As Ernst reminds us, 'Many fleas make big dog move.' [Emphasis added]
2016 01 07: Whistle-blower Simone Marsh's new exposé: the corrupt birth of the Queensland gas industry
Simone Marsh (Image via ABC 'Inside Business')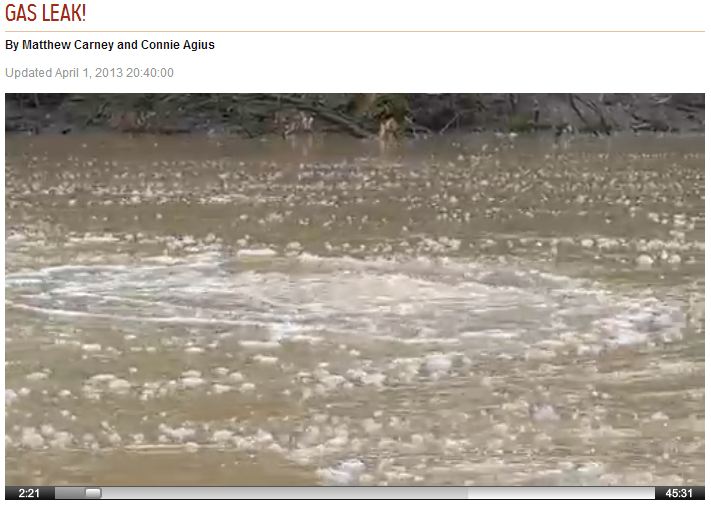 VIDEO: Interview with Simone Marsh, Senior environmental specialist (Four Corners)
But why weren't these problems picked up in the development approval process? The answer is simple: according to one insider, the approval process is significantly flawed. Four Corners reveals what really happened when two major companies applied to develop thousands of square kilometres of southern Queensland for coal seam gas. Using hundreds of pages of confidential documents, the program reveals that the companies didn't supply enough basic information for an informed decision to be made about environmental impacts. Despite this, various government agencies permitted the developments to go ahead, allowing the companies to submit key information at a later date. A decision which shocked some who were involved:
"It was quite frightening that they would consider approving such a project without the basic information that a normal mining project would have been asked to submit, given that this was like six hundred times the size of your standard, large mine."
This same insider claims pressure was applied to the bureaucracy to fast track approval for coal seam gas development. This allegation would deeply concern many farmers who have seen their land used for coal seam gas sites and raises significant concerns about the future expansion of the industry across Australia. [Emphasis added]