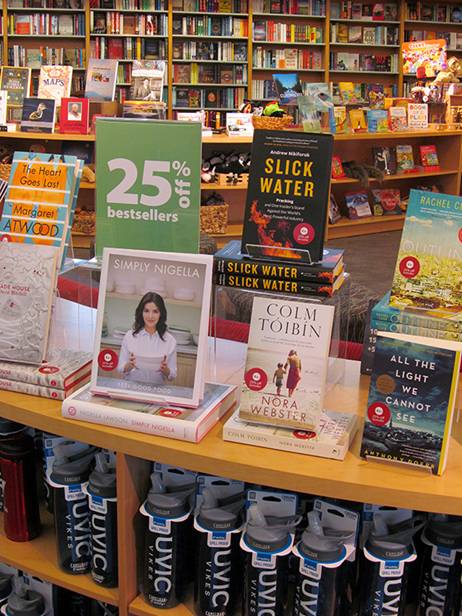 Slick Water in general books (non-textbooks) with a few other bestsellers at University of Victoria Bookstore in December 2015
Best of BC by Vancouver Sun, December 7, 2015
1. Vancouver Vanishes: Narratives of Demolition and Revival – Caroline Adderson (Anvil Press)
2. The Wild in You: Voices from the Forest and the Sea – Lorna Crozier (Greystone Books)
3. Gut: The Inside Story of Our Body's Most Underrated Organ – Giulia Enders, Jill Enders (Greystone Books)
4. Slick Water: Fracking and One Insider's Stand Against the World's Most Powerful Industry – Andrew Nikiforuk (Greystone Books)
5. British Columbia and Yukon Gold Hunters – Donald E. Waite (Heritage House Publishing) 6. Light Years: Memoir of a Modern Lighthouse Keeper – Caroline Woodward (Harbour Publishing)
7. Soul of Wilderness: Mountain Journeys in Western BC and Alaska – John Baldwin Linda Bily (Harbour Publishing)
8. Tide Rips and Back Eddies: Bill Proctor's Tales of Blackfish Sound – Bill Proctor Yvonne Maximchuk (Harbour Publishing)
9. Whistle Posts West: Railway Tales from British Columbia, Alberta, and Yukon – Mary Trainer, Brian Antonson Rick Antonson (Heritage House Publishing)
10. Orca Chief – Robert Budd and Roy Henry Vickers (Harbour Publishing)
Shining the light on the levers of power by Mike Davies, November 17, 2015, Campbell River Mirror
Award-winning journalist and new Campbell River resident Andrew Nikiforuk has another book out, and he'll be talking about it tomorrow (Thursday, Nov. 19) at the Campbell River public library.
Nikiforuk's previous books, such as School's Out: The Catastrophe in Public Education and What We Can Do About It and Saboteurs: Wiebo Ludwig's War Against Big Oil – which won the Governor General's Literary Award for Non-Fiction in 2002 – take on heavy, politically-charged topics, and his newest effort, Slick Water: Fracking and One Insider's Stand Against the World's Most Powerful Industry is certainly no exception.
Nikiforuk believes journalists shine a light on the levers of power, because, "when that light isn't there, the system is abused," and at his core, that's what he is. He's a journalist, and his books are extensive pieces of long-form investigative journalism.
"If some of (my books) are dark, it's because the subject matter is dark. Ultimately, you're really, at the end of the day, trying to tell a rip-roaring yarn of one kind or another," he says. "And true ones are often dark ones."
Nikiforuk – strangely enough, considering he's got six of them under his belt – doesn't actually like writing books.
"I find writing a book an extremely difficult process," he says. "People have these romantic notions of some happy little fellow in the corner of his room, typing away, whistling songs with a proverbial glass of scotch or wine beside him, and that's not the case at all. It's painstaking. Writing a book is a huge sacrifice. It's an all-consuming type of venture."
So why would someone put in all that time and effort into something they don't even like doing?
"Part of it is that, as a journalist, I'm covering all of these stories, so a book is an opportunity to put a lot of what you've learned together in one place," he says. "Part of it you're doing to help pay the mortgage, and part of it is that something has made you really angry and you want to address that issue and see some justice brought to it."
He does, however, enjoy doing the research for a book, which he says usually take two or three years.
"The hard part is actually putting it together and crafting it into a narrative that makes sense to people."
And sometimes, as was the case with Slick Water, the story just needs to be told.
"This particular book is really a portrait of courage," Nikiforuk says. "I originally thought the book was going to be about groundwater contamination and regulatory fraud," but it became more about the woman fighting those wrongs than the wrongs themselves.
"It's the story of Jessica Ernst coming to understand why both the industry and the regulators wanted to shut her up, and why they tried so hard to intimidate her," he says. "What they didn't understand is that Jessica Ernst is not somebody you're going to intimidate."
"Here's somebody who has worked in the oil and gas industry for 25 years," Nikiforuk says. "She's a well-known environmental consultant, did wildlife impact assessments in northern Alberta and B.C., did pipeline easement work, was before the National Energy Board on a regular basis – somebody who really knows her stuff, and whom the industry greatly respected. I mean, her business was really soaring. And she finds herself in a fight with her own industry."
It's a fight she's been battling for more than a decade now. And fighting the oil industry in court for more than a decade has gotten expensive for Ernst, who has spent over $[3]00,000 of her own money in her defence, so Nikiforuk has also committed to donating 15 per cent of the proceeds from the sale of Slick Water toward her ever-mounting legal fees.
"I've been lucky in that I've been well-recognized in the trade," he says, humbly, "and it's gratifying. But it's far more gratifying to be read than it is to be awarded. I've had an enormous number of emails from readers about this book saying how much they enjoyed it, and that's the ultimate reward."
Thursday's event at the Campbell River library begins at 6:30. Nikiforuk then takes his book on the road for a series of talks in Courtenay, Duncan, Victoria and Saltspring Island before returning to his new home in Campbell River – a town he's happy to now call home.
"Campbell River is a great example of a small community that works, and it works because people care about where they live. How can you not care about a place like this?" [Emphasis added]
Coho Books Best Sellers List What is Campbell River Reading?
Take Me To The Sea by Shari Green
Slick Water by Andrew Nikiforuk
Wonder by R J Palacio
All the Light We Cannot See by Anthony Doerr
The Life-Changing Magic of Tidying Up by Marie Kondo
Tids Rips and Back Eddies by Bill Proctor and Yvonne Maximchuk
The Strange Case of the Origami Yoda by Tom Angleberger
Common Mushrooms of the Northwest by J Duane Sept
Enchanted Forest by Johanna Basford
'Slick Water' is a page turner by grant AKA gragor, December 1, 2015, Tide Change Comox Valley
As one of the people who started reading about the properties of the Coal Bed Methane gas situation when the CBM mining 'industrialists' first showed their faces in the Comox Valley, I find Andrew Nikiforuk's latest book "Slick Water – Fracking" to be an excellent recap and summary of the many problems that occurred during and after the CBM mining rush occurred in the Black Warrior, Pine River and Powder River Basins. Many of the concerns that we discussed In Campbell River at those original meetings. that were known unknowns. have now had the passage of time to confirm our worst fears.
Among all the other information in this book, the chapter called 'Before Shale – Coal' is quite a relevant read for anyone living in an area underlain with known gassy coal seams.
One chapter deals with Jessica Ernst's particular Alberta coal seam and her fight with the 'regulators' and Big Oil, but her problems (which could be 'our' problems) are woven throughout the book.
I guess this is my long way of saying this book is a good read and would make a fine addition to any coal mining or water watching warrior's library.
grant AKA
gragor
-30-