Porter Ranch: Barium and other metals may be the culprit behind gas leak symptoms by Sharon McNary, May 12, 2016, 89.3 KPCC
Los Angeles County Public Health Department officials say its test of dust in Porter Ranch homes turned up the presence of metals, including barium, that could have caused the kinds of health symptoms some residents have reported experiencing even after the big gas leak was plugged.
The county tested dust in 100 Porter Ranch homes and 11 homes outside the area, finding a pattern of several metals in the Porter Ranch homes. Further testing of mud near the well that ruptured last year also turned up the barium.
The level of barium in the homes was not high enough to cause long-term health problems, [Only time will tell that] said Jeffrey Gunzenhauser, interim health officer for the county public health department. Testing of air samples did not turn up any chemicals or pollutants of concern, he said.
"There are metals there that shouldn't be there. They can cause symptoms of the sort we've seen.[The homes] should be cleaned up," Gunzenhauser said.
County officials said there appeared to be a pattern — or fingerprint — of metals to which all of the homes were exposed.

Those metals were barium, vanadium, manganese, lead, strontium and aluminum.
The county health official said the barium was in the form of a salt known as barium sulfate, which is not radioactive. It was found at the Aliso Canyon Natural Gas Storage Facility, which is in the Santa Susana Mountains directly north of Porter Ranch homes. Barium sulfate is added to the fluids that are used in the course of oil well drilling.
The blown-out well, known as SS-25 was an oil well drilled in 1953. When the oil field was depleted, that well and others were converted in the 1970s for use to inject and withdraw natural gas from an underground reservoir about 9,000 feet deep. The well blasted methane, smelly chemicals called mercapatans and other materials from deep under the earth into the atmosphere uncontrolled for about four months. Homes in the area were spotted with an oily residue, an indication of how far material from the well could have traveled after being expelled from the well hole.
The summary of the results were announced at a meeting of the Porter Ranch Community Advisory Committee, a group that acts as an information clearinghouse for Porter Ranch residents. It's the most extensive indoor air quality testing yet done since a massive natural gas leak was plugged in mid-February.
Some were looking for a clean bill of health that might reassure families that have avoided the area that it was safe to return home after months of living in short-term rentals. Others hoped the test results would provide evidence that would vindicate that the nausea, nosebleeds, rashes and other symptoms some have continued to experience when returning to the area are caused by detectable substances.
The tests were designed by the county with assistance from the U.S. Environmental Protection Agency. The county tested about 100 homes for the presence of more than 250 particulate and chemical contaminants. Indoor surfaces were tested for dust and particles, and air samples were also taken.
A full report of the county's findings was to be released Friday that would also include recommendations for home cleaning. The county officials said to clean homes thoroughly with soap and water. [Are Governor Brown, his sister (who is on the Board of SoCalGas) and SolCalGas Executives going to do the cleaning?]
Southern California Gas Company has been under a Los Angeles County Health Department order since mid-November to pay to relocate residents concerned with the health effects of the gas leak. Much of the $665 million the company has spent on the well blowout and aftermath has been on the relocation program.
At the urging of Supervisor Mike Antonovich, who represents the area, the county has repeatedly gone to court to extend the amount of time that SoCal Gas is paying for families to remain out of the area. [Is SoCalGas paying for the county's legal fees, likely in the tune of millions by now?]
As of May 9, about 2,800 households were still living outside the area in hotels, corporate apartments, short-term rentals or with friends or family at SoCal Gas's expense, said SoCal Gas spokeswoman Tammy Taylor. The company was uncertain of the status of another 900 households, she said.
At the height of the four-month leak, when waves of the stinky chemicals added to odorless natural gas inundated the area, more than 8,000 households relocated away from the area.
Efforts by SoCal Gas to persuade residents to move back home have been rejected by families whose members continue to have nosebleeds and headaches.
SoCal Gas executives have told shareholders that they were working to make the relocation program less costly by transferring residents from hotels — where the company was paying up to $45 per person each day for meal expenses — to corporate apartments with kitchens, allowing them to end the meal reimbursements.
The dust and air testing follows an earlier three-day door-to-door survey of Porter Ranch residents who live close to the gas storage field that leaked, about two to three miles away. That survey, in early March, found 62 percent of respondents reported continuing symptoms.
The purpose of that was to gather information on the health symptoms people were experiencing weeks after the ruptured well was permanently sealed. The most common were nausea, stomachache, headache, dizziness and breathing problems.
The gas company has paid to install thousands of air purifiers in homes, as well as paying to clean outdoor surfaces at homes and public parks. Two school campuses were also relocated away from Porter Ranch.
Correction: An earlier version of this story misstated the number of residents still living outside the area in hotels. KPCC regrets the error. [Emphasis added]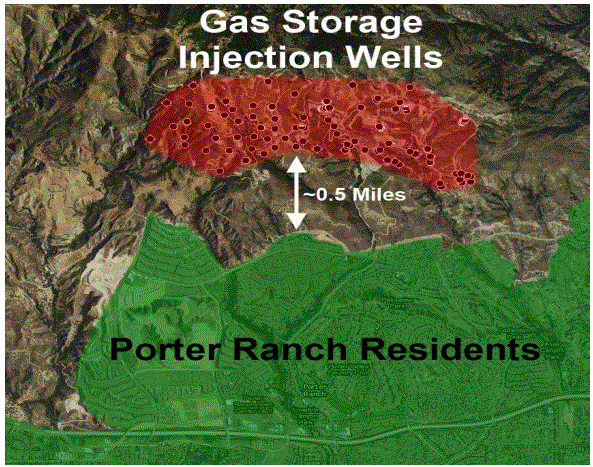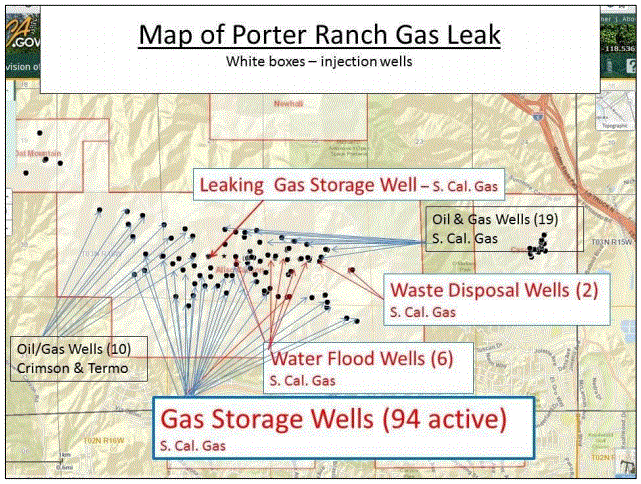 [Refer also to:
After Massive Environmental Debacle, SoCalGas Tries to Dictate Terms for Cleanup, Also questioning whether California has legal authority to force it to do any specific mitigation
SoCalGas Co spewing oily gas (and mystery frac chemicals?) poisoning 1.8 Million people across LA's San Fernando's valley. Is frac'ing or fluid injection to enhance oil recovery partially to blame for Porter Ranch disaster?
What took Governor Brown so long? California governor declares state of emergency over huge gas leak suffocating community of Porter Ranch, Los Angeles neighbourhood
"My Kids Aren't Guinea Pigs," Says Parent Affected by Massive Porter Ranch Gas Leak. German firm sues Baker Hughes over defective safety valves, steel in massive underground gas storage field under Etzel, Germany. Is Canada next, or already there?
Regulatory Failure, Corporate Failure, Inspection Failure, Integrity Failure, Casing Failure, Safety Failure, Greed Trumps All: Regulator & SoCalGas Co. knew casing was corroding, failing with major leakage problems at Porter Ranch gas storage facility more than a year before catastrophic leak
2,258 families in temporary housing, 111 staying with family or friends, 3,162 in placement process. Growing environmental disaster in LA: Monster industry-created methane leak revealed in new aerial infrared video. What happens if SoCalGas can't fix their leak? Was the leaking gas frac'd? Is it radioactive?
Industry's Massive Natural Gas Leak Into Porter Ranch Community to Be Declared Local State of Emergency, More than 1,000 households moved out, another 1,379 leaving
Public and Corporate Health Fraud? Where's the regulator? Huge natural gas leak in California has impact of burning 300 million gallons of gasoline, is sickening residents, could take months to fix, class action lawsuit filed
L.A. city attorney sues SoCal Gas over gas leak making Porter Ranch homes "unlivable." Why isn't Alberta's Attorney General suing Encana & AER for illegally frac'ing a community's drinking water supply, then engaging in Charter violations, fraud to cover it up?
First 30 families relocated out of California Gas Co's catastrophic gas storage leak in community of Porter Ranch, then 170, then 300, then 800, now 600 more asking to leave ]