Alberta upholding ban of aboriginal groups at oilsands hearing, Decision comes depite urging of Appeal Court judge to loosen restrictions on who can attend by The Canadian Press, October 20, 2013, CBC News
N.B. Premier firm on shale-gas pledge as anti-fracking protesters cheer injunction's end by Jane Taber, October 21, 2013, The Globe and Mail
Just days after a violent anti-fracking protest, New Brunswick Premier David Alward is pressing ahead with his vow to develop a shale gas industry, suggesting First Nations people will share the economic benefits. But natives are not budging, arguing that their drinking water, which they fear the fracking process could contaminate, is not for sale. In an interview on Monday, Mr. Alward said he is hoping SWN Resources, the Texas energy company exploring for shale gas near Rexton, N.B., will resume its operations. He made his comments as native protesters and Elsipogtog First Nation people cheered a New Brunswick judge's decision on Monday to lift an injunction that had ordered them to stop blocking trucks from leaving the SWN Resources compound to do seismic testing in the area.
…
Some First Nations people interpreted the judge's decision as a message to SWN to leave the province. The Premier sees no correlation.
…
SWN has not replied to requests to comment on when or if it will restart exploration. "Certainly, my hope and my confidence is that we will see a shale gas industry develop in New Brunswick," Mr. Alward said. … The Premier repeated, too, that the industry would be developed safely and securely with environmental studies and consultations with First Nations. "In the end, we are all collectively going to benefit as New Brunswickers, including First Nations, both as individuals but as communities as well," he said.
…
Over the weekend, the native leadership there called for calm – and uneasy quiet has fallen, although protesters remain at the encampment. … "There is absolutely no way, absolutely no way [we] are going to agree to any form of fracking on or near our community," said Robert Levy, a band councillor and a former Elsipogtog chief. "They can offer everything. They can offer all the monies they want. We just can't take that chance of our water for our kids and our kids yet to be born."
Native groups are not the only ones concerned about fracking. Liberal opposition leader Brian Gallant is calling for a moratorium. "I believe we need to press pause," Mr. Gallant said, noting that two studies of the industry are to be released in the next year. "The environment and health risks concern me more than the potential economic benefits excite me." Mr. Gallant is meeting on Tuesday with native leaders. [Emphasis added]
Breaking: Judge lifts injunction against Elsipogtog fracking protest by Damien Gillis, October 21, 2013, Commonsensecanadian
A short-term injunction issued by the court on Oct. 3 to a subsidiary of Texas company SWN Resources resulted in last week's heavy-handed RCMP raid of a peaceful Elsipogtog protest camp – provoking outrage and supportive rallies across the country last week. … Justice Rideout declined to give a reason for today's decision but will be issuing a written statement.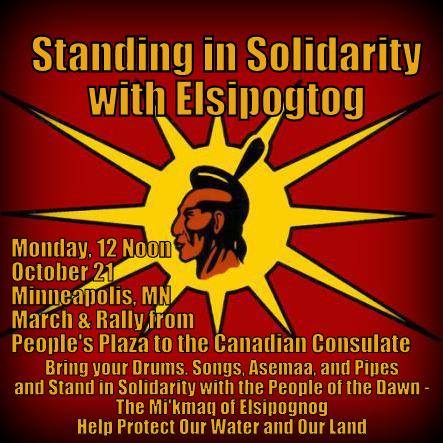 Corner Brook [west coast Newfoundland] residents march in solidarity with Elsipogtog, What the violence in Elsipogtog and the show of support from coast to coast means for our community by Stephan Walke, October 21, 2013, theindependent.ca
Nevertheless, much of the extraction is not only surpassing sustainable limits, but often comes at the expense of communities' well-being. These communities are our communities. Newfoundland's West Coast, like Elsipogtog, is endowed with the gift of natural gas and oil (among many other resources), and so we face the repercussions that are often associated with extraction. In the case of fracking, these repercussions appear to be plenty and frightening (just watch Jessica Ernst's recent presentation at the People's Forum on Fracking in Stephenville). In Elsipogtog, among so many other Aboriginal communities across the nation, the situation of resource extraction occurring at the cost of public health and well-being is compounded by unresolved issues and stigmas associated with Aboriginal land claims, a history of abuse and neglect, as well as an overall lack of public concern demonstrated by pro-industry governments.
How did it come to be that the national police force, the RCMP, was able to take physical action against citizens on a court injunction from a private, Texas-based company without consultation or notification to David Alward, the premier of New Brunswick? … In itself, this occurrence demonstrates the political priorities of government at this point, as well as a frightening exhibition of political and military force available for private interest. The reason the Elsipogtog community and non-Aboriginal citizens and sympathizers felt the need to directly blockade action of SWN Resources was not a desire to raise hell, it was simply the last ditch effort to make any headway with their dire concerns. Where else could people turn after government and industry acted without allowing proper consultation of the public involved? The lack of just discussions, consultations, and negotiations lie at the heart of the conflict.
…
When people came together to march down University Drive in Corner Brook, they were not only asking us to turn our sympathetic eyes to New Brunswick, they were asking us to find Elsipogtog within our back gardens and in the water we drink. Canada is a sparsely populated nation and its communities are scattered quietly amidst a vast and fruitful land. Solidarity for Elsipogtog means also recognition of the brotherhood and sisterhood we share within ourselves, our communities, and the land from which we live and drink. This is not an "Indian problem". This is not only a judicial issue of violence and offenses. This is the future we must consider in a holistic and realistic way. May we look past the violence. May we look to the water we drink, the air we breathe, the food we eat, and the goods we consume and burn. May we look to Elsipogtog with more hope than disdain and more unity than anger. May we idle no more. 
[Emphasis added]
Letter: Fracking protesters air legitimate concerns by Greg Lowan-Trudeau, October 21, 2013, Calgary Herald
Your depictions of clashes between RCMP and protesters in New Brunswick were deeply disturbing and regrettable. Media outlets have presented various viewpoints and suggestions of guilt; however, misunderstandings of indigenous rights at the root of this conflict have been consistently perpetuated. Most Canadians appear unaware of the legal duty, as affirmed in Section 35 of the Constitution Act and upheld consistently in court (e.g. Haida, Taku River, Mikisew Cree) of government and industry, by proxy, to adequately consult and accommodate aboriginal groups potentially affected by proposed resource development in their territories.
This includes not only present-day reserves, but also Crown land used in the past and present for hunting, fishing and other traditional activities. The duty to consult, when properly applied, has resulted in an increasing number of examples of mutually beneficial resource developments in indigenous territories across Canada. However, in this case, the Mi'kmaq of Elsipogtog, supported by Acadian and anglophone allies, have emphatically stated they are not satisfied with the consultation process related to proposed hydraulic fracturing in their territory. Fracking is a controversial practice banned in several countries, that raises legitimate health and ecological concerns which remain inadequately studied.
To those who remain dismissive of the protesters' concerns, labelling them hypocritical environmental extremists: Would you allow fracking in your backyard? Just because you are part of a system, doesn't mean you can't stand and speak out to change it for the better. [Emphasis added]
Halifax takes to the street in protest of RCMP actions in Elsipogtog
Hundreds march down Robie Street by Robert Devet, October 21, 2013, Halifax Media Coop
"We're talking about the land, we're talking about the water. The human species is on its way out if we don't take a stand." Sherry Pictou, former Chief of the Bear River First Nation
"Let's keep our focus on what matters, and that is those treaties, this land, this water." Elder Billy Lewis
K'JIPUKTUK (Halifax) – Close to three hundred people listened to speeches and marched down Robie Street on Friday in solidarity with the anti-shale gas protesters in Elsipogtog. … Many passing cars honked their horns in support.
"This is very important in the sense that we all witnessed what happened yesterday," said Sherry Pictou, former Band Council Chief of the Bear River First Nation, who spoke at the rally. "It should make us question our right in terms of indigenous peoples and human rights in Canada, because obviously foreign corporate interests are being put above human rights and indigenous rights," said Pictou. Poet Ardath Whynacht urged people of settler origin in the crowd to think deep and hard about these violations of human rights that occurred in Elsipogtog.
"If you are shocked, if you are surprised, identify and aknowledge that you have been granted the privilege of living in a place where you feel the state protects you," said Whynacht.
"Many people have been living a war between state forces and their own communities throughout Canadian history. So I urge everyone, as an ally in this struggle, if you are of settler origin, begin first with your own reaction, and take it to your family, take it to your friends, take it to your grandparents and your parents, and interrogate your own feelings of shock and disbelief."
Elder Billy Lewis told the demonstrators that the mainstream press will likely focus on the images of cars burning and miss the true story of what transpired. "I am concerned that the discussion will be not on water, not on land, not on the sacredness of those treaties, it will be about violence versus non-violence," said Lewis.
"Let's keep our focus on what matters, and that is those treaties, this land, this water. And the answer is resistance, but the best resistance is the one we got right here. The more people we have, the better our chances. We've got all the enemies we can use, we need all the friends we can get," Lewis said. …
"But the media have done a very poor job of covering the issue. It is really sad that it takes something as dramatic and outrageous as what happened yesterday for the media to start paying attention."
For Lewis there is little question what needs to be done. "So let's go out there and rally more and more people, because believe me, the answer is a hell of a lot of people, the more people we have the better off we will be." [Emphasis added]
Celebrities in Solidarity with Anti-Fracking Protesters in New Brunswick by Jane Mundy, October 20, 2013, lawyersandsettlements
Rexton, NB: The last week of anti-fracking protests in New Brunswick has garnered support, strength and solidarity not only throughout Canada and the US but also from celebrities such as Susan Sarandon and the Idle No More movement.They are supporting The Elsipogtog Mi'kmaq First Nation and local residents who claim a Texas oil and gas company plans on fracking their land. Since September 30, the Elsipogtog Mi'kmaq First Nation and local residents barricaded a road near the rural town of Rexton to block shale gas exploration by SWN Resources Canada, a subsidiary of the Houston-based Southwestern Energy Co, that does not have the community's consent or consultation to extract shale gas from the area using hydraulic fracturing, or fracking. Solidarity demonstrations took place in Washington, DC and New York in front of the Canadian consulates. The CBC News reported on Friday that members and sympathizers of the the Idle No More movement based in Washington, D.C., intended to gather in Columbus Circle to show their support for the Elsipogtog First Nation.

"I stand with the Elsipogtog First Nation as they defend their water and land from Fracking," said Sarandon on her Facebook page. Actor and activist Daryl Hannah tweeted "These are the brave women fighting #shalegas facing the RCMP – This is Canada."
The past week has seen the Royal Canadian Mounted Police face-off with First Nations protesters and they went so far as to "rough up" First Nations elders, including the chief of the Mi'kmaq tribe who was "manhandled", according to a Canada.com reporter. … Indigenous Human Rights Activist Ellen Gabriel speaks in this video about the situation facing the Mi'kmaq Nation in Elsipogtog, New Brunswick and overuse of force by the RCMP. Meanwhile the New Brunswick fracking protests have led to more than a dozen demonstrations across Canada. [Emphasis added]
WATCH: Frackdown Day: Worldwide protest to end shale gas extraction by RT News, October 19, 2013
"Fracking is unregulate-able."