Is Saskatchewan and North Dakota Bakken Oil safe enough for the Greater Toronto Area? Cenovus Bakken Oil's flammability is Level 4, highest level there is
"This product contains benzene a chemical known to the State of California to cause cancer and developmental harm."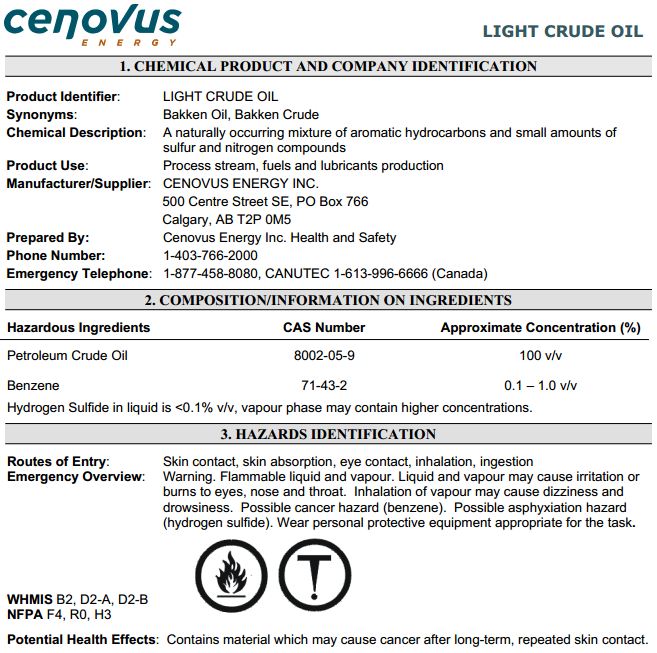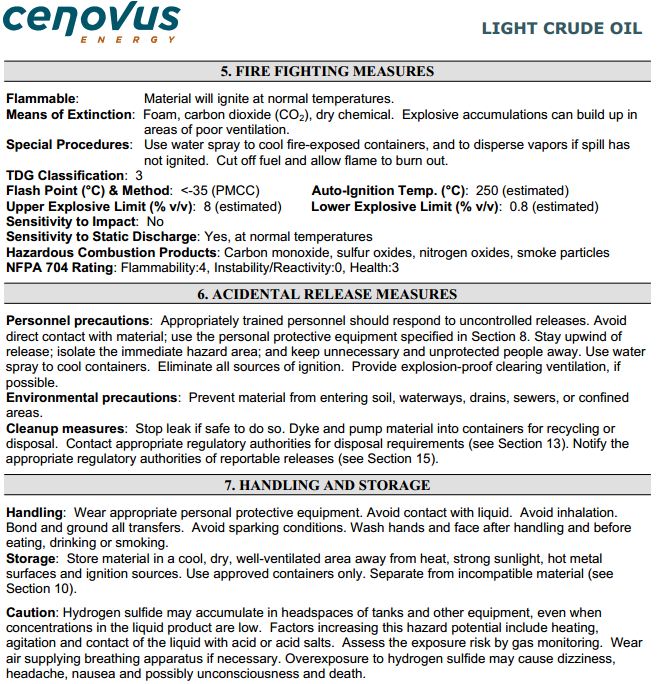 DA drops charges against Fairfield rail protesters by Matt Hongoltz-Hetling, August 15, 2013, Portland Press Herald
"After consultation with the Fairfield chief of police, the district attorney's office is not bringing charges at this time, but could do so in the future," said Somerset County District Attorney Maeghan Maloney. The six Maine residents were each arrested and charged with criminal trespass on the night of June 27, when they staged a protest that blocked a Pan Am Railways train line and local traffic routes for about two hours. The six are: Elizabeth Catherine Catlin, 23, of Brunswick; James Hall Freeman, 64, of Verona Island; Sarah Linneken, 35, of Brunswick; Read Debow Brugger, 63, of Freedom; Douglas M. Bowen, 67, of Porter; and Robert Edward Shaw, 66, of Belfast. Brugger said the protesters arrived at a scheduled arraignment in Skowhegan District Court Thursday morning, when they learned it had been canceled. Maloney said the office could decide to move forward with the criminal case at any time in the next three years, the statute of limitations. She said any future criminal actions by the protesters could be taken into consideration.
…
The protesters, part of an environmental group called 350 Maine, said they were trying to bring awareness about Maine railways transporting oil procured through fracking, or hydraulic fracturing. … Brugger said he would have rather gone to trial than have the charges set aside. In a trial, he said, the protesters had planned to subpoena information from Pan Am Railways that would have demonstrated that its tracks are unsafe. Brugger said that, in speaking to lawyers before the protest, he knew a criminal trespass charge was likely, but a wider range of more serious charges and penalties were possible. Criminal trespass is a class E crime, punishable by up to six months incarceration and a $1,000 fine. Brugger said the deadly train crash in Lac Megantic, which took the lives of 47 people ten days after the protest, gave an added weight to the issue. "This added a whole other dimension to it with loss of life," he said. "It hadn't been on my radar that this stuff was that explosive." [Emphasis added]
Exploding Oil Sparks Concerns from Railway and Pipeline Companies by Thomas Stackpole, August 14, 2013, Mother Jones
The cases bring together three major trends for the American energy industry: the rapid growth of the oil sands in Alberta and the oil fields of North Dakota, the dizzying increase in the amount of oil being shipped by rail (as pipeline capacities currently fall far short of being able to handle the volume of oil flowing through the states), and the introduction of unexpected variables as oil companies use new and intensive methods of extraction.
According to Bloomberg, Enbridge Inc., Tesoro Corp., and True companies all won the approval of the Federal Energy Regulatory Commission to refuse oil that had high levels of hydrogen sulfide, a highly flammable gas that can be a byproduct of oil production, after they started seeing oil with concentrations tens and even hundreds of times higher than what regulators have deemed safe for exposure. The danger of these elevated levels of gas in the oil was thrown into stark relief on July 6, when an unmanned, runaway train crashed carrying 72 cars of oil. Five of them exploded, killing 47. … But the preponderance of flammable gas is only part of the story. The companies also raised concerns, separately, that chemicals used in hydraulic fracturing, like hydrochloric acid, was also finding its way into the mix, corroding the insides of the rail cars and compromising their integrity.
Study shows high pollution at Lac-Mégantic: one carcinogen 394,444 times above limit by Melanie Marquis, August 13, 2013, The Globe and Mail
Tests conducted by an environmental group suggest last month's Lac-Mégantic, Que., train disaster had a devastating impact on water quality and soil in the affected area. Extremely high concentrations of carcinogenic polycyclic aromatic hydrocarbons and arsenic, detected in surface water, have "confirmed the fears" of the Société pour vaincre la pollution, the group said. The analysis, which was obtained by The Canadian Press, suggests the rate of carcinogenic polycyclic aromatic hydrocarbons is 394,444 times the standard acceptable for surface waters mandated by the provincial government. As well, the concentration of arsenic detected on the water's surface is said to exceed the government's acceptable standard by 28 times. There was also "an extremely high level of petroleum hydrocarbons following the explosive derailment and oil spill," the environmental group said. The Société worked in collaboration with Greenpeace on the study. The organization acknowledged that "because of its limited resources," it was unable to perform all chemical analysis required to identify all the toxins, but said it hoped to carry out a second round of tests. The environmental group has criticized the provincial government's attitude and accuses Environment Department officials of trying to create a "culture of secrecy."
Greenpeace accused the Environment Department of underestimating the consequences of the July 6 derailment, which levelled part of the town and left 47 people dead. "I was surprised to see them minimize the spill," said Keith Stewart, co-ordinator of Greenpeace's climate and energy campaign, in a telephone interview. "This is one of the largest spills in Canadian history. It will take considerable effort to clean up." The organization also accused the private company contracted to conduct the cleanup of blocking its access to the site – something the company, SIMEC, has denied. In an interview, SIMEC said it had not had dealings with groups like SVP and did not bar access. The office of Environment Minister Yves-François Blanchet declined multiple requests for an interview with The Canadian Press. … Faced with mounting cleanup costs, the railway at the heart of the disaster has filed for bankruptcy protection and appears in danger of folding. The Montreal, Maine & Atlantic Railway will also have its Canadian licence revoked next week, federal regulators announced Tuesday. Taxpayers have been forced to shell out millions for the environmental-cleanup bill after MMA failed to pay workers it had hired for the job. [Emphasis added]
Fracking chemicals in spotlight as regulators investigate rail car corrosion and flammability of North Dakota crude by Bloomberg News, August 13, 2013
The U.S. Federal Railroad Administration is investigating whether chemicals used in hydraulic fracturing are corroding rail tank cars and increasing risks. Separately, three pipeline companies including Enbridge Inc. warned regulators that North Dakota oil with too much hydrogen sulfide, which is toxic and flammable, was reaching terminals and putting workers at risk. Until last month, safety advocates' chief worry was spills in derailments. After tanker cars blew up July 6 on a train in Quebec, investigators in Canada are considering whether the composition of the crude, which normally doesn't explode, may have played a role in the accident that killed 47 people. The oil was from North Dakota's Bakken shale. "Crude historically has not been considered in the highest category of hazmat," said Anthony Hatch, an independent analyst in New York who has tracked railroad companies for almost three decades. "The risks have been considered to be environmental, not to humans. Perhaps Bakken crude should be considered in a higher category." …
North Dakota is the nation's second-biggest oil-producing state, with more than 790,000 barrels a day this year up from from about 150,000 barrels in 2008. Railroads move 75% of the state's crude, including the load of more than 70 cars that derailed and exploded last month in Lac-Megantic, Quebec. Canadian regulators are testing the composition of crude from the wrecked Montreal Maine & Atlantic Railway Ltd. freight train. A question they say they're asking is why the derailment led to such an intense inferno, which regulators have called "abnormal." They visited North Dakota as part of their review, said Chris Krepski, a spokesman for the Transportation Safety Board of Canada. "We did take samples from the tank cars to get a better understanding of what was actually carried in them and verifying that against the shipping documents," Krepski said. "It's safe to say we're looking at everything." Montreal, Maine & Atlantic said last week it was forced to file for bankruptcy because of potential liability in the crash.
Much of North Dakota's production relies on hydraulic fracturing or fracking, a technique in which millions of gallons of chemically treated water and sand are forced underground to shatter rock and free trapped oil. Highly corrosive hydrochloric acid is widely used to extract oil in the state, according to a 2011 report from the Society of Petroleum Engineers. In a July 29 letter to the American Petroleum Institute, a Washington-based lobbying and standards-setting group for the oil and gas industry, the railway administration said it found increasing cases of damage to tanker cars' interior surfaces. A possible cause is contamination of crude by materials used in fracking, according to the letter. "If the hydrochloric acid is carried with the oil into rail cars, corrosion can be an issue," Andy Lipow, president of Houston-based Lipow Oil Associates LLC, said in an e-mail.
Shippers need to know the properties of the oil to ensure that it's transported in tankers equipped to handle the cargo, according to the rail agency's letter. Because information provided to railroads on the properties of oil is not gathered from tests, the agency said it "can only speculate" as to the number of cars in violation of hazardous-materials regulations. The rail industry is fighting a proposal to retrofit existing cars, saying it could cost as much as US$1-billion. Investigating whether the chemical composition of Bakken oil makes it more likely to corrode tank cars is reasonable, said Peter Goelz, a former National Transportation Safety Board managing director who's now a senior vice president with O'Neill and Associates in Washington. … Shippers also must account for hydrogen sulfide, a highly flammable toxic gas that at some wells is a byproduct of oil, to properly classify oil for transport. The Bakken oil field generally produces lighter oil with little or no hydrogen sulfide, though at times, crudes with different grades are mixed for shipping, said John Harju, associate director for research at the University of North Dakota Energy and Environmental Research Center, and co-author of the Society of Petroleum Engineers report on the Bakken reservoir. …
In June, Enbridge won an emergency order to reject oil with high hydrogen-sulfide levels from its system after telling the Federal Energy Regulatory Commission that it found dangerous levels of the compound at a rail terminal in Berthold, North Dakota. In addition to being highly flammable, hydrogen sulfide in the air is an irritant and a chemical asphyxiant that can alter both oxygen utilization and the central nervous system, according to the U.S. Occupational Safety and Health Administration. "We did discover that some of the crude coming into the system had much higher levels of hydrogen sulfide than we felt was safe for our employees," Katie Haarsager, an Enbridge spokeswoman, said in an interview. … Enbridge won FERC's permission to refuse delivery of any oil with hydrogen sulfide that exceeded 5 parts per million, half the minimum exposure recommended by federal regulators. In a May 5 test, Calgary-based Enbridge, which owns and operates a 970-mile pipeline from Plentywood, Montana, to Clearbrook, Minnesota, found levels as high as 1,200 parts per million at its Berthold terminal "that could cause death, or serious injuries," according to the company's FERC filing. Two other pipeline operators, Tesoro Corp. and the closely held True companies, which operates the Belle Fourche and Bridger pipelines in North Dakota, also found high levels of hydrogen sulfide in crude shipments. The FERC approved Tesoro's request to reject oil with hydrogen sulfide at more than 5 parts per million effective Jan. 1. True companies was allowed to turn away crude with more than 10 parts per million of hydrogen sulfide effective April 1. … North Dakota regulators say hydrogen sulfide is prevalent in oil wells in some areas and field inspectors are required to carry hydrogen-sulfide monitors. … While derailments of trains hauling crude can create environmental messes, oil doesn't usually ignite unless exposed to extreme heat, said Lloyd Burton, professor of environmental policy at the University of Colorado in Denver. Gasoline, refined from crude oil, is more more volatile. "Crude oil doesn't usually explode and burn with the ferocity that this train did," Burton said. [Emphasis added]
[Refer also to:
Crossfield steer killed by Taqa North sour gas release
Frac'd Bakken Oil: Abnormal 'strength of the fire' puzzles investigators, Lac Megantic oil spill size remains company secret, confidentiality agreement with Montreal, Maine & Atlantic Railway keeps spill size covered up ]