Superior Court hears arguments on release of gas well chemicals by Emily Petsko, February 24, 2015, Observer-Reporter
A Range Resources attorney argued in Superior Court Tuesday the natural gas drilling company should not bear the burden of producing a full list of products and chemicals it used at a well site in Amwell Township. 
A three-judge panel heard arguments stemming from Range's appeal of a Washington County Court order from last June that held Range responsible for obtaining a list of all chemicals, including proprietary products, from its manufacturers.
Range requested that the issue be argued separately from the main case, in which three Amwell families alleged that Range's operations at the Yeager well site contaminated their water supplies and caused bodily harm. Kendra Smith, who along with her husband, John, is representing the three families, said their request for the products is "so intertwined with the heart of the case" that it would be impossible to separate the two – and thus the issue is not appealable. The Smiths represent Stacey Haney and her two children; Beth and John Voyles and their daughter; and Loren and Grace Kiskadden.
Smith said the information they requested as part of the pretrial discovery period is needed in order to pursue the families' claims that certain chemicals allegedly migrated from Range's well pad or impoundment into the families' drinking water.
Bruce Rende, attorney for Range, argued that the appellees do not have a "compelling need" for the product information. He said any hazardous or potentially carcinogenic substances were already released on a material safety data sheet. He said the products being requested are "industry secrets" that are protected unless a sufficient reason is given to release the information.
He called the Washington County Court order, which was signed by former Judge Debbie O'Dell Seneca, a "sweeping order" that requested information the company cannot access because many of the manufacturers are not parties in the case. 
Judge Anne Lazarus said Range previously argued that it had already released the information and asked, "Isn't this moot?"
Rende replied that Range had disclosed all products used in its fracking formula, but he said the court order requested additional information. In Range's court brief, the company argued that the list could include products used for well pad construction, natural gas well drilling, hydraulic fracturing and general maintenance activities, including a "number of harmless products typically found on a work site" such as duct tape and hand soap.
President Judge Emeritus John Bender said he assumes that the trial court will act reasonably in its consideration of relevant information. He called the issue a "discovery problem" and asked if it could be resolved by the trial court.
Smith argued that Range has "exclusive access" to information on all the products it uses. She said Range should already know the properties of its products because those stipulations are outlined in sections of Act 13, the Oil and Gas Act and the Energy Policy Act. [Emphasis added]
[Refer also to:
related to this case:
Judge denies Range Resources' testing request because company still hasn't complied with court order to disclose frac chemicals, including those proprietary
Recent court rulings: Range Resources responsible for disclosing chemicals; In best position to get chemical list, including trade secrets
Fracking Chemicals May Be Unknown, Even To Gas Drillers, Lawsuit against Range Resources Documents Suggest
Range denies intentionally providing inaccurate water testing results
other Range cases:
Texas Supreme Court to Hear Oral Arguments in Range Resources vs Lipskys and their Methane Contaminated Drinking Water: "That's exactly what the First Amendment is for — it's to allow people to express those ideas …This is probably the poster child for what Slapp is"
DEP Fines Range Resources $4.15 Million for Violating Environmental Regulations, Consent order and agreement will close five Washington County impoundments
Toxic Insanity: DEP issued permit to Range Resources for experimenting, adding radioactive waste to aggregate for paving well pads and access roads
Pennsylvania DEP: Range Resources Inc.'s fracking waste pits contaminated groundwater and soil at three Washington County sites
Pennsylvania: Cecil Township warns about 50 residents of potential water contamination near Range Resources Frac Pit after regulator refuses to
New testing finds methane contamination in North Texas drinking water is increasing and spreading; Scientists point to Range Resources, Range and the regulator say nature did it
Duke University tests of drinking water in Weatherford show significantly higher levels of methane than testing by Range Resources Ltd., EPA and the state relied on testing by Range
The Colbert Report on Fracking Flaming tap water and the Hallowich children Gag Gift by Range Resources; Fracking Gag Orders For Kids Go Too Far
Children given lifelong ban on talking about fracking,Two Pennsylvanian children will live their lives under a gag order imposed under a $750,000 settlement
Known mafia tactics used by drilling and fracking industry, Lifelong 'frack gag': Two Pennsylvania children banned from discussing fracking
Newly released transcript reveals details of lifetime gag order on Hallowich family, including their children
Hollowich family's lawsuit claims gas driller lied about property value
Range Resources sets aside $35 million for Oklahoma royalty lawsuit
Range Resources, Texas Fracker, Accused of Bully Tactics
Related in Canada:
2013: Hydraulic Fracturing in Canada, Federal Environment Commissioner Scott Vaughan Reports Concerns, List of Fracking Substances in Canada Still Secret
2013: Evidence Presented by Encana to 41st PARLIAMENT, 1st SESSION Standing Committee Natural Resources; Encana testifies the company taking step to stop frac'ing with benzene, diesel, chromium, arsenic, mercury; but Encana data on fracfocus proves otherwise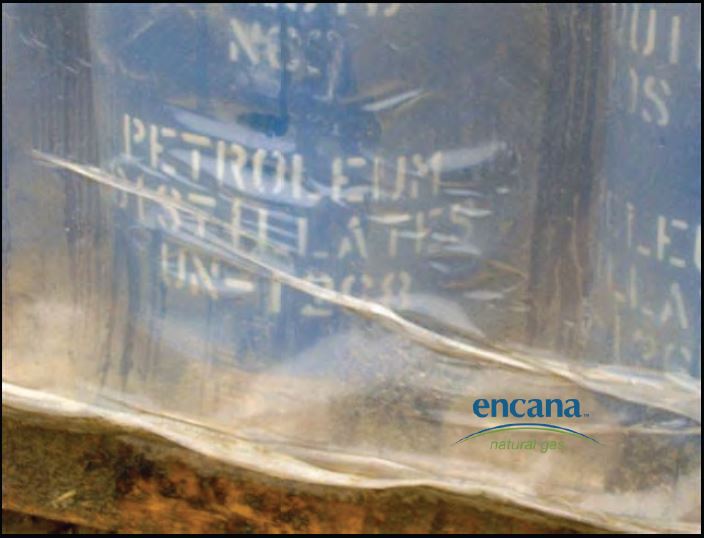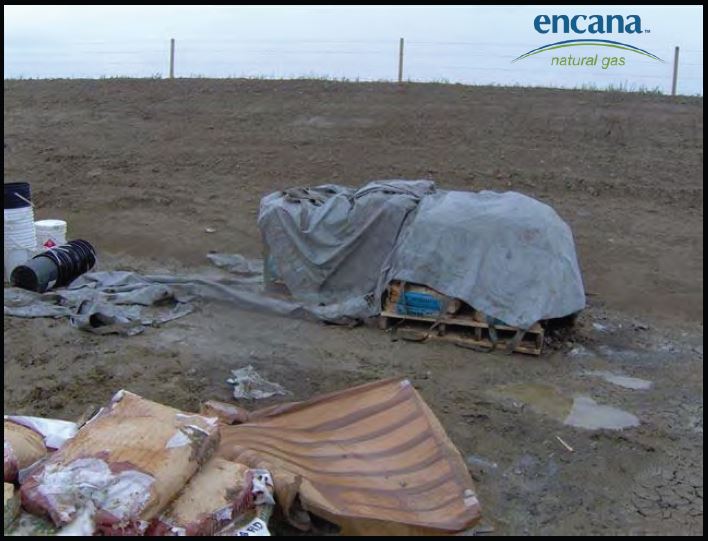 Encana chemicals at Rosebud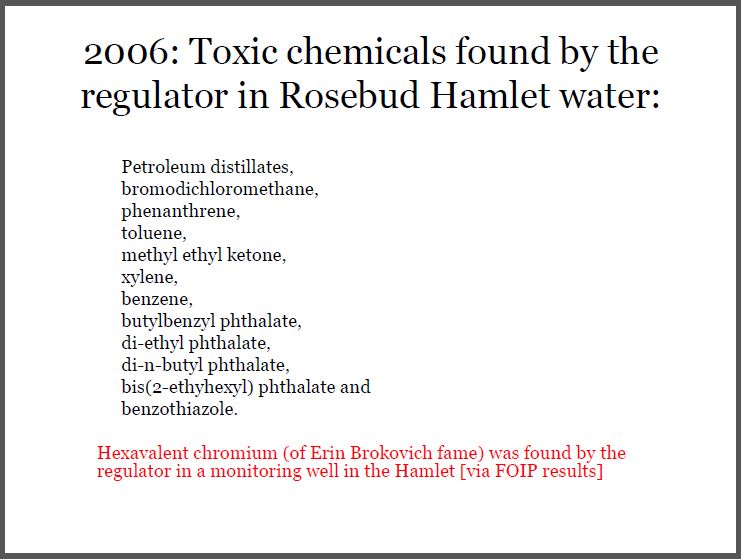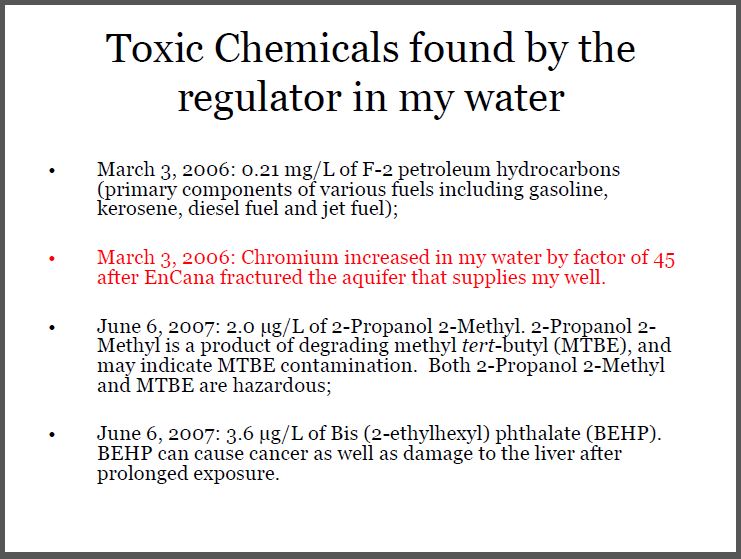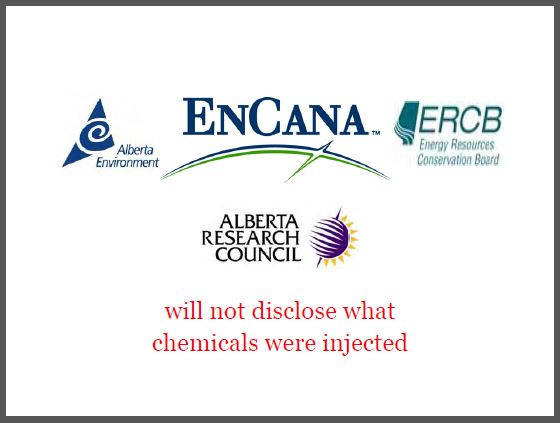 Slides from Ernst presentations.
2010: 'Yes, We're Doing It Now' – Encana's Testimony to a Parliamentary Committee Stating Their Cooperation in Publicly Disclosing All the Chemicals Used in Fracking
2010 – Canada
MP Nathan Cullen: Mr. Dunn, to bring you back to another conversation, we had one of your competitors up earlier committing publicly to disclose the chemicals used in the fracturing process. Is that something Encana is doing right now or is willing to do in the future?
Mr. Richard Dunn (Vice-President, Canadian Division, Regulatory and Government Relations, Encana Corporation): Yes, we're doing it now.
MP Nathan Cullen: You're doing it right now. Again, just to be clear, because this committee has to write a report and recommendations to government to change the regulations to require companies—all of your competitors and Encana—to release information on all of the chemicals used in the fracturing process, I assume you would have no problem with that because it encourages greater public confidence in your operations?
Mr. Richard Dunn: Yes, absolutely, I agree with your comments on increasing public confidence and full disclosure.
[Reality Check:
As of February 24, 2015, Encana still hasn't disclosed all chemicals injected at Rosebud, not even by last year's court ordered deadline]