Ernst's lawsuit was filed two years after McAllen's. Ten years later, Ernst's lawsuit is nowhere near discovery yet, never mind trial and appeals of a trial win.
Ernst's lawsuit rots in preliminaries, and will likely rot many more years in preliminaries as evidenced by the long times taken by the courts to release their rulings in applications by the defendants in Ernst's case.
And how many years delay and tens of thousands of dollars will it cost Ernst if the defendants use Supreme Court of Canada Justice Abella's fact-fabricating gift to them of naming Ernst a "vexatious litigant" without a trial or hearing, and without any evidence?
Texas Justices Say RRC Lacks Sole Claim To Sabine Fight by Kat Sieniuc with additional reporting by Michelle Casady, April 28, 2017, Law360
The Texas Supreme Court held Friday that the state's oil and gas regulator doesn't have exclusive jurisdiction over a landowner's radioactive contamination claims against Sabine Oil & Gas Corp., refusing to wipe out a $22.7 million arbitration award that was confirmed by a lower court.
In an opinion written by Chief Justice Nathan Hecht and joined by seven other justices, the court said that an administrative agency like the Texas Railroad Commission can only decide nonjudicial issues, and therefore the RRC doesn't have exclusive jurisdiction over the claims of landowner James McAllen such that the award and judgment should be vacated.
"Because McAllen's claims are inherently judicial, the doctrine of primary jurisdiction does not apply and vacatur is not warranted for failure to abate the arbitration hearing," the opinion said.
Those claims include trespassing, negligence, negligence per se, fraud, assault, intentional battery and breach of contract — "all inherently judicial in nature," the court said.
Sabine had argued that the lower courts ignored the plain text of the relevant statute and the intent of the state Legislature in determining that the Railroad Commission did not have exclusive jurisdiction over the dispute.
But the justices held that while trial courts should allow an administrative agency like the RRC to initially "determine some facts related to the controversy" as it did in this case — both because it has its own experts and for uniformity's sake — such primary jurisdiction is not "so broad-sweeping as to oust the courts of jurisdiction."
McAllen, who operates an exotic wildlife ranch, claimed Sabine, then named Forest Oil Corp., agreed in 1992 to donate a drilling pipe to the ranch for building animal enclosures. But the pipe turned out to be radioactive, he alleged, and it gave him cancer and sickened the animals. McAllen argued that Forest Oil knew the pipe was radioactive and used his ranch as a disposal site while also taking a tax write-off for the donation.
While involving an initial determination by the RRC, the dispute eventually went to arbitration and a panel awarded McAllen $16 million in actual and exemplary damages and around $6.7 million in attorneys' fees. He won confirmation of the award in September 2012, when Harris County District Judge Jeff Shadwick reluctantly signed off despite finding the award was based on "flimsy" evidence.
An appeals court upheld that judgment and the high court initially declined to review that ruling, but in December it changed course and took the case.
During oral arguments in February, attorneys for both sides spent considerable time debating the meaning of "exclusive jurisdiction" and "sole authority." Warren W. Harris, arguing on behalf of McAllen, told the court that the Railroad Commission doesn't have exclusive or primary jurisdiction over the claims here, based on the language in the statute.
Justice Eva Guzman asked if determining whether there is contamination and whether it had been remediated would be "within the sole authority" of the Railroad Commission. Harris answered by saying "sole authority" and "exclusive jurisdiction" are different terms, citing rulings from five different courts of appeal holding that "solely responsible" language does not provide "exclusive jurisdiction."
"What all of those courts have said is that solely responsible was aimed at resolving interagency disputes about water pollution. It's not about exclusive jurisdiction," he said.
During rebuttal, Roger D. Townsend, arguing for Sabine, took on Harris' semantics argument.
"He seems to be making an argument that sole and exclusive mean different things," he said, explaining he'd just looked up the words in Merriam-Webster's Dictionary. "Sole is a synonym of exclusive. And when you look at 'exclusive,' it says it means 'sole' and the example it gives is 'exclusive jurisdiction.'"
Counsel for Sabine could not be immediately reached for comment Friday.
Sabine Oil is represented by Johnny W. Carter, Geoffrey L. Harrison and Richard Wolf Hess of Susman Godfrey LLP, Roger D. Townsend and Jennifer Ruth Josephson of Alexander Dubose Jefferson Townsend LLP and Mitchell C. Chaney of Colvin Chaney Saenz & Rodriguez LLP.
McAllen is represented by Jeffrey L. Oldham and Warren W. Harris of Bracewell LLP, Jon Christian Amberson and Larissa Janee Hood of John Christian Amberson PC and William M. Parrish of DiNovo Price Ellwanger & Hardy LLP.
The case is Forest Oil Corp., now known as Sabine Oil & Gas Corp., v. El Rucio Land and Cattle Co. Inc. et al., case number 14-0979, in the Supreme Court of the State of Texas. [Emphasis added]
Radioactive ranch? by Cari Hammerstrom, Apr 19, 2007, The Monitor
When James McAllen speaks of his family's South Texas ranch, dating back to at least 1791, he invokes happy memories of his five children growing up. He talks of working alongside his longtime ranch hands, of bobcats and birds, huisache and acacia trees.
But, the 69-year-old McAllen — whose iconic ancestors made the city of the same name possible with a large land donation — also tells a story of environmental spoil and invasion.
Not only do the new natural gas wells popping up all over the ranch in Linn wipe away acres of trees and all the animals that lived in them, he sadly says, but parcels of his home may be contaminated with radioactive dust. And its groundwater could be tainted with mercury.
In 1992, McAllen requested a donation of used oil field pipe from Forest Oil Corp., which operates a 3,000-acre lease on his property.
The conservation-minded rancher had just become the proud adoptive parent of a pair of endangered black rhinoceroses from Zimbabwe, and he wanted the pipe to build an enclosed pasture so the rhinos could run and eventually procreate.
"The final goal is that someday they can be reintroduced to their native habitat and be secure," McAllen wrote to the company in his proposal.
Forest Oil made the donation in 1994, and McAllen built his pen.
But later, one rhino died while pregnant. McAllen reluctantly donated the male to the Fort Worth Zoo. He was never able to make sense of why his pet project failed.
Almost 10 years later, after McAllen's leg was amputated because of a rare bone cancer, a recently retired Forest Oil worker came with devastating news: The pipes were radioactive.
"He walks in with this file box full of papers," McAllen said. "It was tests of pipe joints. They had already removed my leg."
"I about fell over."
McAllen and others with a stake in the McAllen Ranch sued Forest Oil in 2005. After years of discovery and deposition-taking, and even an ongoing battle that is before the Texas Supreme Court, the case is slated to be heard before Judge Rose Reyna in Hidalgo County's 206th state District Court this fall. But, McAllen isn't claiming Forest Oil killed his rhinos or caused his cancer, said his lawyer and son-in-law, Chris Amberson.
"We're making the claim of assault, the touching of our bodies and our lungs,"

he said.
Is The Pipe Radioactive?
Forest Oil gave McAllen at least 700 pipe joints — thousands of feet of steel that had been used to pump natural gas from underground.
While some of it was used for the intended rhinoceros pen and stables, much of it was never touched until years later when Amberson, McAllen and ranch foreman Juan Luis Longoria Sr. said families and workers started using pieces to build car ports, trellises and fences around the ranch.
The pipe was heavy, McAllen said. They cut it into smaller pieces after hitting it with a hammer to knock loose what they thought was rust on the inside of the pipe.
But, that wasn't rust at all, Amberson said.
The powdery substance was NORM, or naturally occurring radioactive material.
NORM is a natural by-product of oil and gas production, and health risks from external exposure to it are low.
However, ingest or inhale NORM, and it's a different story.
"When you breathe this material, it stays in your body," said Bob Free, manager of the Texas Department of State Health Services' Radiation Control Program, which investigates reports of incidents involving radioactive substances.
One type of NORM is formed when uranium decays into radium isotopes. Radium-226 is a "bone seeker," meaning that when it gets into the body, it deposits itself on bones, Free said.
"When that happens, radium has such a long half-life, it's pretty much there for the rest of the person's life," he said. Cancer is a concern.
Hidalgo County has high concentrations of radioactive metals in the land, according to the Railroad Commission of Texas, the agency that regulates the oil and gas industry.
Amberson believes the smoking gun in the case is a NORM survey report from Oilfield Testers Inc. Bobby Pearson, the retired Forest Oil worker, had held onto it over the years.
It shows that of 368 pipe joints inspected from the well where some of the pipe given to McAllen originated, 204 pieces were found to have NORM radiation readings above the state limit for release into unrestricted use. The highest reading measured at three times the state limit, according to the report.
"It was supposed to have been marked (radioactive), but it never was," said Pearson in a taped interview with Amberson.
Forest Oil denies ever giving "dirty" pipe to McAllen, though.
"Forest Oil did the cleaning and the testing before donating the pipe and fully believed the pipe donated was within state limits," said lawyer Geoffrey Harrison, whose Houston-based firm Susman Godfrey LLP represents Forest Oil. Only one pipe missed the cleaning process, and it's still on the pipe rack, he said.
Harrison said McAllen also approached other oil and gas companies with leases on his land for pipe.
"To this day, McAllen still has large numbers of joints of pipe that he received from other sources, not Forest Oil.
"In fact, although McAllen originally and incorrectly alleged in his case that he only used Forest Oil-donated pipe to build the rhino pen, very few joints of pipe donated by Forest Oil were actually used. It's still sitting on the pipe racks, unused and untouched," he said.
Premeditated Malice?
McAllen and Amberson believe the company was more than just negligent when it donated the pipe. In their lawsuit, they allege Forest Oil was actually trying to harm McAllen, a rancher protective of his land.
In 1994, McAllen began to audit Forest Oil and filed a lawsuit against the Denver-based corporation alleging underpayment of royalties.
"They were not happy with me investigating their accounting," McAllen said.
"He runs a tight ship," Amberson said.
Shortly after the audits began, the allegedly radioactive pipe was donated, they claim.
And according to Pearson's deposition, Forest Oil executives openly joked about it: "I'll bet those rhinos glow in the dark because of the radiation," he claims they said.
Forest Oil also wanted to cut costs, Amberson believes.
To clean NORM-contaminated pipe, oil and gas companies must send the pipe to a licensed facility, where masked workers use ultra high-powered water hoses to ream out the NORM built up on the walls of the pipe. The waste is then disposed of according to state standards.
Adequately cleaning the pipes so that they may be re-used, disposed of or sent to a scrap metal facility is expensive.
Cleaning just 20 to 30 pipe joints could cost about $10,000, according to Eddie Ascione, president of Northern A-1, a Michigan environmental cleanup company that has no connection to this case.
Harrison, the Forest Oil lawyer, thinks the plaintiffs' claims, which have been changed five times, have no legal basis.
"Forest Oil did not in any way harm Mr. McAllen, or in any way try to harm Mr. McAllen. Mr. McAllen's suggestion to the contrary is delusional, paranoid and just plain crazy," he said.
He characterized Pearson as a "disgruntled employee" unhappy about being demoted and asked why Pearson didn't go to McAllen earlier.
Furthermore, Harrison said,
the settlement McAllen signed in 1999 in the lawsuit over royalty payments stipulates that any subsequent disputes, including environmental ones, must be resolved through arbitration.

McAllen has refused to honor that agreement, Harrison said.

Supreme Court

The Texas Supreme Court is deciding whether to take up the more recent dispute after Forest Oil appealed earlier decisions by an Hidalgo County court and an appeals court.

Both parties seem fairly certain that at least part of the case will go to trial.

But, because of McAllen's status in the South Texas community, Harrison said he may attempt to change the venue. He feels an Hidalgo County jury could be prejudiced in favor of McAllen.

Amberson, for his part, said he's not about to settle.

"The (oil) companies need to be held accountable," he said.

The lawsuit is already resonating, Amberson said. The other oil companies that have leases on McAllen's land are throwing up NORM signs on the pipes in their yards where there previously were none.

The principle at the heart of this case is that if you make a mess, you need to clean it up, Amberson said.

McAllen, meanwhile, can't believe that his desire to give back to the community turned into such a nightmare for him and the workers' families who call the ranch home.

"Your pristine way of life has been compromised. You're worried about your kids and grandkids and employees and the future," he said. "All I want to do is live 30 more years." [Emphasis added]

[Refer also to:

On the McAllen case:

2013 09 05: Another Chapter in Jimmy McAllen's Long-Running Case Against Forest Oil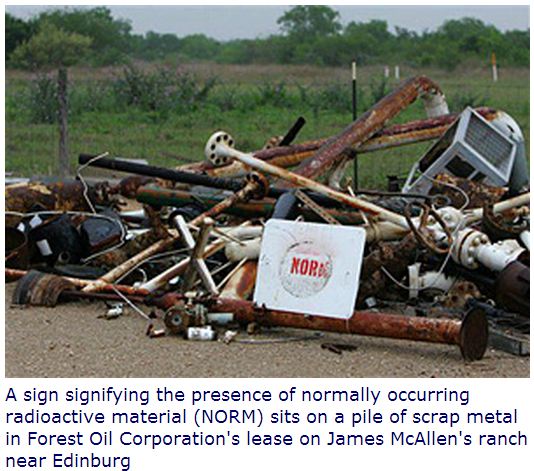 ***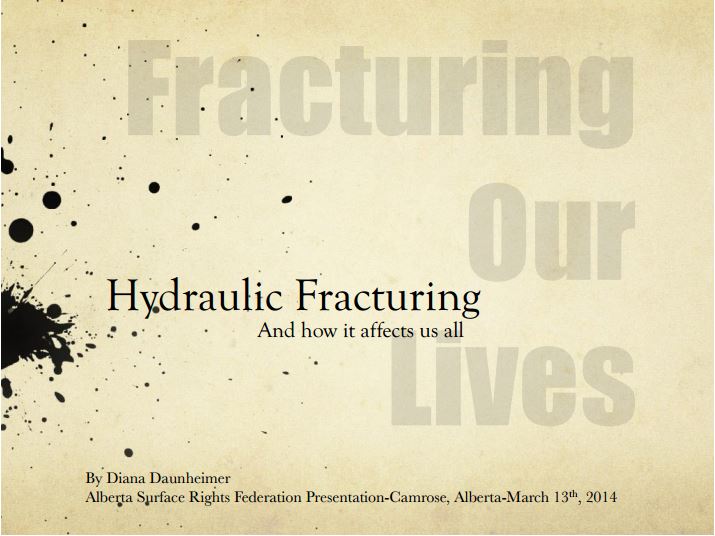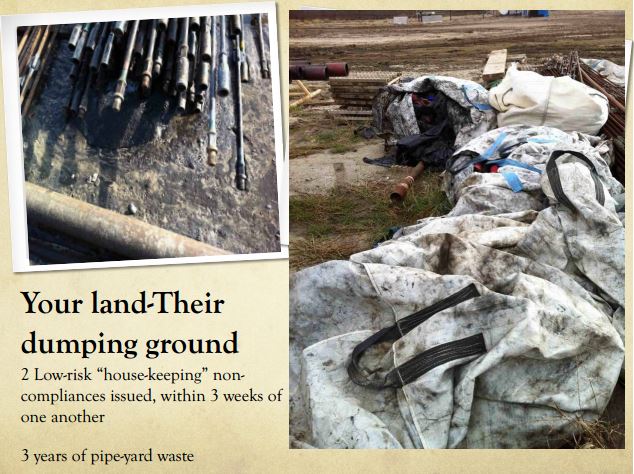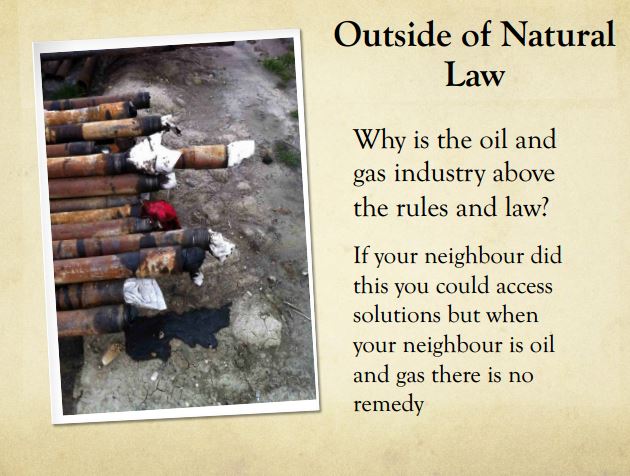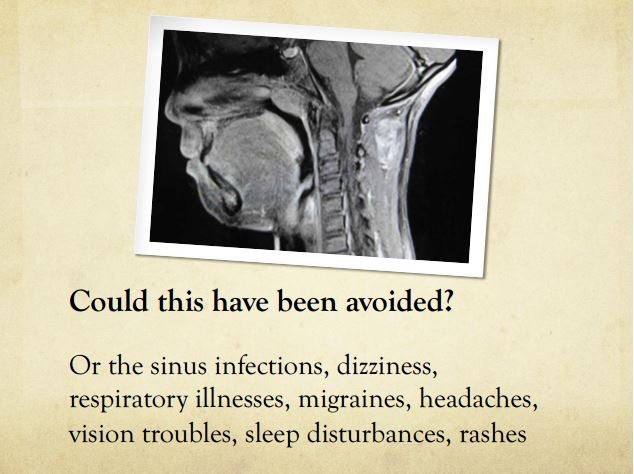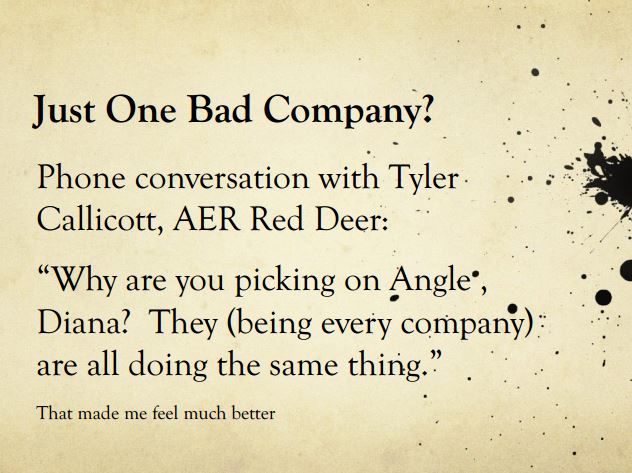 Slides from Diana Daunheimer presentations, pollution & harms left behind by Angle/Bellatrix/now TransGlobe Energy [What will the arrogant polluting company call themselves next?]
***
2016 06 16: The Most Horrific Frac Deregulation Yet? US EPA preparing for "widespread" radioactive frac waste contamination of drinking water or because it's already happened? EPA's proposed "protective regulation" to allow dramatically higher levels of radioactivity in drinking water
2016 06 12: Meet Alberta's Radioactive Ranchers: Nielle and Howard Hawkwood. Timing is everything. Why did AIMCo (ATB/Heritage Fund connected) announce $200 Million (bailout?) investment in "Quite leveraged" Calfrac on same day NDP Rural Caucus try to get Nielle Hawkwood's frac ban resolution on floor of NDP's Annual Convention?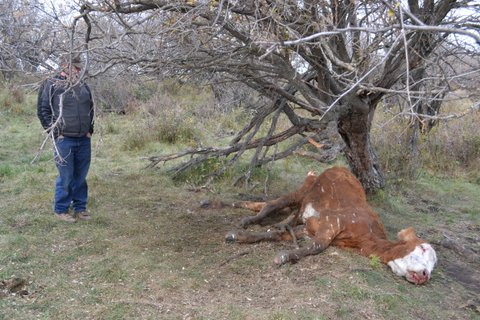 Howard Hawkwood on his ranch, October 2013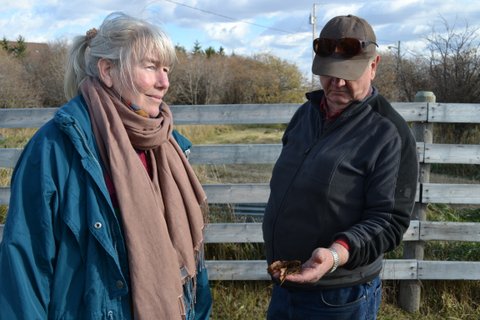 Howard Hawkwood on his ranch with Jessica Ernst, The Lochend, NW of Calgary
2015 12 09: Pa. Appeals Court rules Landowner Loren Kiskadden Can't Revive Claim That Fracking by Range Resources Contaminated his Water Well, not even with proving that Range withheld radioactive frac tracer data during the legal proceedings
2015 03 10: Oil companies sued over man's death allegedly tied to radioactive materials in drilling pipes
2014 08 19: Connecticut: Three Year Fracking Waste Ban Signed into Law; Meanwhile, Michigan takes Pennsylvania's Radioactive Frac Waste
2013 112 10: What to do with all the oil field dregs, some of it radioactive, some of it toxic, and there's more and more of it ]