Terry Greenwood: Pennsylvania Farmer, Daisytown, Washington County, PA by Friends of the Harmed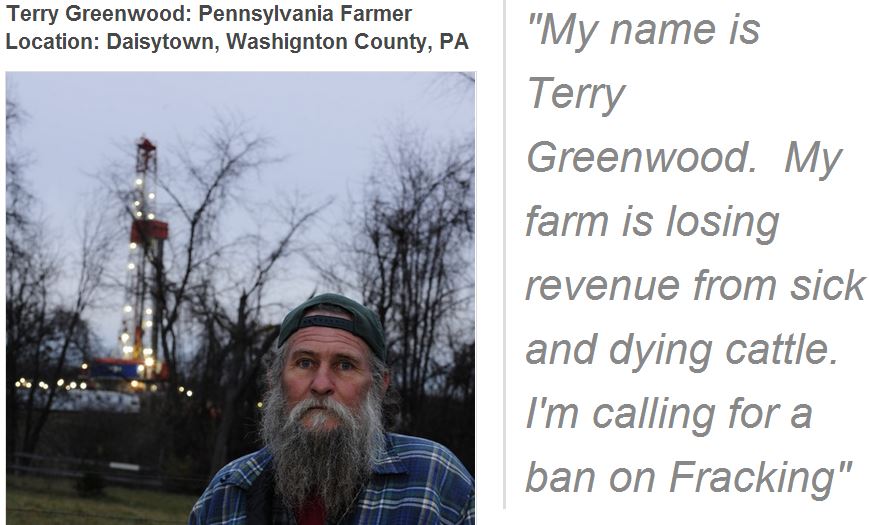 "The DEP sided with the gas company when I called them. I was told by the DEP , "there's nothing wrong with this, they dump the water right on the land in West Virginia". I had to fence off the area where the spill occurred, but it was too late, the damage was done."
"My drinking water went bad in January of 2008. It looked like iced tea."
"[The gas company]… threw garbage on my property, buried frack pits with plastic liner sticking up in place. I lost 6 acres of hayfield to the roads they built. They came one day, cut the fence and did what they wanted to do. When I hauled their garbage to the road because I didn't want them burying it on my property, they accused me of blocking the road with garbage. They have even taken me to court."
"I am losing over $10,000.00 per year in lost cattle and hayfield. Much more money has been lost than has been collected in royalties from the wells on my farm."
-Terry Greenwood
Greenwood , Terry L. 66
Daisytown
On Sunday, June 8, 2014, after a brave three month battle with cancerous brain tumors, Terry L. "Crow" Greenwood, 66, of Daisytown, died in Monongahela Valley Hospital. Born in McKeesport on Oct. 26, 1947, he was the son of the late Harold and Eleanor (Kles) Greenwood. Crow was a retired truck driver from Supervalu in Belle Vernon and also enjoyed farming. He was a member of the Harry Enstrom Chapter of the Izaak Walton League of America and the St. Dominic's Social Club in Donora. His interests were many and included riding his motorcycle, going to auctions, and he was especially interested in protecting our environment. His motto was, "Water is more important than gas."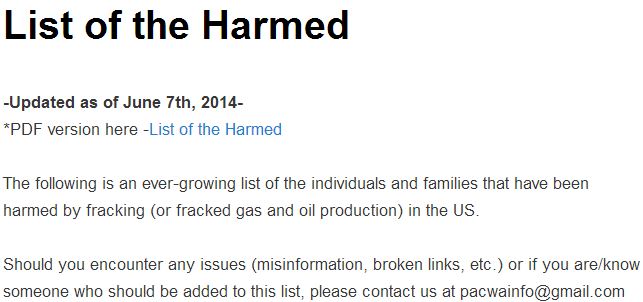 Snap from Pennsylvania Alliance for Clean Water and Air, Dedicated citizens fighting to protect our most valuable resources.
[Refer also to:
Fracking, dead cows and…RADIATION?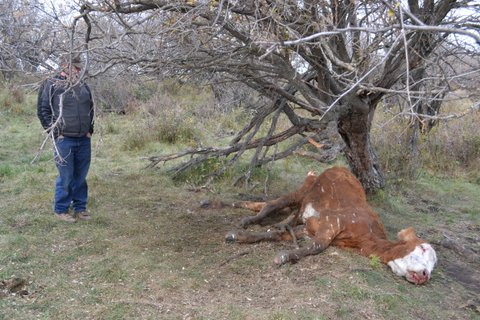 Howard Hawkwood and one of his dead cows on his ranch in the Lochend, Rocky View County, Alberta on October 19, 2013. Photo by David Kattenburg, Greenplanetmonitor
Twelve Canadians – Fracking Experiments in Sacrifice Zones, Fear & Loathing in Canadian Frackland
No one knows better how troublesome frack emissions can be than people living in the vicinity of their release, in rural spots some refer to as "sacrifice zones." Howard and Nielle Hawkwood are among these. Howard and Nielle raise cattle just outside Airdrie, Alberta, a half hour drive north of Calgary. This year something seems to have sickened and killed a tenth of their herd, including one 4 year-old cow found dead on the day of the above audio recording (see photo below). Nielle has lost her hair, as have a dozen other women and girls in the area, Nielle reports. Listen to Howard and Nielle's story here
Alberta Landowners Dispute Energy Regulator over Polluted Well
When the Campbells went public with their concerns about the impact of drilling on groundwater quality in 2008, they say they got a phone call from an industry worker involved in the vertical hydraulic fracturing of wells in the area during the 1980s.
"He was scared to death," said Ronalie Campbell. In several late midnight calls the worker told the couple that industry "fractured your area and that this is what caused the water contamination."
At the time, Ronalie Campbell said that she "didn't really understand what hydraulic fracturing was."