Insurers could demand info on fracking sites by Kate McCann, February 4, 2014, city am
INSURERS could begin requesting information from homeowners about their proximity to fracking exploration sites if it looks likely that the process could cause damage to property. The Association of British Insurers (ABI) said the industry is monitoring fracking exploration and data around any related disturbances but stressed that there is currently very little evidence to suggest the method of oil and gas extraction poses an increased risk. Stephen Sobey of the ABI said the body had discussed the impact of fracking with ministers and government officials. "Unless it is specifically requested by an insurer, homeowners do not currently need to disclose their proximity to fracking sites. However, if it is requested by an insurer, then this does need to be disclosed. "There is, at present, little evidence to show a link between fracking and seismic activity that could cause damage to a well-maintained property, however, insurers will continue to monitor the potential for fracking, or similar explorations, to cause damage," he said.
The ABI is working closely with insurers as the energy industry begins to explore sites across the country. Any ground disturbances could spell trouble for home-owners, as subsidence reports are taken into account when insurers price policies. Russell Byrne, pricing and underwriting director at Legal and General said all policy holders are currently covered for damage due to earthquake, subsidence, heave and landslip and that he could not see any exclusions which would invalidate a policy if the damage was caused by fracking. He added: "We are waiting to find out more and we're working with the ABI closely." A spokesman for Aviva also confirmed it was working with the industry body and added: "Currently fracking is not an issue for home insurers and we are comfortable that there is a robust approval process before any fracking can take place." [Emphasis added]
[Refer also to: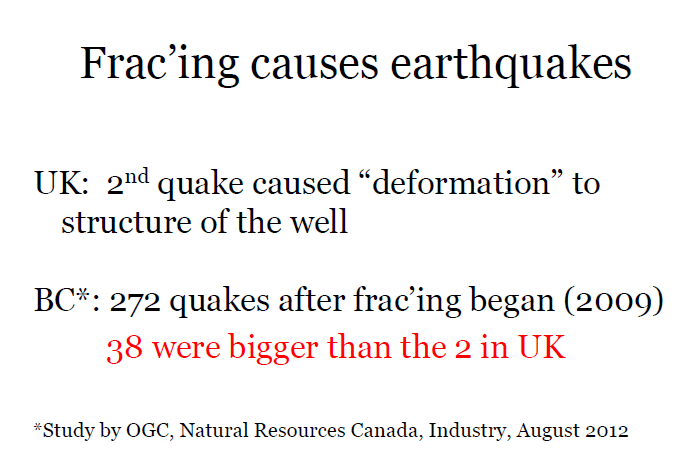 Rabobank's Position Paper on Oil and Gas Activities July 1, 2013
"….Rabobank Group does not provide finance that will be used to extract unconventional fossil fuels…."
Netherlands largest agricultural lender: Rabobank will not finance shale gas extraction by Dutchnews.nl, July 1, 2013
The Rabobank will not lend money to companies involved in shale gas extraction, the cooperative bank told Trouw on Monday. Nor will it make loans to farmers who rent their land to shale gas extraction companies. The bank's global policy is not to be involved with extracting fossil fuels where it is not clear what the risks and consequences may be, a spokesman told the paper. [Emphasis added]
Netherlandsl largest agricultural lender: Rabobank is against shale gas extraction by Kees de Peace, July 1, 2013,Trouw
Rabobank refuse to lend to businesses that deal with the extraction of shale gas money. Even farmers who lease their land to energy companies with the intention of shale gas out of the ground, do not get loans from the bank. … Here and there by negligence and badly beaten wells question of pollution of soil and water. Thereby colliding gas interests and agricultural interests increasingly with each other. Rabobank is the largest agricultural lender.  The bank considers the production of what it calls "unconventional fuels" such as oil from tar sands and shale gas from deep bedrock, as polluting and do not contribute to it. A spokeswoman for the office of Rabobank in Utrecht confirms this arrangement. Which is based on the 'Position paper on oil and gas activities' that the bank has recently issued. … The position of Rabobank applies worldwide, says the spokesperson, but is mainly used in practice in the U.S..
NETHERLANDS: 'Rabobank turns against shale gas' by Presseurop, July 1, 2013, Trouw
The country's largest bank is refusing to lend to companies that wish to invest in shale gas. The Amsterdam daily reports that Rabobank "does not want to contribute to energy which it believes to be polluting," and has said as much in a recent position paper on its business and sustainable development. For the moment, this decision will mainly have an impact on the bank's operations in the US, where Rabobank is the leading lender to farmers, and where the drive to develop shale gas is such that it has been called "a second gold rush". [Emphasis added]
Banks refusing mortgages on land where oil or gas rights have been sold to energy company; insurance companies cancel renewals if they find gas or oil lease on insured properties
Major earthquake could cause $75B in damage, study by Insurance Bureau of Canada warns; major quake would bring insurance industry to its knees
Swarms of Earthquakes Shake Up Shale Gas Fields, Do tremors plaguing industry in Texas, Holland, and beyond offer a glimpse of BC's future?
House damage in central Oklahoma from the magnitude 5.6 earthquake in 2011. Research conducted by U.S. Geological Survey geophysicists suggests it was induced by injection into deep disposal wells in the Wilzetta North field. Photo Credit: Brian Sherrod, USGS.
FrackingCanada: How the West was Lost
FrackingCanada: Fracking Calgary
Bainbridge Ohio residents deal with contaminated water from drilling by Rus Mitchell, February 12, 2013, WKYC.com
BAINBRIDGE — Richard Payne still remembers what it felt like when a gas explosion lifted his house off its foundation five years. "I thought it was an earthquake," he says. Richard and his wife, Thelma, were asleep when the explosion took place in their English Drive house in Bainbridge. Turns out their home was down the street from an oil and gas well owned by Ohio Valley Energy. Inspectors determined the explosion was caused by a leak in the well, which hadn't been properly cased with cement.
The mistake cost the Paynes their home of 51 years as damage to it was beyond repair.

"I never suspected such a thing would happen," says Thelma. Many of the Payne's neighbors also suffered a valuable loss: water. "You could actually see the gas bubbling up in the water," explains Frances McGee, whose water well, along with dozens of her neighbors, was contaminated when gas leaked into the water aquifer. "Many of them we found 100 percent explosive limits that the gas was actually in their wells," says Assistant Fire Chief Wayne Burge. Ohio Valley Energy paid for drinking water to be supplied to affected familes and 1,500-gallon water tanks were put in garages. It took two years before residents around the gas explosion site were connected to city water. "All the people wanted was to be made whole by having water," says Frances. "Without water, you really don't have a home." [Emphasis added]
CLIENT ADVISORY New Technology Creates New Insurance Issues for Oil and Gas Lease Operators by Pascal Ray and the AmWINS Energy Specialty Practice
This shift to unconventional drilling and heavy multi-stage fracking has created new insurance issues for the industry:
• Increase in blowouts during the completion/fracking stage.
• Increase in blowouts involving communication between multiple wells.
• Increase in blowouts caused by casing/cementing failure.
• Increase in blowouts caused by surface events.
In addition to these blowout trends, we are seeing:
• An increase in blowouts involving producing wells.
• An increase in blowouts involving plugged and abandoned wells.
While fracking has been the cause of some of the blowout increases, producing wells and plugged and abandoned wells are experiencing underground blowouts from the failure of old and corroded casings. These underground blowouts can lead to cratering events that are costly and difficult to bring Under control. Underground blowouts can be much more expensive to bring under control than surface blowouts, yet many operators do not insure these wells or have high enough limits for them. Another issue that has arisen from fracking is an increase in surface and water table pollution events that can result in expensive claims and erode the Control of Well limit rapidly, if not entirely.As a result, many of the blowouts that are now occurring are under-insured.
Gas-well ordeal finally ends well February 16, 2011
Forty-three households were involved in the class-action suit…. A separate amount was given to Mr. and Mrs. Payne, whose house on English Drive was lifted off its foundation by the explosion. Ohio Valley Energy and other companies involved with the drilling also paid off Nationwide Insurance, which had the coverage on the Paynes' home.
Nationwide Insurance: Fracking Damage Won't Be Covered July 12, 2012