Natural gas companies pay fines for methane contamination by WBNG (Binghamton) News, August 25, 2015
The Department of Environmental Protection has reached penalty agreements with three natural gas exploration companies in the Northern Tier of Pennsylvania.
The DEP on Tuesday announced it has finalized agreements with the companies for methane gas migration violations that impacted private drinking water wells in Bradford, Lycoming, and Tioga counties.
"These were complex and lengthy investigations that took a considerable amount of time to resolve [Or considerable time to get the companies to agree to paying fines?], but the department was able to conclusively determine that methane gas from natural gas wells had migrated off-site and impacted private wells serving homes and hunting clubs," said John Ryder, DEP Director of District Oil and Gas Operations.
The penalties included:
Chesapeake Appalachia LLC, $193,135 for the Rockwell Road migration in Leroy Township, Bradford County;
XTO Energy Inc., $95,753 for the German Run migration in Franklin and Moreland townships, Lycoming County; and
SWEPI LP, $85,593 for the French Lick Run migration in Union Township, Tioga County.
Chesapeake details:
• Initial notification from Chesapeake on May 19, 2012
• Four private water wells impacted
• Surface expressions of methane in 14 locations within the Towanda Creek watershed
• Caused by casing issues at Chesapeake's Morse gas well
XTO Energy details:
• Initial citizen complaint on May 17, 2011
• Seven private water wells impacted
• Surface expressions of methane in Little Muncy Creek and German Run
• Caused by casing and cementing issues at XTO's Moser and Tome gas wells
SWEPI LP details:
• Initial notification from SWEPI on June 17, 2012
• Two hunting club water wells impacted
• Surface expressions of methane in French Lick Run
• Pressurized surface expression discharging water 40 feet into the air through a shallow conduit
• Caused by communication between an old abandoned gas well and one or more of SWEPI's gas wells on its Cochran, Guindon, and/or Yaggie well pads [was this cased by a frac hit that the company won't let DEP publicly admit?]
According to DEP officials, all of the impacted water wells were permanently replaced, had treatment systems installed by the responsible company, or have returned to background conditions. [Meanwhile in Alberta, Encana pays no fines, gets off free for illegally fracing intentionally into community drinking water aquifers and polluting water wells community-wide, including municipal supply water wells, with red-flag indicators of man-made petroleum industry contaminants and life-threatening, explosive concentrations of methane that remain unabated – perhaps because the AER and government keep letting Encana frac again and again and again into fresh water zones in the harmed community? If there was a real regulator in Alberta, and not one controlled and headed by ex-Encana/Cenovus VP Gerard Protti, how much would the fine be for intentionally fracing a community's drinking water supply?]
Remedial work on the defective wells was properly completed as required by the department's regulations, officials said.
All three cases included violations of the 2012 Oil and Gas Act, Clean Streams Law, and DEP's Chapter 78 regulations. The penalties have been paid.
[Refer also to:
2015 08 21: Exclusive: Pennsylvania Family Dealing with Water Contamination Linked to Fracking Industry [Cabot Oil and Gas, not in the list fined above]
2015 08 18: Methane Leaks in Natural-Gas Supply Chain Far Exceed Estimates, Study Says
2015 08 13: Another frac lawsuit: Cody Murray from Texas left permanently disabled from burns after fracking causes water well to explode [and injured Cody's 4 year old daughter and others in the family; with another lawsuit to be filed for trespass, as reported August 24, 2015 by RT below:
2014 02 19: Another "documented" case! American Arbitration Association, Commercial Arbitration Tribunal, orders Chesapeake to pay Jacqueline Place of Terry Township, Bradford County PA, $60,000 for temporary methane contamination in water well after hydraulic fracturing [also not included in the list above]
2013 06 FrackingCanada: Industry's Gas Migration, The Science is Deafening, HTML version
PDF version:
2013 06 16: Brief review of threats to Canada's groundwater from the oil and gas industry's methane migration and hydraulic fracturing by Ernst Environmental Services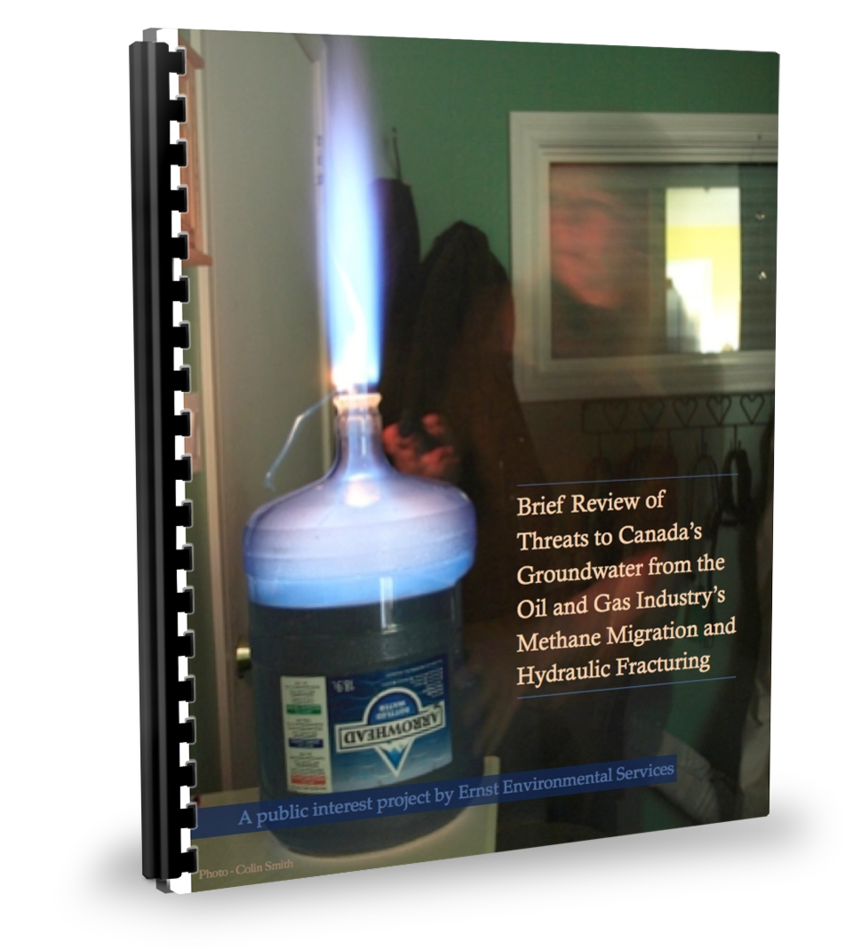 And, if Alberta had a real regulator, how much would the fine be for this?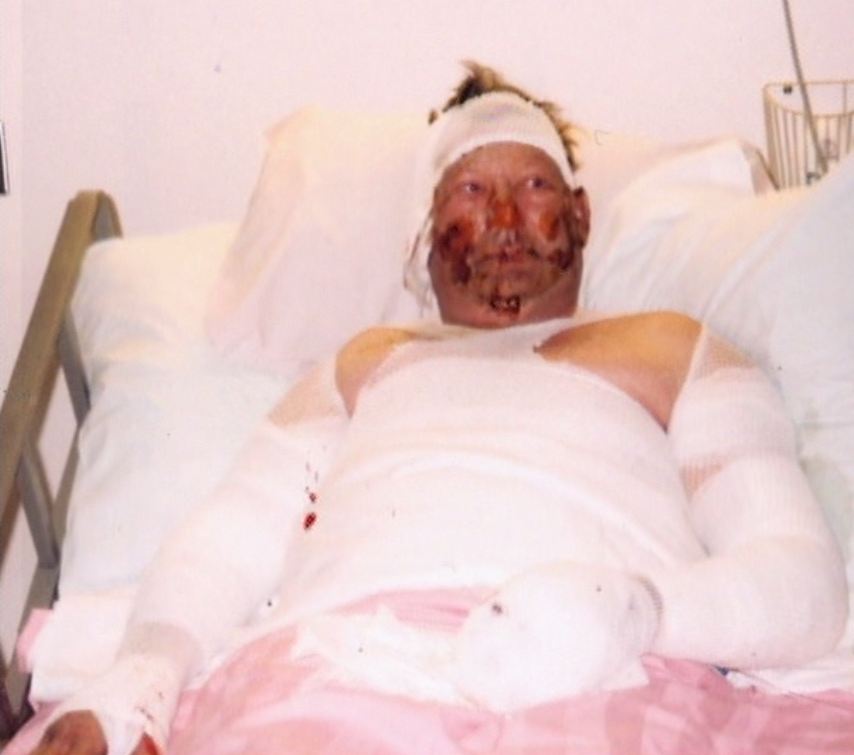 2006: Bruce Jack in hospital after he and two industry gas-in-water testers were seriously injured during water well testing, when the methane and ethane contaminated water well exploded, and after regulator-recommended "venting to make the water safe" was professionally installed.