Note Council of Canadians is not the same as Council of Canadian Academies.
A few eye openers:
2017 11 07: Synergy Alberta Strikes BC! 17 groups, including Council of Canadians and BC Tap Water Alliance, join call for frac regulations! Calling for regulations gives industry social licence to frac. Has Synergy finally conquered Will Koop? It conquered Council of Canadians years ago
2016 06 15: Nova Scotia government still can't (or refuses to?) define fracing (nice escape hatch, used also by Ontario gov't)! Delays on NS frack regulations could be political, Heavily redacted documents show options being presented to government behind the scenes
2015 06 01: Who do Caleb Behn and Council of Canadians represent? One Step Forward, Two Steps Back: Call for Federal Fracking Regulation Flies in the Face of Call for a Ban
2014 10 06: The Road to Hell Part 2: As expected, Nova Scotia Frac ban bill follows "Alberta Model," Is badly flawed, filled with loopholes to enable fracing free-for-all
2014 05 23 & 24: I will not Synergize or Gag and Settle presentation by Jessica Ernst at Our Water ~ Our Future in Courtenay, BC
A few of Ernst's slides: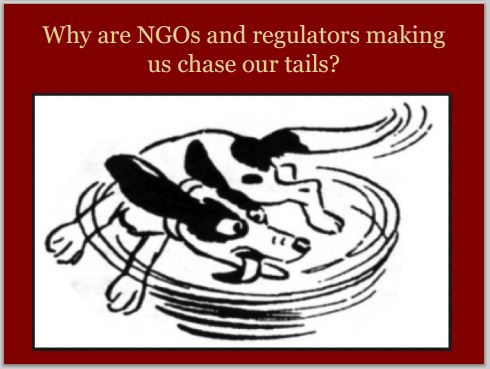 2014 10 10: The Road to Hell: Nova Scotia's "proposed law also includes an exemption that would allow fracking for testing and research purposes"
2014 09 07: Divine intervention or diversion? Nova Scotia slams door shut on high volume horizontal fracing, but opens it wide for other known invasive, contaminating frac experiments. "These did occasionally contaminate water resources," CAPP says
End Eye Openers
***
Provincial PC leadership candidate wants fracking moratorium lifted, with caveats by Colin Chisholm, Jan 17, 2018, Chronicle Herald
HANTS COUNTY, N.S. – John Lohr, who is currently in the running for leadership of the Nova Scotia PC party, says he thinks the shale industry should be explored following the results of the Onshore Atlas Project, which shows a large reserve of natural gases in some parts of the province.
The Onshore Atlas Project, which was conducted by the Department of Energy, highlights a large royalty potential from natural gas sources, and has re-opened the debate on fracking in the province.
"I've come out saying I'm in favour of (hydraulic fracturing) with caveats; one of those is having community buy-in," Lohr said. "I don't think that means we need to have a vote and have every single person in the community say yes. I don't (think) we'll get 100 per cent of people in favour."
Lohr said he doesn't have a strategy yet on how to determine what he would see as appropriate levels of community buy-in.
The MLA for Kings-North said he acknowledges that the environmental concern is the main point of opposition towards the practise.
"We would have to have a fairly high level of confidence that we could address the issues of wastewater, if there is in fact any wastewater," Lohr said, adding that some more modern hydraulic fracturing techniques don't require as much wastewater.
"I think the industry has moved along a lot since we've even had the last debate about this in Nova Scotia."
Lohr said he would like the province to enact "the best in the world" regulations before approving any new shale gas operations.
[Just like every deregulating, lying, law violation and pollution enabling energy regulator around the world boasts they have]
"The fact is that this report shows a potential of $20 to $60 billion U.S. natural gas resource available, which would mean $3 to $5 billion in royalties for Nova Scotia plus the income tax generated by the workers," he said.
Lohr said the province is already receiving benefits through federal equalization payments, which he says comes from 'have provinces' that use fracking including Alberta, Saskatchewan and British Columbia.
"It's really oil and gas money, there's no doubt about that," he said. "So on the one hand we're willing to accept money from that industry in the form of transfer payments, but we're not willing to do it ourselves."
In the 2017-18 year, Nova Scotia is expected to receive $1.779 billion in equalization payments from the federal government.
Lohr said the environmental risks of fracking are relatively low, and says they're comparable to other forms of industry. [Just another lying politician? Where's the proof buddy? Science says the opposite of what you say]
He also said that Nova Scotia drills oil out at sea, which he says is potentially more dangerous as it's harder to address issues on the water.
Some studies have [PROVEN] suggested that fracking has also increased the risk of earthquakes in some jurisdictions, including in British Columbia.
"We desperately need the economic development and the income, and I'm not saying I want us to go ahead under any circumstances, I just want community buy-in," [FINALLY, HE LET THE TRUTH SLIP OUT.  DOES HE CARE THAT NOVA SCOTIANS LOUDLY REJECTED FRAC'ING OR DOES HE WANT TO CON THEM INTO SAYING OK?] he said. "It's a massive resource that's there and I believe it would make a huge difference in our province if we do it in a responsible way." 
When asked whether or not the province should move on from fossil fuels entirely, as the Ecology Action Centre is calling for, Lohr said natural gas would be a benefit to Nova Scotia's power generation if the existing coal fire plants were retrofitted to use natural gas.
"If we did that, immediately we would have a 50 per cent reduction is greenhouse gas emissions," he said.
Liberals maintaining moratorium, NDP remain opposed to fracking
The sitting Liberal provincial government has yet to respond to questions from the Valley Journal-Advertiser regarding the Onshore Atlas Project. However, in previous statements to the media, Premier Stephen McNeil said the province remains committed to the fracking moratorium.
Meanwhile, the provincial NDP is calling on the government to reaffirm Nova Scotia's fracking ban.
"The fracking ban is an important policy to protect Nova Scotia's natural environment and our water sources," said Lenore Zann, the NDP Environment spokesperson in a press release. "The public has been clear on their position. Nova Scotians are against fracking. The Liberal government should be focusing their energy on creating new green and sustainable industries."
The NDP said in a press release that they would like to see the provincial government proclaim the ban on fracking, entrenching it further. [Emphasis added]
We're Cooked: The Case for Ignoring Nova Scotia's Fracking Potential by Linda Pannozzo, January 16, 2018, Halifax Examiner
On the same day that Nova Scotia's governing Liberals introduced legislation to ban high volume hydraulic fracturing in the province, I happened to be on a "fracking tour" in the U.S. with a bus load of other environmental journalists in a place that had instead embraced it.
We were headed from New Orleans to the Louisiana/Mississippi border and the Tuscaloosa Marine Shale, an oil and gas-rich formation located in a 90-million-year-old layer of sedimentary rock sitting more than 11,000 feet below the surface. Encana Corporation had rights to the area and we were going to meet a representative to show us around one of its drilling pads.
It didn't take long for the news of Nova Scotia's decision to make its way to the bus load of scrappy, mostly American reporters and researchers, many of whom regularly work the energy beat. As everyone cheered and clapped it struck me that when it came to fracking, it was highly unusual for a government to act in the public interest. And indeed this government had. The legislation came on the heels of an independent panel review on the subject, headed by David Wheeler, which received nearly 240 submissions, with 92 per cent in support of a moratorium on the controversial technology.
The evidence showed that fracking can contaminate ground water and water wells, requires exorbitant amounts of water, wastes exorbitant amounts of water, and it triggers earthquakes. 1
Wheeler's "go slow" approach was also recommended in 2014 by the Council of Canadian Academies (CCA) — an independent not-for-profit organization that provides "science advice in the public interest." At the request of Environment Canada, the CCA assembled an expert panel to assess the state of knowledge regarding potential environmental impacts of fracking in Canada and it reported back that there was a "lack of peer-reviewed data on both social and environmental issues," as well as an "absence of baseline information to assess and monitor if hydraulic fracturing is having negative, long-term and cumulative effects."
[Vital Reality Check:
There's mountains of baseline information, synergized Dr John Cherry and his merry band of industry controlled "experts," chose to ignore it, likely as ordered by pro-fracking ex PM Steve Harper, pro fracking ex Alberta MLA Ted Morton, CAPP, AER, etc.
The panel was directly sent a copy of Ernst's Brief review of threats to Canada's groundwater from the oil and gas industry's methane migration and hydraulic fracturing in June 2013. The "experts" not only ignored it and the endless damning industry and regulator data and reports summarized and referenced in it, they instead mainly reviewed and referenced Alberta Energy Regulator (AER) and Canada's big oil and gas lobby group (CAPP) propaganda.
At the time of the glaringly deficient "review," that urged the use of Canadians as guinea pigs in it's go slow approach recommendation, and that lied and overlooked the most important and damning scientific evidence proving significant risks and damages from frac'ing, the president of the Council of Canadian Academies, Elizabeth Dowdeswell, O.C., was on the board of the Alberta Energy Regulator (AER) – nasty sneaky conflict of interest.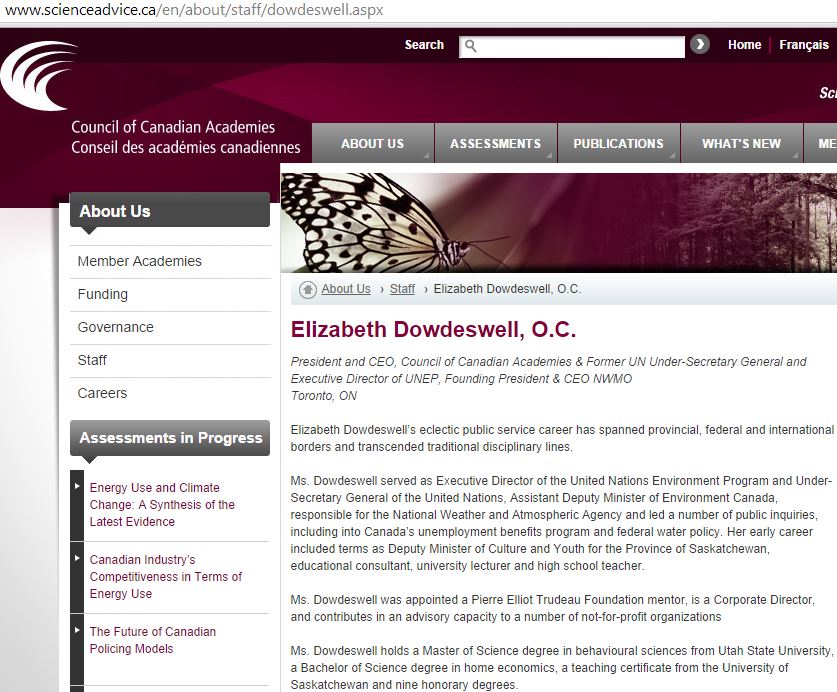 ***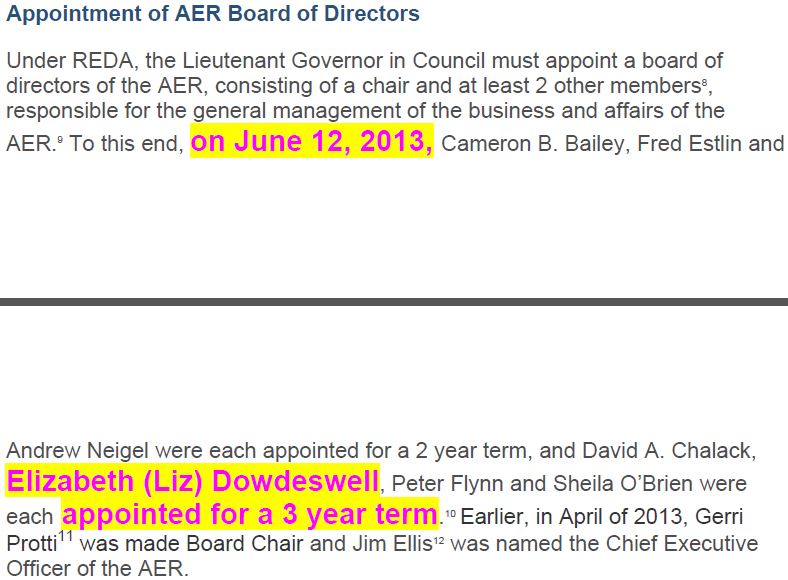 ***
And, after Dr John Cherry and his Council of Canadian Academies "expert" enabling frac panel published their frac enabling ("go slow") crap, completing the dirty for Harper et al, a nice reward for Lizzy is announced: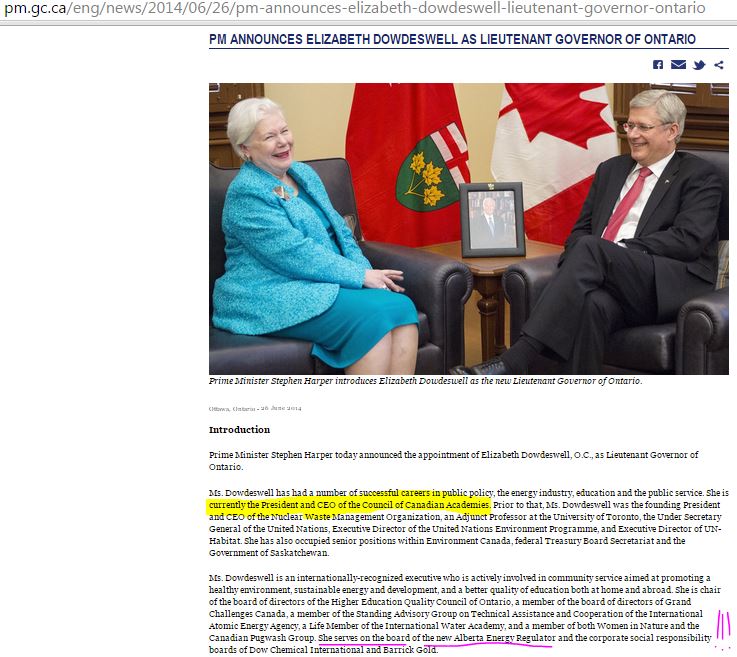 Snaps above taken by Ernst
Ted Morton was appointed to the board by Steve Harper during the review: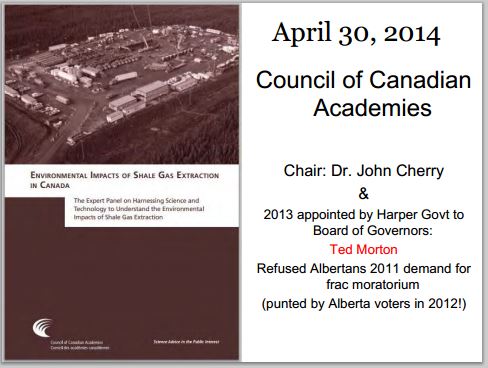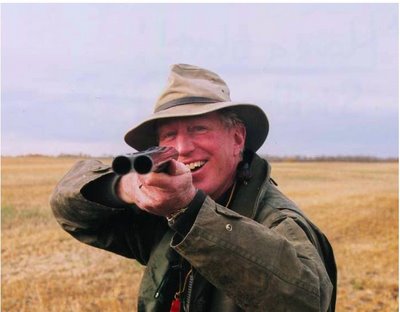 Ted Morton
Slides from Ernst speaking events
End Vital Reality Check ]
In addition it warned about how "deep waste-water injection," a practice used in other places to deal with the contaminated "flowback" water, may not be feasible for eastern Canada. 2
And for four years all was quiet on the fracking front, until just last week when the Nova Scotia government was urged by the Maritimes Energy Association to revisit this ban following the release of a new Energy Department analysis that found the province's shale gas potential to be worth between $13 and $40 billion USD. 3
Geoff MacLellan, the energy minister, to his credit, responded with assurances that that the government had no intention of lifting the moratorium. Let's hope this is true because one doesn't have to look very far to see the chaos and damage fracking has caused elsewhere.
In western Canada we have the astonishing story of the 10-year legal battle of Jessica Ernst, an Alberta resident who claimed that fracking contaminated her drinking water so badly that she could set it on fire. About a year ago she lost the protracted legal battle against the Alberta Energy Regulator, which was given immunity in the case, but her lawsuit against the Alberta government [as Alberta Environment, the water regulator. It also has legal immunity. Creating a sour legal contradiction, Judge Niel C Wittmann ruled that Ernst can sue the taxpayer-funded nearly broke water regulator, but not the energy industry-funded, cash-loaded energy regulator (AER). Both "regulators" are legally immune from lawsuits; the judge ruled Ernst cannot sue the most guilty party in her lawsuit, the AER] and Encana Corporation is still proceeding through the courts. [Standing still is more accurate. Both remaining defendants are violating the rules every step of the way, with the courts rewarding them and punishing Ernst. The third case management judge was chosen by Alberta Environment and Encana as a preferred judge for them, and the court gave them what they wanted. Ernst requested case management be ended for her case, because it is only causing harm to her lawsuit and benefit to the defendants]
The key issue raised by Ernst's case is that while it is known that fracking has caused thousands of earthquakes in the Western Canadian Sedimentary Basin, there is no formal protocol for investigating groundwater contamination complaints, which are on the rise, and there is little or no monitoring of how the earthquakes might be impacting groundwater and gas migration.
In his 2011 book, The End of Country: Dispatches from the Frack Zone, Seamus McGraw makes it pretty clear how fracturing rock thousands of feet below the earth's surface could lead to the chaotic, highly unpredictable, and undesirable intermingling of fluids.
McGraw compares the process to sending down "a kind of subterranean pipe bomb, a small package of ball-bearing-like shrapnel and light explosives." As far as comparisons go, it seems to be a good one. Millions of gallons of water along with sand and a host of chemicals (referred to as slick water) are pumped at such a force into the shale formations that the rocks shatter and release untapped deposits of oil and gas.4 The sand functions as a wedge to hold open the fractures to allow the release of the trapped gas or oil.
On our way to the Encana drilling site I learned that the fracking boom in the State of Louisiana resulted in a long list of high profile incidents called "fraccidents," including pipeline ruptures, explosions, well blow-outs, and yes, the discoveries of contaminated, flammable drinking water. On the bus, folks from the Gulf Restoration Network spoke about the exorbitant water consumption of the practice, the drilling of wetlands, and how both enforcement and compliance with rules was low.
And then there are the "orphan" wells — the ones that are no longer in production,  usually because the company has gone bankrupt. In Louisiana they are popping up everywhere, posing huge accountability problems, particularly in terms of groundwater safety because the companies abandon the wells before they've been plugged or detoxified. Don Briggs was on our bus too. At the time he was head of the Louisiana Oil and Gas Association and he was there to extoll the industry's virtues. But when it came to the orphan well problem, he was discouraged. He told us there was an industry-funded program set up to try to clean up the abandoned wells but he said, "they just can't keep up with the new ones being created."
You'd think Louisiana would have been more circumspect. After all, it's no stranger to oil to and gas catastrophes. In 2005, it suffered through Hurricane Katrina, the severity of which has been attributed to climate change, and then five years later, an oil slick appeared in NASA's satellite images, 66 km off Louisiana's coastline, swirling much like the hurricane did, in exactly the same place. It would become the largest marine oil spill in the history of the petroleum industry. All told, the explosion and sinking of British Petroleum's oil platform Deepwater Horizon killed 11 rig workers and resulted in what felt like a never-ending horror: the gushing of oil from the seafloor for months — 87 days to be exact —amounting to a spill of nearly five million barrels of crude as well as the addition of nine million litres of toxic oil dispersants.
…
Back in Louisiana, we never did meet the representative from Encana or actually see any fracking that day. We were told that at the last minute the company backed out. So instead we ended up pulling over on steamy country road and taking a short walk through a cemetery to a wooded area with a pump jack and a flare stack — drillers often burn off natural gas as a waste product when they're after the more lucrative oil. It wasn't what we came for, but it was at least something. We were then chased off that site because it was private land.
For many of us on the bus, the news coming out of Nova Scotia on that day in September, four years ago felt like a bright, shining moment of sanity and democracy in action.
The question is, will it be brief? [Emphasis added. If you want to see democracy and sanity in action, look to the frac bans by France, Bulgaria, Republic of Ireland, Prince Edward Island]
---
Linda Pannozzo is the author of the 2016 book About Canada: The Environment. In 2014 she was in Louisiana attending the Society of Environmental Journalists' annual conference where she received an award for her 2013 book The Devil and the Deep Blue Sea: An Investigation into the Scapegoating of Canada's Grey Seal. She lives in Nova Scotia.
Notes:
COMMENTS
Bill Turpin says
January 16, 2018 at 12:02 pm
I hope NS doesn't yield to the temptation of a quick buck. The place to invest is the production, storage and transmission of renewable energy.