Alberta energy regulator releases rules on heavy oil odours by Bob Webber, The Canadian Press, February 24, 2017, Edmonton Journal
CALGARY – Alberta's energy regulator has set new rules to deal with long-standing complaints about powerful, gassy smells from heavy oil operations in the Peace River region.
The rules, released late Thursday, grew out of a 2014 inquiry held by the regulator after years of complaints from people in tiny communities neighbouring the operations.
Residents had complained for years that the odours gave them headaches, nausea and diarrhea. They said their livestock was similarly affected and cattle spontaneously aborted calves.
Local people continued to complain about the smells as recently as last fall.
The inquiry concluded the stink was damaging people's health, the first time the Alberta Energy Regulator acknowledged odour as a health impact. A string of recommendations were all accepted by the regulator and provincial government.
[Years ago!]
The regulator has already implemented 12 of the 16 recommendations directed its way. New rules for practices such as routine flaring and venting gas are in place and are being followed, a spokeswoman for the agency said recently. [Who believes what the lying AER says? Prove it.]
The four outstanding suggestions are addressed in Thursday's Directive 84, which had been waiting for government approval since January. The rules take effect March 1, 2019.
They limit the amount of gas that operators are allowed to flare off during non-routine events to three per cent of total gas production. They stipulate that 95 per cent of the gas generated during heavy oil recovery must be conserved.
The new rules require companies to control odours coming from trucks being loaded or tanks being cleaned. They also include extensive inspection and reporting requirements and say operators must join local air quality management programs.
The [2014] inquiry also made recommendations to the provincial government, none of which are yet in place.
Alberta Environment is working on a provincial odour standard. Department officials say that standard is still a long way off.
Alberta Health is to study links between odours and health, as well as supply doctors in the Peace River area with information to help their patients.
After nearly three years, Alberta Health is almost ready to

begin

a
review

of

previous

research.

No field studies are planned.

Karen Grimsrud, Alberta's chief medical health officer, has said the province and the Alberta Medical Association expect to give Peace River doctors clinical practice guidelines for environmental health problems early this year. [Emphasis added]

Oilpatch odours in northwestern Alberta still pungent, years after inquiry by Bob Weber, The Canadian Press, November 26, 2016, CTV News

EDMONTON — Researcher Tristan Jones was cruising the back roads of northwestern Alberta last summer when his studies suddenly became more than academic. "It was kind of like we hit a wall of odour," said Jones, who's writing a PhD thesis at Rutgers University on how the energy industry has changed the environmental and social landscape near Peace River. "It was heavy. It was really strong," he said. "It was kind of like a mix of fresh asphalt, sulphur and who knows what else.

"I felt tingling through my jaw. My eyes were itchy and runny. I got a headache. I felt a little dizzy."

The exposure lasted about 10 minutes; the effects a couple of hours.

"The tingling in my jaw was bizarre," he recalled. "I have no doubt that was because of the exposure to the odours."

This wasn't supposed to happen any more. [Like the rest of the AER's lying promises and evil synergizing of poisoned Albertans?]

In 2014, the Alberta Energy Regulator held an inquiry into odours from heavy oil operations in the Peace River area after years of complaints from residents in tiny communities such as Three Creeks. Hours of expert testimony and reams of reports followed. [AER continues to ignore complaints from residents in and around Rosebud about Encana's law violations, impacts, and illegal aquifer fracs and told Ernst she appeared not to have any rights to a hearing or even Appropriate Dispute Resolution when Encana drilled under her already contaminated property]

The inquiry concluded the powerful, gassy stench emitted by operators was damaging people's health. It released a string of recommendations, all of which were accepted by Alberta's energy regulator and provincial government.

More than two years later, some recommendations are in place. But seven key ones — including everything the province was supposed to have done — are still in draft form, under study or in limbo. [Of course they are!  That's the AER and Alberta government way. Let industry abuse and poison Albertans and the environment for billions in profits]

While locals say things have improved, they say the smells are still there.

"It seems to me that every government, every industry, when they meet, all they've done is meet their mandate to say, 'We're talking with people'," said Donna Daum, a retired teacher who has lived in the area for 14 years. [It's called Synergy Alberta, and it's pure Evil:  All talk, lies, more talk and more lies, and a few promises to keep concerned citizens wasting their time while industry pollutes & poisons]

"That's all it does. 'We're listening and we've heard what they have to say,' whether they do anything with it at all."

The inquiry directed Alberta Environment to bring in a legal odour standard. The department is working on it. "It's still early days," said Dave Lyder, the department's senior air modelling standards engineer. "Odour's complex. Odour is by far and away the most common complaint in any jurisdiction — between 70 and 90 per cent." [Industry and AER will never allow legal protections for Albertans. After all, the Alberta government conned Albertans (and the world) into believing fossil fuel emissions are being mitigated while massively ramping up hydraulic fracturing across the province. Can't have a legal odor standard with frac'ing ranging on]

Three different departments — Environment, Agriculture and Health — are involved. So is the energy regulator.

Any standard, Lyder said, has to work for both industry and the restaurant down the street. [Which means those standards will not protect you or your loved ones, they'll only protect industry, just like the Baseline Water Well Testing Standard only protects industry, and not people or the water they need to survive]

What chemical do you actually measure? How are problems reported? How do you set a threshold, and how is it monitored?

"If we can provide a framework where we can manage odour across the province in a consistent manner, that's the No. 1 goal."

Lyder acknowledges no such framework is in sight yet.

The story is similar at Alberta Health, which was to study links between odours and health, as well as supply doctors in the Peace River area with information to help their patients. [No blood or other tests without violating patient doctor confidentiality and getting the OK from politicians first, if the oil and gas industry is going the poisoning?]

Karen Grimsrud, Alberta's chief medical health officer, said the province, together with the Alberta Medical Association, expects to give Peace River doctors clinical practice guidelines [Legally unenforceable and thus meaningless?] for environmental health problems early next year. The guidelines will tell doctors what to ask, what to look for and who to contact for further advice. [Gerard Protti and Dr. Monique Dube? Neither are health professionals. CAPP? Encana?]

Consultations with residents take time, Grimsrud said.

"They have to have confidence (that) if they have concerns about their health and they follow up with a physician, it's going to be followed up in a certain way."

As for research, after 32 months Alberta Health is almost ready to begin a review of previous research. [Another 48 months or 100 months more perhaps to "begin"?] No field studies are planned. [Of course not! The oil and gas industry and Protti would never allow it]

Grimsrud said that's what people in the community wanted. [Really? Or where they ego-bribed and synergized by the AER and Synergy Groups into accepting this pathetic irresponsible garbage?]

"It's very important to have a common understanding up front, so that takes a considerable amount of time."

Lyder and Grimsrud acknowledge events such as the Fort McMurray wildfire have also delayed the work.

The Alberta Energy Regulator says 12 of 16 recommendations directed its way have been implemented. New rules for practices such as flaring and venting gas are in place and being followed. [AER, chronic legally immune (even for acts in gross negligence and bad faith) liar? AER's been busy deregulating, and getting non health "experts" writing health reports, dismissing health harms caused by oil and gas industry pollution]

Tighter restrictions on fugitive emissions, greater controls on flaring during "upsets" and an overall approach to development of Peace River heavy oils aren't in place.

Agency spokeswoman Carrie Rosa said those directives have been awaiting government approval since January.

Other holes exist. While airborne hydrocarbons are being measured, there is no target level for them. Air monitoring stations have been installed, but they don't immediately alert officials when there's a problem.

And while odour complaints have fallen off, Daum said that's because people have given up calling the regulator.

"We get nothing of consequence back except a letter to say we've checked out the odours and we've found nothing. They won't even tell me if they go out any more."

It's going to be an interesting dissertation, said Jones. "Clearly, there's a long way to go in terms of resolving these issues. I see industry is making some efforts, but … progress since the inquiry has not happened at the pace it should."

Daum points out that members of the current NDP government — including Premier Rachel Notley — were loud in their support when they were in opposition. "(Notley) talked about the precautionary principle, which obviously is no longer in their dictionary. I can't believe how these dictionaries get rewritten the moment there's some responsibility attached to things."

[Refer also to:

Comment to 2016 11 26: Alberta continues controversial wolf cull 

Geoffrey A Pounder

THE ALBERTA ADVANTAGE

Shooting wolves from helicopters
The Alberta Advantage in action.
Wolves and caribou pay the price for human greed.
With plenty of collateral damage.

In other news, Albertans continue to be sickened by oil & gas industry pollution.

The stench of oil and blood.
Albertans pay the price for greed.
With plenty of collateral damage.

The Alberta Advantage.

2016 08 07: Family begs Alberta NDP government for help & compensation, two years after fleeing farm poisoned by Baytex. Alberta Energy Regulator (AER) investigates explosion at shut-in Baytex wellsite, When will AER investigate Encana intentionally & illegally frac'ing Rosebud's drinking water aquifers in 2004, when will Alberta government file criminal charges?

2014 10 08: Baytex Finally Successful, Gags & Settles Poisoned Alberta Families: Does a lawyer-touted "positive outcome" of displacing and gagging poisoned families, stop the poisoning? "Our house is contaminated…there's a smell now…Part of the torture of all this is not only abandoning our farm, but the health experts…told us we shouldn't bring anything (with us)."

2014 08 07: Peace River, Alberta: Thieves stole computer, files but left cash, reports farmer Carmen Langer (who spoke out for years about Baytex's toxic emissions)

2014 04 22: Lawyer asks court to shut Baytex bitumen plant releasing harmful pollution that forced Alberta families to vacate their homes years ago

2014 04 16: AER shows its true colours: caves to polluting tarsands company, allows Baytex to continue harmful emissions 4 more months!

2014 04 04: Toxic Air Is Forcing Canadians to Abandon Their Homes

Consequently, as the region's bitumen industry boomed, seven families were forced to abandon their homes. They have developed allergies to their houses and belongings, which are soaked with toxins and give off a hydrocarbon stench. Some impacted residents have remained behind, though they regularly experience agonizing and debilitating side effects from exposure to toxic vapors.

After hundreds of complaints from residents, an inquiry into Peace River's emissions was undertaken by the Alberta Energy Regulator. This newly minted corporation now has total jurisdiction over approving, monitoring, and regulating oil sands projects. It is run by and "100 percent funded by industry," chaired by a registered oil lobbyist, and replaces the former ERCB while taking on the regulatory duties of the Ministry of Environment. …

The report acknowledges that Peace River's bitumen operations have affected regional health, and that there are significant problems with the regional air monitoring program and the regulator itself. It offers an ambitious list of recommendations that may eventually put an end to the troubling era of openly venting carcinogens like benzene and reduced sulphur compounds into the air around Peace River.

Yet, at the same time, the report undermines its own recommendations. It uses weak language, short-lists the symptoms that residents testified to, and offers a baseless dismissal of evidence that Alberta's laboratories have systemic problems. Worst of all, the report recommends temporary measures—like burning off all emissions—which may actually make life worse for some of the residents who have stayed behind.

…

Weak Language
Vivianne Laliberte, another Reno resident who was forced to evacuate her home, doesn't share in this cautious optimism. "Unfortunately, this has been a horrible experience in which we have lost trust in government, the regulator, and industry, because none of them have told the truth. They have told us things and then we find out they're doing the opposite too many times. I think they focus on PR and how to spin things so that people think things are happening, but they're not. And that's where they put their energy."

She also noted that the report leaves some of its most important recommendations open to interpretation. It suggests that the AER should eliminate odors "to the extent possible" and that gas should captured "where feasible." She argued, "That's where the companies are going to be left off the hook. If you say 'where feasible,' who's going to decide where it's feasible? How much money do they have to be making before it's feasible?"

"If things don't change, there will be many more people who will realize that they have the same choice we had: You can stay and be sick, or you can leave," Laliberte warned.

Another significant language choice in the report is its many references to "odors," and its assertion that odors, rather than emissions or vapors or toxins, are causing health problems. The report champions the assessment of Dr. Donald Davies, a former DOW Chemical toxicologist, who argued that "people are not being 'poisoned,' but… the symptoms are a response to the odors."

Dr. Margaret Sears, another expert witness, believes there is no medical basis for the argument that odors from toxic chemicals, rather than their actual toxic properties, are causing health problems. To her, this is a distinction that, "as someone who works with medical doctors and does medical research, I don't understand. They said that there were health effects but they were not direct, toxic effects. I don't believe that there's really a strong medical basis for this distinction between direct toxic effects and other health effects in this case."

Nonetheless, the AER's report recommends setting air quality objectives according to odor perception. This initiative does not take into account odorless chemicals and residents who testified that even when no odor can be detected, they have experienced emission-related symptoms. "We detect the aches and pains in our body before we smell it as it's cropping up in the air," Carmen Langer, a resident of Three Creek, told me.

"It's not an odor that's going to kill us," said Langer. "If we had to live with a slight odor it might be uncomfortable to live with and unnecessary, but we can live it. It's not going to kill us. These emissions are killing us."

…

At the AER inquiry, Dr. Margaret Sears pointed out that labs in Alberta are not standardized and are free to decide how much of a chemical needs to be present in order for their tools to detect it. This allows private laboratories to cater their results to the needs of clients—they can prove, for instance, that no dangerous chemicals were detected in the air even if they are present. Chemistry Matters, the lab retained by Baytex to sample the air in Reno, states on their website that they set high limits "to protect our client's interests." Dr. Sears told me, "whenever I mention that to somebody who knows anything about toxicology, or environmental sciences, their jaw drops. It's appalling."

She argued that in order for labs in the province to produce useful data, these systemic issues need to be addressed. "I hope that the Alberta labs issue will come to the fore, and that they will re-examine these submissions that were given to them and readdress this." Yet, she suspects that "it would be rather awkward for them to be doing that because what it means is the data before them is really not credible."

The AER panel dismissed Dr. Sears' concerns entirely, writing that "criticism about Alberta's laboratories appeared to be based on general statements from unspecified studies and comments on a laboratory's website" and that "with no credible evidence to support her views, the Panel is unable to draw any meaningful conclusions from her submissions and testimony." …

But public records show that this simply isn't true. Dr. Sears explained to me that she "talked about that at huge lengths and went through all of the reports that were available to them. I extracted all of the detection limits; I extracted the limits for health concerns. I presented that really systematically, so for them to say that I didn't substantiate that is flatly wrong. I put a lot of information before them in this regard, including Alberta reports, peer reviewed reports, standards for this kind of analysis, standards for interpretation… They obviously didn't look at what I gave them. Or they forgot." [Or intentionally ignored the information to protect the polluters, they way the ex-Encana VP lead AER protects Encana?]

… Vivianne Laliberte believes a proper monitoring program would need to be independent of industry and government, both federal and provincial. She explained: "With this monitoring, we can't know if it's being done right or not. We don't have the ability to tell that. And so, basically, I think we just have to rely on what our bodies are telling us, and when we're sick and when we're having symptoms. We are the monitors now."

….the AER panel demonstrated a preference for scientific studies that downplay the impacts of industry. They dismissed evidence that there are systemic flaws in Alberta's laboratories and championed a study that insisted that odors, rather than toxins, can explain Peace River's health problems….

… Karla Labrecque, though pleased with aspects of the report, believes she has developed such strong chemical sensitivities that she can never move back home, even if the long-term goal of flaring 3 percent of the time is realized. In spite of the report, her family is suing for an injunction to shut down Baytex's Reno operations as well as compensation for their losses. "We've moved out of there, we've moved on. But there are still families left there, right? It needs to be fixed for the people who are left there so that they don't have to move out." To those left behind, Karla argued, waiting for months for the open-venting to stop is not a reasonable option.

But Vivianne Laliberte, who also abandoned her Reno home, can't afford to sue and isn't quite so optimistic. The AER's recommendations come as little consolation for what has been taken from her and her family.

"Our home… I don't think it can ever be lived in again," she said. "Even when the wind is not coming from the installations, we get sick in the house because it's been absorbed into the material. And even different health experts have told us that we're not supposed to bring our stuff from the house—so we can't bring our beds and things. We walk away from our home with no compensation; just walk away and we can't even bring the contents. And we're just supposed to go out and buy all this stuff as if we have a private bank or something. I don't know, it's mindboggling. My husband is going to be 65 this week. He's in a wheel chair. We're just supposed to do this somehow. I don't know how."

"I think all these houses that have been abandoned are condemned—they cannot be lived in," she concluded. "With all we've been through, with all we've learnt, with all the lies we've been told, we're not counting on that now. We try not to even think about it." [Emphasis added]

2014 04 01: Toxic pollution, odors caused by Baytex heavy oil operations in the Peace River area need to be eliminated says AER; Two-tiered AER? What about the AER saying nothing about Encana fracturing Rosebud's drinking water aquifers? What about the AER violating Ernst's Charter Rights trying to cover up Encana's unlawfulness?

2014 01 31: Carla Labrecque's doctor refused to do a blood test until he consults with a local politician; Mike Labrecque gets sick working for Baytex, Baytex lets him go: "You're done."

2014 01 24: Experts Margaret Sears and Donald Davies at Baytex hearings differ widely on the health effects of emissions

2014 01 23: Baytex commits at public AER hearing to capture tank-top emissions; the regulator granting harmed Albertans a hearing occurs rarely – like winning the lottery

2014 01 22: AER hearing into Baytex bitumen emissions underway in Peace River; families hope the AER will make the company clean up

2014 01 21: Health report: some Alberta doctors refused to treat families exposed to toxic emissions by Baytex in Peace Country, one lab refused to process a test

Reno Landowners Group to AER – January 20, 2014 – Marked at Hearing for Identification Purposes [The Wilson Law Office letter (snap of Pg two below) was publicly available on the AER website but appears it has since been removed. Because of the gag orders the poisoned families signed with Baytex? Who's the AER protecting? Alberta families or polluting and family-harming oil and gas companies?]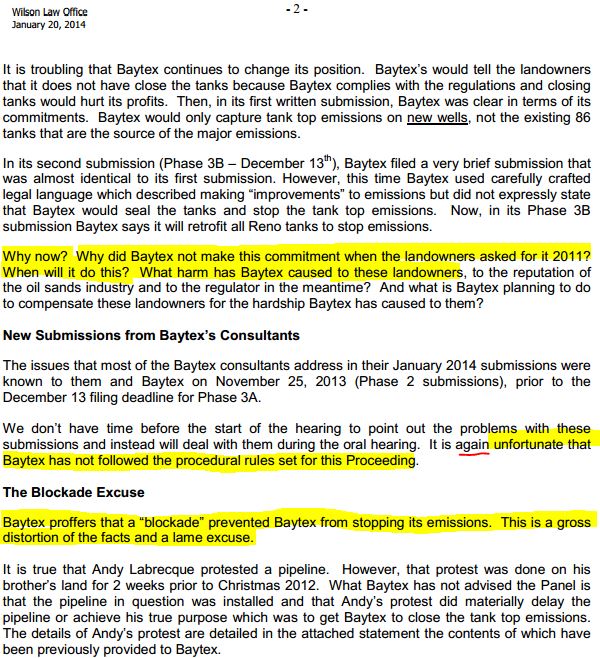 ***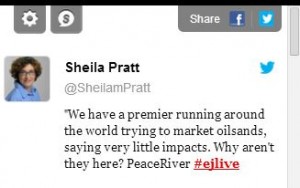 2014 01 19 Screen grab.
Is Alberta's new Premier Rachel Notley any better?
2014 01 18: Court date set in Baytex fumes case for families that were forced to vacate their homes in the Peace River area of Alberta
2014 01 03; Two studies commissioned by the Alberta Energy Regulator (AER) back family's concerns with Baytex Energy bitumen (tarsands) tank venting pollution Where's AER study into Encana breaking the law and fracing and contaminating Rosebud's drinking water aquifers?
2013 12 26: Where are the regulators in Alberta? Fed up with toxic fumes: families suffering ill health ask Peace River court for 8 month injunction to shut down 46 wells and 86 venting tanks owned by Baytex Energy
2013 11 29: Several families taking Baytex (Alberta oilsands company) to court over toxic emissions; Buyout packages allegedly silence Albertans struck with industry-related cancer
2013 09 03; Baytex Gag Order and Can You Silence a Child? Inside the Hallowich Case; Peut-on empêcher un enfant de parler? Le cas des Hallowich
2013 01 16: Three Creeks/Reno area residents are breathing air heavily affected by tar sands open lid tanks; More than 600 complaints over two years lead to little if any change in pollution control
Frustration and more questions than answers came following a presentation from Dr. Ian Johnson at McKinney Hall, outside of Three Creeks last Thursday (Jan. 10). … Johnson has performed air quality testing that correlates to industrial activity and has also been involved with appeals to Alberta Environment (now ESRD) and the Energy Resources Conservation Board (ERCB) in the Cold Lake Oil Sands area. … "It's obvious from the methane numbers or concentration we're seeing, the air they're (the residents) breathing is heavily affected by what's coming from the tar sand facilities…."
…
"All the doors seemed to be closed. The regulatory bodies are not doing their job and we have gotten very little response – the premier (Alison Redford) has not responded to us," a frustrated Vivianne Laliberte told the Record-Gazette following the meeting. … [Emphasis added]
2011 07 19: Baytex submits action plan to ERCB following accidental land spraying with crude oil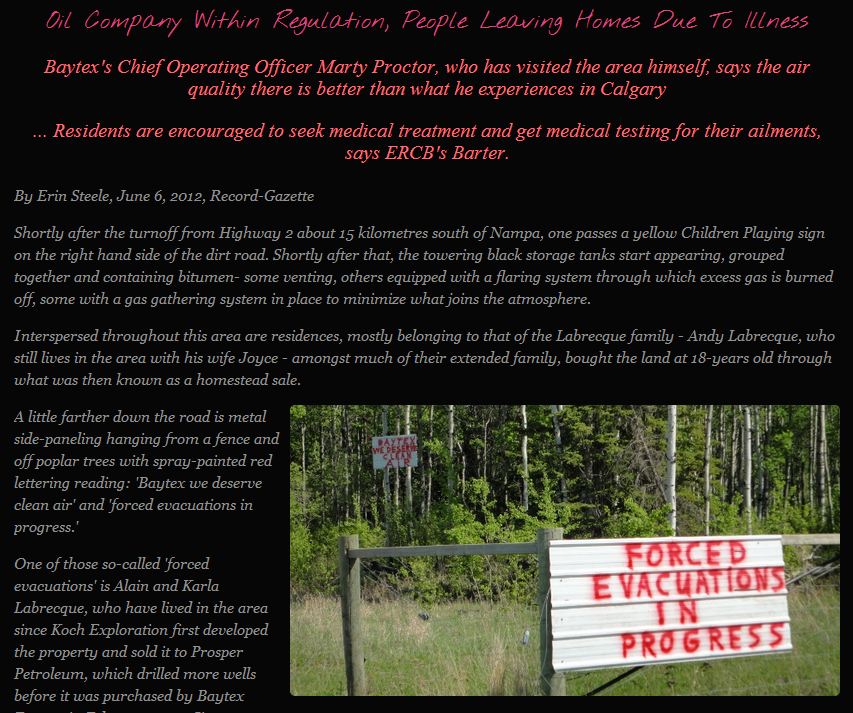 Snap from FrackingCanada Fracking Calgary