Gulf of St. Lawrence oil drilling proposal provokes anger, Environmental and First Nations groups have opposed the Halifax-based company's plans by Ian Bickis, The Canadian Press, Sep 17, 2016, CBC News
Related Stories
A regulator's proposal to give more time to an energy company that wants to drill in the Gulf of St. Lawrence is provoking anger from opponents who say it's high time the federal government intervene to protect the area.
The Canada-Newfoundland and Labrador Offshore Petroleum Board [As corrupt and oil industry controlled as the NEB and AER?] said Friday it's proposing to grant Corridor Resources a new four-year exploration licence in an area known as Old Harry. Otherwise, the board said there wouldn't be enough time to complete consultations and an environmental assessment before its current licence expires Jan. 14, 2017.
"We're reeling, absolutely reeling," said Mary Gorman, co-founder of the Save Our Seas and Shores Coalition, which has been pushing against the Halifax-based company's drilling plans for the nine years it has had a licence for exploratory drilling in Old Harry.
"It's like Groundhog Day. You're stuck in some kind of time warp that keeps repeating itself."
'You got every seat out of us'
The Save Our Seas and Shores Coalition and other environmental and First Nation groups have been calling for a moratorium to prevent offshore oil drilling in the Gulf of St. Lawrence over concerns of the potential effects a spill would have on the area's sensitive ecology.
"I would say to the honourable prime minister, 'Where's the beef?"' Gorman said.
"What are you actually doing to protect the East Coast … You got every seat out of us. Where are you for us now?"
'Sustainable energy sector'
Natural Resources Canada spokeswoman Angela Kokkinos said the government would take into account feedback received through the Canada Gazette process in deciding whether to approve the new licence.
"Our government is committed to restoring public trust in Canada's environmental assessment process that protects Canada's rich natural environment, respects the rights of Indigenous peoples, and supports a resilient and sustainable energy sector," [Translation: Everything the oil and gas industry wants, it gets, people, communities, other industries, fish, wildlife, water, land and air be damned?] Kokkinos said in an email.
"The Government of Canada recognizes the importance of the Gulf of St. Lawrence to Canadians and we acknowledge that stakeholders have concerns regarding environmental sensitivities."
The petroleum board, which regulates Newfoundland's offshore oil industry, said its proposal would give it the time needed to conduct a review of drilling in Old Harry. The proposal requires the approval of the provincial and federal governments.
'Informed by evidence'
Newfoundland and Labrador Natural Resources Minister Siobhan Coady said in a statement that the government will take time to consider it.
"Our decision will be informed by evidence, including feedback from stakeholders, as well as our social licence," Coady said.
"We support responsible economic development, protection of the environment, and worker health and safety in Newfoundland and Labrador's offshore."
Corridor Resources did not respond to multiple requests for comment.
The federal government has estimated that the Gulf and surrounding areas potentially hold 39-trillion cubic feet of natural gas and 1.5-billion barrels of oil.
The Old Harry site is located about 80 kilometres off the southwest tip of Newfoundland. [Emphasis added]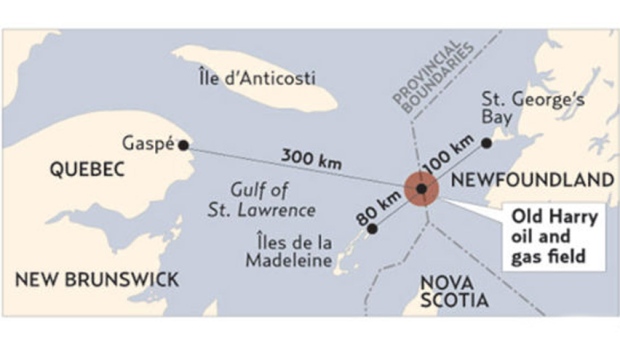 The Old Harry site is located about 80 kilometres off the southwest tip of Newfoundland. (The Gazette)