Treatment plants ineffective in hydrocarbon removal by Drew A. Penner, November 6, 2012, Mountainview Gazette
When oil particles from the June Plains Midstream pipeline rupture near Sundre floated downstream past containment booms along Gleniffer Lake, water treatment plants proved ineffective at removing any of the petroleum hydrocarbon products detected. While these particles were only found in trace amounts at the drinking water facilities, neither the Anthony Henday nor Red Deer plants showed much change between levels in raw intake water and post-treatment samples.
"It was a bit of a wake-up call," said Alberta Environment and Sustainable Resource Development Limnologist Chris Teichreb. "The plants are effective at removing a lot of other stuff but they're not effective at removing hydrocarbons." After about 475,000 litres of oil flowed out of a 12-inch diameter segment of the Rangeland South Pipeline system buried beneath Jackson Creek, a tributary of the Red Deer River, visible crude was by and large contained by spill response crews. But dissolved particles of benzene, toluene, ethylbenzene and xylenes poured over the Dixon Dam and into the reservoir below.
"It was a very short term that we saw it exceed those guidelines," he said. Toluene, which can affect the human nervous system, the kidneys, the liver, and the heart, causing unsteadiness and tingling in fingers, to unconsciousness and death, was found within the reservoir above acceptable guidelines, according to a presentation given by Teichreb at the Red Deer Watershed Alliance at Olds College Oct. 25. Further upstream benzene, which increases the risk of cancer and other illnesses, was temporarily found at levels exceeding drinking water standards. "We're currently looking at that and discussing with the drinking water plants what we need to do in terms of contingency plans for stuff like this in the future," Teichreb said. Twice-daily monitoring at the treatment facilities did not reveal unsafe hydrocarbon levels, he said. Shutting down the Anthony Henday and Red Deer plants would have affected 150,000 people. Alberta Environment is studying potential long-term effects of the spill on the entire ecosystem. Energy Minister Ken Hughes told the Canadian Press the public will be invited to participate in a provincial pipeline review launched in the wake of this Plains Midstream spill, once Calgary-based Group 10 Engineering completes its technical review by the end of December. Meanwhile, reclamation workers are still finding oil seeping at sites where they have been digging, according to the Alberta Surface Rights group. On Nov. 14 they will hold a meeting at the James River Community Hall north of Sundre to discuss contamination, compensation and hydraulic fracturing. [Emphasis added]
[Refer also to: Fracking Canada: The Last Road to Redemption and No Duty of Care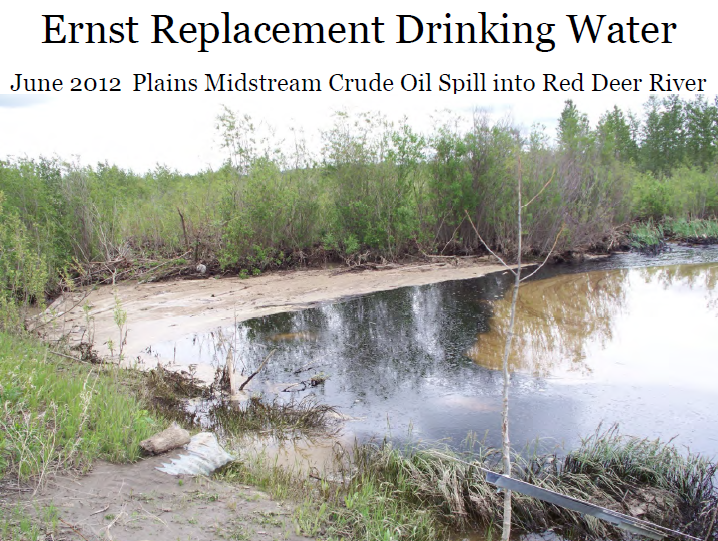 Source: Slide from The Great Getaway: Secrets of a Frac Cover-Up presentation by Ernst at Mount Royal University, Calgary, October 12, 2012
Photo by Glenn Norman