In North Dakota's Booming Oil Patch, One Tribe Beat Back Fracking, The Turtle Mountain Band was among the first tribes to ban the drilling process. Here's the difference it made by Sarah van Gelder, January 21, 2016, Yes Magazine
Drive the long, straight roads of north-central North Dakota, and you pass lake after lake amid hayfields and forests. Migratory birds, attracted by the abundance of water and grain, pause here. Farmers, boaters, and fishermen orient their lives around the pure water.
The water, more than anything, explains why members of the Turtle Mountain Band of Chippewa Indians acted so quickly when they learned their region was next in line for fracking. Within just a few weeks of tribal women meeting on the topic in late 2011, the council banned fracking on the 77,000-acre reservation.
Their ban was one of the first in North America.
The process started in November 2011 when a tribal elder, Carol Davis, called the women of the tribe together. Fracking was booming on the Fort Berthold reservation just 190 miles away in the heart of the Bakken oil fields. Davis had heard that the Turtle Mountain reservation could be next. In the tribe's tradition, women are responsible for protecting the water, so she invited the women to discuss fracking over a meal.
When she first heard about fracking in Fort Berthold, Christa Monnette, a member of the Turtle Mountain Tribe, thought that an oil and gas boom on her remote reservation would be a good thing. "I remember thinking, 'Wow, how lucky they are! How come we can't strike oil here?'"
After Davis explained her concerns to the group of women, Monette and her half-sister, Cedar Gillette, decided they needed to learn more about the process behind hydraulic fracturing or fracking.
At a second meeting, Davis offered each of the women a tobacco leaf, telling them to accept it only if they were committed to work on the issue.
Monette took the tobacco reluctantly: She was a single mother of three and worked full time. But the more the women—and the men who joined them—learned about fracking, the more worried they became.
They learned that the frackers would drill right through their precious aquifer, risking contamination of their drinking water and lakes, and that the process produces large volumes of wastewater and contaminated materials.
They learned about Dimock, Pennsylvania, where a well had exploded and groundwater contamination was linked to fracking. The Cabot Oil and Gas company had been ordered to provide alternative water supplies for those affected.
Gillette and Monette were especially concerned about what was happening on the Fort Berthold reservation, where three affiliated tribes, the Mandan, Hidatsa, and Arikara Tribes (also collectively called the MHA Nation), are in the midst of the fracking boom.
Gillette had worked as a domestic violence advocate in Fort Berthold. There, corruption, crime, drug addiction, and human trafficking had accompanied the massive influx of oil workers with money to spend.
"People are fearful," Gillette said.
And for good reason. According to the FBI, the area's violent crime rate rose 121 percent from 2005 to 2011. "These dramatic increases have overwhelmed state, local, and tribal law enforcement agencies," reported the 2014 National Drug Control Strategy.
And contaminated material, including radioactive material concentrated during fracking, has been found dumped on the reservation. The MHA Nation lacks the resources to oversee the many drilling sites and waste facilities.
In addition to this pollution, expenses associated with the boom—from damaged roads to social services for the flood of new workers and their families—have eaten up the cash windfall that was supposed to support the tribe for years once the boom ended, according to a report by the Property and Environment Research Center.
"We knew what was happening to other areas," Gillette said. "If we didn't protect our water, what would tribal members have seven generations from now?"
It was with this knowledge that Gillette, Monette, and others in the Turtle Mountain group presented their findings to their tribal council on November 2, 2011.
"People were stunned when we presented the facts." Gillette said. The council called a second meeting and invited the entire community. At that meeting, the council unanimously voted to ban fracking. 
Still, the meeting was tense for Gillette. "I didn't believe it would pass until they all said yes," she said. After all, an impoverished tribe was leaving millions of dollars on the table. Chairman Richard McCloud supported the ban: "What is sacred to our tribe is water. We all know that in the very near future, water will be more valuable than oil or gold or anything else. This area is where our ancestors did their farming; the springs run through here, and this is how generations survived. The fracking ban will protect our water so future generations can continue to survive."
What the sisters didn't know when the fracking ban passed was that the Bureau of Indian Affairs had been on the brink of opening Turtle Mountain land for oil and gas leasing. The tribe's action put a halt to that plan.
Fast forward to the present, and the Turtle Mountain Tribe is moving forward: Last year, the tribal council adopted a new water code that solidifies the tribe's stance on fracking, and with the help of a Department of Energy grant, the tribe is moving into developing the abundant solar and wind energy resources of the reservation.
Gillette is now attending law school with a focus on environmental law. Monette is still on the Turtle Mountain reservation, still a busy working mom, except she's now the main administrator of the "No Fracking Way Turtle Mountain Tribe" Facebook page, where she posts not only about her reservation, but about other people around the world resisting the devastation of fossil fuel extraction. [Emphasis added]
[Refer also to:
2015 12 16: HOW MUCH FRAUD ARE COURTS, REGULATORS, COMPANIES ENGAGING IN TO HIDE THE FRAC POISONING? Tracers to blame? Range Resources unwillingly confirms fracking directly pollutes drinking water? Damning new information surfaces in Washington County water well contamination case
2015 12 07: Oil Patch Boom 'n Bust Harm? Alberta's suicide rate, always slightly higher than national average, Spikes up 30 per cent in first half of 2015, compared to last year
2015 10 14: Will Canadian cops become next victims of industry's water contamination and fraud? A dangerous new police "best practice?" RCMP members "drink the water" while "trying to understand the shale gas industry" and "educate" themselves. No word on if RCMP plan to try to understand, or investigate, the dangerous and rampant fraud associated with oil and gas industry's widespread frac contamination, or the number to call if families need RCMP "water taster" to come taste their water after it's been frac'd, as companies, regulators, and research councils try to cover it up, while lying to the public (including the police) that now toxic and explosive water is "common, normal, and safe"
2015 10 22: If frac'ing is safe & wonderful, why so many gag orders, why is fracking killing hope, people, fish, animals, vegetation, water, air, soil, and busting caprock? Why so much fraud by regulators, politicians, companies, NGOs, experts, academics etc covering up murderous corporate crimes: threats, bullying, abuse; dropping rodent shit into water wells of the harmed; trespassing, home invasions, interrogations of harmed families by police; intimidation; "terrorist" labeling to violate rights of citizens filing lawsuits? George Bender "died of a broken heart" says family.
2015 06 30: Cumulative Impacts Frack Attack? Double Homicide in "No Duty of Care" AER and Gerard Protti's Fox Creek Blanket Approval Pilot Project
2015 06 25: While Ontario Government Won't Define High-Volume Fracking and Lies to the Public, High-Volume Fracking Banned in New York State Today!
2015 05 27: Thank Fracking: Business licence for Fox Creek hotel goes up 133,233 per cent
2015 05 18: Why Did New York State Ban Fracking? Massive study finds health, safety and environmental uncertainties regarding fracking's dangers have 'grown worse over time'
2015 05 16: Alberta Views Feature: Landowner Rights, How Big Oil Trumps Private and Public Good; "Some of us will be unlucky enough to be in the way…and will be called on to sacrifice"
2015 03 30: British Medical Journal publishes letter by 20 high profile medical and public health experts calling for ban of "inherently risky" frac industry; Medact's new report concludes: fracking "poses significant risks to public health"
2015 03 25: Did Harper and the oil and gas industry order RCMP/CSIS/Snipers to attack innocent mothers and grandmothers, and set aflame stripped police cars in New Brunswick to discredit all Canadians concerned about frac harms and lay a red carpet for Harper's Bill C-51?
2015 01 14: Sounds like Alberta (Again)! Utah energy boomtown turns on midwife who raised concerns over apparent spike in infant deaths: "Could the deaths be tied to the oil industry, the region's economic powerhouse?"
2014 12 17: New York State to ban fracking because of red flags to public health. Health Commissioner Howard Zucker: "Would I let my child play in a school field nearby? After looking at the plethora of reports, my answer would be no."
2014 12 16: Quebec's Premier Declares Province-wide Shale Gas Ban after Environmental Review Board (BAPE) says Fracking Not Worth The Risk, "Too many negative consequences to the environment and society…risks to air and water quality…noise and light pollution"
2014 11 28: Fracking might be as damaging as thalidomide, tobacco and asbestos, UK's Chief Scientific Adviser warns in new report: "In all these and many other cases, delayed recognition of adverse effects incurred not only serious environmental or health impacts, but massive expense"
2014 09 16: RCMP ignore "volley of gunfire" to concerned citizen's home but warn government and industry: "Environmental extremists pose 'clear and present criminal threat' to Canada's energy sector – more likely to strike at critical infrastructure than religiously inspired terrorists." Canadian and Australian oil and gas lobby groups warn: Industry operations "impact aquifers" and "contaminate water resources" as pre-determined "bullshit" investigations, cover-ups and court rulings fix everything. No word if "religiously inspired terrorists" plan to retire because of the intense competition
2014 06 30: Massive Legal Victory in New York State: Towns can ban fracking; New York's highest court ruled in 27 days
2014 04 29: $3M federal grant aimed at Bakken oilfield crimes against women; $3M is nothing compared to the $ companies are taking in profit
2013 12 07: Chevron halts Romania shale work after using riot police to harm concerned citizens in Romania, RCMP use riot police against concerned Canadians, Mi'kmaq in New Brunswick refuse to back down, defy another court injunction
2013 06 16: Brief review of threats to Canada's groundwater from the oil and gas industry's methane migration and hydraulic fracturing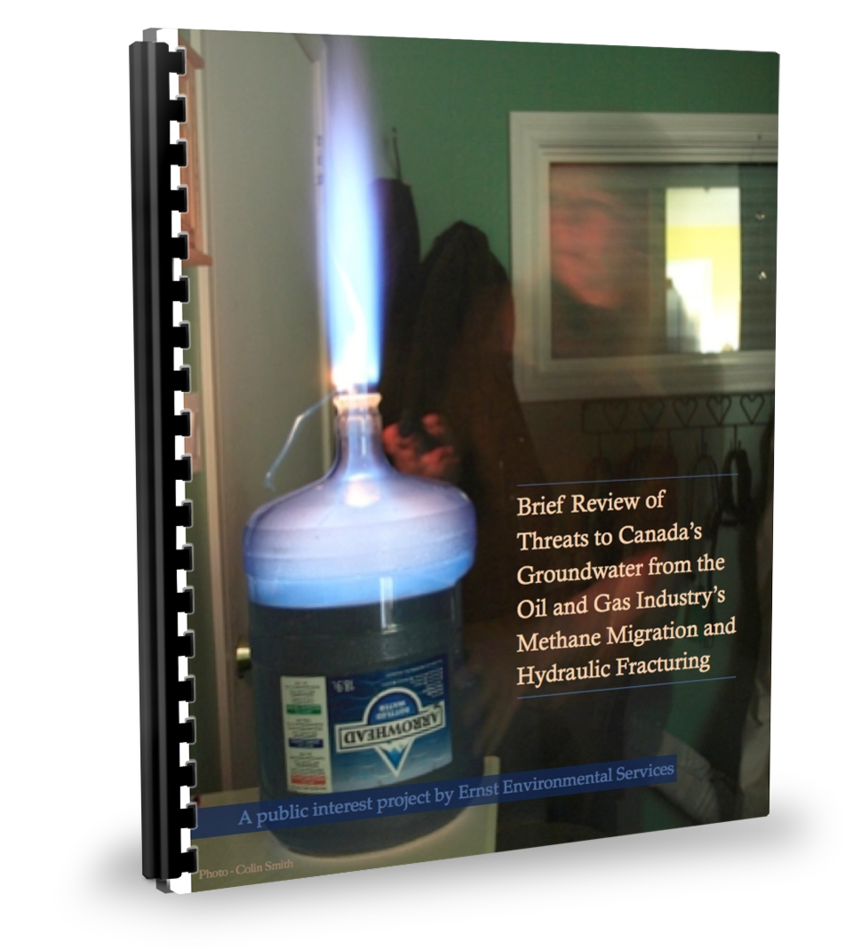 2013 10 04: Pa. well site will be focus of fierce legal battle; Criminal charges for toxic frac waste spill/leak/dumping stun drilling industry
2013 08 04: Known mafia tactics used by drilling and fracking industry, Lifelong 'frack gag': Two Pennsylvania children banned from discussing fracking
2012 11 23: Ottawa sued over Quebec fracking ban, Ontario Smacked by U.S. NAFTA Lawsuit on Fracking
2012 07 16: Gas drilling a boom for drug traffickers, too, New roads help them bypass border stops
2007 04 27: The EUB (previously ERCB, now AER)  Mocks the Judicial Process ]