2013 07 08: Radium 226 was found in returned fracking fluids at Preese Hall, Lancashire:
Radium 226 was the highest naturally occurring radioactive material (NORM) found in the flow back water from the Bowland shale measuring between 14 and 90 Becquerel per litre – according to an analysis by the Environment Agency (EA) in December 2011, 
Even at its lowest levels, this exceeds the EA's limit allowed for waste water disposal without a permit, which is any amount higher than 10 Bq/g. [Emphasis added. So applying for and receiving a permit makes it ok to poison then?]
Legal update from Tina Louise, June 15, 2016:
I'll be in Blackpool Law Courts at 10am on 24 June 2016 – Chapel Street, FY1 5RJ (though some are meeting outside from 9am)
This is of course rather worrying and not something I know how to prepare for… but as it has turned out, I couldn't be in a better position to cope. Since sharing the news that the court wants me to pay £55,342.37 in court costs for an 'eviction' (that wasn't as we'd already gone) in Summer 2014 of a 3-week camp in a field earmarked for fracking by Cuadrilla… the support, warmth, concern and pure humanity in messages, posts and hugs – has quite taken my breath away.
Campaigners here in Lancashire with Frack Free Lancashire, Friends of the Earth England, Wales and Northern Ireland, Plane Stupid, Occupy London, Reclaim The Power, Greenpeace UK and countless individuals and anti-fracking groups across the country have made clear their shared outrage and support – each recognised exactly what this is – an attack on our right to defend our communities and exercise peaceful protest. In other countries, honourable activists can be killed for what we do and often are – while we do have a semblance of democracy – I think we are beholden to make it work for us and to not allow this bullying that would sacrifice our rights and make us vulnerable in future to the whims of corporations seeking profit at risk to us.
So the court wants me to explain why no money has been paid (I actually really can't as I am very poor and without assets)… but I find the question is pointless. What point my bringing in financial excuses when my real problem is that I WILL NOT pay criminals, or contribute in any way to harm. What that means for my case is I believe that I will be in 'contempt of court' – I though believe that the corporate abuse of our legal system is 'contempt of justice'.
Lovely people have offered to crowd-fund but I truly think this is the wrong way to go – it sets a precedent and means that we will face this situation time and again as they break us financially and eat up our valuable time in courts and prisons. I am really fortunate to have been a travelling activist in this fight to keep the UK frack-free… so my network is broad and I know, kind and supportive. But I know many who work harder… on front lines at camps, slowing trucks, writing endless Freedom of Information requests, arranging events, sorting transport and function rooms, digesting thousands of pages of reports and researching in every spare moment – not all activists though could get the support I know is there because they aren't as visible… so what for them if this cost is paid?
We should NOT contribute in any way – directly or indirectly by submitting to their 'authority' and ability to use our laws to their advantage. Why is the law not working to our advantage? Why can't we get it to move quickly on behalf of our movement? What recourse and access realistically do any of us have?
We can't win if law and 'justice' is based on ability to pay for lawyers – they will always have more
A dear friend and fellow activist – George Brown – has kindly set up an event for any who can make it on the day… to make clear – WE WILL NOT BE INTIMIDATED. The event is 'I am Tina Rothey' – rather like 'I am Spartacus'… a bit uncomfortable to have my name as a focus but I understand the purpose and see it more as 'I am you' rather than you are me if you see what I mean. They bankrupted Ian Rowland Crane, hit young activists with fines they can't hope to raise with ease and are ruining future prospects for activists younger than myself who may one day want a mortgage or the freedom to travel and be employed without having to mention time spent in jail. I really don't have much to lose… and have already gained so much in warm friendship and solidarity.
If you can make it for what will likely be a quite short court appearance, that would be great… if not, then perhaps if you could share online to expose this abuse of OUR laws to support an industry that has to bully its way into our lives, that would be lovely. Thank you.
#DontFrackJustice
#IamTinaRothery
Two thousand years ago, a Roman Senator suggested that all slaves
wear white armbands to better identify them.
"No," said a wiser Senator.
"If they see how many of them there are, they may revolt."
Opposition to British fracking plans swells, Local democracy at stake in fight against government plans for natural gas by Daniel J. Graeber, June 15, 2016, UPI
LONDON, June 15 (UPI) — A British environmental advocacy group said more than 150,000 signatures were added to a petition sent to the government against hydraulic fracturing plans.
"Fracking poses risks to people and the environment, and politicians in Westminster shouldn't force this risky technology on any community," campaigners Hannah Martin of Greenpeace and Rose Dickinson of Friends of the Earth said in a joint statement.
In May, the British Geological Survey started working with its university counterparts to set a baseline for water and air quality associated with shale natural gas reserves in North Yorkshire. Third Energy U.K. Gas Ltd. submitted an application last year to use hydraulic fracturing, known also as fracking, at one well site there.
BGS already started environmental surveys in Lancashire, where shale pioneer Cuadrilla Resources aimed to explore for natural gas using hydraulic fracturing.
Friends of the Earth and Greenpeace said they delivered a petition with 186,000 signatures to the British government expressing solidarity with a move by the Lancashire County Council to prohibit drilling in the area.
Cuadrilla was the target of widespread protests that grew out of its early fracking campaign in the region.
Friends of the Earth earlier this year said it has seen documents that show the government aims to develop a commercial shale industry under the terms of a Nationally Significant Infrastructure Planning mechanism, a mechanism criticized as a way to sideline local voices. Beyond the concerns about the controversial drilling practice, which may be linked to groundwater contamination and small earthquakes, local advocates said the fight against the government was a fight for local empowerment.
The British government estimates shale basins in the country may hold more than 1.3 quadrillion cubic feet of natural gas, a level the government said could help an economy with natural gas imports on pace to increase from 45 percent of demand in 2011 to 76 percent by 2030.
UK fracking firm plans to dump wastewater in the sea, Ineos company emails reveal huge amounts of treated wastewater are likely to be disposed of in the sea by Andy Rowell, June 15, 2016, The Guardian
A UK shale gas company is considering dumping waste water from fracking in the sea, emails from the company show.
Ineos, which owns the Grangemouth refinery and holds 21 shale licences, many in the north-west, North Yorkshire and the east Midlands, has said it wants to become the biggest player in the UK's nascent shale gas industry.
In an email sent in March to a resident in Ryedale district, North Yorkshire, where councillors gave the go-ahead to a fracking application by another company in May, a senior executive said that water produced during fracking could be discharged in the sea after being treated. It has not previously said where treated water would be released.
"We will capture and contain it, treat it back to the standards agreed [How fast will the agreement be violated, and how often?] … with the Environment Agency and discharge where allowed under permit, most likely the sea," wrote Tom Pickering, director for Ineos Shale, responding to concerns over where such "flowback" water would end up.
Green campaigners and people living near prospective sites have highlighted the potential environmental impacts of fracking, such as contamination of water supplies, minor tremors and local air pollution. But the issue of where the huge quantities of resulting waste water is disposed has received less attention. [By slippery corporate and government maneuvering?]
Shale companies pump water, chemicals and sand at high pressure underground to fracture shale rock and release the gas within, but each well can use as much as 6m gallons of water. Between 20 and 40% flows back to the surface, containing salts, chemicals and naturally occurring radioactive material which the Environment Agency (EA) says is likely to be classified as radioactive waste.
Under EA regulations, the water must be treated on site or elsewhere at a designated treatment facility, before a permit is issued to discharge it. Ineos and the industry trade body said any fracking wastewater would be treated before being disposed of. ["Saying" what will happen by the oil and gas industry is often very different from what companies end up doing]
Mark Ellis-Jones, project executive of the onshore oil and gas programme at the EA, told a cross-party parliamentary group in April: "We are satisfied that any wastes that arise from fracking will be managed sufficiently and properly by our environmental permits." [And by these regulatory promises, the pollution and health harms begin … ]
However, there are concerns from some UK experts over the treatment of fracking wastewater.
A report on the environmental impacts of the technique by the Natural Environmental Research Council last year warned that:
"A huge uncertainty, given the immaturity of unconventional oil and gas development [ie shale gas fracking] in the UK, is how much wastewater will be produced and regulatory and technical mechanisms for cleaning it or directly reusing it."
It added:
"One of the most important concerns for the development of unconventional resources is the
appropriate

management of flowback and produced water."

In March, the Chartered Institution of Water and Environmental Management, which represents water professionals, said in a consultation response to the EA that
"we are concerned about the ability to treat flowback fluid at the present time".
It noted:
"Advanced treatment technologies may not be able to treat the levels of dissolved solids in produced water which would limit the ability to treat produced water on site. Dilution at a treatment works may be able to reduce the salinity,

however it may not be appropriate to dilute to the level required to dilute the radionuclides present to regulatory levels."
Two years ago, shale firm Cuadrilla withdrew an application for a permit to frack in Lancashire after the EA tightened up the rules over safe disposal. The change came after 2m gallons of wastewater had already been discharged into the Manchester ship canal.
Dr Paul Johnston from the Greenpeace Science Unit argued that discharging "huge quantities of water loaded with metals and radioactivity and chemical constituents" into "sensitive marine environments" is "a retrograde step as far as environmental protection".
But the industry said the water could be treated and disposed of safely. [Doesn't mean it will be]
Ineos did not directly address plans for dumping in the sea but a spokesperson said: "Ineos' wastewater will be enclosed in double skinned storage tanks before being recycled. [Translation: Illegally dumped?] An environmental permit from the Environment Agency… will be required where we need to dispose of any process water according to an agreed waste management plan. We will employ licensed water treatment companies to process our wastewater."
A spokesman for UK Onshore Oil and Gas, which represents the shale industry, said: "In the exploration phase operators will send all flow back fluid to EA permitted treatment facilities for safe disposal … When the industry moves to commercial production it will want to recycle flow back fluid and reuse it for the next stage of operation." [Emphasis added]
[Refer also to:
2016 06 15: Will waste water kill fracing? EPA bans disposal of frac waste water at public treatment plants. Injecting it causes seismicity, recycling it is costly, using it to irrigate and landspraying it contaminates food, dumping it into waterways kills fish, pits filled with it leak, breathing it in aerosols corrodes lungs. What will companies do with it?
2016 06 12: Meet Alberta's Radioactive Frac'd Ranchers: Nielle and Howard Hawkwood. Timing is everything
2016 06 12: CA Officials Want To Allow Oil Industry To Dump Toxic Waste Into Aquifers, Exempt Them From Federal Protection
"State oil regulators' disturbing proposal to sacrifice dozens of aquifers to the oil industry is an enormous threat to California's water supplies," said Hollin Kretzmann, an attorney with the CBD. "The federal EPA must stop this incredibly foolish plan to let oil companies dump polluted waste fluid into these underground water sources."
… But it is possible to approximate. "It looks like there are roughly 48 oil fields that will be proposed for exemption through 60 applications (some fields have multiple applications)," Kretzmann added.
In other words, DOGGR is pushing for exemptions for the majority of injection wells that DOGGR itself has admitted are illegal.
"Rather than protect these groundwater resources, DOGGR is giving them away to the oil companies," Kretzmann said. [Horrified emphasis added]
2016 06 08: Shell has permit from EPA to dump certain amount of frac chemicals overboard
This explanation by BSEE presents a whole other set of environmental issues that the public should be outraged about when it comes to fracking in the Gulf of Mexico," he said. "One of those being that after those fracking chemicals were cycled back to Shell's rig, Shell eventually dumped those chemicals right back overboard into the Gulf. This in spite of no testing having been done to determine the impacts to the marine environment and ultimately human health as a possible consequence of eating Gulf seafood."
Shell has a permit from the Environmental Protection Agency to dump a certain amount of the fracking chemicals overboard with water that's produced during oil processing operations. That water is regularly tested to prove that it is not polluted beyond the limits established by the permit.
"The dumping of fracking chemicals into the Gulf is standard operating procedure by Shell and every other operator engaged in this extremely high-risk extraction, and BSEE lets it happen," Henderson said. So, whether it was via the spill or the overboard permit, "either way those fracking chemicals ended up in the Gulf. [Emphasis added]
2016 05 28: California Back in Big Oil's Crosshairs as Feds Quietly OK Offshore Fracking
This move paves the way for offshore fracking permits that were previously frozen and the dumping of toxic wastewater directly into the Pacific Ocean. [Emphasis added]
2014: Frack Waste Being Dumped Into Ocean Off California's Coast
2014 07 12: Keiser Report: Earthquakes caused by fracing, Interview with Tina Louise from Blackpool UK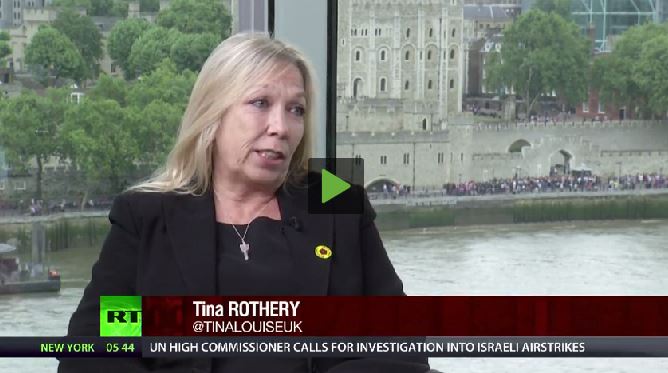 2013 02 15: Jessica Ernst Ireland and UK Speaking Tour 2013 Fracking Community: Actions and Omissions Speak Louder than Words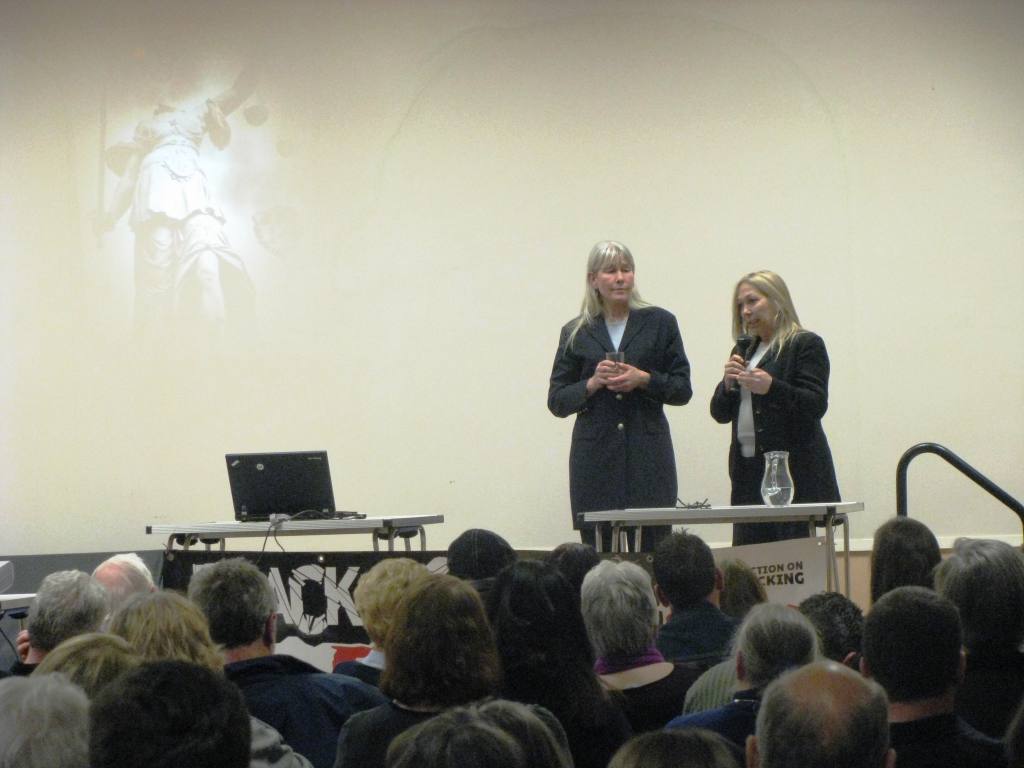 Tina Louise and Jessica Ernst during Q and A, St Annes, Lancashire UK
2009: Canada's National Energy Board Shale Gas – Energy Briefing Note
Frac water often contains chemical additives to help carry the proppant and may become enriched in salts after being injected into shale formations. Therefore, frac water that is recovered during natural gas production must be either treated or disposed of in a safe manner. … Flow-back water is infrequently reused in other fracs because of the potential for corrosion or scaling, where the dissolved salts may precipitate out of the water and clog parts of the well or the formation. [And, recycling is very expensive, cuts deeply into profits on unprofitable unconventionals. Emphasis added]