Researchers say Alberta drastically under-reports workplace injuries by Canadian Press, September 26, 2013
A University of Alberta research group says the provincial government is under-reporting workplace injuries. The Parkland Institute says the government only notes injuries that result in lost or reduced work — about 53,000 cases in 2009. But the institute says the actual number of people who get hurt on the job is about 10-times higher than that. [Emphasis added]
[Refer also to: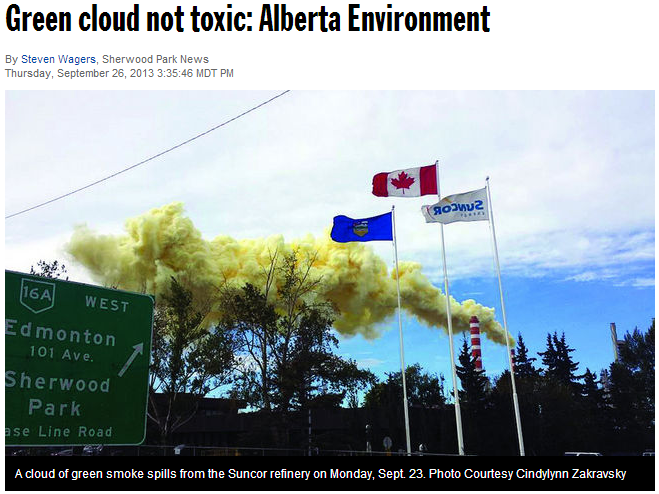 Alberta Environment says the huge green cloud was not toxic even though reportedly the regulator did not see or test it. Alberta Environment spokesperson Ogho Ikhalo: "Our compliance folks, as well as our air quality ambient specialists, were all following up on it. They didn't see the cloud smoke themselves and nothing was reported (and) no triggers went off within our equipment and monitoring devices."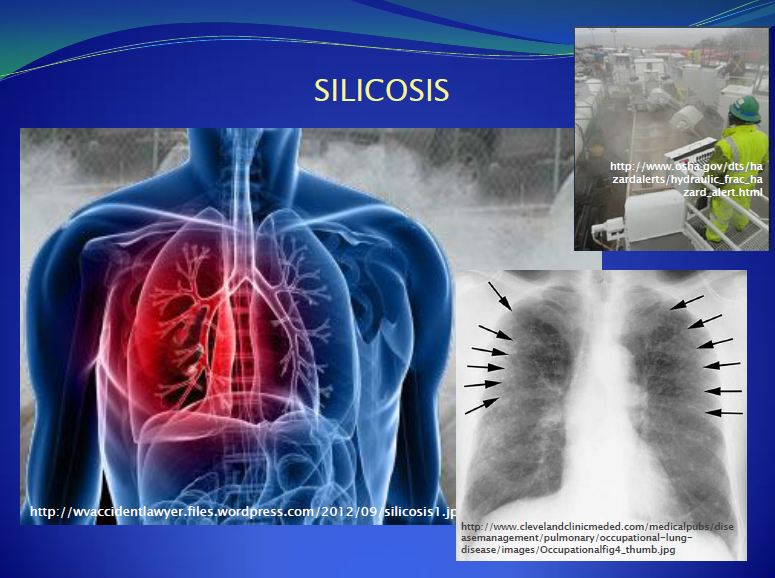 Larysa Dyrszka: "[Silicosis] is a preventable disease but incurable once you get it."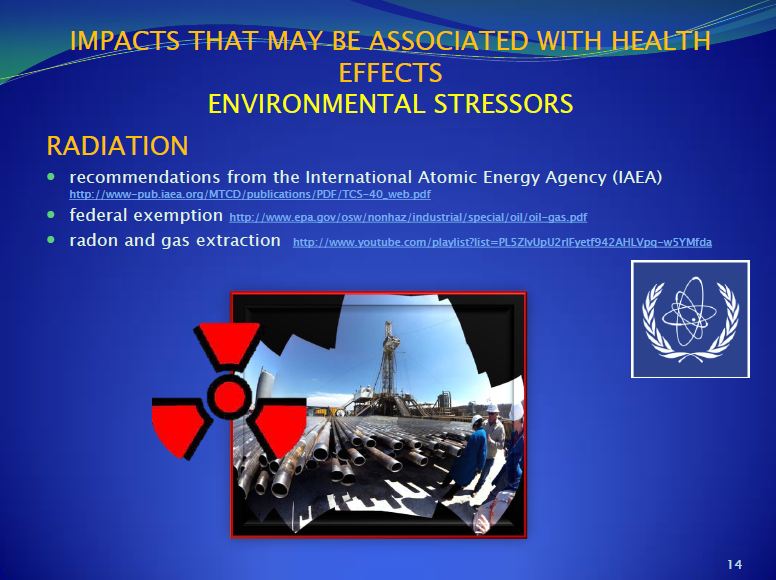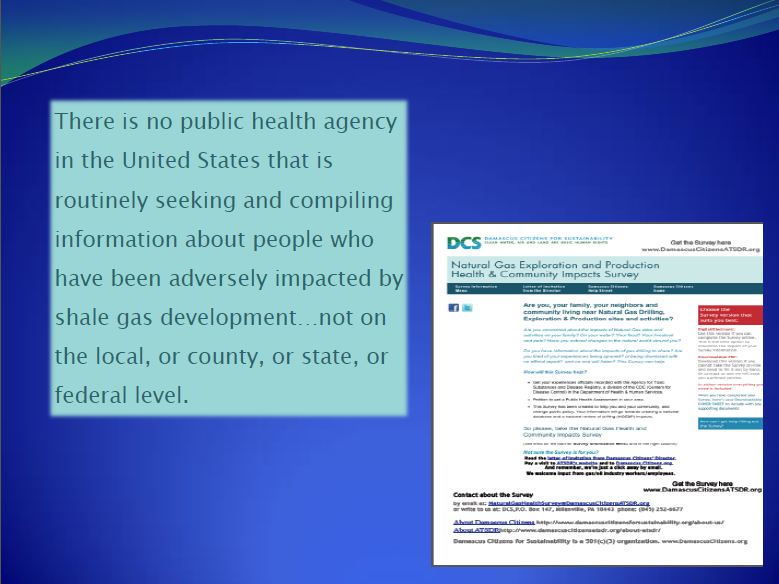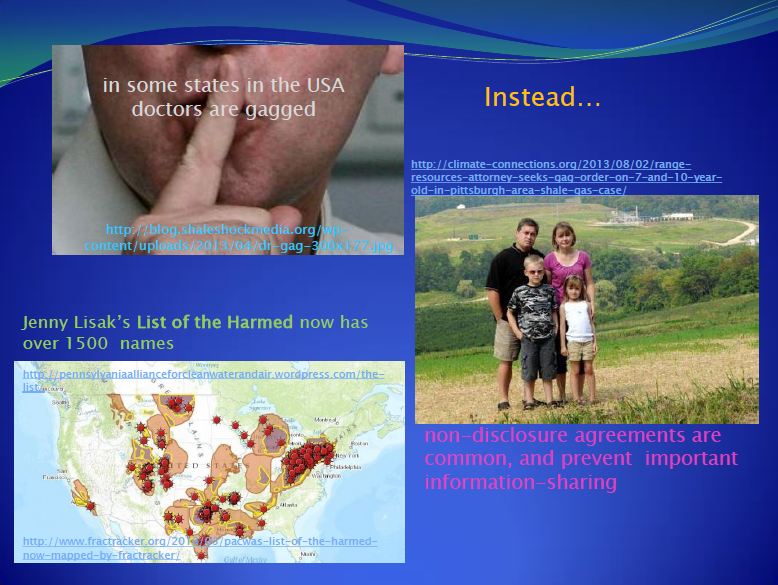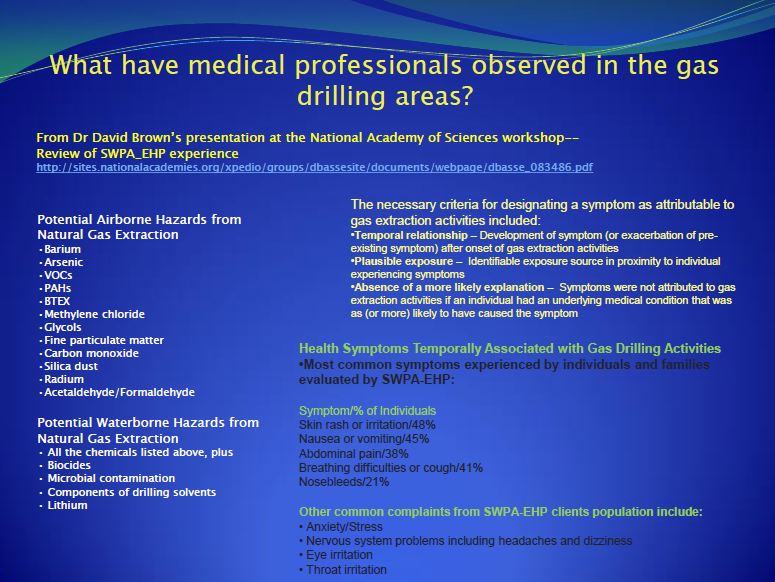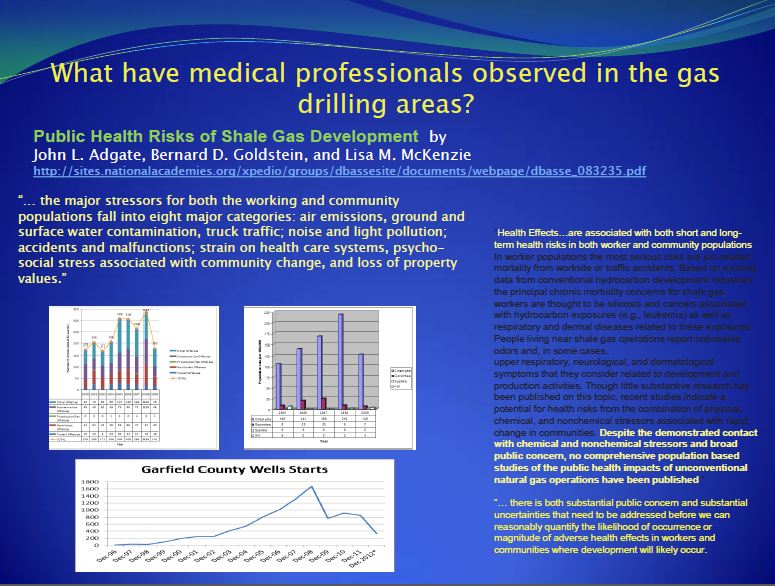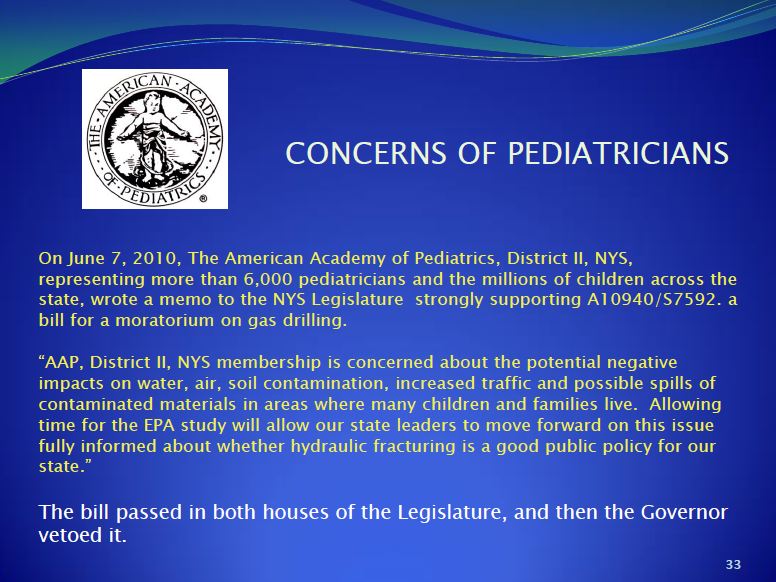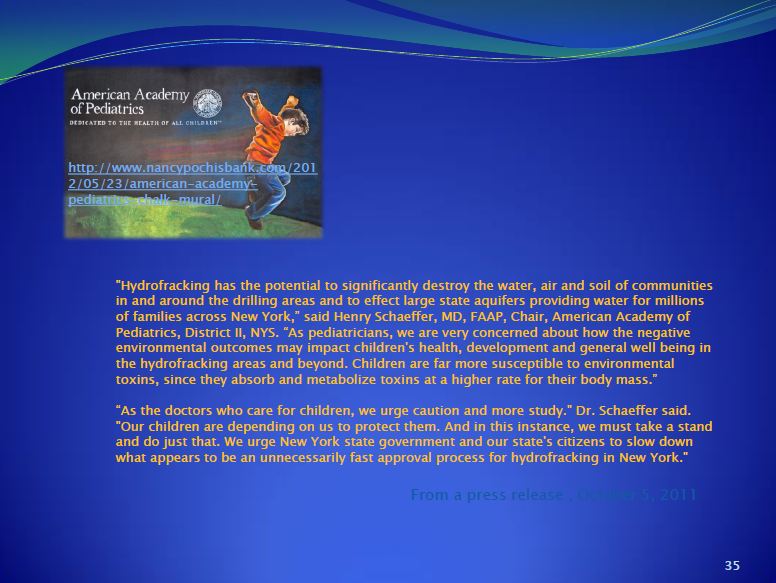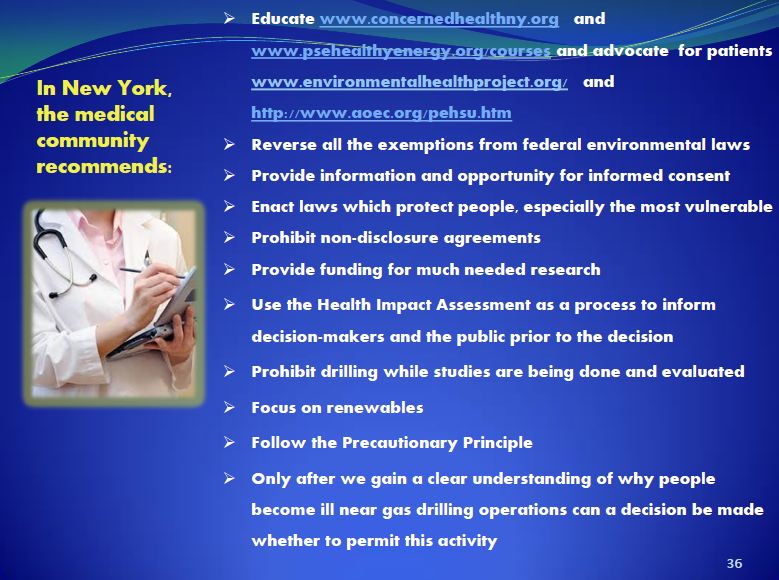 Slides above by Larysa Dyrszka MD, September 2013
Baytex Gag Order and Can You Silence a Child? Inside the Hallowich Case; Peut-on empêcher un enfant de parler? Le cas des Hallowich
Extreme Levels of Benzene Floating Around Gas Wells and Compressor Stations; Fracking effects: A long-term study of drilling's impact shows harmful health effects
PA Public Health Assessment Finds Fracking Makes People Sick
Questions linger after company spreads toxic chemicals on northern Michigan roads
'Nobody understands' leaks at Alberta tar sands high pressure injection operation, Leaks in Cold Lake have been going on for weeks with no end in sight, according to a government scientist
Isotopic fingerprints don't lie; people do; Internal EPA report suggests methane from hydraulic fracturing contaminated wells at Dimock, Pa
Drillers Silence Fracking Claims With Sealed Settlements
Open house tries to allay fracking fears
Alberta announces new cancer-care plan, but won't stop hydraulic fracturing or disallow trade secrets of the toxic chemicals injected
Alberta government claim alleges smoking industry conspiracy
Trican Donates $5 million for cancer research
Frac Company Trican Donates $5 Million to Fight Childhood Cancer
Range rider is a cowboy conservationist, Harper government getting rid of the PRFA for inspector-free (range-rider free) drilling, hydraulic fracturing and waste dumping
Prof says fracking has sordid track record
Alberta Health Services to pay executive bonuses, says work 'already done' but refused to address concerns about serious negative health impacts caused by oil and gas drilling and hydraulic fracturing
Accident at Encana well in Colorado kills 1, injuries 3
Fracking Farce 2012: A brief summary of fracking horror stories
Doctors raise alarm over toxic coal seam gas leaks, Gas Industry Attacks Scientists After Research Finds Triple The Normal Levels Of Methane At Australian Gas Fields
Local Cochrane group CAUS wants province to learn from U.S. fracking mistakes
N.S. deadline to clean up fracking waste site impossible to meet: company
Hydraulic fracturing with gelled propane by Gasfrac/Crew Energy Inc./Caltex Energy Inc. contaminated groundwater near Grande Prairie: ERCB and Alberta Environment
Fracking blamed in Innisfail well blowout, ERCB assigns fault to Midway Energy
Why the War Against Fracking May Be Our Most Crucial Conflict, Fracking could ruin Ireland warn experts
Against Shale Gas and Oil and Coal Bed Methane exploitation: Soutien aux opposants au forage de Balcombe, Support for Balcombe's drilling opponents
For Occupational Safety and Health Research and Practice in the U.S. Oil and Gas Extraction Industry by NATIONAL OCCUPATIONAL RESEARCH AGENDA (NORA), October 2011
During 2003-2008, 648 oil and gas extraction workers were fatally injured on the job, resulting in an occupational fatality rate of 29.1 deaths per 100,000 workers – eight times higher than the rate for all U.S. workers.
Workplace Deaths Drop – But not in the Oil Industry
Investigators say an accumulation of gases appears to have caused the explosion that destroyed the Rosebud water tower and sent a Wheatland County employee to hospital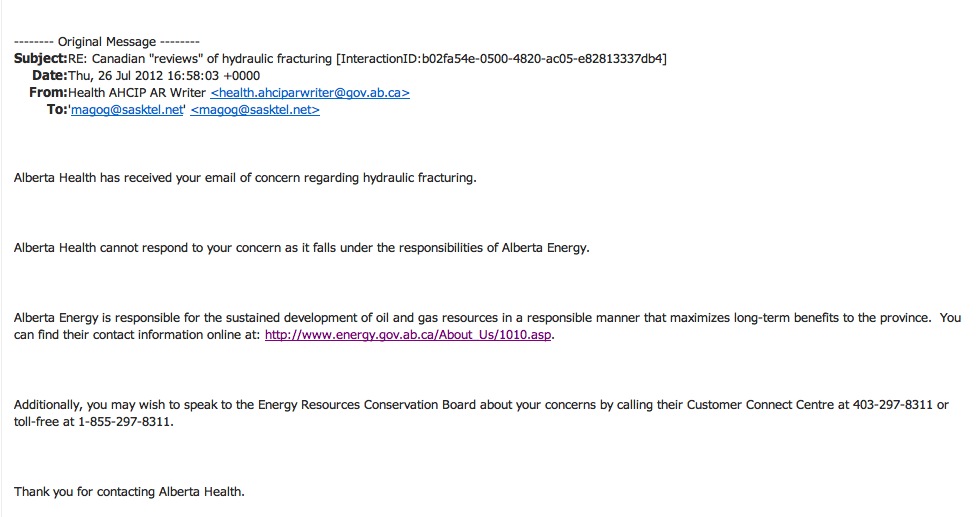 Email above from Alberta Health to Jessica Ernst responding to her request to the Council of Canadian Academies that health impacts (not just environmental) caused by hydraulic fracturing and oil and gas drilling activities are studied.