Study finds deadly radon gas exceeds safe levels in one of eight Calgary homes by Shawn Logan, March 29, 2017, Calgary Herald
An invisible killer is lurking inside one in every eight Calgary homes, an alarming University of Calgary study has found.
The research, published in Wednesday's CMAJ Open journal, tested radon levels in 2,382 homes in Calgary and its surrounding communities, finding the radioactive gas — the second leading cause of lung cancer in Canada — to be above acceptable levels in 12.4 per cent of the homes monitored.
Aaron Goodarzi, an assistant professor at U of C's Arnie Charbonneau Cancer Institute and the study's lead author, said the numbers were higher than he expected.
And yet, despite the dangers from the potentially deadly gas — exposure to which claims some 3,200 Canadian lives a year — according to Lung Cancer Canada, many Calgarians seem generally unaware of risky radon.
"I think we're looking at less than five per cent who actually even know what it is," said Goodarzi, who led the three-year study that wrapped up late last year.
"One of our goals with this study was to advance public awareness, and we're gearing up to do that in a more widespread manner."
Key findings in the sweeping study included the fact that newer homes, those built within the past 25 years, had 31.5 per cent higher radon levels compared with those built before 1992.
But Goodarzi warned there are no safe zones from the naturally occurring gas — which is odourless, colourless and tasteless — produced through the radioactive decay of uranium in rocks and soil. Though common throughout Canada, it's especially prevalent in the Prairies, having been deposited by glaciers.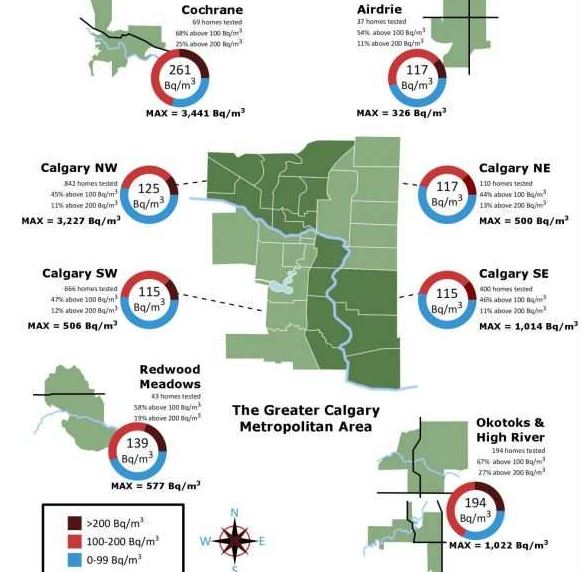 Graphic courtesy University of Calgary.
"It's not to say homes older than 25 years are free of risk, but newer homes definitely have a higher risk factor," he said.
"The homes being built today are roughly twice as large as those being built in the '70s, and those homes are also taller, which is another factor."
Radon seeps through the soil into homes via cracks in foundations, through windows or through floor drains and sumps, building up in the basement before moving up into living areas in a chimney effect.
Calgarian Bob McCauley, one of the homeowners who participated in the study, discovered his two-year-old home in West Springs had a radon concentration of nearly double the acceptable Health Canada limit of 200 becquerels per cubic metre (200 Bq/m3). The World Health Organization has set the acceptable limit at 100 Bq/m3.
"I didn't know quite what to expect when the numbers came back but we saw the hazard was pretty serious," said the father of an 18-month-old, with another baby on the way this summer, whose own home showed a concentration of 357 Bq/m3.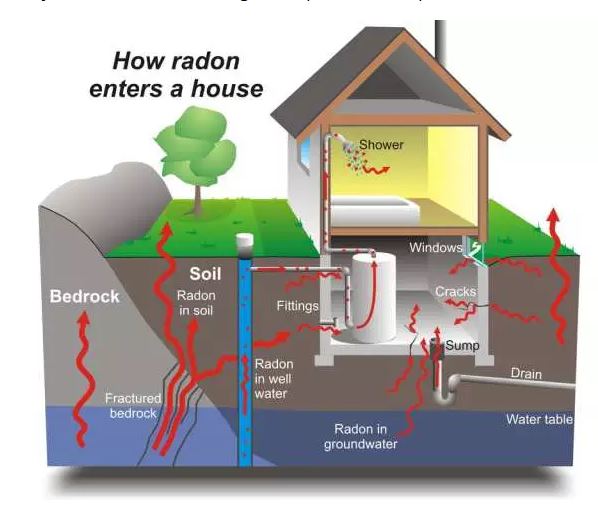 "When we learned we could reduce it down to pretty much zero we thought that would be a good investment."
The cost to modify a home to reduce radon levels is anywhere from $2,000 to $2,500, a number McAuley said was far from a burden given the potential consequences.
Goodarzi said the numbers represent a legitimate public health concern, and he's already been in touch with Alberta Health in hopes of putting together some sort of strategy. He's also planning to continue with the study in hopes of mapping concentrations of radon in the area and looking at the genetic and environmental risk factors of radon-induced cancer.
He said anyone who thinks they have nothing to worry about should think again.
"If you look across the whole spectrum, we're all in the danger zone," he said.
To participate in the ongoing radon study visit DNAscience.ca/radon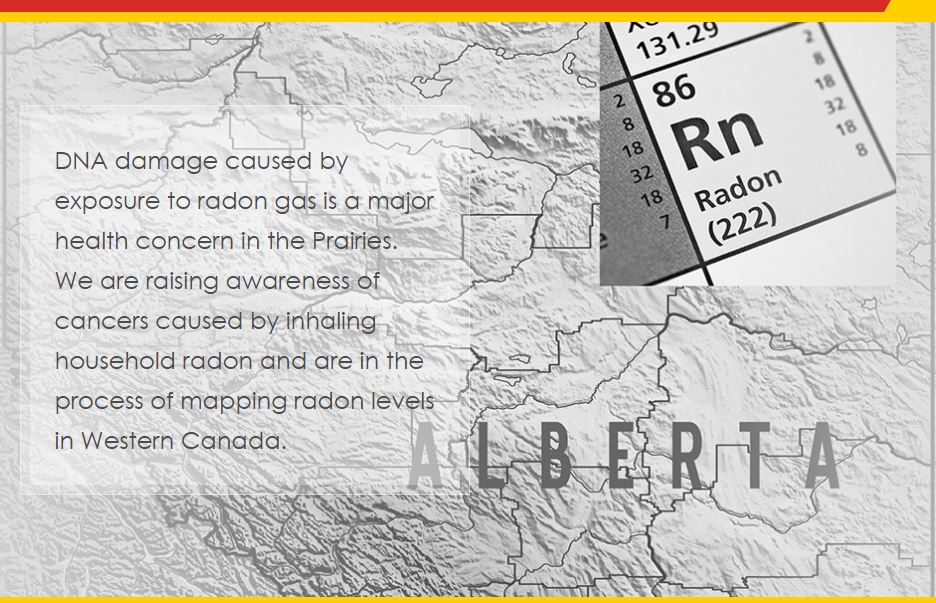 Click image to visit DNAscience.ca/radon
Fast Facts on Radon:
Radon gas is the radioactive byproduct of decaying uranium in rocks and soil.
It's considered the second-leading cause of lung cancer, with 3,200 deaths annually linked to the gas.
The World Health Organization estimates the average lifetime risk of lung cancer increases by 16 per cent for every 100 Bq/m3 of chronic radon exposure.
The Calgary study found homes built within the past 25 years had 31.5 per cent higher average radon levels.
Newer homes are considered most at risk because they feature tighter air seals and have less ventilation of interior air with the outside.
Though radon concentrates in basements, it's usually within 80 to 90 per cent of that level in upper floors.
Home venting to mitigate high levels of radon usually costs between $2,000 and $2,500. [Emphasis added]
The comments:
Diana Daunheimer
That number may increase, after companies frac Calgary.
"Fracking Increases Radon Gas Hazard, US Study Finds.
Another major U.S. health study has found that the hydraulic fracking of unconventional rock formations can liberate and accelerate the release of radon, a highly carcinogenic gas.
Researchers at Johns Hopkins Bloomberg School of Public Health found that radon levels in U.S. homes in Pennsylvania have been on the rise ever since fracking of the Marcellus shale began in 2004.
The study, published in Environmental Health Perspectives, found that buildings in areas of the most active shale gas mining had significantly higher readings of radon compared to buildings located in areas of low well density and fracking activity.
The study looked at radon levels in more than 700,000 structures between 2004 and 2013.
… The U.S. findings collaborate and strengthen earlier studies by Australian researchers at Southern Cross University as well as recent shale gas research in Colorado. All suggest that the industrial activity of fracking can speed up the release of the odourless and tasteless gas in geologies already rich in uranium.
… 'The disruptive process' of fracking, explain the John Hopkins researchers, not only brings gas to the surface but can liberate 'heavy metals and organic and radioactive materials such as radium-226, which decays into radon.'
In a press release, Joan A. Casey, lead author in the Hopkins study, explained that 'the fracking industry may have changed the geology and created new pathways for radon to rise to the surface. Now there are a lot of potential ways that fracking may be distributing and spreading radon.'
Radon liberated by the fracking of more than 7,000 horizontal shale wells in Pennsylvania may dissolve into well water, be released into the air near gas wells, or wander through soil into house foundations. It may also enter homes via cooking stoves and furnaces.
A 2012 Health Canada study found that more than seven per cent of the homes measured in Calgary, Peace River, David Thompson and Aspen regional health districts had dangerous levels of radon (200 becquerels per cubic metre). High levels of radon have also been found in northeast B.C. That geographic region has also witnessed intense shale gas activity over the last decade.
Renata MacQueen, one of the owners of Radon West, an Alberta-based company that measures and fixes radon problems, said fracking can 'increase the levels of radon by opening pathways in the soil and it then can move into the home or water.'
But she adds the danger is pre-existing, due to the high uranium content of many soils and rock formations in Canada such as those in southern Alberta.
'Southern Alberta is a hotspot. Even if you don't live near a well site, you should test your home,' said MacQueen.
… The connection between radon migration and hydraulic fracking has been documented in other regions, too. A 2013 study by the University of Colorado-Colorado Springs found radon levels at fracking sites so high that they recommended better air monitoring.
'The fracked rock releases radon that was trapped by the tight shale formation which then is able to flow along the lateral sections of the fracked zone and be pumped up the well bore to the surface,' concluded the study. 'Radon is then released to the atmosphere at the fracking site in levels which may be of some health concern to nearby workers or residents.'
An industry textbook on gas migration explains that drilling holes in the ground and then injecting them with water or gases can force gases including radon, carbon dioxide and methane to migrate and find paths to the surface. The more pathways created by the industry, the greater the risk for encountering stray gases: 'There is a risk of gas migration into homes, apartment buildings and commercial structures, which have been built in the area of producing oil fields.'"
https://thetyee.ca/…/2015/04/13/Fracking-Radon-Gas-Hazard/
Cynthia Cherry · Alameda High School
So…how much is all this going to cost?
Ian Honz S
This isn't a localized phenoma, nordic coountries are experiencing the same thing. In Sweden, retrofitting home seems to have been a standard now for a few years for a simlar cost as outlined in the article here.
http://www.wpb-radon.com/…/2004_02_The%20Radon…
(don't worry, it's in English)
http://ceepra.eu/…/CEEPRA_public_seminar_Tarja…
Paul Thomas · Real Estate Agent/Broker at Sutton Group – Canwest
This has been in the news before. Got me thinking about it again. I am going to get my house tested!
I am not a health economist but it seems like a no-brainer that this needs to be addressed in a serious way. What about something similar to the energy efficiency program that the government had where retrofit work that was preformed becomes tax deductable?
Is this something that landlords could be liable for if their tenants become sick? Should they be doing their due diligence to ensure a safe environment for their tenants?
Curt LaMontagne · Calgary, Alberta
You can also hire a contractor to do the test for you, but I can't really see why you wouldn't just buy a kit. (Full disclosure – I'm an accredited radon measurement professional, but we only work with commercial and governmental clients).
Like · Reply · Mar 29, 2017 9:28am
Curt LaMontagne · Calgary, Alberta
Here's a list of places to buy a test kit.
https://www.takeactiononradon.ca/test/alberta
Elvie Keir · Calgary, Alberta
Interesting, well i suppose if ones homes are insulated with dry wall and flooring, it would read less radon. We all should have tests done, especially for the younger generation. Thanks for the interested findings. Prey for help .
Via Lucis Press
How is one to measure this in their home? and where do you get "mitigation kits"? Not enough information in this "scare the hell out of them" article.
Nathan Morrison
I bought a Radon gas detector. Google it and order one.
Tyra Bates
Testing is inexpensive. It requires having a small device placed in your home. After a period of about 90 days the test is sent to the lab. If your levels are within normal limits nothing else is required. If they are high, you need to have a mitigation done by a certified mitigator.
If your in the Calgary area, contact J Energy Matters. email email hidden; JavaScript is required
You can also find more info on the gov't of Alberta website.
It is very prevalent here in Alberta. Get your homes tested.
Steve Simonds · Calgary, Alberta
Radon West.
Cynthia Cherry · Alameda High School
Tyra Bates testing may be inexpensive..but how much is the fix? If you know..ty.
Steve Simonds · Calgary, Alberta
Calgary Realtor's Association blocked legislation that would have required radon gas measurement on every house sale. Go figure, why this was allowed.
Nathan Morrison
Wow
Rachel Miller
A realtor's association cannot block legislation.
Legislation is approved or voted down by either federal Members of Parliament or provincially by Members of the Legislative Assembly.
The realtor's assoc would not be present at any vote on a bill, nor would they be allowed to speak to it or in any way affect the vote while it took place.
Please provide the motion or bill you are referring to that was voted down by either of these levels of government.
Rachel Miller
New requirements were implemented in 2014, to be brought into effect by November 1, 2015.
http://edmontonrealestateblog.com/…/alberta-building…
Shawn Riley · Realtor at Remax
Yes, I'd love to see the proof of this as I've been a realtor in Calgary for over 18 years and we have never "blocked" any legislation (or like Rachel said, even be involved in the process) or even been presented with this said legislation…check your facts my friend.
Steve Simonds · Calgary, Alberta
Rachel Miller No thanks I won't bother looking it up, because there is nothing I can do about it, but I read it in the Herald a few years ago. Radon articles come up every few years. Lobby groups always complain about adverse legislation before it passes, fyi, and sometimes are able to get the ear of legislators and block it. Your local councillor will know of the issue.
[Refer also to:
2017 01 25: DEP Urges Pennsylvanians to Test Homes for Radon; PA schools aren't required to test for lead or radon, so many Pittsburgh-area districts don't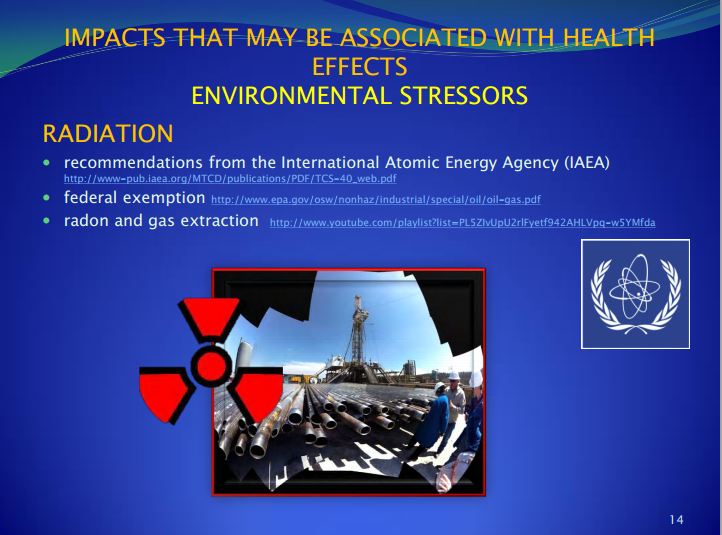 Slide by Dr. Larysa Dyrszka, 2013 presentations.
2016 01 22: Scientists mapping deadly radon in Calgary
2015 04 08a; "It looks like fracking has unearthed an unbargained for and serious cancer risk in peoples' homes." John Hopkins study links radon levels in Pennsylvania homes to fracking: "These findings worry us"
2014 05 09: Public Health Experts Call on Governor to Study Fracking's Impact on Cancer-Causing Radon Levels Before Making a Decision On Whether to Allow Drilling
2014 03 11: Santos CBM in NSW Australia contaminates aquifer with uranium at 20 times the safe drinking water levels; Regulator does not test for thorium, radon and radium! Thorium and radon are known to cause lung cancer.
2014 01 21: University of Calgary researchers testing their own homes in search of radon, Results will be used to spur larger look at cancer-causing gas
2013 11 29: Radon — #9 In "Top 10 Toxic Ingredients Used By The Fossil Fuel Industries"; Cochrane Alberta home tests high for radon
2013 03 09: Radon gas leaks in coalbed methane fields in Australia spark call for probe
2012 11 01: Silent killer: Health Canada urges testing homes for cancer-causing radon