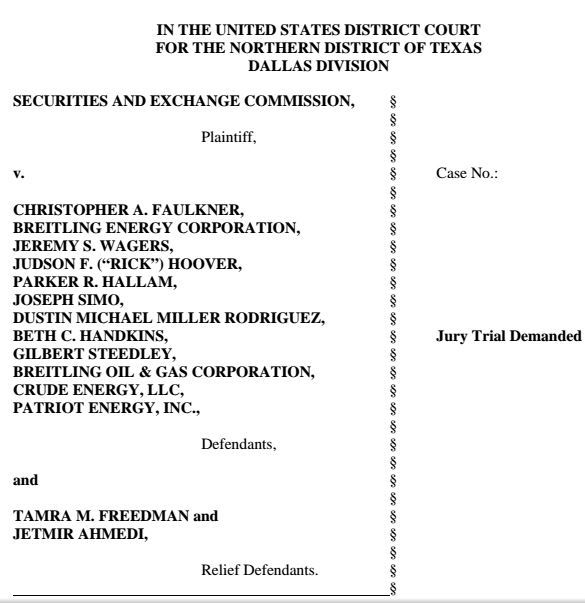 According to the SEC, Breitling Energy Corporation CEO Chris Faulkner and seven others at his company allegedly defrauded investors by giving them misleading information and manipulating Breitling's stock. The lawsuit, filed in federal court in Dallas, accused Faulkner of misappropriating "at least $30 million in investor funds to maintain a lifestyle of decadence and debauchery."
Those millions in investor funds allegedly went towards Faulkner's personal expenses, including international travel, cars, jewelry and opulent meals. The SEC charged that the fracking mogul even obtained what he referred to as a "whore card"—an American Express used exclusively for these "salacious" purchases—to shield his personal spending and expense reimbursements from the rest of the company.
Faulkner allegedly used that card to charge more than $1 million in personal travel, expenses for personal escorts and nights out on the town, according to the suit. In one four-day period in July 2014, the SEC alleged, he spent nearly $40,000 at a single Dallas gentleman's club.
Larry Friedman, Faulkner's attorney, told local ABC affiliate WFAA on Friday that his client had done nothing wrong, saying he was "not aware of any complaints by investors." He said the company was "fully cooperating" with the SEC.
According to the Dallas Morning News, the SEC suspended trading in Breitling stock on Wednesday. TPM's multiple calls to the company's Dallas office on Friday afternoon were met with a busy signal.
The unusually media-friendly oil and gas CEO was known for his frequent appearances on cable news, but he'd also emerged as a major conservative donor during his tenure at Breitling. The Texas Observer reported that he gave almost $300,000 to state candidates, putting $87,500 towards Lt. Gov. Dan Patrick's (R) campaign and $100,000 towards Railroad Commissioner Ryan Sitton's bid. [Emphasis added]
Read the SEC's lawsuit in full
[Refer also to insidious attempt to control editorial content of an independent Canadaian print magazine:
From: SOMER STEPHENSON [mailto:[email protected]]
Sent: January-08-14
Subject: Earth Day article and/or interview from big oil exec
…
For your Earth Day / Month coverage, would you be interested in publishing a bylined article and/or green living tips straight from the mind of the energy industry's hottest and most controversial spokesperson? Interviews are also available upon request.
He's the fracking pioneer that his competition hates to love and he's changing the minds of even the most passionate and well-known environmentalists. According to one uber-green journalist he's "forceful, funny, dogmatic, dismissive and enormously entertaining; a Texan showman bedecked in Cuban heeled boots and rhinestone cufflinks".
He's Chris Faulkner, "The FrackMaster", energy expert and CEO of Breitling Energy Corporation and he's at your disposal, should you be interested in his thoughtful and timely contribution to your Earth Day month (April) issue. Simply let me know if there's a topic you'd like Chris to explore or you might be interested in one of the following angles:
Fracking demystified
EnviroFrac™ unveiled* (see below)
Chris' personal contribution to new fracking regulation and what it means to the environment and Big Oil
O&G regulations plus how Breitling is blazing the trail for other energy corps to be more green by implementing methods such as recycling frackwater, using greener alternatives to industry-standard chemicals and more..
Energy self-sustainability for the US; is it really possible? If so, how? What's the realistic timeline, pros and cons, etc.?
Political issues and the potential for policy changes for big oil and gas (current policy and what's to come)
Energy investing for any audience; tips for the seasoned pro or how-to's for the novice investor looking to break in to energy investing
The MidEast vs. Russia vs. China vs. US energy challenges
Green living tips
What to expect at the pumps in 2014 and gas saving tips
and more…
Would you be interested in speaking with Chris and/or running a piece penned by him exclusively for you?  An innovator and strong advocate of technology and research aimed at allowing successful and safe oil and gas extraction, his company has implemented such measures in drilling locations throughout the world.
*Unwilling to rely on independent or government studies, in 2010 Chris launched EnviroFrac™, an internal program committed to evaluate, report and eliminate potentially harmful fracking materials. From these findings, this summer Chris plans to publish guidelines for his company and the industry to ensure safe and environmentally friendly fracking operations. The guidelines will also be used to promote public understanding of the fracking process.
Please see below signature for more on EnviroFrac™, links to bio, company background, media creds and more. Happy Earth Day 2014!
Best regards,
Somer
Somer Stephenson
+1.908.439.3660 office
+1.415.225.4332 mobile
Faulkner bio and headshot
Faulkner media credentials
Breitling backgrounder
Breitling drilling and operations
Established in February 2010, Breitling Energy Companies' EnviroFrac™ program evaluates the types of additives typically used in the process of hydraulic fracturing to determine their necessity and environmental friendliness. Under the EnviroFrac program, any additive not critical to the successful completion of a well is eliminated, and Breitling works to find greener alternatives for all essential additives. To date, Breitling has eliminated 25 percent of the additives used in its shale play frac fluids. Breitling's EnviroFrac program also strives for 100 percent reuse or recycling of water used in fracking to minimize water usage. Emphasis added]