AEA: Support to the identification of potential risks for the environment and human health arising from hydrocarbons operations involving hydraulic fracturing in Europe
A proportion (25% to 100%) of the water used in hydraulic fracturing is not recovered, and consequently this water is lost permanently to re-use, which differs from some other water uses in which water can be recovered and processed for re-use.
Lamont County de­clares state of agri­cul­tur­al dis­as­ter by Rachel Ward, August 5, 2015, Edmonton Journal
Lamont County north­east of Edmonton de­clared a state of agri­cul­tur­al dis­as­ter Wed­nes­day.
The coun­ty has had min­imal rain, ex­ces­sive heat and a lar­ger than nor­mal grass­hop­per popu­la­tion, Reeve Wayne Woldanski said.
The dec­lar­a­tion is to "raise aware­ness," Woldanski said, with the prov­in­cial and fed­er­al gov­ern­ments.
"We're hoping that they can come up with a program to as­sist­ pro­du­cers. Not all pro­du­cers sub­scribe to in­sur­ance."
Alberta Minister of Agriculture Oneil Carlier will pro­vide an up­date Thurs­day on how gov­ern­ment programs are help­ing farm­ers. No as­sist­ance programs for crop or pas­ture farm­ers have been an­nounced. Live­stock farm­ers have been of­fered a tax de­fer­ral should they need to sell cat­tle over the sum­mer.
The cost of feed has in­creased as pas­tures dry up, Woldanski said. Cat­tle pro­du­cers must in­stead ship hay, which costs more than sourcing it local­ly, he said.
"It's a sig­nifi­cant hard­ship," Woldanski said.
The coun­ty also sug­gests farm­ers look to prov­in­cial sup­port through the Agriculture Financial Services Corporation.
Sev­er­al other Alberta coun­ties have de­clared states of agri­cul­tur­al dis­as­ter.
Alberta not declaring province-wide agricultural emergency by The Canadian Press, August 06, 2015, The Globe and Mail 
Alberta's agriculture minister says the drought means some farmers will face a dismal year but he isn't ready to declare a province-wide state of agricultural emergency.
Oneil Carlier says he recently toured a number of regions that have declared local emergencies. He says some crops barely came up over his ankle and it is going to be a struggle for many producers. It's estimated that crop yields this year could be 25 to 30 per cent below the five-year average.
The Alberta government has responded by cutting rental fees in half for a program that helps farmers pump water to fill their dams and dugouts. [While frac'ers get to take all the water they want for nothing?]
The province is also working with municipalities to identify additional public lands for grazing to help producers feed their livestock. [Emphasis added]
Agricultural disaster declared in Brazeau and Leduc counties by Edmonton Journal, July 20, 2015, Calgary Herald
Brazeau and Leduc County councils both voted to declare states of agricultural disaster Tuesday in response to extreme drought conditions, joining the growing list of counties in the province's parched northwest.
"These extreme drought conditions are devastating crops across Brazeau County," said Bart Guyon, the county's reeve, in a written statement. "By declaring a state of agricultural disaster, we hope to call attention to this extremely important issue."
"By making this declaration, we are focusing attention on this issue and are encouraging other levels of government to provide support where possible," [CALL FOR UNIFIED DEMAND THAT FRACING BE STOPPED?] said Leduc's mayor, John Whaley, in a written statement.
Soil moisture ratings and crop conditions in Alberta continue to decline with Leduc County rated one of the driest in the province. Producers in both counties have reported further losses resulting from grasshopper infestations.
"Producers in contact with Leduc County are expressing concern with the ongoing drought conditions," said Garett Broadbent, director of agricultural services. "Some area producers have already applied for early assessment of losses on insured crops."
Leduc County reached out to the provincial government in a letter on July 13 to request plans and programming to support local agricultural producers prior to declaring a state of disaster.
Brazeau County also plans to ask provincial and federal government officials for assistance.
Supports could include reducing rental rates for dugout water pumping, implementing drought disaster loan programs and supporting the Federal Livestock Tax Deferral provision.
Leduc County also declared states of agricultural disaster in 2002 and 2009 because of lack of rain and adverse growing conditions.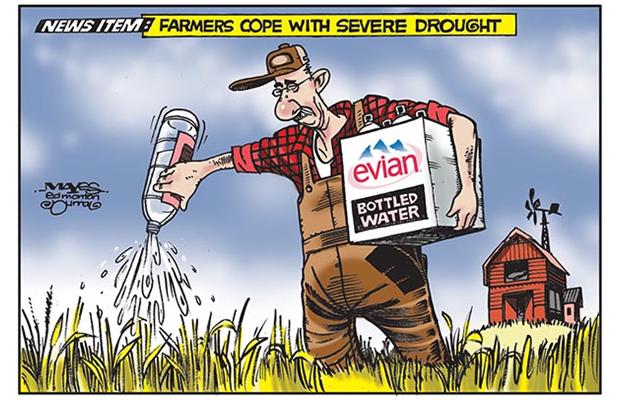 Edmonton Journal Editorial Cartoon July 22, 2015
Another Alberta county to declare an agricultural disaster as drought strengthens its grip by Alicja Siekierska, July 19, 2015, Edmonton Journal in Calgary Herald
Barrhead's Shane Debock will be forced this year to turn 25 per cent more of his crops into livestock feed because of hot and dry weather ravaging farms over a large part of the province.
"I expect yields will be down and I need the feed," Debock said. "I've heard reports of people paying 200 bucks a bale for hay. I can't afford to pay that for my animals. It's not going to work."
Debock is one of many farmers who has seen crops struggle because of drought. Heavy clay soil has allowed him to weather the dry conditions better than others, but he will have to forego selling his crops on the market and instead increase the amount of grains he keeps for his cattle.
The most recent provincial crop report said while scattered rainfall recently brought needed moisture to parts of the region — which includes Edmonton, Barrhead, Leduc, Drayton Valley and Athabasca — sub-soil conditions are still extremely dry and rated 98 per cent poor to fair.
Sturgeon County joined the growing list Monday of counties declaring states of agricultural disasters. Sturgeon County is experiencing once-in-50-years low soil moisture levels because of low rainfall and hot temperatures. Leduc County is expected to meet Tuesday to declare a state of agricultural disaster. It won't mean an immediate flow of provincial or federal dollars to farmers, although hard-hit counties hope for a financial relief fund to be set up.
Last week's rain was certainly a welcome reprieve. While the precipitation helped some farmers turn their crops around, it was too late for others.
Humphrey Banack, vice-president of the Alberta Federation of Agriculture, has farmland that stretches over about 65 kilometres. Some sections are healthy and haven't been as affected by the drought as others.
If it hadn't been for recent rain, Banack said he would have been joining Debock and using more crops for cattle feed.
"We're not going to see the crops we did last year, but we may get back to an average crop," he said.
For some farmers it may not be enough to salvage the fields that were in desperate need of moisture. Many will be forced to make important decisions in the coming weeks.
"I think there are people that are quite concerned about even being able to put the crop in next year if they don't get enough money off the crop this year," said Allison Ammeter, chairwoman of the Alberta Pulse Growers and a farmer in Sylvan Lake. Pulses include peas, lentils and beans.
"There will be some important decisions to be made. You have to be proactive and think everything through to the other side," she said.
Banack is confident farmers across the province will manage to get through this dry season, but he does have concerns over the long term.
The crops that have survived so far have been relying on topsoil moisture reserves, but they are largely gone now, Banack said.
"If we don't see some real rebuild of that top soil moisture reserve, next year we will be living by rainfall," he said. "If we see a reduced rainfall amount next year, the damage can be substantially worse. That depleted moisture reserve is going to be critical to how we go forward in the future."
Ammeter said the "question on the mind of a lot of farmers is will this dryness continue?
"Weather always gone up and down in cycles. Are we in a dry cycle? Or is this an anomaly?" [Welcome to one of the impacts of global warming that so many Albertans appear keen to ignore]
While Debock waits to see if his crops will improve, he is focused on providing his cattle with proper nutrition.
"The rain has been so variable. You won't really know what you have until you the choppers stop rolling," he said. "The long and short of it is, you can replace energy and protein (for livestock). But you have to have quality feed." [Emphasis added]
California regulators propose $1.5 million fine for farmers they say illegally took water during drought by The Associated Press, July 20, 2015, Calgary Herald
California drought regulators sent the strongest signal yet that they're serious about cracking down on water waste by proposing a first-of-its kind, $1.5 million fine against a group of farmers they say illegally took water. [BUT INJECTING BILLIONS OF GALLONS OF FRESH WATER BY GREED STRICKEN OIL AND GAS COMPANIES IS ALLOWED, EVEN ENCOURAGED?]
The fine announced Monday by the State Water Resources Control Board is the first ever levied against an individual or district with senior rights that are more than a century old and have long provided immunity from mandatory conservation. [ISN'T IT TERRIFYING WHAT'S HAPPENING IN NORTH AMERICA? OIL AND GAS INDUSTRY, VIA ENABLING, DEREGULATING, RUBBER-STAMPING "REGULATORS" HAVE LEGAL IMMUNITY AND NOT THOSE WITH WATER RIGHTS?]
The fine follows months of unprecedented cutback orders to communities, businesses and the powerful agriculture industry during the fourth year of the devastating dry spell in California. [WHILE OIL AND GAS COMPANIES CONTINUE TO CONTAMINATE AND PERMANENTLY REMOVE WATER VIA FRACING WITH BLESSINGS BY THE STATE AND "REGULATORS"]
The state is fighting off court challenges to its authority to control water use and doubts over whether it has the resources to enforce its orders. [DOES THE STATE THINK ONLY OIL AND GAS COMPANIES OUGHT TO HAVE FREE WILL AND CONTROL OVER WATER USE?]
The water board levied the historic fine against the Byron-Bethany Irrigation District, which serves 160 farming families and a suburban planned community of 12,000 people in the Central Valley.
Andrew Tauriainen, a water board prosecutor, said the district was outspoken over continuing to illegally take water, and the fine should show others such brazenness will draw the attention of investigators.
Byron-Bethany Board President Russell Kagehiro said the state was making an arbitrary example of his district at the expense of its customers and farmers, which stand to lose $65 million in crops under the cuts demanded by the state. The district has previously filed a lawsuit seeking to preserve its water access.
"Farmers have to sort of weigh the cost of losing that crop, I guess, against potential fines," said Jeffrey Michael, an economist at the University of the Pacific in Stockton.
The equation is particularly challenging for those who contend the state has no authority to order them to conserve because their rights predate the modern water permitting system in 1914. Courts have yet to rule on the matter.
These senior water rights holders have strong incentives to fight any state-ordered curtailments because they will likely see similar cuts in future dry years if they yield in this drought, Michael said.
Water board officials say they plan to issue more penalties and orders later this summer to stop taking water. The board has sent out more than 9,000 notices across the parched Central Valley warning of short water supplies.
Some continue to draw anyway, including the San Francisco Public Utilities Commission. The agency intends to divert water for the city-operated Camp Mather near Yosemite National Park until it receives a cease-and-desist order, spokesman Tyrone Jue said.
The water board would not confirm if San Francisco was under investigation as a result.
State inspectors have conducted about 1,200 investigations in the past year but only took action on two, including Byron-Bethany. Officials say some cases from last year are still dragging because the state doesn't have enough people to handle all the work.
"Our resources are somewhat limited here, and we are taking our cases as we can get them and as we can develop them," Tauriainen, the water board lawyer.
In the case of Byron-Bethany, the water board says state data shows illegal diversions of water from a pumping plant in June after the district received a warning that the watershed was too dry to meet demand.
District general manager Rick Gilmore said he did not know a penalty was coming and wasn't aware of the details. The water that the state believes was taken might have been supplemental supplies purchased by the district, he said.
Tauriainen said there was no indication the district had been taking such supplemental water from other sources before the alleged diversions began.
Byron-Bethany has 20 days to request a hearing before the water board to contest the fine, although it's unclear how long it could take to resolve the case. The maximum penalty the five-member board could assess is $5 million, depending on how the water was used. [Fracking is immune? Emphasis added]
[Refer also to:
In California, Big Oil finds water is its most prized commodity. Isn't it everywhere in the world, where there is still some?
Un-Frack CA: Largest anti-fracing demonstration in US history; More than 8,000 demand that California Governor Gerry Brown ban fracking
California authorizes oilfield waste dumping into drinking water aquifers, Governor Jerry Brown, once environmental hero, refusing to ban fracking
California now says 2,500 wells dumping frac waste into protected aquifers, up from 532 in February. Regulators order oil drillers including Chevron Corp. and Linn Energy LLC to halt operations at 12 injection wells (two were issued cease and desist orders) because they may taint groundwater suitable for drinking and irrigation
Alberta Government Low Flow Advisory in Fox Creek/Peace Region, Asks Users to Reduce Water Consumption. Does that include frac'ers in AER's Fox Creek Fracing Pilot Project?
Town of Fox Creek Water Ban on ALL Non-Essential Use. Does that include fracking in AER's Deregulated, Blanket Approval, Frac Frenzy, Play-Based Pilot Project surrounding Fox Creek?
Alberta Health Services Warning: Drinking water contamination in Kneehill County: Toxic Selenium and Uranium found in private water wells; Metals testing not mandatory before fracing, waste dumping and injection, not even when companies frac into drinking water aquifers
State of agri­cul­tural dis­as­ter de­clared in Parkland County because of lack of rain, Intentional contamination and permanent loss of massive volumes of fresh water injected by oil and gas companies for fracing continues
A Texan tragedy: Plenty of oil, but no water, Texan drought sets residents against fracking
Insatiable Thirst? When drought occurs, fracking and farming collide
'Just the Beginning': US Drought Kills Hundreds of Thousands of Trees
Water flows to money in drought-stricken drilling regions
Fracking: A dehydrated UK, watered only by capitalism, When the UK's water infrastructure is already in severe drought, why is fracking even being considered?
Ohio: Gulfport Sues Village of Barnesville To Buy Water for Fracing; Frackers "had been drawing water from the reservoir until officials told them to stop last fall because the water level dropped so low"
Drinking or fracking? World Resources Institute report finds top shale plays globally are in places with scarce water
Encana, Anadarko, Pioneer, Apache Have Greatest Fracking Water Risks; Investors have exposure to these formidable risks
Quake-Plagued Texans 'Shake the Ground' in Austin; What say the regulators? Suffer while we study.
AND SO SAYS DR JOHN CHERRY AND HIS COUNCIL OF CANADIAN ACADEMIES FRAC PANEL:
Poisoning the Well: How the Feds Let Industry Pollute the Nation's Underground Water Supply
Shell buys control of public water in BC for fracing, permanently removing the water from the hydrogeological cycle