Trican lays off 137 employees, Canada-based service company cites loss of Anadarko business by Corey Paul, March 30, 2015, oaoa.com
Trican Well Service recently laid off 137 employees based in Odessa, according to a notice filed with state regulators, representing another sign the strain of low prices on workers in the oil patch.
The effective layoff date for the employees was March 20, according to a letter sent to the Texas Workforce Commission that was released to the Odessa American on Monday.
"Trican just learned Anadarko Petroleum is discontinuing operations with Trican at the Odessa facility," reads the notice to the state, dated March 16. "As a result of these unforeseeable circumstances, Trican will lay off employees, with the layoff expected to be permanent."
… It's unclear the extent to which Trican will keep operating in the Permian Basin. Trican representatives did not respond Monday to a request for comment, but analysts for months had mentioned Trican as one of the companies likely to suffer from producers' cutbacks, as the company was a relatively new entrant into the West Texas oil-patch.
The Canada-based company in 2012 chose Odessa for its regional facility at 8200 E. Interstate 20. But in the Permian Basin, Trican competed against some 40 other service companies for business that includes hydraulically fracturing, or fracking wells.
Fracking, in both equipment and manpower, makes up the greatest cost of drilling and completing a new well. And oilfield service companies have been among the hardest hit by oil prices that dropped by more than half since the peak of June.
…
In January, Trican notified the Texas Workforce Commission that 125 employees in Longview faced layoffs this month as the company shut down its operation. Trican executives had signaled in February they planned to scale back in the Permian Basin.
"We have already seen large declines in pressure pumping demand in our Canadian, Permian, Bakken and the Eagle Ford regions and I'm starting to adjust our operations accordingly," Trican CEO Dale Dusterhoft told investors in a Feb. 26 conference call, according to a transcript.
Dusterhoft said the company "parked one fracturing crew" in the Permian and three other regions during the first quarter of the year. It was unclear how many that left in the Odessa area.
Local employment and industry officials estimate thousands of workers have been laid off in the area, but determining a precise figure is almost impossible to determine because not all companies have to release such information publicly.
Four of the major service companies earlier this year — Halliburton, Baker Hughes, Schlumberger and Weatherford — announced layoffs that amounted globally to a total of about 30,000 workers.
Many were expected in the Permian Basin, but the companies did not specify the amount of layoffs by region. Officials of other regionally prominent oilfield services companies, such as CUDD Energy Services, have also confirmed layoffs but declined to specify how many employees were affected.
"We are just doing what is in front of us," said Clint Walker, the general manager for the well servicing company CUDD Energy Services in Odessa and Midland, in a recent interview. "And what's in front of us is we are trying to reduce our costs and our labor structure in a way that we can go out there and keep the lights on."
… So far, Trican is the third company in Odessa to file a layoff notice with the state. In January, driller Lariat Services warned of 265 Permian Basin workers facing unemployment. Earlier this month, pipe company Ultra Premium Oilfield expected to lay off 78 workers in May.
In Midland, Advanced Stimulation Technologies announced a layoff of 69 employees, while Big Dog Drilling said it would let go 31 workers. "My advice would be to job search," Farrar said. "What we are seeing is there are more job posting in the Permian Basin than there are layoffs, and people who are aggressive in searching immediately are usually able to find employment. And that's the best thing for all of us." [Emphasis added]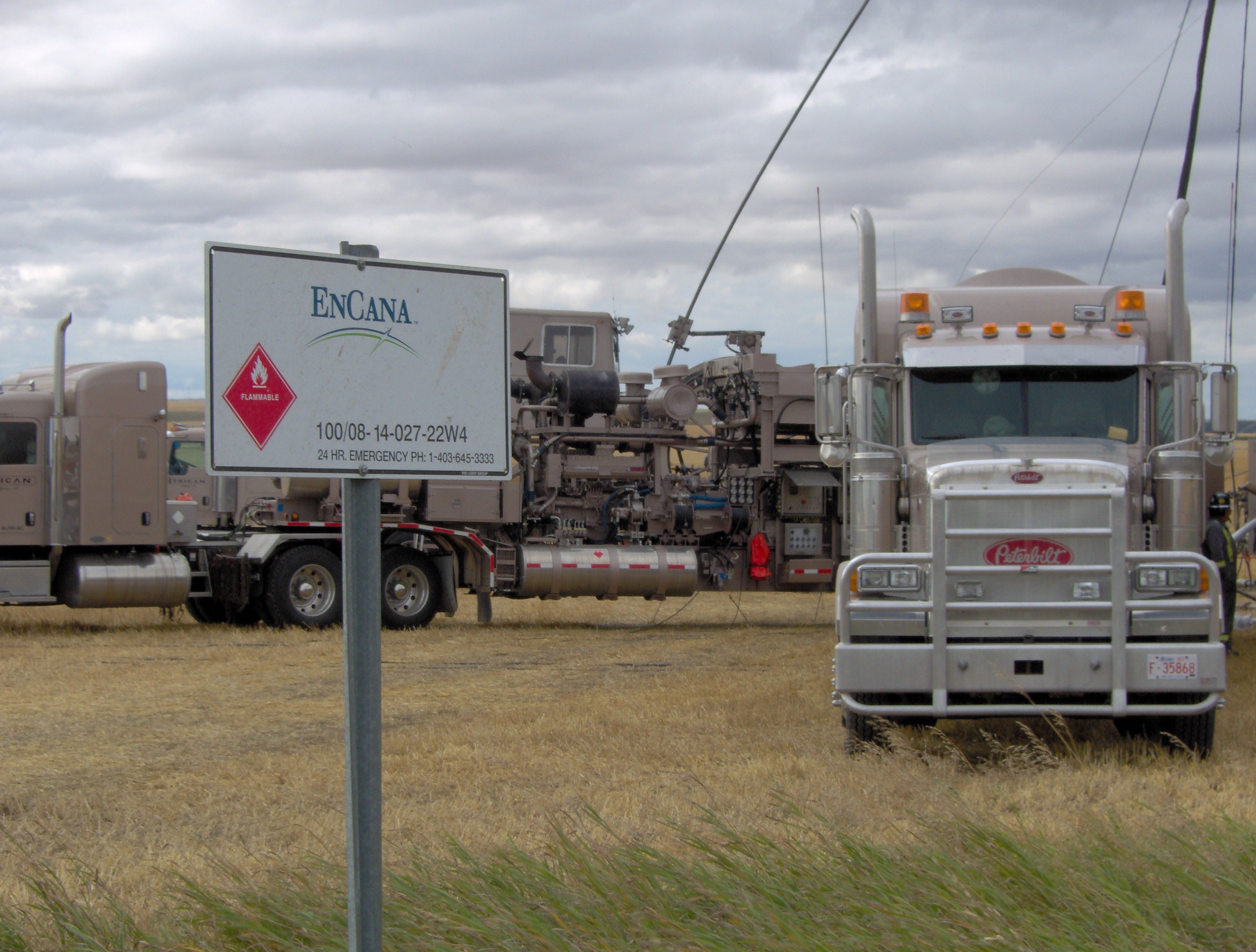 2006: Trican fracing in fresh water zones, about one mile from the contaminated Ernst water well, for Encana during the government's (intentionally bogus?) community-wide drinking water contamination investigation.
2014 06 – BEFORE OIL $ COLLAPSED – What happened to all those jobs fracing creates? Encana bets against frac jobs