This post is for Kimberly Mildenstein, Alberta mother of three sons
Termination of New Brunswick's Chief Medical Officer of Health a concern: open letter to Premier Gallant by Dr. Warren Bell, Canadian Association of Physicians for the Environment (CAPE) Board Member and Former Founding President, Dec 15th, 2015 11:19 AM
(OPEN LETTER Released December 15, 2015)
The Honourable Brian Gallant
Premier of New Brunswick
Centennial Building
P. O. Box 6000
Fredericton, NB, E3B 5H1
Email: email hidden; JavaScript is required
December 14, 2015
Dear Premier:
The Canadian Association of Physicians for the Environment (CAPE) is deeply concerned about the termination of Dr. Eilish Cleary as New Brunswick's Chief Medical Officer of Health.
CAPE is a national organization of health professionals dedicated to the protection of the environment and human health. We believe that Medical Officers of Health have a duty and a responsibility to: investigate issues that may have an adverse impact on human health; assess scientific evidence without bias; and to employ the precautionary principle when ruling on evolving science when the potential for harm is significant. Even the mere suggestion or rumor that a Medical Officer of Health has been dismissed for investigating an issue is of grave concern to our organization.
Justifications for Dr. Cleary's dismissal to date have been vague and superficial. They bring no credit to the government, they undermine the role of the professional civil service, and demonstrate a lack of respect for Dr. Cleary's professional integrity as a public health physician which, we believe, has been proven for many years.
Since she became the Chief Medical Officer of Health for New Brunswick in 2008, Dr. Cleary has distinguished herself with the quality of her public health engagement and her efforts to identify actual or potential environmental causes of ill health affecting the citizens of New Brunswick.
In September 2012, her office produced a seminal report, Recommendations Concerning Shale Gas Development in New Brunswick, which advocated, on a solid scientific basis, for the exercise of the precautionary principle in pursuing the development of this resource. The report outlined a number of steps that need to be taken to ensure that any development of shale gas in the province is conducted in a safe and sensible way. She recommended active engagement with the public and, in particular, with First Nations. This report has been used as a reference in public health departments around the country.
At the time of her termination, Dr. Cleary was working on a report about the use and effects of glyphosate, an herbicide that is the active ingredient in Roundup, a preparation widely used in New Brunswick. In 2014, 77,000 kg of the herbicide was sold in the province and used primarily for killing hardwood (deciduous) trees and shrubs to promote the growth of softwood (conifer) lumber used in pulp and paper production. In March, 2015, the International Agency for Research on Cancer, affiliated with the World Health Organization, presented evidence that glyphosate is a "probable carcinogen". Animal experimentation carried out by Doctor Gilles-Eric Séralini suggests that the herbicide can significantly damage kidney function. There is worldwide epidemiological evidence which suggests that humans may also develop kidney damage in association with glyphosate exposure. In light of this evidence, Dr. Cleary's examination of Roundup from a public health perspective is more than justified and should be encouraged.
The Chief Medical Officer of Health has demonstrated that she has the health of the citizens of New Brunswick at heart. She has worked diligently, and with exemplary scientific rigour, to protect public health. On this basis, CAPE asks that your government reconsider her dismissal.
Yours Truly,
Dr. Warren Bell
CAPE Board Member and Former Founding President
Cc: Kim Perrotta, Executive Director, CAPE (905-628-9437)
[Refer also to:
Extreme Levels of Benzene Floating Around Gas Wells and Compressor Stations; Fracking effects: A long-term study of drilling's impact shows harmful health effects
Doctor: Emissions are toxic by Ashley Saari, Monadnock Ledger Transcript, December 16, 2015 (Published in print: Thursday, December 17, 2015)
While standing in the middle of the elementary school, a stone's throw from the potential site of a 41,000-horsepower compressor station, Dr. Curtis Norgaard detailed some of the health consequences of the emissions the station could have on the surrounding area. …
Norgaard, a Boston pediatrician, referenced studies surrounding existing compressor stations, as well as general studies on the impacts of particular pollutants. Particularly, Norgaard focused on the effects of nitrogen dioxide and formaldehyde.
"These are well-established toxic emissions," said Norgaard, who spoke to a crowd of residents from the affected towns during a meeting co-sponsored by Temple's ad-hoc pipeline advisory committee and New Ipswich Pipeline Resistance.
Norgaard cited studies of health impacts surrounding compressor stations, where residents closer to the stations reported symptoms including throat irritation, sinus issues, headaches, respiratory issues, nosebleeds, and rashes. 
Filings by the pipeline developer, Tennessee Gas Pipeline, Inc., a subsidiary of Kinder Morgan, indicate that the compressor station will output about 50 tons of nitrogen dioxide per year and about 1.3 tons of formaldehyde per year. However, those numbers don't mean much when it comes to talking about health impacts, said Norgaard.
"Tons per year is not a meaningful measurement in terms of human health," said Norgaard. "It's more relevant to talk about the concentrations."
From that point of view, he said, it's important to look at the peak times of pollution output, and not just the yearly measurements.
Based on TGP's expected nitrogen dioxide output, and extrapolating from air pollution studies on nitrogen dioxide, it's likely the region will see slight increases for respiratory and cardiovascular issues — about a 7 percent increase in childhood asthma diagnosis, 4.4 percent increase in clinic visits for asthma, 3.8 percent increase in asthma-related emergency room visits, and a 1.4 percent increase in respiratory deaths, according to Norgaard.
"I find this concerning," said Norgaard. "Then there's formaldehyde, which I find even more disturbing. Formaldehyde is dangerous. It's an irritant. It causes cancer."
Formaldehyde is a cancer hazard at .08 micrograms per meter, and is toxic at 10-49 micrograms per meter, and can cause cancer of the nose and throat as well as luekemia, said Norgaard. Air quality tests surrounding an existing compressor station in Pennsylvania measured formaldehyde levels at a peak of 61 micrograms at about 800 meters from the compressor station.
"I'd like you to take a look around, because we are almost exactly 790 meters from where Kinder Morgan wants to put its compressor station," said Norgaard. "And if you really know a lot about cancer, you could argue the risk is low. It's one in 1,000, one in 10,000, 1 in a million people. But I ask this: What is the increased risk for cancer that you feel is acceptable for your child? Let me tell you, I've worked with children with cancer, some of whom were cured, some of whom are in remission, and some of whom have died. Let me tell you my professional opinion. What is the acceptable risk for increased risk for childhood cancer? It's zero."
When quizzed about health impacts of emissions from the compressor station during an information session in Rindge earlier this month, TGP representatives pointed to emission allowances set by the National Ambient Air Quality Standards, which the compressor station must meet.
Norgaard pointed out that while the standards are meant to prioritize human health, the allowed emissions still will have an impact on health up to ten kilometers from the compressor station, even if those impacts are statistically small. He also pointed to a lack in the regulatory process at the federal level when it came to taking into account the population size and demographics around potentially harmful emitters, as well as what the potential health effects are or a plan to mitigate those impacts.
Norgaard encouraged local communities to have pre-construction and post-construction air quality tests done to monitor the compressor stations impact. [Emphasis added]
Why was a 2012 Health Canada Report, admitting significant health hazards and risks to groundwater and air from hydraulic fracturing, kept from the public?
Where were Alberta's Chief Medical Officers of Health, including Dr. Nicolas Bayliss? Where was Dr. James Talbot's "tremendous passion and knowledge" refusing to help Albertans poisoned by fracing, not warning others they're next?
Frack Firing Fraud? New Brunswick's Chief Medical Officer, Dr. Eilish Cleary, fired by provincial Liberal government to clear way for lifting frac moratorium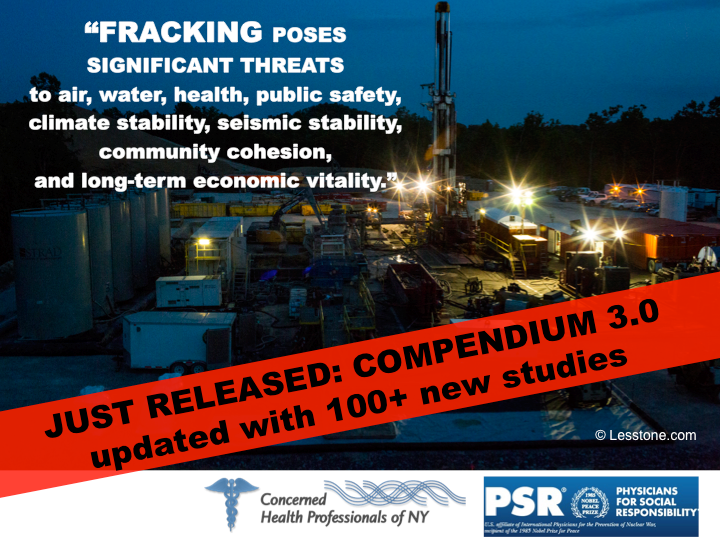 Frac Impacts Compendium 3.0 Released October 14, 2015
Emerging Trends
1) Growing evidence shows that regulations are simply not capable of preventing harm. … Some of fracking's many component parts—which include the subterranean geological landscape itself—are simply not controllable. Compounding the problem, the number of wells and their attendant infrastructure continue to proliferate, creating burgeoning cumulative impacts.
***
Fracing Rerun in New Brunswick Government. Why? Did Jason Kenny and Senior Alberta Government Advisor, frac patent holder Dr. Maurice Dusseault complain that citizens aren't brainwashed yet like they are in Alberta?
Dr. Eilish Cleary, New Brunswick Chief Medical Officer of Health, uncomfortable with shale gas blueprint, Health officer surprised policy document doesn't include health as a key objective
British Columbia's Ministry Health withholding data, report of scientific research on how oil and gas operations are affecting human health in northeast communities; Refusing to release even under FOIP: "could be harmful to the financial interest of a public body"
Fracking might be as damaging as thalidomide, tobacco and asbestos, UK's Chief Scientific Adviser warns in new report: "In all these and many other cases, delayed recognition of adverse effects incurred not only serious environmental or health impacts, but massive expense"
Harper government enabling the frac harm cover up? Environment Canada criticized for leaving fracking chemicals off pollutant list saying not enough frac chemicals used – 362,000 litres of diesel invert lost underground near Alberta family home
Canada's National Pollutant Release Inventory [NPRI] Oil and Gas Sector Review; Chemicals injected and fugitive or venting emissions (e.g. H2S) by oil and gas industry exempt from reporting
Health report: some Alberta doctors refused to treat families exposed to toxic emissions by Baytex in Peace Country, one lab refused to process a test
Louis LaPierre stripped of Order of Canada, Former head appointed to New Brunswick Energy Institute that promotes fracing misrepresented his academic credentials
Order of Canada winner, head of NB Energy Institute and promoter of frac'ing, Louis LaPierre, lied about Ph.D and M.Sc.
Potential Psychological Impacts of Intense Shale Gas Mining Should Not Be Neglected
New Brunswick shale gas health report prompts debate, report on Dr. Eilish Cleary's presentation in Moncton
Potential health risks cited in New Brunswick Chief Medical Officer of Health report on shale gas industry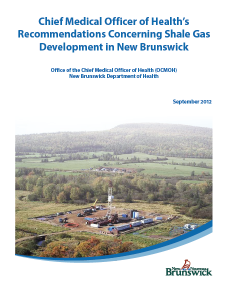 The New Brunswick government must address the "very serious concerns" that people have over fracing
Parts of shale gas health report will now be released, Government officials still won't say how much or when
New Brunswick chief health officer Dr. Cleary warns of 'boomtown effect' with shale gas
New Brunswick Chief Medical Officer of Health Dr. Cleary speaks out on shale gas report after government says it will be kept confidential
"Let me tell you, I've worked with children with cancer, some of whom were cured, some of whom are in remission, and some of whom have died. Let me tell you my professional opinion. What is the acceptable risk for increased risk for childhood cancer? It's zero."
-Dr. Curtis Nordgaard in a December 2015 presentation about health impacts of chemicals emitted by compressor stations
Above photos: Noel West/Mountain View Gazette
Kimberly Mildenstein at Mountain View County Frac presentation by Counselor Paddy Munro, March 14, 2012.
Shale gas report by health officer may remain secret, Dr. Eilish Cleary looked at potential health impacts of the shale gas industry
***
Meanwhile, back in Alberta's Frac Bowels of Hell:
Trican Donates $5 million for cancer research
Frac Company Trican Donates $5 Million to Fight Childhood Cancer ]