Nexen responds to suspension of 95 pipeline licences by Sheila Pratt, August 28, 2015, Edmonton Journal
On July 15, a pipeline at Nexen's Long Lake project was found to be leaking, spilling about five million litres of a mixture of bitumen, water and sand.
Nexen Energy says it is putting together records to comply with orders of the Alberta Energy Regulator, which shut down 95 pipelines on its Long Lake oilsands operation late Friday.
"We are preparing to comply with the AER's order as we work to compile the necessary information and documentation," Nexen said in a news release Saturday.
The company declined to comment how the sudden shutdown of so many pipelines is affecting production at the steam assisted gravity drainage (SAGD) operation 36 km southeast of Fort McMurray.
The regulator shut down the 95 pipelines after the company failed this week to provide adequate records of maintenance, inspection and monitoring of the pipelines.
The shutdown order comes six weeks after a major pipeline spill on the lease that released five million litres of bitumen emulsion into the muskeg.
Nexen "voluntarily self-disclosed all non-compliances" to the regulator on Tuesday along with an action plan to rectify the records, it said in the release.
[Reality check: What's the AER really up to?
In 2010, after the AER (then ERCB) approved – in one day – Encana's non-compliance regarding drilling under Ernst's already dangerously contaminated land. Ernst  documented the non-compliances and sent them to the AER and Encana for their information; it had nothing to do with "feelings."
Weeks later, the AER responded (see email below) explaining that because Encana voluntarily "self-disclosed" its non-compliance to the regulator, the company became compliant.
Instead of shutting Encana down, the ERCB let Encana drill under Ernst's contaminated property, without appropriately addressing her concerns and permitted more and more and more drilling and fracing in the fresh water zones around the already dangerously contaminated community of Rosebud.
What type of regulating is the AER doing these days? Impress the Supreme Court of Canada and new government type?
Regulate when it suits them? Regulate when the AER needs to regain public trust and credibility?
Regulate when the Alberta courts grant the AER "No Duty of Care" standing and complete legal immunity, even for violating Canada's constitution?
On 04/10/2010 2:26 PM, Gavin McClenaghan wrote:
Subject: RE: EnCana 02-13-27-22-W4M in breach of ERCB Directives 035 & 056
Date: Mon, 4 Oct 2010 14:26:34 -0600
From: Gavin McClenaghan <email hidden; JavaScript is required>
To: email hidden; JavaScript is required <email hidden; JavaScript is required>, Stephen Smith <email hidden; JavaScript is required>
CC: email hidden; JavaScript is required <email hidden; JavaScript is required>, email hidden; JavaScript is required <email hidden; JavaScript is required>, Evan Knox <email hidden; JavaScript is required>, Heather von Hauff <email hidden; JavaScript is required>, Knull, Stacy <email hidden; JavaScript is required>, email hidden; JavaScript is required <email hidden; JavaScript is required>, Brenda Austin <email hidden; JavaScript is required>
Dear Ms. Ernst,
Sorry for not getting back to you sooner.
Thank you for your letter of September 17, 2010. In your letter you outline a number of items that you feel EnCana did not do, or did not do properly, with respect to application number 1659755. The ERCB takes all allegations of non-compliance events very seriously.
… As part of the self-disclosure the ERCB requires an applicant to put forth a plan to bring the matter into compliance. …
As per Section 6 of ERCB Directive-019, Compliance Assurance – Enforcement, the ERCB will not initiate enforcement action when the non-compliance has been properly self-disclosed to the ERCB. As EnCana met all the criteria for a proper self-disclosure between September 14 and September 16 Facilities Applications – Audit closed this matter. Therefore, no enforcement action has been taken nor is enforcement deem appropriate at this time.
Thank you once again for your letter. If you wish to discuss this matter further please feel free to contact me via e-mail or at 403-297-6847.
Gavin
Gavin McClenaghan – Section Leader
ERCB Facilities Applications – Audit Section
Phone: (403) 297-6847
Fax: (403) 297-4117
e-mail: email hidden; JavaScript is required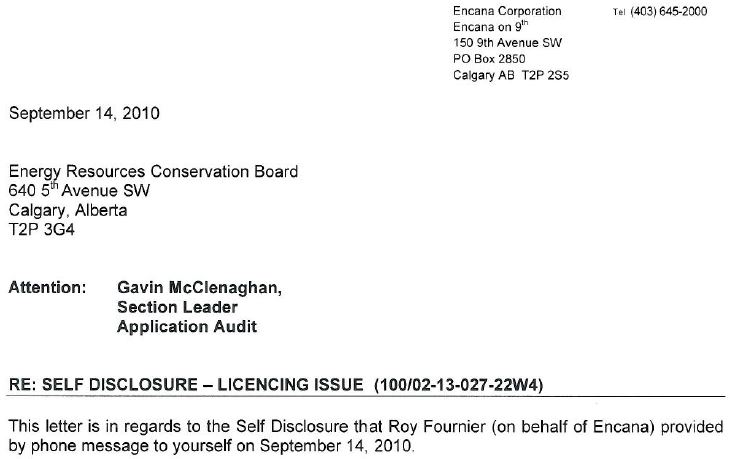 End Reality Check]
***
The company did not return phone calls.
In early July, the company, taken over recently by Chinese energy company CNOOC, discovered inadequate records after it began an "internal audit of our corporate pipeline integrity management system.
"This audit identified a number of non-compliances primarily related to documentation of maintenance activities," the release said.
AER spokesman Bob Curran said the regulator is aware the closure of so many pipes will have an impact on production. "That impact is not a consideration when we issue an enforcement order," Curran said.
"The key issue is we need those assurances" that the pipelines are operating in compliance with regulations, he added. [So then, when documented evidence was provided to the regulator of Encana's non-compliances and law violations, why was Encana not shut down?]
The regulator is also trying to determine how far back the inadequate records go and whether there were operational problems in addition to inadequate record keeping.
Curran confirmed the AER was made aware Tuesday of the faulty records. He said the company was informed of the pipeline closure order late Friday.
The order affects pipelines that carry fresh water, salt water, crude oil, bitumen and natural gas used in heating water for steam.
In the SAGD process at Long Lake, steam from a central plant is sent by a pipeline and pumped down a well. The heated bitumen comes up a second well and is sent by pipeline to the upgrader.
The pipeline found leaking on July 15 was transporting heated bitumen. Installed in 2014, it was new technology — a 16-inch pipe within a larger 20-inch pipe.
Next to it was a smaller pipeline carrying water to boilers.
Greenpeace, an environmental advocacy group, said the regulator's enforcement order indicates the province is finally "getting tough" about pipeline safety.
"This decision should send a message to all pipeline operators that lax safety procedures that put Alberta's environment and communities at risk are not acceptable," said spokesman Mike Hudema.
"We hope this is just a first government step into a much longer look into Alberta mounting pipeline problems our communities deserve no less." [Emphasis added]
[In comparison, why is the AER not shutting down CNRL for fracing the all-important caprock in NE Alberta, and Encana for fracing it all to hell around the Campbell's ranch?
Again? AER trying to look like a regulator? Encana had no permit to divert fresh water from Rosebud's aquifers before or after fracing. Why is Ex-Encana VP Chair of the AER Protti not charging Encana?
How High does Bullshit Fly in Alberta's Oil Patch and AER? Caprock Frac'er CNRL, Cry Baby or Bully?
AER, Alberta's new energy regulator seeks the world's trust, as Alberta's caprock is frac'd "to Hell"
Alberta Environment: Cold Lake frac'd bitumen leak has contaminated groundwater
Nexen Pipeline Spill: Where are apologies from Encana, Alberta government, AER for lying, covering-up Encana secretly fracing Rosbud's drinking water aquifers, continuing to lie while children were being burned by the water after the community's water tower exploded? ]