Will Fracking Become the Next Mass Tort? by Sharon L. Caffrey, July 30, 2013, The Legal Intelligencer
Whether those health concerns are legitimate and who would be responsible for adverse health effects is of interest to the plaintiffs bar. Whether or not fracking raises potential health hazards is the subject of much controversy. In an op-ed article in The Daily Caller titled "Fracking Doesn't Pose Health Risks," Dr. Elizabeth Whelan, president of the American Council on Science and Health, stated that "fracking doesn't pollute water or air. No documented instances of adverse health effects have been linked to fracking."
[Cross check:
A Toxic Spew: The near death of emergency room nurse Cathy Behr collection of articles, 2008
EPA Censored Key Pennsylvania Fracking Water Contamination Study by Steve Horn, July 29, 2013, Desmogblog Jackson raises the million dollar question: Who from the industry pressured USEPA to censor the actual results of the Dimock study? In Steve Lipsky's case it was former head of the Democratic National Committee and Democratic Governor of Pennsylvania, Ed Rendell. Rendell – tied to the shale gas industry via Ballard Spahr LLP law firm and venture capital firms Element Partners and Greenhill & Co. – privately lobbied EPA to shut down its study and lawsuit centered on Lipsky's groundwater contaminated by the Pennsylvania-headquarted Range Resources. His lobbying proved successful, likely in part due to three of his former aides now working as industry lobbyists. … By law, the EPA is tasked to investigate groundwater contamination cases and punish violators of the law with criminal sentences. Instead, the industry has run roughshod over communities nationwide, letting polluters go free with no EPA accountability.
First Study of Its Kind Detects 44 Hazardous Air Pollutants at Gas Drilling Sites, With gas wells in some states being drilled near schools and homes, scientists see a need for better chemical disclosure laws and follow-up research
Doctors fight "gag orders" over fracking chemicals
Fracking Moratorium Urged By U.S. Doctors Until Health Studies Conducted
Human Health Risk Assessment of Air Emissions from Development of Unconventional Natural Gas Resources by Lisa M. McKenzie, Roxana Z. Wittera, Lee S. Newmana, John L. Adgatea, Colorado School of Public Health, University of Colorado, March 19, 2012. Results: Residents living ≤ ½ mile from wells are at greater risk for health effects from NGD than are residents living > ½ mile from wells. Subchronic exposures to air pollutants during well completion activities present the greatest potential for health effects. The subchronic non-cancer hazard index (HI) of 5 for residents ≤ ½ mile from wells was driven primarily by exposure to trimethylbenzenes, xylenes, and aliphatic hydrocarbons. Chronic HIs were 1 and 0.4. for residents ≤ ½ mile from wells and > ½ mile from wells, respectively. Cumulative cancer risks were 10 in a million and 6 in a million for residents living ≤ ½ mile and > ½ mile from wells, respectively, with benzene as the major contributor to the risk.
Natural Gas Operations from a Public Health Perspective by Theo Colborn, Carol Kwiatkowski, Kim Schultz, and Mary Bachran, accepted for publication in the International Journal of Human and Ecological Risk Assessment, September 4, 2010. For many years, drillers have insisted that they do not use toxic chemicals to drill for gas, only guar gum, mud, and sand. While much attention is being given to chemicals used during fracking, our findings indicate that drilling chemicals can be equally, if not more dangerous. ]
…
Workers in the fracking industry have direct potential exposure to chemicals and potential hazards, including exposure to silica during the initial drilling of wells. Most workers already wear respirators to protect from such risks….
[Cross check: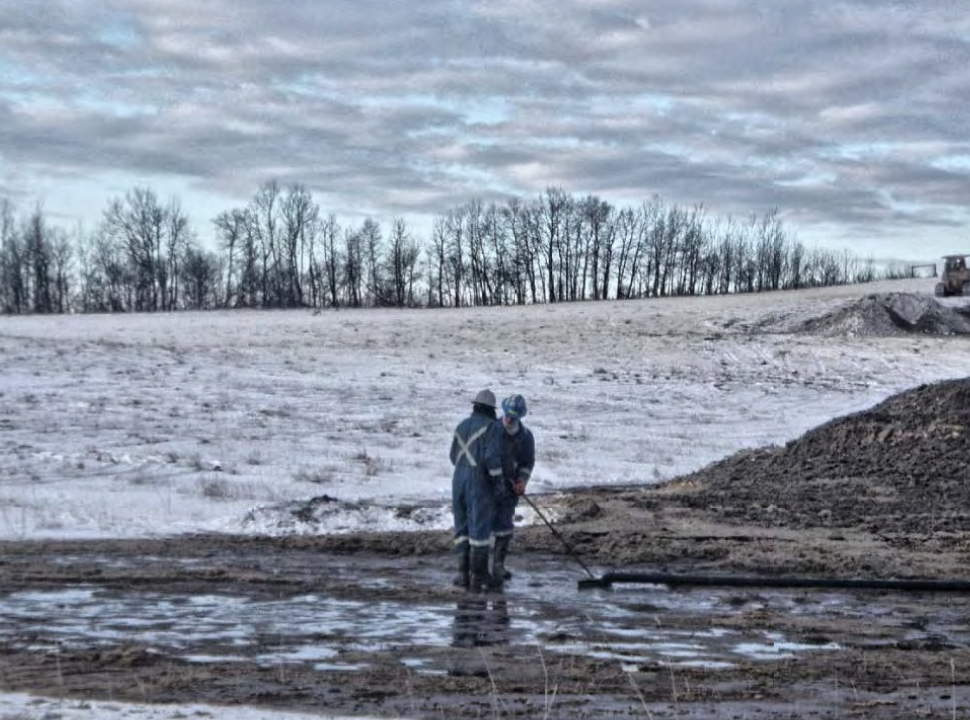 Workers cleaning up the January 2012 Innisfail frac fluid blow out – without wearing respirators. Photo by Alberta Surface Rights Group.  The toxics the workers are standing remain undisclosed, frac fluid was reported dripping off the trees. ]
Fracking opponents do not limit their concerns to the risks of workers who perform the drilling. Opponents have raised concerns about the chemicals used by workers during the fracking process and risks of contamination to land and groundwater. Potential groups of plaintiffs go beyond the workers who conduct the drilling and include landowners who lease their land for drilling and who have potential exposure to the same chemicals as the workers, albeit at far lower doses. Another potential group of plaintiffs are those who live downstream from the fracking process whose water may contain some of the byproducts. The potential risks to each of these groups differ significantly in terms of dose, proximity and frequency of exposure. …
In 2010, at the urging of Congress, the Environmental Protection Agency commenced a study of the potential health hazards associated with fracking. … The EPA has made no determinations of the extent of exposure to any of the approximately 1,000 chemicals that can be used in fracking fluid. Many of these chemicals have been previously assessed for their health risk potential, and levels of exposure that are considered to pose little risk to human health have been established by the EPA. Whether or not levels will be found in drinking water in excess of the EPA-established exposure limits is an open question. Finding high levels of a particular chemical in water does not necessarily translate into a potential risk. The risk will depend upon the chemical, the amount actually ingested and other potential exposures to similar toxins. …
[Cross check:
Home distance from benzene sites linked to lymphoma risk by Andrew M. Seaman, July 29, 2013, Reuters. Even in small amounts, the chemical has been shown to alter DNA, the researchers write, and it is already linked to the development of leukemia, a blood cell cancer.
Researchers Find Cancer Risks Double When Two Carcinogens Present at 'Safe' Levels by John Davis, June 28, 2013, Texas Tech Today ]
Nevertheless, wise companies involved in fracking can defend against potential claims by knowing where they are releasing byproducts and the potential levels of the chemicals they are releasing. [Emphasis added]